A customized print-friendly version of this recipe is available by clicking the "Print Recipe" button on this page.
Sausage and Apple Stuffing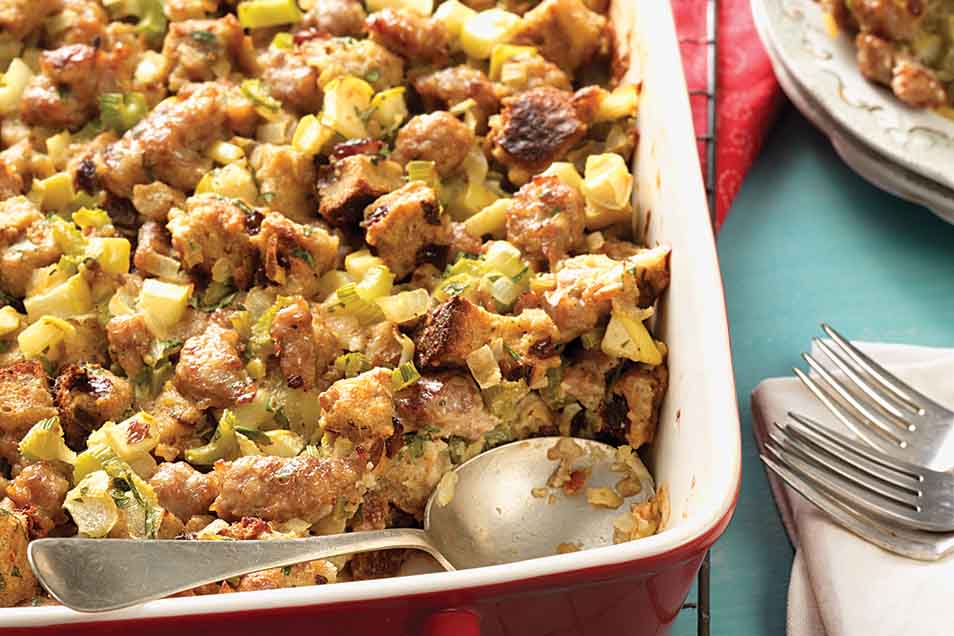 This recipe takes inspiration from the plethora of dried fruit, apple, and pork stuffing combinations out there. We decided to save ourselves a step by using bread that already includes dried fruit. The resulting stuffing is rich, hearty, and easy to put together for your holiday dinner.
Ingredients
1 pound fruited sourdough bread, or your favorite stuffing bread
1 tablespoon vegetable oil
1 pound pork sausage meat
1 1/2 cup finely diced onion
2 cups (4 large stalks) chopped celery
2 cups peeled, cored, chopped (1/2" pieces) Granny Smith apples (or other tart baking apples; about 2 small apples)
1/4 cup (4 tablespoons) melted unsalted butter
1 cup chicken or vegetable stock
1 teaspoon salt
1/2 teaspoon ground black pepper
1 tablespoon dried parsley (or up to 1/4 cup chopped fresh parsley)
3 large eggs, beaten
Instructions
Preheat the oven to 350°F. Butter a 2-quart casserole pan or 9" x 13" pan.

Place the bread cubes into a large bowl, and set aside.

Heat the vegetable oil in a large frying pan over medium-high heat.

Brown the sausage meat, breaking it up with a spoon until it's completely cooked through, about 8 to 10 minutes.

Transfer the cooked sausage to the bowl with the bread cubes, leaving the hot fat in the pan. Toss the bread with the sausage until the two are evenly incorporated.

Return the pan to the heat and add the onion, celery, and apple. Cook until the onions are translucent and everything has softened.

Transfer the vegetable mixture to the bread cubes/sausage, stirring to incorporate.

Stir in the butter, stock, salt, pepper, and parsley, mixing thoroughly.

Stir in the beaten eggs. Transfer the stuffing to the prepared pan.

Bake the stuffing for 50 to 60 minutes, until the top is crunchy and sizzling.

Remove the stuffing from the oven. Allow it to cool for 5 to 10 minutes before serving.

Yield: 8 to 12 servings.
Tips from our bakers
Can this stuffing be cooked inside your holiday bird? Absolutely; just be sure to follow food safety rules for cooking stuffing in a turkey.
Reviews
I have had this recipe for about two years now. It is amazing!! By far my favorite. I've made it for Thanksgiving and everyone loves it. I have a hard time finding a fruited bread to use, but I will add about a cup each of raisins and dried cranberries and it has worked out wonderfully both times.
Every year I have tried recipe after recipe for stuffing and every year I have LOTS of leftover stuffing. This past Thanksgiving I made only an 8x8 pan of this particular stuffing recipe which I tried for the first time. It was gone! People were asking for more but I had to apologize for not making enough. This year I will be making a 9x13 pan of this stuffing. The only way I tweaked the stuffing was I added Cranraisins to the mix, a little bit of rosemary, thyme and extra chicken broth. It was a hit.
I love this recipe. Though with my own little tweaks. Sage sausage add cornbread mushrooms and top with mushroom gravy. Yum yum!
This turned out very good, though it needed more chicken stock then the recipe required... thanks Kevin for giving the first review :). It felt a little dry even after sitting in the fridge overnight. For my own personal taste I added a tsp of rosemary, savory and thyme and omitted the parsley. Thank-you KAF for sharing your recipe. :)
This was a big hit at Thanksgiving dinner. I did add a tsp of poultry seasoning and a half cup more vegetable stock. One of the guys was so excited about the sausage in the dish that it was the first thing to disappear off his plate.
I just made this today. Taking Kevin's review into account, I added some Herbes de Provence, and taking my mother-in-law's request into account, I added pecans. Delicious.
I made this with a roasted chicken tonight, and it was delicious. A couple of small notes: the recipe, as written, seemed a bit underseasoned. I added a bit of sage and thyme (no more than a teaspoon of each). The dressing also seemed a bit dry once it was all mixed together, so I added maybe 1/2 cup more of stock. I imagine this varies somewhat with different kinds of bread. Anyway, it was great!