A customized print-friendly version of this recipe is available by clicking the "Print Recipe" button on this page.
Sausage, Apple, and Cheddar Pocket Pies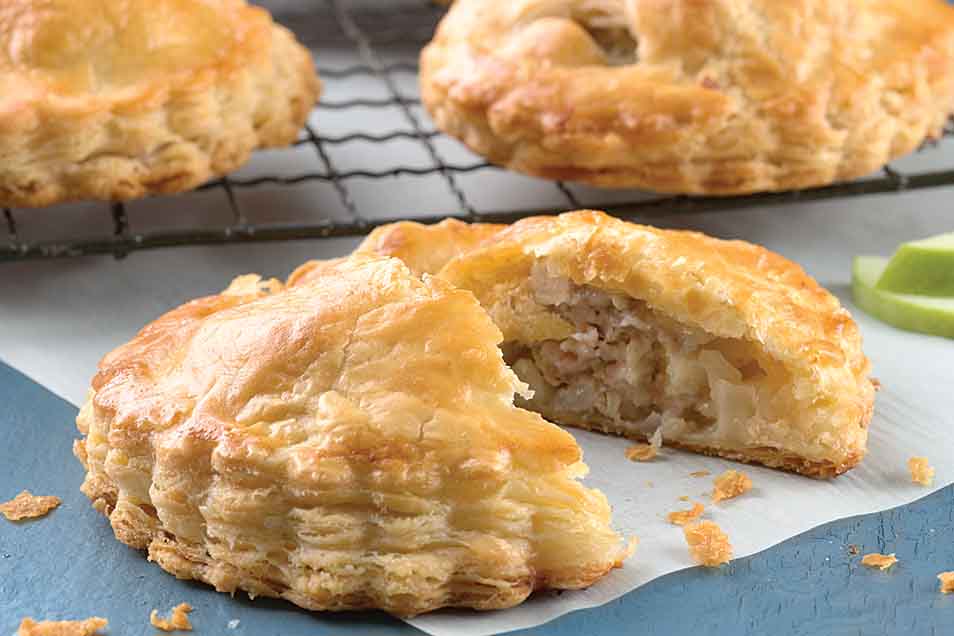 These pies are a hearty meal for those on the go. The sweet and tart apple pieces help to balance the richness of the cheese and sausage.
Ingredients
Filling
10 ounces sausage meat, uncooked
1 cup peeled and diced Granny Smith apple
1 cup diced onion
1/2 cup (2 ounces) grated cheddar cheese
1/4 teaspoon ground black pepper
Instructions
To make the pastry: Combine the flour, cheese powder, and salt.

Work in the butter until larger, pea-sized clumps form.

Drizzle in the ice water and toss, adding more water if necessary to make the dough cohesive.

Divide the dough in half, and shape each half into a disk. Wrap and refrigerate for at least 30 minutes.

To make the filling: Stir together all the ingredients.

Preheat the oven to 400°F.

Roll out each disk to about 1/8" to 1/4" thickness on a floured surface. Using a mini pie mold, 6" cutter, or circle template, cut out 16 circles, re-rolling the dough as necessary.

Place a heaping 1/4 cup filling in the center of eight pastry circles.

Dampen the dough around the filling with water, and top with an unfilled circle.

Seal with the help of a pie mold, or by pinching the edges with your fingers or a fork.

Place the pocket pies on a baking sheet, and bake for 15 minutes. Lower the temperature to 350°F and bake for an additional 15 to 20 minutes, until golden brown.

Remove the pies from the oven, and serve warm. Refrigerate any leftovers.

Yield: 8 pocket pies.
Tips from our bakers
Depending on how generous you are with filling your pies, you may have some sausage mix left over. Never fear, when sautéed, it makes a great filling for omelets, scrambled eggs, breakfast casserole, quiche, or whatever your favorite egg dish might be.
Reviews
These were crazy delicious. The pastry was pretty easy to make and turned out flaky and tender. The filling was so yummy. I added a bit of herbes de provance and used a egg wash on the tops and they turned out perfectly.
Five stars, as I imagine if I had done this correctly they would have exited to oven looking like the fine photo. Alas, my attempt warrants no stars. Anti-stars, if that's a thing. But if at first you don't succeed, cry, cry again. I'll give it another shot. The filling was aces. My pastry was the joker in the deck. No - that advertising card in the deck. I think my board was too floured. Failure is not and option. Tomorrow, we go again.
Made this recipe using AP flour and subbed about one cubic inch grated Parmesan cheese for the powder and upped the salt to a slightly heaping half teaspoon because I just assumed cheese powder would have been salty. I figured out 'work in the butter' means with your bare hands, as that was the only thing that worked. I am glad I tried hands to mix instead of just using more liquid after the half cup ice water didn't seem enough because it was enough. Hands were the ticket for filling too as it is basically meatloaf. Didn't turn out too salty. Delicious and still quite flaky. I am okay with this result for dinner. Maybe I will try the pastry blend for a dessert/ sweet pastry. Threw in about a cup of fried breakfast potatoes in the filling too. Only used one disc so far and it made five small sauce pan lid sized discs at just under 5 and a half inches diameter. Used four of them to assemble two round pies and rolled the fifth one out a bit thinner to make a big half moon pie. The baking times listed were perfect and even though there were different shapes, none were over or under done. I think I will make one huge pie next time and just cut up to portion size after baked to save time. My sixth King Arthur recipe but my first review. This baking thing is kind of fun.
question.... can i use all purpose flour and for cheese powder what can replace that? where i live we don't carry pastry flours.

Judy, try using the crust recipe from our recipe called Sausage and Apple Pie in a Cheddar Crust. It uses both all-purpose flour and shredded cheddar cheese, so it should be exactly what you're looking for. Happy baking! Kye@KAF
Absolutely delicious! They are kind of a pain to make, but the dough is so rich it's good just by itself. Much better than plain pie dough. It didn't make nearly as many as the recipe said, though. The first time I followed the recipe but could only squeeze out 8 and I didn't put enough filling in them. Tonight I made them using the KAF mini-pie pan which makes 6 little pies, used a whole package of Jimmy Dean sausage which is more than the recipe calls for, and filled the pies completely. Had to bake them about 15 minutes longer because they were much thicker, but mmmmm good! There are only 2 of us, so I have enough for 2 more meals and they freeze well.
I made these to take to a small super bowl party. Used the recipe except I folded over each circle like turnovers. They were a big hit. I will be making these again soon. Thanks for always having excellent recipe options.
VERY good! Love love love the flavors together. I have a hint for home bakers. The lids from aluminum pans often have a sharp metal edge. The lids cut perfectly round crusts with just the twist of the lid. The lids come in all sizes to fit different size pans so you have a choice of sizes to fit your needs from turnover to pie crusts.
These were easy to make and delicious. My question is: If I freeze them do the need to be thawed before baking?

No need to thaw before baking as long as you make them roughly the recommended size. You'll just want to allow for an additional 3-5 minutes to fully bake. Mollie@KAF
I didn't make the crust because I didn't have time, but the rest of the recipe was awesome! Since I was using pre-made pie dough I took the advice from Kathy's review and did folded over circles baked at 350F until brown. With the addition of an egg wash at the end, baking time was approximately 35 minutes. I also added a bit of rubbed sage to the sausage mixture. I assembled the pies the night before and stored them on a flat surface in the fridge. They still came out great when baked the next day! Everyone went crazy for them and kept asking where I bought them.