A customized print-friendly version of this recipe is available by clicking the "Print Recipe" button on this page.
Savory Cheddar Cheese Bread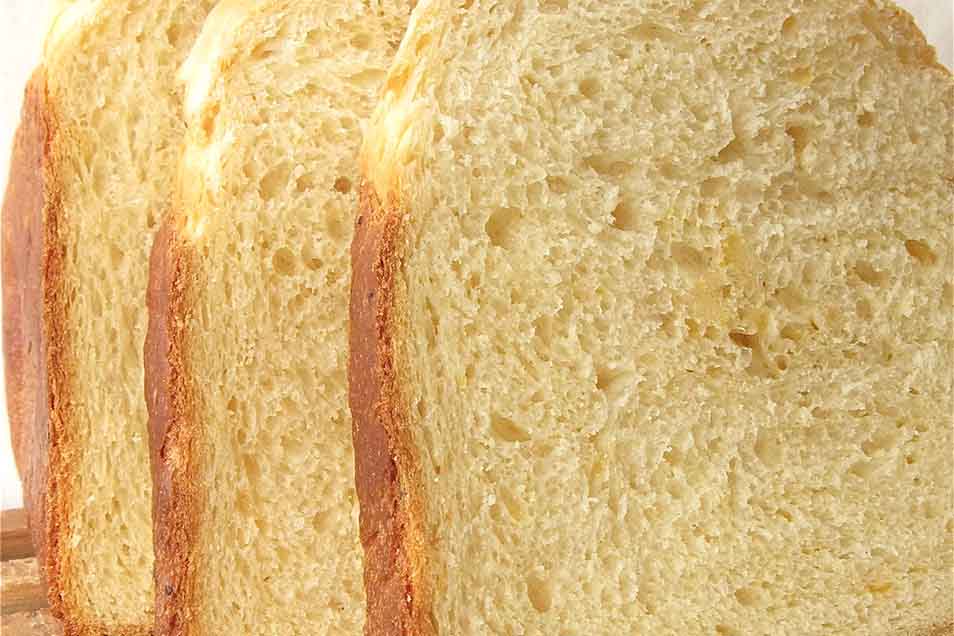 The bite of cheese in a loaf of plain white bread is always welcome. This bread is very close-grained, and is wonderful for toast or sandwiches — especially grilled cheese! The addition of a half teaspoon of tabasco sauce gives the bread just a hint of heat.

The loaf is designed to bake in a Zojirushi full-sized bread machine, though you can certainly prepare and bake the dough by hand: after its first rise, shape the dough and place it in an 8 1/2" x 4 1/2" pan; let it rise, then bake it in a preheated 350°F oven for about 35 to 40 minutes.
Ingredients
1 cup lukewarm milk*
1 1/4 teaspoons salt
1 tablespoon sugar
1 cup grated extra-sharp cheddar cheese, firmly packed; we prefer Cabot extra-sharp
1/4 cup Vermont cheese powder**
1 1/2 teaspoons instant yeast
1/2 to 1 teaspoon tabasco sauce, optional
*Add an additional tablespoon of milk during the winter, or if you live in a dry climate.
**Substitute grated Parmesan cheese, if desired.
Instructions
Put all of the ingredients into the bucket of your bread machine in the order designated.

Program the machine for basic bread, light crust setting. Press Start.

Check the dough after about 10 minutes of kneading; it should have formed a cohesive ball, and be slightly sticky. Adjust its consistency with additional milk or flour, if necessary.

Allow the machine to complete its cycle. Remove the bread from the machine, and cool it on a rack.

Yield: 1 loaf.
Reviews
I don't have a bread machine so I made it in my stand mixer. It's easy to put together and making the dough took no time at all. My main concern was the weight of the dough., thanks to the cheese, it's very heavy, and I was worried that it wouldn't rise. It took several more hours than usual, but rise it did. I baked mine for 55 minutes, instead of 40, and it turned out perfectly. The bread was worth the wait. It has a nice, firm texture, and is oh, so cheesy. The recipe is a keeper.
I baked it with my Russell Hobbs bread maker. I felt the dough was a bit stif at the beginning but, the result was.....WOW
I made this bread wonderful bread this morning. I used another commercial brand of cheese powder (sorry) and KAF bread four, adding a quarter cup more milk because I live in the desert. My bread machine took it through the first proof. I finished the second proof in a bread pan and baked the loaf at 350 degrees for about 32 minutes. Just cooling on the counter the aroma called out to me and my husband. Weakling that I am I sliced two pieces too early. Never mind that it was still very warm, it was delicious! My husband said this recipe would make great hamburger buns. I agree. How many buns do you think it would make? How long to bake them? Love KAF ptoducts and recipes and wish I could get more of them in addition to flour locally.

We're glad this recipe was a hit! We actually have a recipe specifically for Cheese Burger Buns that will be perfect for you. Annabelle@KAF
This was beautiful dough to work with, and I did it without a bread machine. The cheese combinations would be endless, and my next batch will be a white cheddar with truffles. The toast that I made with this for our spaghetti dinner was over the top!! I would like to make minis for gifts and am wondering how long to bake them if I make 2 minis from each batch?

Hmm we can give an approximate time but since this recipe is typically baked in a bread machine, we'd guess that in a 400°F oven they would take about 20 minutes to bake. Just ensure that the internal temperature gets to at least 190°F. Annabelle@KAF
This turned out Wonderful! I was looking for a recipe to make a Jalapeno Cheddar Cheese bread and I tried this one adding 57g of diced Jalapenos. It turned out Awsome. Now I am going to try to make a sourdough version of this recipe. The dough did seem a little stiff to me, but it is winter so I should have added the extra milk as directed.
Hi, I made this bread & put in my bread maker & it just didn't do anything. I used grams. I think my problem was the loaf size was extra large. Unfortunately by the time I noticed it had already started the process. Also, the time automatically defaulted to 4 hours. Was this my problem, I have every intention of trying this again. Please advise me, anxious to try again,

Hi Marion, we're surprised to hear that even when measuring your ingredients by weight, you had difficulty making the dough rise. It may have been a problem with your yeast or another ingredient. In order to troubleshoot more fully, we encourage you to give the Baker's Hotline a call at 855-371-BAKE(2253). We'd love to help you further. Kye@KAF
This came out wonderful. I used 1 cup KAF bread flour plus 1.5 cup KAF all purpose, Cabot extra sharp cheddar and the cheese powder. I used the bread machine for just the dough cycle and baked three mini loaves at 375 for 20 minutes (tenting with foil near end). They rose beautifully and the bread had a nice fine crumb.
I'm new to baking bread -- this was my 3rd loaf, and it's by far my favorite! Our family doesn't eat dairy, so I used non-dairy cheese (Daiya cheddar and FYH Parmesan shreds) and cashew milk to make this recipe. As some others suggested, I added 1T olive oil to the dough, and we added garlic powder and parsley as well. It's light and fluffy, not too crusty and absolutely FULL of flavor! My son doesn't like spicy, so I divided the loaf and did 2/3 plain and 1/3 with jalapeno and chili powder. We will make this again and again and again. Perfect recipe!
I baked the bread using a Mexican blend of cheese, parmesan cheese in lieu of the powder cheese, and used 1/2 tsp of cayenne pepper in lieu of Tabasco. It taste like the Cheddar Pennies recipe. I flubbed by rolling the dough in more shredded cheese which caused it to stick to the pan. Ill use parchment paper if I decide to do t that again. The dough was,easy to work with. Ill be making this recipe again. Thanks KAF
Recipe turned out great. I used the Parmesan cheese didn't have powder cheese. Although I ordered it for my next loaf of bread. I added shredded cheese on the top of the loaf of bread. Really added to the tast. The Cabot cheese had amazing taste. Beautiful texture and very light loaf of bread.