A customized print-friendly version of this recipe is available by clicking the "Print Recipe" button on this page.
Savory Pumpkin Parmesan Rugelach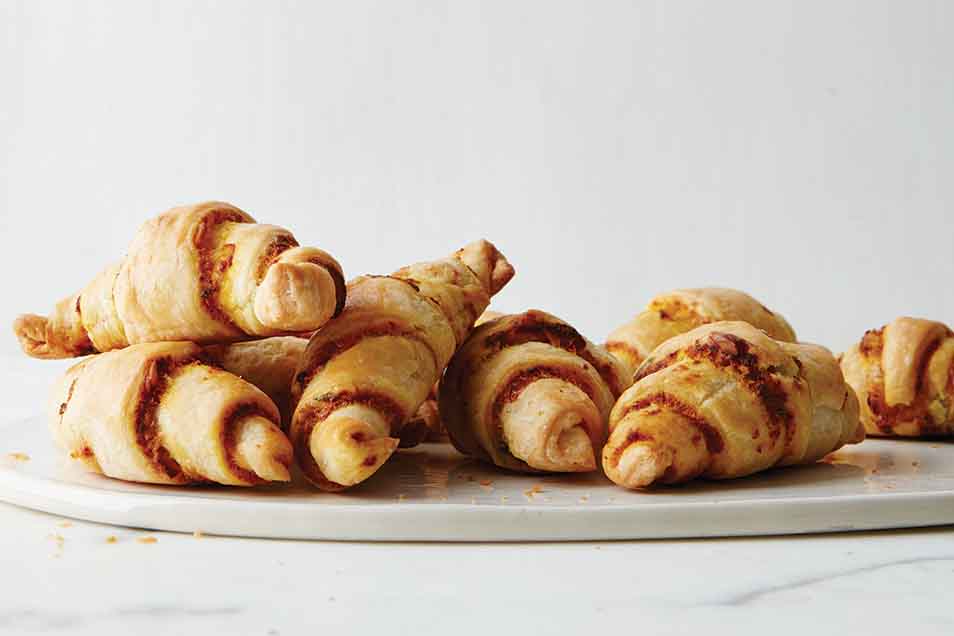 These little pastries are a fun alternative to their sweet counterparts, and are a great way to enjoy pumpkin in something other than pie.
Ingredients
Pastry
2 cups Pastry Flour Blend
1 teaspoon salt
1 cup (16 tablespoons) unsalted butter, diced
1 cup cream cheese, diced
Filling
2 tablespoons garlic oil or plain olive oil
1/2 cup finely chopped onion (1 small onion)
1/4 cup fresh sage leaves, finely chopped
1/8 teaspoon chili powder
1 cup pumpkin purée
1/4 teaspoon salt
1/8 teaspoon black pepper
1/2 cup grated Parmesan cheese
1/2 cup finely chopped walnuts
1 large egg
Instructions
To make the pastry: Combine the flour and salt. Work in the butter and cream cheese until the mixture comes together.

Form the dough into two disks, wrap them in plastic, and refrigerate for 2 hours.

To make the filling: Heat the olive oil in a pan set over medium heat. Add the onion, sage, and chili powder.

Cook until the onions are translucent, about 2 minutes. Add the pumpkin, salt, and pepper. Cook for 5 minutes longer, until the purée has become a bit drier. Cool to room temperature.

Preheat the oven to 400°F. Lightly grease two baking sheets, or line with parchment paper.

On a well-floured surface, roll one disk of pastry into a 14" circle.

Spread half the filling onto the circle. Sprinkle 1/4 cup Parmesan and 1/4 cup walnuts evenly over the pumpkin.

Cut the dough into 16 wedges. Roll each wedge tightly, starting at the wide end, and bend into a crescent.

Place the crescents on one of the prepared baking sheets.

Repeat with the remaining pastry and filling.

Combine the egg with 1 teaspoon water and brush it onto the rugelach.

Bake the rugelach for 25 to 27 minutes, until golden brown. Remove from the oven, and transfer to a rack to cool. Serve warm, or at room temperature. Store at room temperature, tightly wrapped, for several days; freeze for longer storage.

Yield: 32 rugelach.
Reviews
I just made these for the first time, and even as a novice pastry baker without a food processor (Christmas wish!) they came out absolutely amazing. I did the first 16 as a test batch and my husband and I are trying not to eat them all in one sitting. He pronounced them the best appetizer he's ever had. The only change I made was topping them with a bit of finishing salt after coming out of the oven.d The second batch is prepped and in the freezer; I will take them out and bake them on Christmas Day. Absolutely spectacular. Thanks again King Arthur for giving me the confidence to bake.
I'VE MADE THIS TWICE , NOW. THEY TASTE GOOD , BUT THEY SURE BURN EASILY. ALSO, THE CRUST GETS WAY TOO SOFT, FROM THE TIME YOU ROLL IT OUT TO WHEN YOU ROLL UP THE INDIVIDUALS. I WOULD SUGGEST THAT, AFTER ROLLING , FILLING AND CUTTING, THAT YOU PUT THE DOUGH ON A PLATE USING THE WAX PAPER YOU ROLLIT ON AND PUT IT IN THE FRIDGE FOR 30 MIN BEFORE YOU TRY ROLLING IT.

Leslie, your thought about re-chilling the dough is spot-on. If at any time the dough becomes difficult to work with, pause for five or ten minutes and chill the dough briefly. To prevent burning, you can double up on your baking sheets and also be sure to place the sheet in the middle of the oven so it's not too close to the top or bottom heating elements. Kye@KAF
I don't like walnuts, so used pine nuts instead. Several people who do eat walnuts said they thought the pine nuts were a better choice. These are very rich, and you can't eat more than a couple, but they are totally delicious. I'm making them again for guests this weekend.
These are fantastic! I've grown up with pumpkin as a savory vegetable so I especially prefer these to a sweet pumpkin dessert. Next time, can I freeze them before baking?

Freezing before baking should work just fine, Al. Assemble them on a sheet tray as written (holding off on the egg wash), freeze solid, then store in zilpock bags until you're ready to bake. They can be egg washed and baked right from a frozen state, allowing an extra 3-5 minutes of bake time. Mollie@KAF
This recipe was a winner at Thanksgiving! They are a fantastic substitute for the sweet variety of rugelach. They take some planning, but are worth the effort for an elegant appetizer.
Our household loves ALL kinds of rugelach, so I was delighted to see this recipe in the fall Sift magazine. Like all rugelach, their construction is not for sissies - make the dough, chill the dough, make the filling, roll out the dough, etc.... - and they take a little time to prepare but, boy, are they worth it. These rugelach are absolutely delicious. I added Chinese 5-spice powder to the filling, and even sprinkled a little on top of some of the pastries (I sprinkled a bit of extra parmesan on others), and loved how the 5-spice just added that interesting depth of flavor to pumpkin, which can be quite bland. Really a great recipe. Thanks, KAF!
A great idea but could use some fine-tuning. The crust was light, flaky, and very tasty as well as RICH which is to be expected with the quantity of fat in the dough. The flavors of the filling are one of our favorite combinations ( like pumpkin ravioli in sage butter sauce) but were difficult to discern with the richness and volume of the crust. Also, at 25 minutes the outside of the crust was perfectly golden but the spots of exuded filling on the parchment were QUITE dark approaching burning yet the inner dough spirals appeared translucent and under baked. The oven temperature was correct according to the additional ( recommended brand) of accessory oven thermometer. On the second batch I added a few dashes of cayenne pepper and about 1/8th tsp. more chili powder and the filling's flavor was still faint compared to the dough. This is a clever idea that could be improved.
We're sorry this recipe didn't quite meet your expectations, but do appreciate your feedback. If you'd like help troubleshooting this recipe, please give our Baker's Hotline a call at 855-371-2253(BAKE). Barb@KAF
This reminds me of hungarian cookies or kiffles. This is the first I've seen with a savory filling, so I knew I had to try the recipe. The flavors go so nicely together and the dough is flaky and delicious. I reduced the cooking time on the second batch as the first batch, set for 25 min, was a little too well done
I made these for two different Christmas parties in 2014 and received rave reviews and requests for the recipe. The tenderness, lightness and flakiness of the dough was exceptional. Everyone love a savory use for pumpkin. I skipped the egg wash--it didn't need it.
This recipe is AMAZING! I made them for a nibble with cocktails pre-Thanksgiving dinner to rave reviews. Actually was asked by my Christmas hostess to make them for nibbles before Christmas dinner. If you are comfortable making rugelach --- these are a breeze. I will make them up in advance and freeze them and just bake them off straight from the freezer.