A customized print-friendly version of this recipe is available by clicking the "Print Recipe" button on this page.
Savory Six-Grain Breakfast Bowl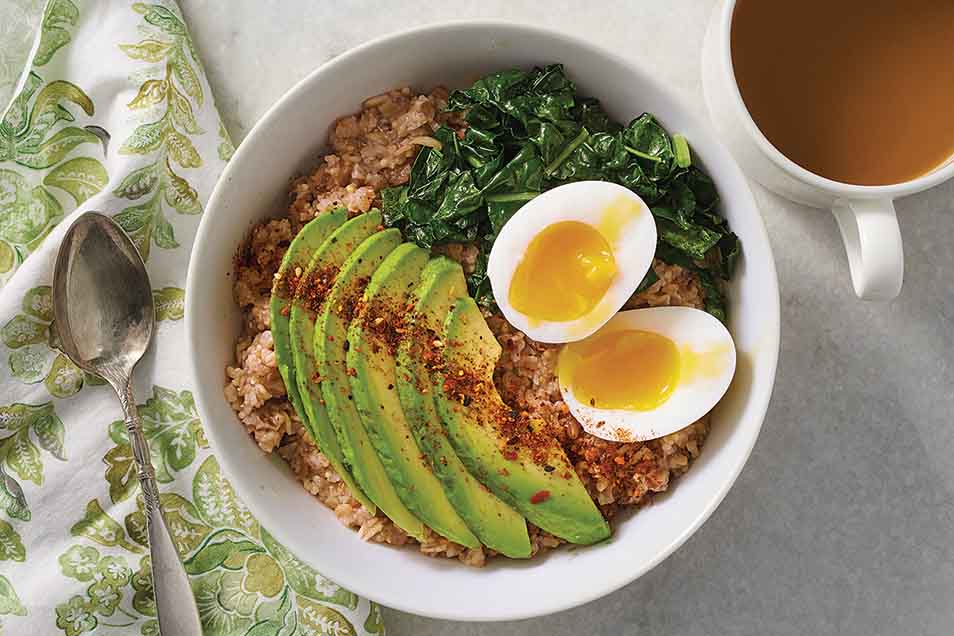 Love a bowl of hot cereal in the morning? Make it an option for a savory lunch or dinner, too. The topping possibilities are endless; from sausage, cheddar, and fresh chives to this version, with a not-quite-hard, not-quite-soft boiled egg, sautéed spinach, and slices of perfectly ripe avocado.
Ingredients
Topping
1 large egg
1/2 ripe avocado, peeled and sliced lengthwise
drizzle of olive oil
large handful chopped spinach
chili flakes, hot sauce, or other seasoning blend, optional
Instructions
To make the cereal: Combine all the ingredients in a small saucepan and set over medium-high heat.

Cover the pan and bring the mixture to a boil. Let the cereal simmer for 5 minutes, until it becomes thick and soft.

Remove the pot from the heat and keep the cereal covered while you prepare the remaining ingredients.

Place the egg in a small saucepan, and fill the pan with enough water to cover the egg.

Place the pan over high heat and once the water begins to boil, turn off the heat and set a 6-minute timer.

Remove the egg from the water and run it under cold water long enough so that you can handle it comfortably. Peel the egg and set it aside.

Place a small saucepan over medium heat, and add the oil.

Once the oil dances easily around the pan, add the spinach, sautéing until it just begins to wilt. Remove the pan from the heat.

To assemble: Spoon the hot cereal into a large cereal bowl, rewarming it over gentle heat if necessary. Top with the egg, avocado, spinach, and seasoning. Enjoy immediately.