A customized print-friendly version of this recipe is available by clicking the "Print Recipe" button on this page.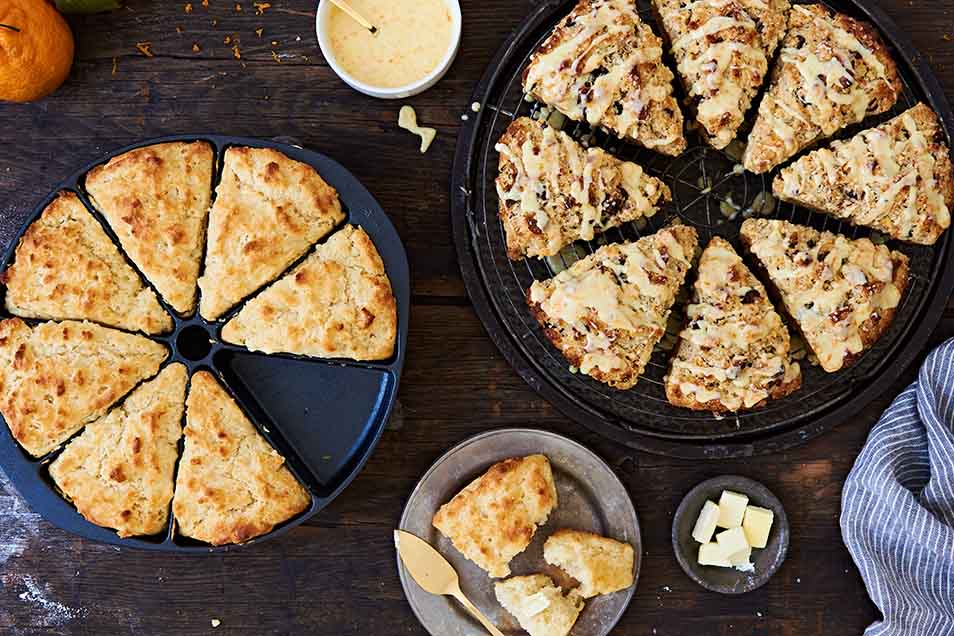 Biscuits are a delightful one-size-fits-all quick bread; perfect with soup, with stew, for breakfast with your eggs.
Sweeter than biscuits, scones have struck the American fancy and are showing up everywhere. Scones may be embellished with just about any fruit or flavoring that you can imagine. The following is a basic recipe to try in your new scone pan. It's easily altered by the addition of different dried fruits, nuts, chocolate chips, and/or spices.
Ingredients
Scones
2 3/4 cups King Arthur Unbleached All-Purpose Flour or Pastry Flour Blend
1/3 cup granulated sugar
1/4 cup buttermilk powder or 1/2 cup nonfat dry milk, optional
3/4 teaspoon salt
1 tablespoon baking powder
1/2 cup (8 tablespoons) cold butter
3/4 cup currants, raisins, apricots, or other dried fruit; or chocolate chips or nuts
2 large eggs
2 teaspoons vanilla extract or flavor of your choice
3/4 cup milk, buttermilk, or water
sparkling white sugar, pearl sugar, or cinnamon sugar, for topping, optional
Scone glaze (optional)
1 cup glazing sugar or confectioners' sugar
1 tablespoon grated lemon or orange rind (zest), optional
1 teaspoon vanilla or other flavoring (try a drop of almond oil)
3 to 4 teaspoons water, orange juice, or milk
Instructions
To make the scones: Preheat your oven to 425°F and lightly grease a standard scone pan.

In a large mixing bowl, whisk together all the dry ingredients. Work in the butter just until the mixture is crumbly (see mixing advice in "tips," below). Stir in the fruit, chocolate chips, or nuts.

In a separate bowl, whisk together the eggs, vanilla or other flavor, and liquid. Add the liquid ingredients to the dry ingredients and stir until evenly moist and cohesive.

Using a muffin scoop or a generous 1/3 cup, fill each well of your scone pan. Sprinkle with sugar for topping, if desired; or leave untopped to glaze with icing later.

Bake the scones for 15 to 18 minutes, or until lightly browned. Remove them from the oven and let them sit for 4 to 5 minutes to firm before removing them from the pan.

Serve scones warm with butter and jam; or drizzle with glaze, if you like.

To make the glaze: Stir together the glaze ingredients, adding a bit of liquid at a time until it reaches a drizzling consistency. Drizzle the glaze on the scones, let set for 10 to 15 minutes, and enjoy.

To make the biscuits: Preheat the oven to 450°F and lightly grease the wells of a standard scone pan.

Whisk together the dry ingredients. Work in the butter or shortening just until the mixture is crumbly.

Stir in the milk, buttermilk, or water. Scoop the mixture into the prepared scone pan. Brush biscuits with milk or melted butter for a shiny top (optional).

Bake the biscuits for 18 to 20 minutes, or until lightly browned. Remove the biscuits from the oven and let them sit a few minutes before removing them from the pan.

Store scones or biscuits, well-wrapped, at room temperature for a day or so. Freeze for longer storage.
Tips from our bakers
To save time on busy mornings, scone or biscuit dough may be prepared the night before, scooped into the pan, wrapped well, and refrigerated. The next morning, pop the pan into the preheated oven, and have breakfast ready in 20 minutes!
To use King Arthur Flour scone mixes in the scone pan: Preheat the oven to 425°F. Lightly grease the pan; a light "spritz" of a non-stick spray works well. Prepare the mix according to the directions on the bag using the higher amount of water or liquid called for, if a range is given. Scoop the dough into the pan, dividing it evenly among the wells. Bake scones in a preheated 425°F oven for 14 to 18 minutes, until lightly browned. Remove them from the oven and let sit for 5 minutes, then remove from the pan.
Making scones or biscuits is quick and easy. For best results remember two points for mixing: 1) Make sure the dry ingredients are whisked or sifted together so the salt and baking powder are evenly distributed; 2) The texture of the finished scone is largely determined by how you cut in the fat. It's best to use cold butter, shortening, or a mixture of both, and to leave the pieces about the size of small peas. If the shortening is cut in until the flour is EVENLY crumbly, you'll have mealy rather that flaky scones.