A customized print-friendly version of this recipe is available by clicking the "Print Recipe" button on this page.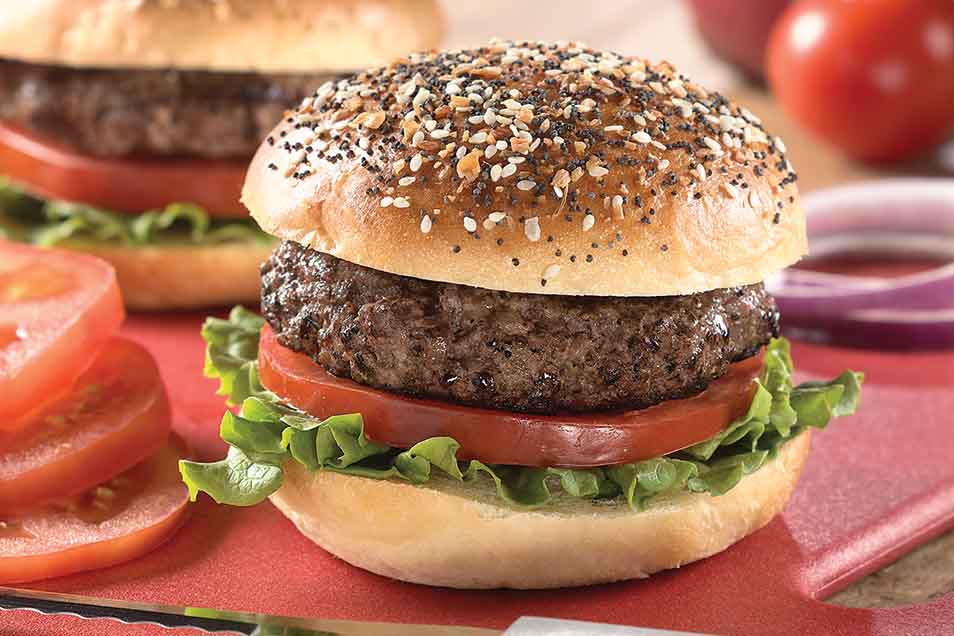 Soft buns, topped with crunchy seeds, are a perfect complement to grilled burgers.
Ingredients
Buns
3/4 cup lukewarm water
1 large egg
2 tablespoons butter or oil
2 tablespoons sugar
2 tablespoons sesame seeds whole golden flax seeds or Everything Bread and Bagel Topping
2 teaspoons instant yeast
1 teaspoon salt
1 teaspoon onion powder, optional
2 3/4 cups King Arthur Unbleached All-Purpose Flour
Instructions
To make the dough: Combine all of the dough ingredients, and mix and knead them, by hand, mixer, or bread machine, to make a soft dough.

Place the dough in a lightly greased bowl, cover, and let it rise in a warm place for an hour, until it's almost doubled in size.

Turn the dough out onto a lightly greased surface, flatten it slightly, and divide it into 6 pieces, each weighing about 3 1/2 to 4 ounces.

Roll each piece into a ball.

Place balls into the greased cups of a hamburger bun pan, flattening gently.

Cover and let rise until the buns have doubled in size. Towards the end of the rising time, preheat the oven to 375°F.

Bake the buns for 10 minutes. Remove them from the oven, brush with lightly beaten egg white (or spray with Quick Shine) and sprinkle with seed topping; do this quickly, or the seeds won't stick!

Return the buns to the oven and bake for 5 to 8 minutes, until they're golden brown. Remove from the oven, and cool on a rack.
Reviews
I can't help but to make these regularly. Great easy hearty bread with a superior crisp crust. Excellent for all kinds of sandwiches since I only seed the tops or skip completely. Hands down the best hot dog bun ever.
I made these tonight and they came out hard. I followed the recipe and I used one cup of water. I don't think I had enough water. They were not as soft as the dinner rolls that I make.

Hi Meikda. We're sorry to hear that you had trouble with this recipe. It sounds like your dough needed a little extra liquid. Because of the dry weather this time of year most recipes need additional liquid to fully hydrate the flour and produce a soft dough. We'd also suggest checking out the "Recipe Success Guide," link next to the ingredients header above. You'll see that either measuring your flour by weight using a scale, or fluffing and sprinkling the flour into your measuring cup are the best ways to ensure your recipe turns out perfectly. We hope this helps for future baking adventures! Kindl, Morgan@KAF
I will never buy hamburger or hot dog buns again. These are so good and can be made in either shape. I found this recipe a few weeks ago and made them for the 4th time today. Honestly I don't think a special pan is really necessary. The baked buns are about 5 inches wide so you need to use a large baking sheet. This is one of the best yeast doughs I have ever worked with an can easily be shaped into buns of your choice. The 1st time I made them I followed the recipe exactly. The egg white wasn't enough to cover the buns and get the seeds to stick. The 2nd and 3rd times I used the whole egg and got much better results. I was so confident about making the buns that today I didn't look at the recipe. I forgot to partially bake the buns. I just brushed the buns with egg and topped with seeds. Great mistake. The seeds stuck much better and was so much easier than adding the egg and seeds mid way through baking.
Fantastic Great flavor and easy to make
These buns are a winner - in more ways than one. It is my 'go to' recipe. When guests are served this bun (without telling them there is anything new or special), they take their first bite and then look at the bun and express their satisfaction. And they aren't the only ones - the judges at at the Minnesota State Fair and several County Fairs have noticed as well in awarding a several ribbons. Don't skimp on the second rise time - this is where the lightness shows up.
The best. I bake these often and they are perfect every time. We often slice them in thirds to make sandwiches. I never use seeds.
To make the seeds stick, I used one egg and 1tbs heavy cream. Worked like a charm!
This was my first time making this recipe and I found it was easy and the buns came out beautifully. The texture is good and the roll is soft - good for any sandwich, not just burgers. The only trouble I had was the sprinkling on the seeds (I used artisan bread topping) - they scattered in every nook and cranny of my stove and countertop - but finally stuck after realizing how quickly you have to sprinkle them after putting on the eggwash - yes, I did read it ahead of time, but this still happened to me. I'm glad the bun pan has a nice wide surface which caught alot of the flying seeds. I'm not left handed, but decided this was the fastest way to get the egg wash on while my right hand sprinkled the seed topping...this seemed to work better, despite my feeling like an uncoordinated cook. I still Love this recipe and will definitely be making it again soon in anticipation of a better job with the seeds!
I have made this recipe several times, always with success. I found the buns to be a bit too small when I made six, so now I make four large buns instead. The last few times I substituted in a portion (1/3) of white whole wheat flour and that turned out well. This latest time I goofed and grabbed the bread flour instead of the all purpose for the rest of the flour. Still, they turned out great and I think I prefer them a bit 'sturdier'.
This is my master recipe for using unfed sourdough starter, utilizing some suggestions from other reviewers. Changes: decrease yeast to 1 tsp, flour to 2-1/4 cup (9oz), & water to 1/2 cup; use 1/2 tsp each onion and garlic powder; add 7oz starter & 1/2 c dry milk. Mix dough in a bread machine. Generally use english muffin rings to make 10-12 buns but today used the bun pan. Both come out well. The bun pan gives it a nice crunchy crust on the sides & bottom. Prefer getting 10-12 buns rather than 6 as that's a lot more bread than I like for a hamburger bun. I don't bother with the seeded top as the poppy seeds in the dough are tasty. Buns are so much easier to make than you realize!