A customized print-friendly version of this recipe is available by clicking the "Print Recipe" button on this page.
Seeded Multigrain Sourdough Bread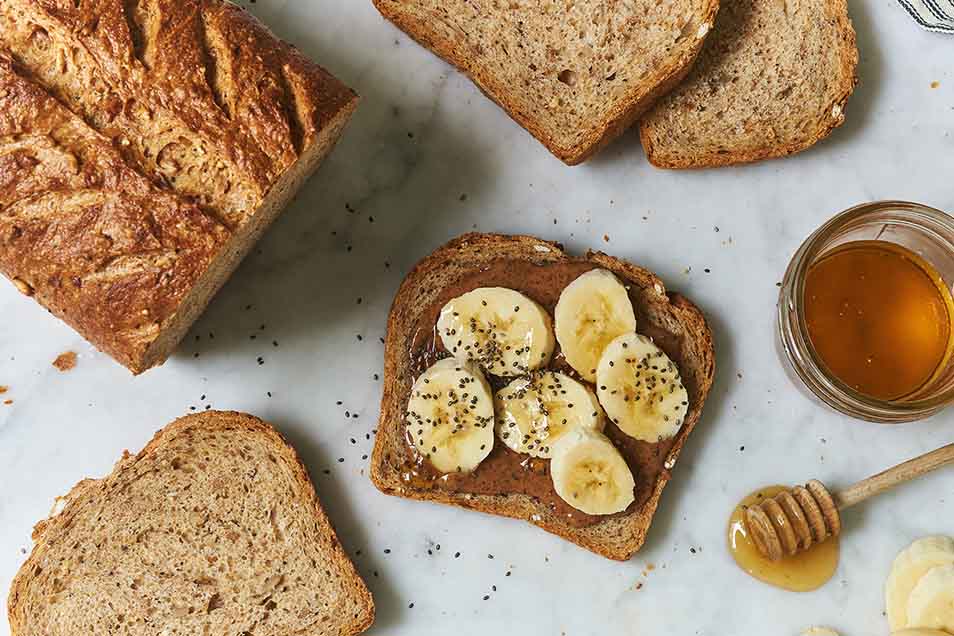 Our Harvest Grains Blends is one of those ingredients that we just can't seem to get enough of, particularly when it comes to sourdough. Studded with grains and seeds throughout, this loaf is the best of both worlds with its light, tender interior and crisp, crusty exterior. We know it will make you love Harvest Grains as much as we do.
Instructions
In a medium bowl, stir together the boiling water, Harvest Grains Blend, and salt. Cover the mixture, and let it sit at room temperature overnight.

The next day, combine the soaker with the remaining dough ingredients. Mix and knead — by hand, mixer, or bread machine — until you've made a soft dough.

Place the dough in a lightly greased bowl, cover it, and let it rise until almost doubled, about 60 to 90 minutes.

Gently fold the dough over a few times on a lightly greased work surface. Shape it into an 11" log, and place it into a hearth bread pan (see "tips," at left, for an alternative).

Cover the loaf and let it rise until it's noticeably puffy, about 60 to 90 minutes.

Preheat the oven to 425°F.

Slash the top of the loaf several times to allow for expansion, using any pattern you like.

Bake the bread for 20 minutes. Reduce the oven temperature to 350°F, and bake for 8 to 12 minutes longer, until the bread is golden brown and a digital thermometer inserted into the center registers 190°F.

Remove the bread from the oven and turn it out onto a rack to cool. Store well-wrapped at room temperature for several days; freeze for longer storage.
Tips from our bakers
Don't have a hearth bread pan? Place your shaped loaf onto a lightly greased or parchment-lined baking sheet. Bake and finish the loaf as directed.
Reviews
I've made this loaf SO many times now--it's my weekly go-to for breakfast toast. I bake two loaves and freeze (sliced) what I can't eat right away. I mix up the seeds (hemp, chia, flax, pepitas, etc.) every time I bake, depending on what's on sale and what I have on hand. However, my only gripe is that the baking time is not accurate at all in the written recipe, and never has it only taken me 36 minutes to bake this loaf. I always bake it for 20 min at 425, and then probably an additional 25-30 minutes once I decrease the oven temp to 350. I've baked in a couple of different ovens, so I don't think it's a consistent oven error. Either way, as long as you take the temperature of the loaf and quit baking as soon as it hits 190 or near, it's a great recipe!
I think there is a problem with this recipe's conversion between measuring by cups and measuring by weight. It lists 3/4 C of starter under cups, and 6 oz. of starter under weight. While water measures and weighs 6 oz either way, the starter does not because of the flour. My starter is fed every week, by weight (equal weight of starter, water & flour), and when I checked it, 3/4 C weighed a little over 9 oz. As I always follow the weights in recipes, I cut back a bit in water and bread flour when first combining all the ingredients, and I am presently waiting for it to get through the first knead in my Zo machine, to see how much more of either one it needs.

Chrissy, it sounds like you might have measured your starter when it was unfed, which is when it tends to be dense and heavier by volume. 3/4 cup of fed sourdough is light, bubbly, and should weigh about 6 ounces. (Try feeding your starter and then letting it rest for a few hours. It should expand and become bubbly, and as a result weigh about 8 ounces per cup.) Kye@KAF
Used my established sourdough starter for the first time. Although this large volume dough calls for a hearth pan, I don't own one, so I weighed out 75% of the dough and baked in an 8 1/2" x 4.5" loaf pan since we like sandwich bead in our house. I used the rest of the dough to make a couple of sandwich rolls. Flavor was lovely. I snuck in 1 tablespoon of whole grain bread improver just to ensure good rise. I was surprised though that this bread does not really brown alot. I kept giving it another 5 minutes in the oven but when my thermometer finally registered 205 degrees, I decided to take the pale loaf out. Still delicious though, even though I wonder why it didn't brown well.
I'm new at sourdough, I saw this recipe and made it. Wow, so extremely tasty. I can't believe there is no sugar or eggs in this recipe. I have made this 2 times in 2 weeks. I double the recipe to make 2 loaves and some dinner buns. Yummmmm
This bread came out tall and fluffy and very flavorful. I started making sourdough bread after learning about the health benefits of sourdough. However, I am not a big fan of sour flavor of sourdough (duh...) and prefer the flavor and the texture of the recipes with sourdough starter and instant yeast such as this one. Sounds like the health benefits of the sourdough are related to the slow, long fermentation. Are there still health benefits in the bread made with sourdough starter and instant yeast?

Hi Sami, we're glad to hear you're diving into the world of sourdough baking! It sounds like you're eager to have an in-depth conversation about the possible health effects of sourdough baking, so we encourage you speak with a doctor or nutritionist to address some of your questions. We're always here to help with the baking! Enjoy! Kye@KAF
I am new to sourdough baking, but have baked other types of bread for years. This recipe is wonderfully flavorful, with a nice crunchy crust and open crumb. I was surprised at how light it was even though this time I used all whole wheat, rye, and spelt flours. I kneaded it by hand for 20 mins after the first rise and just a couple of minutes after the second. I let it rise the last time in a round brotform, then baked it in a Dutch oven. I did not use any commercial yeast as my starter is very active. My only issue was that the bread flattened out slightly in the oven so my loaf was a little flatter than I expected. How could I get a higher loaf? Should I use a loaf pan as pictured ? Thanks so much for this forum!

We are happy to hear you liked the flavor and texture of this bread! This recipe is designed to be baked in a loaf pan, as it needs the support of the sides of the pan for best rising results. Give that a try with your next loaf to see if helps give you the shape and overall look you want. Happy baking! Kye@KAF
Tasty but the dough as made was pretty dry, as was the resulting loaf. I might make it again and use quite a lot less flour on the front end. I find it easier to adjust for a "too wet" dough than a "too dry" dough. I do weigh my ingredients as opposed to volume measurements, so I know it wasn't that. If I make it again, I'd also consider adding some of that whole grain bread improver stuff to see if I can get a nicer rise.
Jennie, we recommend approaching bread baking like a science experiment; yes, your actions should be calculated and carefully considered, but feel free to make adjustments as you go along. There are a number of variables that can affect the consistency of your dough, including the humidity, the temperature, the moisture-level of your flour, and many more. Don't be afraid to add incremental additional of 1 tablespoon of water until the dough is fully hydrated. The dough should be smooth and soft, almost like the texture of your cheek. It should also be slightly tacky, like a post-it note being pulled off your finger tips. Adding a tablespoon of the whole grain bread improver will boost this loaf and should give you a lofty rise. Happy bread baking to you! --Kye@KAF
I love the Harvest Grains blend, and I'm really enjoying the hearth bread pan, which consistently produces nice-looking loaves that are terrific for sandwiches. I used a generous tablespoon of Whole-Grain Bread Improver, which probably helped my Seeded Multigrain Sourdough loaf rise so impressively. This bread was very flavorful yesterday after baking and cooling, but it's even more delicious today. Smooth flavor -- not at all in-your-face whole grain-y.
This was such a wonderful and easy bread to make! It will definitely be a staple. I didn't have the harvest grains blend and simply used a mix of spelt, barley, wheat berries, poppy seeds, sesame seeds, sunflower seeds, and steel cut oats. Delicious!