A customized print-friendly version of this recipe is available by clicking the "Print Recipe" button on this page.
Seeded Rye Sandwich Bread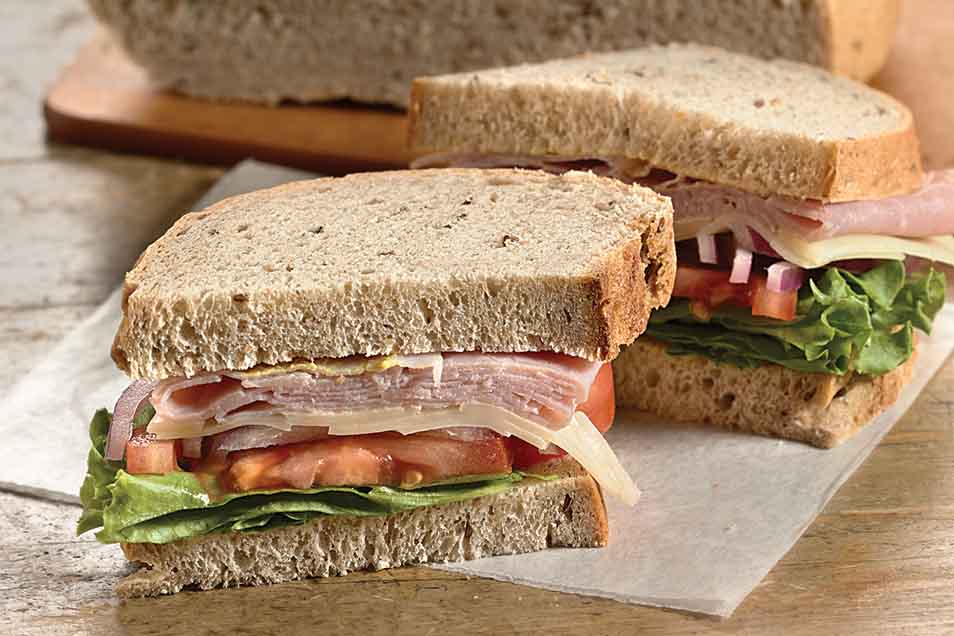 This light-colored, light-textured loaf is ideal for sandwiches. It's fine-grained, holds together very nicely when sliced, and is chewy without being tough. For the seeds in this recipe, we've used either caraway, or our Five-Seed Baking Blend (a mixture of caraway, sesame, poppy, flax and fennel seeds); both are delicious, the caraway giving a more traditional flavor, the blend something we consider a bit more interesting.

Important information about your Deli Rye Flavor

Our Deli Rye Flavor, a pungent combination of rye flour, acetic and lactic acids, and natural flavors, gives your light and dark rye breads that elusive taste of real bakery rye bread. If your rye breads are good but not great; if they're lacking that certain je ne sais quoi, Deli Rye Flavor could be the answer.
We've found that 1 teaspoon rye flavor added to a rye bread recipe containing 3 cups of flour will give a mild rye flavor; increase the amount from there till you arrive at the exact flavor you like, trying up to 1 tablespoon per 3 cups of flour.
This rye flavor is also wonderful in crackers, Scandinavian flatbreads, and any other bread or flatbread that relies on rye flour as a main ingredient.
Ingredients
2 teaspoons regular instant yeast
1 cup white rye (or light rye, or cream rye) flour
1/4 cup pumpernickel (or dark rye) flour
1/4 cup nonfat dry milk powder
1 1/2 teaspoons salt
1 tablespoon sugar
1 1/2 to 3 tablespoons caraway seeds
3/4 to 1 1/2 teaspoons Deli Rye Flavor
1 1/4 cups warm water
4 tablespoons (1/2 stick) unsalted butter, melted
Instructions
If you're making this bread in a bread machine, place all of the ingredients into the machine, program for Basic or White Bread, and press Start.

To make bread using the traditional method, whisk together the instant yeast, flours, milk powder, salt, sugar, seeds and rye flavor in a large mixing bowl.

Add the water and butter, and mix till well-blended.

Knead the dough, either by machine or by hand, for about 10 minutes, or until it's smooth and supple. If you're kneading the dough by hand, we recommend doing so on a lightly greased counter (spray your work surface lightly with vegetable spray), rather than a floured surface; when working on a floured surface, you run the risk of adding too much flour to the dough, which will result in a tough, dry loaf. Place the dough in a large, lightly greased bowl, cover the bowl with a towel or plastic wrap, and allow the dough to rise till doubled in bulk, 1 1/2 to 2 hours.

Turn the dough out onto a lightly oiled surface, and shape it into an oval. Place the dough in a lightly greased 8 1/2 x 4 1/2-inch loaf pan, tent it with lightly greased plastic wrap, and set it aside till doubled in bulk and risen 1 to 1 1/2 inches over the lip of the pan, about 1 to 1 1/4 hours.

Bake the bread in a preheated 375°F oven for 35 minutes, or until it's golden brown and tests done (the interior of the loaf will read 190°F on an instant-read thermometer). Remove the bread from the oven, remove it from the pan, and cool completely on a rack.
Reviews
Update to previous comment from 5/17-This time I used 2Tb caraway and 1 1/2 tsp rye flavor-I mixed the ingredients by hand first. Then switched to dough hook, for another 10 minutes. First rise took 2 hrs, second 75 minutes-it baked beautifully! a rich brown crust, nicely domed top, it didn't sink this time! My husband ate the loaf in 2 days! This is a great recipe, easy to follow instructions.
When I first made this bread I would give it three stars because it fell in the center but after several attempts I have it perfect, I had to adjust the yeast to 1 teaspoon lowered the water to but I think the yeast was the problem. VERY GOOD BREAD.
I'm a novice bread baker... I made this recipe as written, using 1tsp Rye Flavor and 1 1/2 tsp caraway seeds. Will increase each by 1/2 tsp next time, just to amp up the flavor. My husband is the rye bread expert and said the texture and taste was great! Doesn't look as pretty as KA picture, but beautiful no less! My loaf rose above the pan, but sank in the middle during baking. It ended up puffed around the edges and sunken on top, oh well. I'll try it again!
I followed this recipe exactly as written using all fresh ingredients and it fell. I made it in the bread machine. It rose to the top of the pan and fell in the middle as it baked.

We're sorry to hear about your sinking bread, fellow baker. We know it's disappointing to see your loaf cave in during baking. It sounds like your bread machine made the dough rise a bit too much too quickly, which could be a result of the setting that was used. Next time, try reducing the yeast by 1/4 teaspoon to see if that helps. It should promote a more controlled rise and a better overall structure. Good luck, and happy baking! Kye@KAF
Made this recipe in my brad maker. During the baking process the brad fell. What are the causes of this?

Typically bread falls if it overproofs; this means it rises too much and then collapses. Try reducing the amount of yeast you use by about 1/4 teaspoon. Also be sure you're using a fresh instant or active dry yeast (rather than quick rise yeast like rapid-rise). Additionally, be sure you're using King Arthur All-Purpose Flour to ensure a reliable structure. (Other brands of flour tend to be lower in protein and may not provide the same great results.) Good luck! Kye@KAF
I really REALLY need to update my earlier review of this bread. I absolutely love "egg in a hole" buttered bread, both sides with an egg in a hot skillet, and i always add garlic/onion powder with s&p. Had it this morning with this bread. It was absolutely wonderful. Man it was really really good. Then, I made a grilled cheese on rye and I was so happy, it was so good. If you love rye bread, this is the one to make. Life is better with homemade bread! Thank You KAF, this is one fabulous recipe.
This is just like the bakery rye bread my mom used to buy when I was a kid. Because this was the 1st time around, I used the minimum of deli rye flavor and the caraway. Glad I did. It was mildly intense, giving room for adjustment. Has a terrific crumb and aroma. Would hold up to sandwiches. Made this during a pretty hard rain, so i had to gradually add more flour until I had it right, so put it in the fridge to rise for added strength. Also, used Guittard red cocoa powder as a stencil on top, which turned out beautiful. Yummy with Irish butter on top.
This is the only bad recipe I've used on this site. There was waaaaay too much caraway. I put in less than half of the range and the whole bread tasted mustardy. Additionally the rising dough collapsed before the second rise was close to ending. I've never had this issue before - I wonder if the liquid to solids ratio was off.

Joanne, we're sorry to hear this recipe didn't produce quite the right combination of flavor for you. Some people are quite sensitive to caraway, so you should feel empowered to adjust the quantity that's added to meet your taste preferences. As for the rise, we're wondering if the dough was left to rise someplace particularly warm or if warm water was used. Both of these factors can make the dough rise faster than expected, in which case you'll want to cut the rise short and move onto the next step once the loaf looks puffy. You can also try using a flour with a higher protein percentage (like bread flour) instead of all-purpose to give the dough more structure. We hope that helps. Kye@KAF
best rye ever...........added kaf rye bread improver. here in reno at 5000 feet rye was perfect in bread machine. thank you.

When recipes receive a zero rating, we'd like to know more. Were you disappointed in flavor, texture, process? Call our baker's hotline at 855-371-2253 so we can work together and get you back to happy baking! Irene@KAF