A customized print-friendly version of this recipe is available by clicking the "Print Recipe" button on this page.
Self-Rising Crumb Coffeecake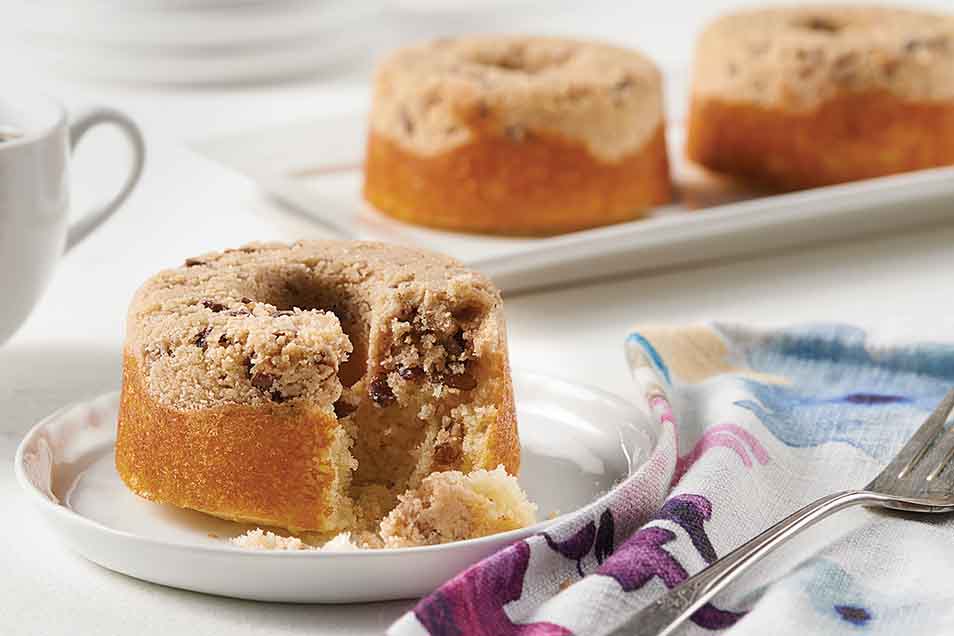 This tender, moist cake is the perfect base for its cinnamon-scented crumb topping.
Ingredients
Topping
8 tablespoons softened butter
1 1/4 cups King Arthur Unbleached Self-Rising Flour or King Arthur Unbleached All-Purpose Flour*
1 1/4 cups confectioners' sugar, sifted
1 cup chopped pecans, optional
1 teaspoon ground cinnamon
1/4 teaspoon salt*
*omit the salt if using self-rising flour
Cake
8 tablespoons butter, at room temperature
1 1/4 cups cup sugar
2 teaspoons vanilla extract
1/8 teaspoon lemon oil or 1 tablespoon grated lemon peel (lemon zest); or 1/4 teaspoon ground nutmeg; or 1 teaspoon cinnamon; or 1/2 teaspoon Buttery Sweet Dough Flavor, optional but tasty
3 large eggs
2 1/2 cups King Arthur Unbleached Self-Rising Flour
1 cup buttermilk or plain or vanilla yogurt
*No buttermilk? Substitute 3/4 cup milk + 1/4 cup plain (not Greek-style) yogurt
Instructions
Preheat the oven to 350°F. Lightly grease a 9" x 13" pan. For additional pan options see "tips," below.

To make the topping: Combine the flour, confectioners' sugar, cinnamon, salt (if needed), and pecans until evenly incorporated. Mix the butter into the dry ingredients just until medium crumbs form. Set aside.

To make the cake: In a medium-sized mixing bowl, beat together the butter, sugar, and flavorings until blended.

Add the eggs one at a time, beating just until blended after each. Scrape the bottom and sides of the bowl between additions.

Add the buttermilk (or yogurt) alternately with the flour, mixing gently to combine and scraping the bowl after each addition. Spread the batter in the prepared pan.

Quickly and gently sprinkle the crumbs on top, beginning with the edges then filling in the middle.

Bake for 35 to 40 minutes, until a cake tester or toothpick inserted into the center comes out clean. Remove the cake from the oven, and cool it on a rack.

When the cake is completely cool, dust it with confectioners' or non-melting sugar.
Tips from our bakers
Watch out when you cut this cake; in typical crumb cake fashion, the crumbly topping will scatter a bit.
For an extra-tasty treat, fold 1 cup blueberries into the batter before baking. Be sure to add the optional lemon oil or peel if you use blueberries; the two flavors play very nicely together.
Don't have self-rising flour? Try our recipe for Cinnamon-Streusel Coffeecake using all-purpose flour.
For a neater-looking cake that can be served out of the pan, try turning the whole process upside down: bake the cake with the "topping" on the bottom. Put the topping into the pan, followed by the cake batter. Once baked, turn the cake out onto a serving plate so that the topping is right-side up again. This method works fine in two 8" round cake pans, as well as the 9" x 13" pan called for. We also tried this when baking this recipe in our mini tube pan, as follows: Scoop 1/4 cup of topping into the bottom of each well, then scoop a heaping 1/3 cup cake batter on top. Bake the cakes for 22 to 26 minutes, until a toothpick inserted into the center comes out clean and the cakes' edges are golden brown. Remove the cakes from the oven, allow them to cool for 5 minutes in the pan, then turn them out onto a rack to cool completely. This yields 12 cute individual cakes.
Reviews
I found this as a way to use up some extra Self-Rising Flour from when I went on a Victoria Sponge kick (curse you, Great British Baking Show,) and I was curious as it is very different than my go to Coffeecake, the KAF Cinnamon-Streusel Coffeecake. This cake, while fine, is not as tender, and the topping is the first I have seen with it being made with confectioner's sugar. Its not a bad recipe, but if I was given the choice, I would go for the Cinnamon-Streusel version.
mixed reviews on this one. i tried to bake it in a tube pan, rather than individual mini-tubes. it came out kind of dry and dense and i didn't know how long to bake it.

We'd love to offer some tips to help improve your results next time. One of the most common reasons why baked goods turn out dry and heavy is because too much flour is used. To ensure you're using the right amount, we recommend checking out the "Measuring Standards," link next to the ingredients header above. You'll see that either measuring your flour by weight using a scale, or fluffing and sprinkling the flour into your measuring cup are the best ways to ensure your recipe turns out perfectly.

It's also important to not overbake your coffeecake in order to prevent it from being dry. If you're baking as one large tube cake, start by baking it for about 35 minutes and then insert a toothpick into the center. If it comes out clean or with just a few moist crumbs clinging to it, it's done. Happy baking! Kye@KAF
I made these into a cinnamon version by adding cinnamon bits to the batter. After baking and they were cool, I split them in half horizontally and spread a layer of cinnamon filling. They were a huge hit and I will make these again..
Flavor is very good. However, there is no time listed for the mini pan. My topping got hard. The second pan I pulled them out at 20 mins but the crumb topping was still on the hard side. Next time I'll just place it on top like the 9x13 pan. I used butter flavor and recommend it as it taste like the crumb cake from your morning deli or bakery.

Thanks for catching that, fellow baker. We've asked our Recipe Team to add a baking time for the mini coffeecakes, and we're truly sorry for any inconvenience this omission might have caused. Start checking for doneness around 22 minutes and extend the baking time as necessary (up to about 26 minutes; a toothpick inserted into the center should come out clean when they're done.) Kindly, Kye@KAF
I just baked this today to use up some self rising flour my roommate bought and only used a minimal amount of. It's ok. Not terrible, just not really up to par with what I think of as coffee cake. The cake itself has a nice crumb but it's slightly dry and quite bland. The topping is rather flat and bland as well; what's pictured with this recipe I suspect used melted butter rather than the stated softened butter. I had thought about melting the butter, knowing how the results would differ and that's what would result in a topping like what's pictured, but I really try to follow recipes as written the first time I make them. Overall it's not bad; if I make it again I'll definitely make some changes though. Regardless it has served it's purpose for me in helping me use up some of the sr flour in the pantry.
After reading reviews,I decided to try some modifications. I added 1 tsp. cinnamon, 1/2 tsp. allspice, 1/2 tsp. cloves to topping to improve the flavor. Next time I will lessen the amount of powdered sugar and added a bit of brown sugar. I used 1 cup plain drained yogurt ( in place of the buttermilk) and 1/2 tsp lavender extract, 1 tsp. grated lemon zest and 2 tsp vanilla to batter. After spreading batter into the pan, I sprinkle dark chocolate morsels over the cake then covered with the topping. Baking time was just shy of one hour. This cake turned our perfectly, have great texture and flavor.
Tasty and very quick and easy. I'm afraid that my family has been spoiled since I made the Cinnamon Struesel Coffeecake. Now, nothing else will do. I do love that this uses self rising flour. I never used that type of product until discovering KAF's. Wonderful addition to the pantry. Thanks for the recipe!
I made this using some of the tweaks suggested by other reviewers. (Thank you fellow bakers.) adding my own tweaks. Spreaded the crumbs on a baking sheet and browned them stirring once to brown evenly. Baked the cake in the individual panatone cups and spread with my apricot jam on some and raspberry jam on others, while still warm. Sprinkle on the browned crumbs and press down lightly. Let cool. The cake melted in the mouth. This self-rising flour is fabulous.
I baked this today with a few added ideas. I added 3 T. of Brown Sugar to the crumb topping, grated fresh nutmeg and cinnamon. I also added 1 teaspoon Princess flavor to the cake batter. It's absolutely delicious. Happy Holiday's! Allyson