A customized print-friendly version of this recipe is available by clicking the "Print Recipe" button on this page.
Self-Saucing Chocolate Cake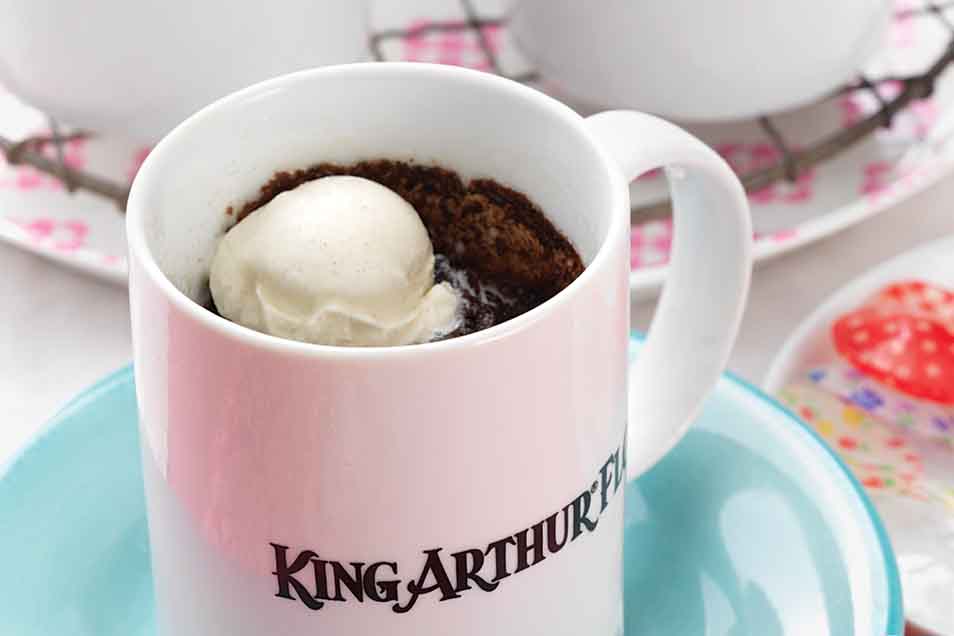 Easy to make; fabulous to eat. This chocolate treat can be dressed up with ice cream, whipped cream, or Irish Cream. Mmmmmm.
Ingredients
Batter
1/4 cup sugar
1/4 cup Double-Dutch Dark Cocoa, Cocoa Rouge, or Dutch-process cocoa
1/4 cup almond flour
1/4 teaspoon salt
1 teaspoon baking powder
1 teaspoon vanilla
3 tablespoons melted butter or vegetable oil
1 large egg
1/2 cup milk
Topping
1/2 cup sugar
2 tablespoons Double Dutch Dark Cocoa, Cocoa Rouge, or Dutch-process cocoa
pinch of salt
1 cup hot milk or hot water
Instructions
Preheat the oven to 350°F. Grease four 1-cup ramekins or oven-safe mugs.

To make the cake: Mix together the flour, sugar, cocoa, nut flour, salt, and baking powder.

Whisk in the vanilla, melted butter or oil, egg, and milk.

Divide the batter between the prepared ramekins or mugs, using about 1/3 cup batter in each.

To make the topping: Whisk together the sugar, cocoa, and salt.

Divide among the ramekins or mugs, using two heaping tablespoons for each.

Top each ramekin or mug with 1/4 cup boiling water. Place on a baking sheet.

Bake the cakes for 18 to 22 minutes. The cake should be puffy, with some liquid boiling up around the edges.

Serve hot or warm. Top with whipped cream, a toasted marshmallow, ice cream, or a splash of Irish Cream, if desired.

Yield: 4 servings.
Reviews
Just made this for the first time using only all purpose flour, and Hershey's dark chocolate cocoa. It was delicious.
I made this recipe and it was watery and not near enough chocolate. So, being the culinary arts student I am I decided to tweak. I added 3 Tbs. of melted chocolate to the sauce as well as a Tbs. of Espresso powder to the sauce. I also made the sauce with milk instead of water. I also didn't add the extra water to the sauce. Made it super watery. This was a great starter recipe but as with most recipes I may have decided to change somethings.
Thought this would make a quick and easy dessert for my kids. A-plus on that account. Noted after I printed the recipe that it resembled my mother-in-law's old recipe for chocolate upside-down cake. When the cakes came out, there was a nice steamed-pudding-y kind of dense chocolate cake on the top, but at the bottom was a LOT of very watery chocolate sauce. It all tasted good, but the sauce kind of melted the cake and then it was a little grainy from the almond flour. I used water. I would give it another go with milk as recommended by other reviewers to see if I have better success. But after looking at the other recipe, I feel like there is too much boiling liquid in this one. My other recipe calls for 1 cup of boiling water for twice as much cake batter and topping.
Any suggestions for us gluten free folks because this sounds amazing.
We haven't tested a gluten free version of this recipe, but suspect that subbing 1/2 cup GF flour in place of the all purpose flour and adding 1/8 teaspoon xanthan will help you bake this delicious cake in a cup. Happy baking! Irene@KAF
I give it 5 stars only if you use hot milk. Using hot water, I'd give this recipe only 2 stars. USE MILK! It makes the difference! :-)
Baking as we type....batter was tasty, made as directed and looks great in the oven...made the almond flour off another website...blanched and threw them in the Vitamin...perfect texture! thought it was easy and fairly quick recipe , baking in heart shaped ceramic bowls I measured prior to using as the ones I was going to use appeared to be big enough but in measuring they would not have worked. thanks for the recipe! I always trust KAF for great recipes...I doubt I will be disappointed in this one either....
Haven't tried this yet but sounds delicious. I just wonder why people rate a recipe and then say they left out this, added this, used less of something else, etc. by the time they are done it is a different recipe!
to sweet for my blood. wish I had cut down the sugar
I am giving this 5 stars based on the utter simplicity combined with a good result. The cakes turned out nice and cake-like with a little "sauce" at the bottom. Delicious! (Fine print: I used all-purpose flour instead of the nut flour, went a little scant on the sugar, used coconut oil instead of butter, used water in the "sauce", halved the "sauce" amount, and cooked for about 20 minutes. They didn't bubble around the edges as the recipe said, I think because I didn't use as much sauce, and they were completely done when we bit into them.)
This was quite delicious but I have to say it was very very liquidy - there was very little in the mug that was "cake" like in consistency, mostly like eating a cup of yummy chocolate sauce or super thick hot cocoa. Recipe was followed to a "t" and baked 2 minutes over the max bake time listed. It was delicious but not what I expected from the title of the recipe.
Thank you for your frank review - using 1/3 cup batter, 2 T. cocoa mix, and 1/4 cup water should have yielded better results. We hope you find another chocolate recipe that matches your dreams. Happy Baking! Irene@KAF