A customized print-friendly version of this recipe is available by clicking the "Print Recipe" button on this page.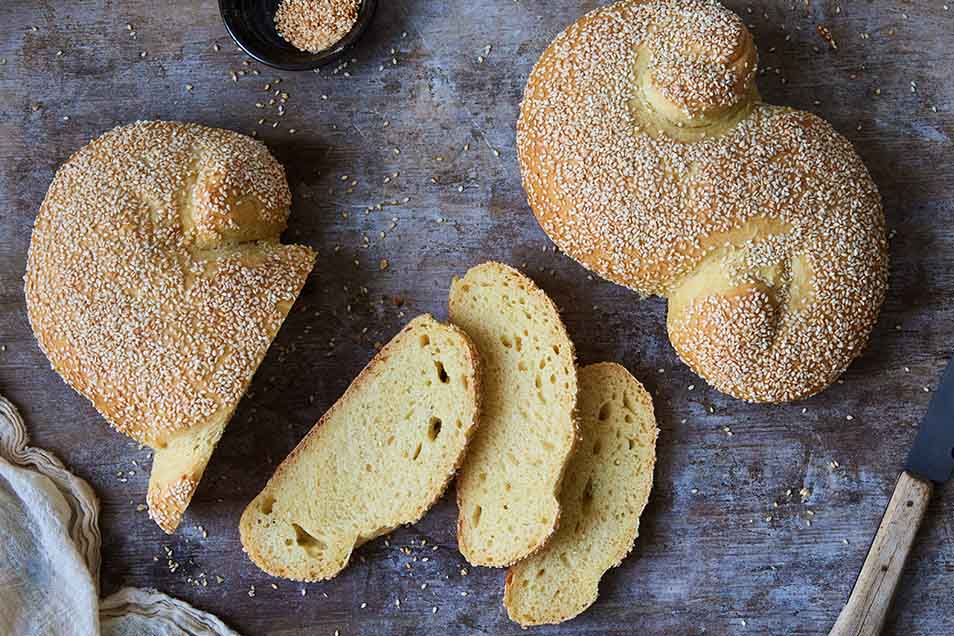 This light-textured, golden loaf, shaped in a traditional Italian "lunetta," is perfect with pasta, and scrumptious for sandwiches. Read our blog about this bread, with additional photos, at Flourish.
Ingredients
Topping
5 teaspoons sesame seeds or whole flax seeds
1 egg white whisked with 1 tablespoon cold water
Instructions
Combine all of the dough ingredients, mixing to form a cohesive dough.

Knead to make a smooth, fairly stiff dough. This will take about 6 minutes in a stand mixer equipped with a dough hook. You may also make the dough in your bread machine, set on the dough cycle.

Shape the dough into a ball, and let it rise in a covered bowl for about 90 minutes, till it's just about doubled in bulk.

Gently deflate the dough, and divide it in half.

Shape each half into an 18" rope.

Working with one piece of dough at a time, mark the center of the rope, and coil one end to the center.

Coil the other end, as pictured, to make an "S" shape.

Place the loaves on a parchment-lined or lightly greased baking sheet, and cover with lightly greased plastic wrap, or a large casserole pan, such as an oversized disposable lasagna pan.

Let the loaves rise for about an hour, till they're nice and puffy. Towards the end of the rising time, preheat the oven to 350°F.

Brush the loaves with the beaten egg white, and sprinkle liberally with the sesame or flax seeds.

Bake the loaves for about 25 minutes, till they're golden brown. Remove them from the oven, and cool on a rack.
Reviews
Made this yesterday with KAF flours. It rose nicely. baked 350 f for 35 minutes. It was not getting brown? took out of oven to not over bake. Used the egg white and sesame seeds Think I may have let second rise too long didn't rise as much as it should have I think. I remember as a child my Aunt making S shaped bread. but hers was really an S. not connected like a pretzel I

Hi there! It sounds like you're right, your second rise might have been a little too long. Often times when a loaf of bread doesn't brown properly, the dough has fermented too long and the yeast has eaten up most of the sugars, leaving nothing left to caramelize during the bake. Also, the lack of rising in the oven is a symptom of over-proofing. On your next baking adventure, we'd suggest checking on your dough a little sooner during that last rise — a good way to tell your dough is ready to go into the oven is when you press on the dough your fingerprint should spring back slowly. Kindly, Morgan@KAF
Are you supposed to score your bread before baking?

You most certainly could if you would like to, Mary Lou! It isn't required but does give any gasses that build up a place to escape. Happy baking! Morgan@KAF
It is now my go-to white bread. Thank you for the recipe. Will be baking it as one loaf next.
I made it without the diastatic malt powder and it turned out quite dense. I would like to bake this as one round loaf in a cast iron dutch oven but lack the experience to figure out time and temperature. I will use the diastatic malt! I like to cover the bread first, then remove the cover and finish baking. Can you provide some guidance?

We haven't tried baking this recipe as one single loaf, but we'd recommend checking for doneness around 30-35 minutes. If you're baking the bread in a covered crock, then bake for the first 25 minutes with the lid on and then remove for the final 10-15 minutes. The best way to test for doneness is to use an instant-read thermometer. When it reaches 190°F it's done. Happy baking! Kye@KAF
Absolutely magnificent. I have always had trouble with yeast dough, but this one came together beautifully and rose like magic. I opted to bake the two 'ropes' as 18' sub/hoagie/grinder rolls for Philly-style roast pork sandwiches and the bread was absolutely the star of the show. I see no reason the same dough wouldn't work equally well as burger buns or smaller, individual sub rolls. The impact of the malt powder can not be overstated; a day later, lightly wrapped, the leftover loaf is just as soft as it was when it came out of the oven. Can't wait to get home, toast it under the broiler and fill it up...(or just eat it by itself, which is far more likely)...
The direction should say, mix dry ingredients, before adding liquids.... I know better, but didn't do it.... even my son told me, I should have.... he's 22 and I taught him.... lol, bugger... Didn't rise as it should have... Can I use regular yeast, not instant?

Thank you for your valuable feedback, Coni. We greatly appreciate it! As for yeast, Instant Yeast and Active Dry Yeast are always interchangeable, you'll just find that Instant works a bit faster. Annabelle@KAF
Help! I made this recipe in my bread machine & followed the recipe letter for letter. I got hockey pucks out of this dough. I've been making bread for over a year & never had this problem. Any suggestions? Vickie

There's a number of reasons why dough fails to rise (everything from yeast that's not fresh, the temperature being off, or too much flour being used). Don't worry though -- our friendly and experienced bakers on the hotline are here to help! The best way to troubleshoot is for us to hear more about your ingredients and your process, so we encourage you to give us a call at 855-371-BAKE(2253). Kye@KAF
I love the taste of this loaf! I have made it several times and am curious about what you are doing to get the dough to retain its shape. I have tried this both with and without the diastatic malt powder (I much prefer it with) and my dough refuses to retain the S shape after the second rise. I put the S-shaped dough on parchment on a baking sheet and allow it to rise (covered with EVOO-greased plastic wrap) inside my oven which has a pilot light and is therefore a cozy, draft-free spot for the dough to rise. Once the dough has risen for the second time, the S shape is almost completely lost (it still retains the curvy outside edges, but other than that, it is sort of a non-descript blob). Any suggestions about what might be going on? Thanks so much in advance for all your help and of course, all of your wonderful recipes!
It sounds like your strand of dough could just use a little pre-shaping to help it maintain structure. Try checking out our baguette shaping video and using that same technique to help shape your lunetta. MJR @ KAF
New family favorite! I make the dough in my bread machine, shape it and then bake it on the convection setting of my oven. I like to shape it into a round ;oaf covered in sesame seeds. I cut a shallow cross in the top before baking. The result is a stunning loaf with a crisp crust, light texture and beautiful golden interior. Best of all, the flavor is outstanding.. It also makes great sandwiches and toast. Thanks, KAF, for another wonderful recipe!
Excellent flavor from a really easy-to-handle, easy-to-shape dough. I used toasted sesame oil this time, and I'm looking forward to trying olive oil next time.