A customized print-friendly version of this recipe is available by clicking the "Print Recipe" button on this page.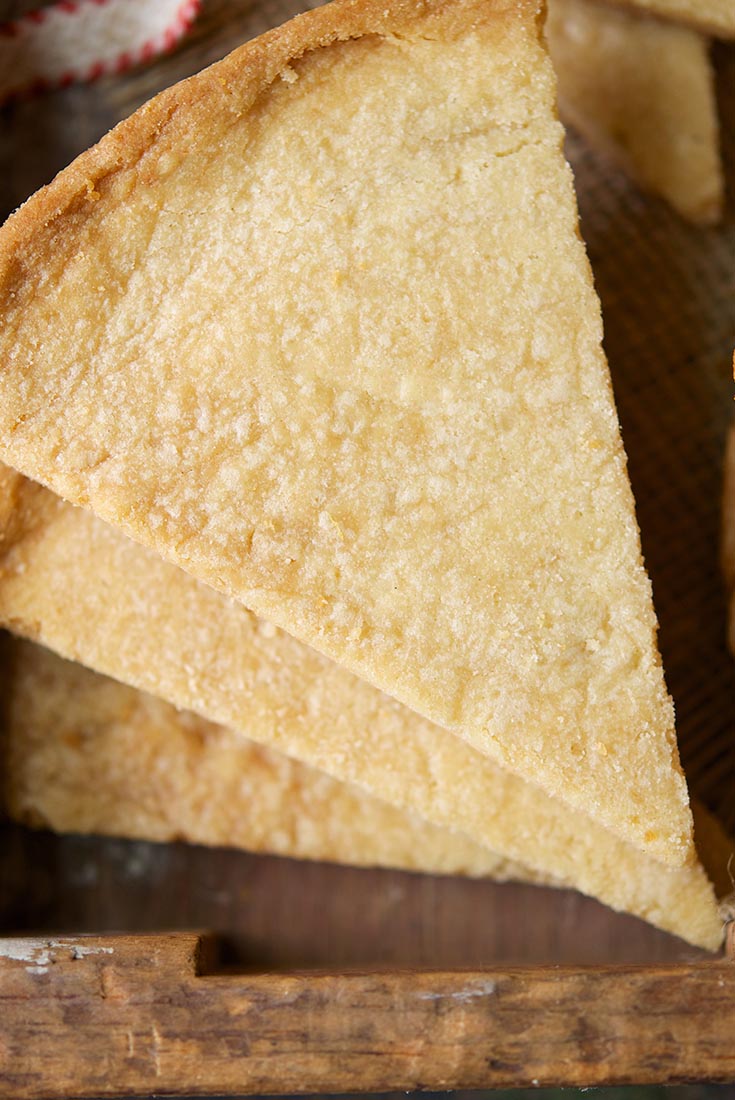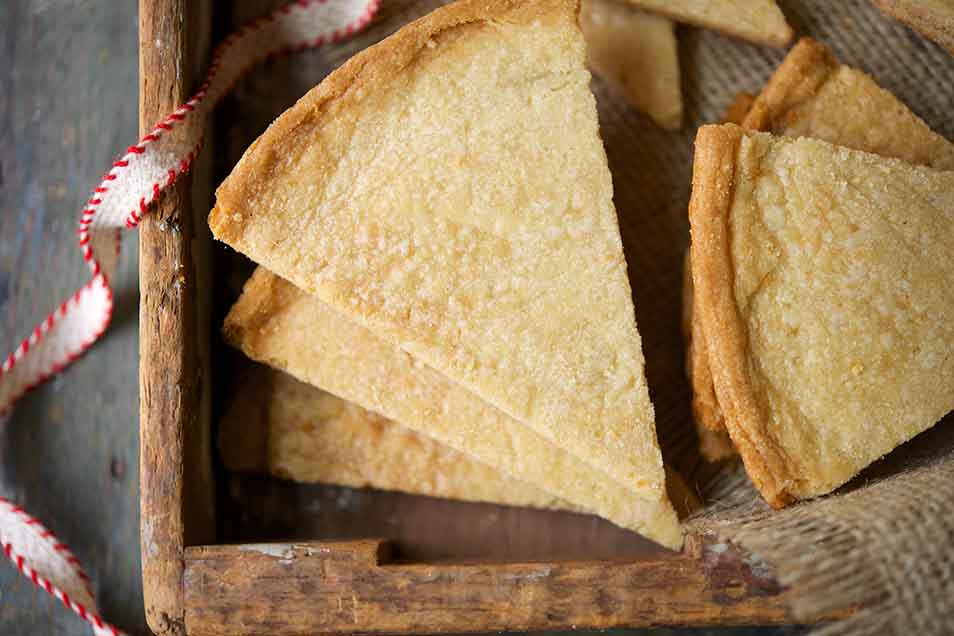 Shortbread is a wonderful starting point for all kinds of sweet adventures: top it (nuts, chocolate, jam); flavor it (lemon, hazelnut, coconut); or do both (cappuccino with a mocha ganache drizzle, anyone?). Then again, if you're a "make mine vanilla, please" kind of guy or gal, leave it alone; it can stand on its own in perfect simplicity.

Our guarantee: This light-gold, crisp/flaky shortbread is buttery and mildly sweet. It will be about 1/4" thick.

Read our blog about shortbread, with additional photos, at Flourish.
Ingredients
1 cup (2 sticks) salted butter, at cool room temperature*
1 cup confectioners' sugar
2 teaspoons vanilla extract
1/4 teaspoon almond extract, optional, or the flavor of your choice; eggnog flavor makes a delicious holiday shortbread
*Since butter is such a critical element in these cookies, we recommend you use a top-quality butter. Our test-kitchen choice is Cabot.
Instructions
Preheat the oven to 300°F. Lightly grease two round 9" cake pans. If you worry about the shortbread possibly sticking in your particular pans, line them with parchment, and grease the parchment.

In a medium-sized bowl, beat together the butter, sugar, vanilla, and almond extract, then beat in the flour. The mixture may seem a little dry at first; keep beating till it comes together. If it absolutely won't come together, dribble in up to 1 tablespoon of water, until it does. This is a stiff dough.

Divide the dough in half (if you have a scale, each half will weigh about 10 1/2 ounces), and press each half into one of the prepared pans, smoothing the surface with your fingers, or with a mini rolling pin.

Use a fork to prick the dough all over; this allows any steam to escape, and prevents the shortbread from bubbling as it bakes. Prick the dough in a random pattern, but it looks nicer pricked with some kind of symmetry.

Bake the shortbread until it's a light golden brown across the top surface, and a deeper golden brown around the edges, about 35 minutes.

Remove it from the oven, and immediately turn each shortbread round out onto a clean work surface.

Using a pizza wheel or sharp knife, cut each round into 12 wedges. (Do this while the shortbread is still warm; if you wait until it's cool, it won't cut easily.) Transfer the shortbread wedges to a rack to cool.

Serve as is, or decorate. Here are a few suggestions:
Drizzle with melted caramel;
Spread with melted chocolate, and sprinkle with nuts;
Set aside two shortbread cookies, and spread the remainder of the cookies with a thick layer of jam or preserves. Crumble the reserved cookies, and sprinkle the crumbs lightly over the jam.


Nutrition Information
Serving Size

1 wedge (25g)

Servings Per Batch

24
Amount Per Serving:
Calories

120

Calories from Fat

70

Total Fat

8g

Saturated Fat

5g

Trans Fat

0g

Cholesterol

20mg
Sodium

55mg

Total Carbohydrate

12g

Dietary Fiber

0g

Sugars

5g

Protein

1g
* The nutrition information provided for this recipe is determined by the ESHA Genesis R&D software program. Substituting any ingredients may change the posted nutrition information.
Tips from our bakers
Want to make shortbread drop cookies? Drop the dough by teaspoonfuls onto a lightly greased or parchment-lined baking sheet. Flatten each ball of dough to about 3/8" thick; use the bottom of a drinking glass, the tines of a fork, a cookie stamp, or whatever implement you think will make a pretty pattern. Bake the cookies for about 25 minutes in a preheated 300°F oven, until they're set but not really beginning to brown. Remove them from the oven, and cool on the pans, or on a rack. Yield: about 4 dozen small (1 3/8") cookies.
To give your shortbread festive flavor for the holidays, omit the almond extract, and add ¼ to ½ teaspoon eggnog flavor and a pinch of grated nutmeg to the dough.
If you're having trouble pressing the shortbread flat in the pan because it's sticking to your fingers, cover it with a piece of plastic wrap, and push on the wrap. Remove the wrap before baking.
Although we usually use unsalted butter in our baking here at King Arthur, in this case salted is preferred. Why? Because, with no liquid in the recipe, it's impossible for added salt to disperse itself fully through the shortbread dough; you end up with unpleasantly gritty bits of salt in each bite.
Vary the flavor of your shortbread with the following simple additions. For ginger shortbread: add 1/3 cup finely diced ginger and 1 teaspoon ground ginger. For butter-pecan shortbread: add 1/8 teaspoon butter rum flavor and 1 cup finely diced toasted pecans. For chai-spiced shortbread: add 1 teaspoon ground cinnamon, 1/4 teaspoon crushed cardamom, and 1/8 teaspoon ground cloves.
Reviews
ok.. I just stumbled upon this baking site looking for a scone recipe and was impressed that the KAF reps. took the time to explain what makes their flour special and why it works differently that others. I am a 60 year old woman and baking has never been my forte..however, being the youngest and the last of my mothers' family blood line I needed to learn how to bake our family holiday recipes so they could be passed on to my children. Growing up I was too young to learn the details of these hand written recipes but I sure learned what they were supposed to look like and, most of all, taste like. I tried many times but there was always something "not quite right" . Luckily, I had an older cousin-in-law who still baked these family delights and ALWAYS successfully. So I finally asked her advice. Her first question was, "Are you using King Arthur Flour? Because if you're using something else the recipe WILL NOT NOR WILL IT EVER come out right. Believe me! I made the same mistake and it was your aunt that set me straight. Never use anything but KING ARTHUR FLOUR." Oh come on! I thought to myself. Flour is flour. I must be doing something else wrong. At that time KAF was not available in our area. I had to have a visiting friend tote a bag from PA for me. KAF MADE ALL THE DIFFERENCE IN THE WORLD!!! Every time I start my holiday baking and open that bag of KAF, I shake my head and smile. Thanks KAF. And thank you for this site...I plan on baking a lot more often now.
This recipe is such a good base for shortbread. I had never made shortbread and have been looking for a recipe. I halved the recipe by weight. I used both vanilla and almond extract but I also added the zest of one orange and a teeny bit of orange juice. Then i rolled it into an inch and a half roll and froze it for 30 minutes. Then I was able to cut 24 cookies at 1/4in thickness. I baked them about 20-25 minutes at 300. I wasn't really sure when to take them out so I eyeballed it when they didn't feel doughy anymore and the bottoms were slightly crisp. Then I dipped them in dark chocolate and sprinkled a little salt flake on them. They're so good!
Tried to make these and followed the instructions exactly but the texture was all wrong. The cookies were very chewy and not at all like a true shortbread texture. Can anyone offer suggestions on what might have went wrong? Was really disappointed as shortbread are my husband's favorite and I was hoping this could be my go-to recipe.

Chewy shortbread, you say? It's possible that the shortbread was under baked, preventing the texture from becoming crisp. There's also a chance that too much flour was added, or flour with too high of a protein content was used. To rule out these possibilities, use King Arthur All-Purpose Flour if you're not already doing so, and measure you flour following the "Measuring Standards," link to the right of the ingredients header, above. We hope that helps! Kye@KAF
I love this simple recipe. It is my favorite Christmas cookie. My favorite variation is to add finely chopped dried pie cherries or cranberries to the dough. The sweet and tart is a wonderful combination and it gives the shortbread a more festive look.
This recipe is simple and a crowd pleaser! Do you have a recommendation on how to use granulated sugar as a substitute for confectioners? Say, for example, if you were really behind on your holiday baking and didn't have time to get to the store?

Laurel, we've all been there! While we certainly recommend using confectioner's sugar for best results, you can try pulsing your granulated sugar in a high-powered food processor or blender (something like a Vitamix would work well here) in a pinch. Pulse until it has a light, powdery texture. Happy baking! Kye@KAF
Lovely, short, buttery, delicious! However, I did find that (cooking by weight, not volume here) the amount of flour listed resulted in a very sticky dough, I had to keep adding a few spoonfuls at a time until I got to the right consistency. I think that ended up being an extra 10 grams? This could be because I decreased the sugar by 10 grams. I also added some ground almonds to the mix, which was delicious, and topped with homemade raspberry jam! I need to start running again if I want to keep baking these cookies :D
I just wrote a review but saw a question I think I can answer. The person with the hand mixer could freezay (sp) the ingredients. That is, combining the ingredients with the palm of your hand. Sliding the butter into the other ingredients with the heel of your hand. That was the way I was taught to make the cookies!

Sounds like you might be referring to the technique known as fraisage, the French method of creating streaks or very thin layers of butter in dough. We haven't tried mixing this dough using fraisage, but it's certainly an idea worth exploring, especially if you don't have a stand or electric mixer to work with. Happy baking! Kye@KAF
Thanks for the great recipe! I halved it and made the little cookies instead of wedges. I added a teaspoon of freshly grated lemon zest plus a teaspoon of lemon juice, and omitted the almond extract. I've made shortbread a number of times, but it was my first time using this recipe, and first time adding lemon. These were delicious! In fact, I just made more this morning to add to gifts we're mailing, and I'll probably make the wedge version to share on Christmas day. Note, the batter is thick but I just beat it by hand (versus using a mixer). I baked them about 26 minutes and sprinkled powdered sugar on them.
It's ok. The first cookie tastes great, the second one is ok, and the third is 3 too many. Basic recipe, BUT ( and it's a big but) this recipe really should specify that you need a stand mixer. I don't have one, so whenever I see a recipe that stand mixer I just drop it and look for a different recipe. If it doesn't say stand mixer, I use my handy dandy hand mixer. I've never made a recipe like this before, so there's no way I could have known that the dough was going to burn out the motor on my hand mixer. Yes, the trusty mixer I've had since college and given to me my dear Mother is dead because this dough is just too stiff for it. I'm hoping King Arthur flour starts specifying when you need a stand mixer in every recipe, not just some of the recipes. Meanwhile, I'm out about $35 while I look for a new hand mixer since I have neither $180 nor the space for one of those standing mixers.

Meg, we're sincerely sorry to hear about the loss of your hand mixer. We understand that baking equipment that's passed down through generations is special, and we apologize for any disappointment you experienced with this recipe. We realize that a stand mixer isn't a luxury that all bakers have, so we've made sure that the dough can be mixed successfully using a hand mixer.

Here are a few tips that may help in the future (with this recipe or others): be sure your butter is soft at room temperature. A stand mixer can handle a slightly firmer butter, but be sure your butter is quite soft if using a hand mixer (you can even heat it in the microwave slightly). Next, try measuring your flour by weight using a scale, or fluffing and sprinkling it into the measuring up to ensure light cups of flour. Adding too much flour can make a heavy, stiff dough that's difficult to mix. We hope this helps. Kindly, Kye@KAF