A customized print-friendly version of this recipe is available by clicking the "Print Recipe" button on this page.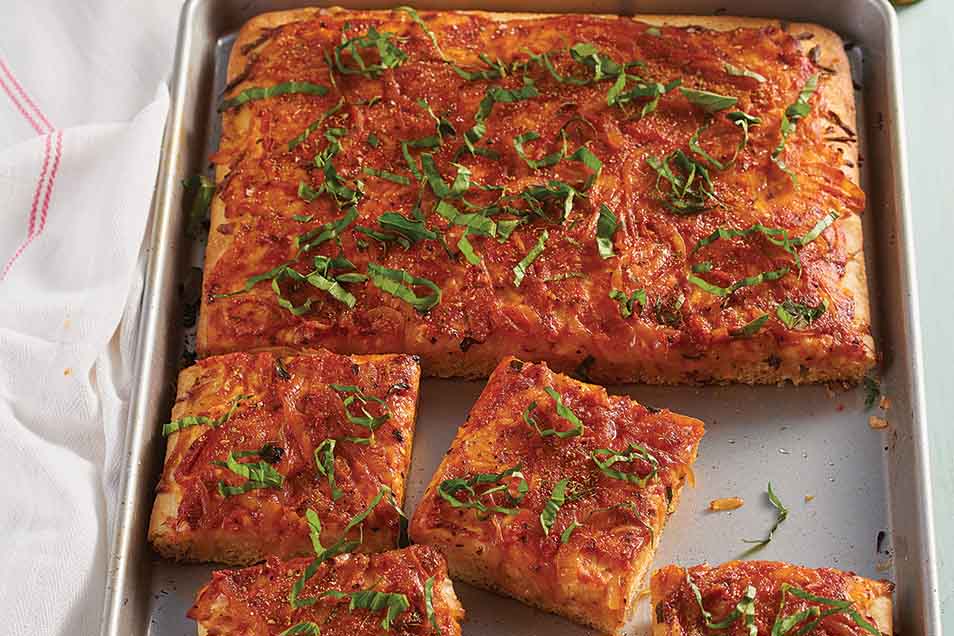 Although Sicilian pizza is often used to refer to a pie with a thick, rectangular, sheet pan-sized crust, there can be a little more to it than just its shape and size. In Sicily, a generous, almost focaccia-like crust is commonly topped with an abundance of strong cheese and sauce (in that order), along with onions, anchovies, and herbs. Our version here is a riff on these Sicilian toppings, layered onto a golden, crispy bottomed, soft and chewy crust.
Ingredients
Topping
1 tablespoon olive oil
1 medium sweet yellow onion, peeled and thinly sliced (about 1 cup)
1 cup tomato sauce
3 anchovies, finely chopped; optional
3 cups grated mozzarella cheese
Pizza Seasoning and/or fresh herbs, for sprinkling on top
Italian Herb Infused Dipping Oil or olive oil, for drizzling on top
Instructions
To make the dough: Mix and knead together all of the dough ingredients — by hand, mixer, or bread machine — adding enough water to make a very soft, smooth dough.

Allow the dough to rise, covered, for 1 hour. Use immediately; or refrigerate for up to 24 hours to develop the crust's flavor.

Use olive oil to lightly coat the bottom and edges of a half-sheet pan (18" x 13").

Remove the dough from the refrigerator, transfer it to the pan, and use your hands to gradually stretch it out towards the edges. When the dough starts to shrink back, let it relax, uncovered, for about 10 to 15 minutes, then stretch it again. You'll want the dough to fill the pan, so repeat the relax-stretch process two or three times until it does.

Let the dough rise for 1 to 2 hours, until it's noticeably puffy. The longer it's been refrigerated, the longer it's likely to take to rise.

To make the topping: Pour the olive oil into a large sauté pan set over medium-low heat.

When the oil is hot, add the onions and cook them until they're soft and lightly golden, about 15 to 20 minutes.

Transfer the onions to a large bowl, add the tomato sauce, and stir until evenly combined. Set aside.

Towards the end of the dough's rising time, preheat the oven to 450°F.

Bake the untopped pizza crust for 10 to 12 minutes, until it's barely beginning to brown.

Remove the pizza from the oven, and top it with the anchovies (if using), cheese, and tomato-onion sauce.

Return the pizza to the oven for about 15 to 20 minutes, until the edges are golden brown and the sauce is bubbling.

Remove the pizza from the oven, and let it rest for about 10 minutes before serving.

When ready to serve, sprinkle the pizza with Pizza Seasoning and fresh herbs, and drizzle with dipping oil.
Reviews
This is only for the crust as I put my own toppings, but the crust is amazinggggg. So thick and fluffy just like my grandpa used to make. He never gave me his recipe as he always eyeballed the ingredients and always told me "a little of this and that" like a true Italian lol. But this crust brought me right back to my childhood. Instead of the pizza seasoning I used 2-3 tablespoons of Italian seasoning but followed the rest of the recipe to a T. If you are kneading the dough by hand like I did about 10-12 minutes should be long enough to get it smooth. A must try!
The crust recipe is great, but traditional Sicilian pizza does not have mozzarella. The toppings should simply be homemade marinara sauce, anchovies (lots of them!), oregano, grated Pecorino Romano cheese, drizzled with extra virgin olive oil and baked on a sheet pan. This is how my Sicilian grandma taught me to make it. It's still my favorite pizza.
light and crispy genuine recipe! My only comments are, the authentic Sicilian pizzas my grandmother, mother, and aunts made always had Parmesean cheese. Also, the mozzerella should only be added during the last 5 minutes of cooking so as not to burn. With these adjustments in mind, I will definately use this crust recipe again! Very very good.
I made this pizza as per recipe did make dough ahead kept in fridge. I didn't use sauce recipe we use whole Italian tomatoes from can I use olive oil,crushed garlic, heat oil with garlic till it sizzles add tomatoes, I mash whole tomatoes with potatoe masher to break them up, I add oregano,small amt crushed red peppers, chopped fresh parsley,salt and pepper. my husband is total sicilian. He did say about using anchovies but this time I didn't. I did call customer service the picture of the pizza in the pan which I purchased gave the idea it was OK to cut pizza in Pan not a good Idea or it will get scratched & knew you shouldn't but sometimes people will do what they see without questioning it LOVE pan
i loved the dough recipe, it worked perfectly on the dough setting on my bread machine and the pizza seasoning added flavor. in the end, though, there was just too much dough and the sauce and cheese barely penetrated. i'd probably double the sauce and cheese next time.