A customized print-friendly version of this recipe is available by clicking the "Print Recipe" button on this page.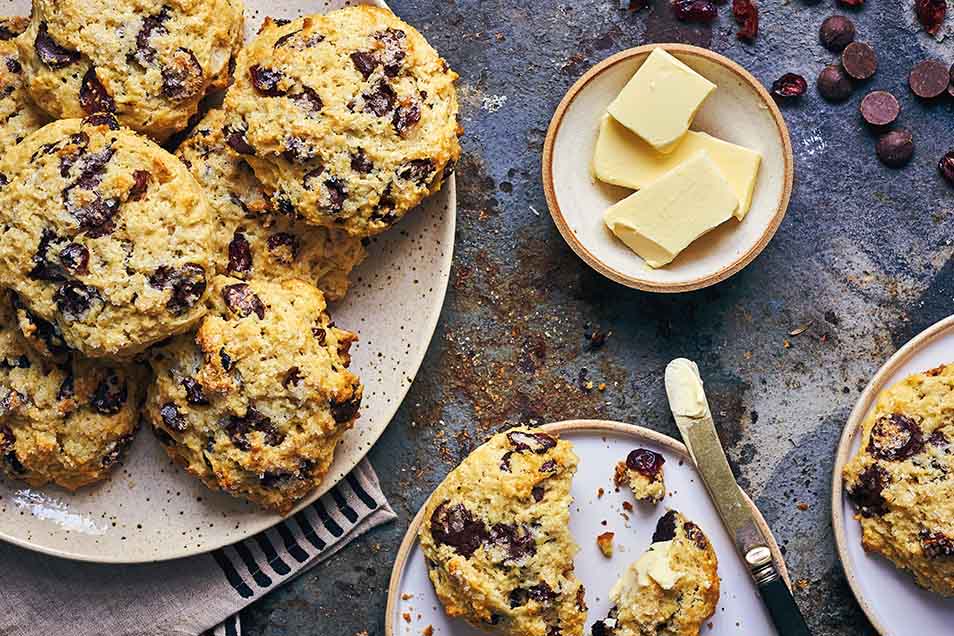 Here's your basic "start here" scone recipe. This plain vanilla scone is just waiting for your favorite add-ins; we happen to love a combination of dried cranberries and bittersweet chocolate chips.
Ingredients
Dough
2 3/4 cups King Arthur Unbleached All-Purpose Flour or Pastry Flour Blend
1/3 cup sugar
3/4 teaspoon salt
1 tablespoon baking powder
1/2 cup (8 tablespoons) cold butter
1 cup to 2 cups chopped dried fruit, chocolate or other flavored chips, nuts, or a combination
2 large eggs
2 teaspoons vanilla extract or flavoring of your choice
3/4 cup half & half or milk
Instructions
Preheat your oven to 375°F. If you're using an 8-wedge scone pan, lightly grease the wells. Or lightly grease eight 4" x 1" paper baking cups. Or grease a baking sheet, or line with parchment.

In a large mixing bowl, whisk together all the dry ingredients. Cut in the butter just until the mixture is unevenly crumbly; it's OK for some larger chunks of butter to remain unincorporated. Stir in the fruit, chips, and/or nuts.

In a separate mixing bowl, whisk together the eggs, vanilla or other flavor, and half and half or milk. Add the liquid ingredients to the dry ingredients and stir until all is moistened and holds together.

Using a muffin scoop or a 1/3-cup measure, generously filled, fill your scone pan or baking cups. Or plop the dough in mounds onto the baking sheet. Brush with a bit of milk and top with coarse sparkling sugar, if desired.

Bake the scones 25 minutes (for the scone pan), or 30 minutes (for the baking cups or baking sheet), until lightly browned. Remove them from the oven and let them sit for 4 to 5 minutes to firm before removing them from the pan. Serve scones warm with butter and/or jam.
Tips from our bakers
Variation: To make wedge-shaped scones without a scone pan, line a baking sheet with parchment, and flour the parchment. Make the scone dough, reducing the milk or half-and-half by 2 tablespoons. Scrape the dough onto the floured parchment, and round it into a 7" circle. Using a bench knife that you've run under cold water, slice it into 8 wedges. Carefully separate pull the wedges away from the center to separate them just a bit; there should be about ½" space between them, at their outer edges. Bake as directed above, for about 30 minutes. Remove from the oven, and cut and separate while warm. Yield: 8 large scones. For smaller scones, divide the dough in half to make two smaller circles, and cut into 8 wedges each. Bake for about 25 to 27 minutes, or until brown around the edges and just starting to brown on top. Yield: 16 scones.
Want to make these ahead? Sure, but keep in mind that refrigerated or frozen scones never bake up quite as tall and tender as ones baked immediately. Make the dough, shape it into scones by your preferred method, but don't top with sugar; wrap well, and refrigerate overnight (or freeze). To bake, remove scones from the fridge or freezer, unwrap, and put on a lightly greased baking sheet (or simply unwrap and leave them in their pan). Preheat the oven to 350°F; the scones will warm up a bit as the oven heats. Brush with a bit of milk and sprinkle with coarse sugar, if desired. Bake scones until they're starting to brown, which will be anywhere between 25 and probably 35 minutes, depending on how cold they are when you put them into the oven.
Reviews
After our grocery store stopped selling scones, I bit the bullet and made these. They are easy, quick, and taste just great. I use wild blueberries I pick while in my kayak on a small lake in NH. You can't go wrong with this recipe. I use scone pans from King Arthur and find that the recipe easily makes twelve good-sized scones. Thanks for such an excellent recipe! I do have one question. I'd like to make these but in a mini cupcake pan so I can take them to library events. My question would be how long to bake them.

Hi there, Nancy! We're glad to hear that this recipe is so well-loved by you. We'd suggest checking on your mini-scones after about 10 to 12 minutes of baking to be safe but we think they'll need about 15 minutes in the oven. Happy baking! Morgan@KAF
This recipe produces a very fluffy, cake-y scone. Decently tasty, but not at all what I am after when I am going for a scone. I think it is the eggs that I am not a fan of.

Joseph, if you're looking for a heartier scone recipe, we think you might enjoy our Cinnamon Whole Wheat Scones. It's definitely a favorite around here! You can find the recipe by copying the recipe name into the search bar of our site. Happy baking! Kat@KAF
Made with gluten free measure for measure flour. Added dried cranberries, orange zest and orange extract. Uh-mazing! I just wanted to eat the dough, it was so good! But, yeah, the finished product is awesome, too.
This recipe was very good but I found that they were really only good the first day. Which is sometimes not a problem but when I just made them for my family, they got kind of dry the second day so I would recommend making them for an event so will all be gone the first day.
My sister made these; they were very good with jam and whipped cream! Sprinkled granulated sugar on top, made in wedge-shapes.
King Arthur Flour Folks... this recipe rocks! I used dried blueberries and made my Hubby happy. They went together well and turned out GREAT! I did do 3 alternations- #1) I grated frozen butter and then cut it into the flour mixture; #2) I used whipping cream (that was all I had on hand); #3) I added vanilla bean paste in addition to the extract. Thanks again King Arthur for another most excellent recipe. (and a delicious breakfast).
It was a friend's birthday and she doesn't really eat a lot of super rich foods so I thought I'd make her something for breakfast instead of a cake. These scones were simple and I had a bag of currants in hand. I use a scale to weigh ingredients and I was worried because the dough was very sticky. I used an ice cream scoop to shape them and then flattened the top and added milk and sugar crystals. I held my breath because I used parchment on a pizza stone and thought they might run off. They didn't! They got bigger and fluffier but held shape. My family came out of their rooms and asked what I was making, they smelled so good. In the end, some were sacrificed to the tasting gods but there were plenty to go around. I used a #20 ice cream scoop and got about 16 scones. The reviews were very positive. They are like slightly sweet tender biscuits, not hard and dense like some scone recipes. I'd like to try dried blueberries and a lemon drizzle in the future. Very easy to make, used two bowls and never needed to turn on a mixer. Thanks for a great recipe KAF!
Have made this a few times very good results. We had a happy accident first time we made them I miss read the recipe and added water instead of butter scones were good but more like thick oven cooked pancakes. I don't have a scone pane, Fancy mixer or much cooking knowledge but they taste great. Thanks for sharing this recipe.
These are fabulous! I'm an experienced baker, but I've only made scones one other time (not a KAF recipe) and--though they tasted good--they were so crumbly they fell apart in our hands. I had 60 minutes to make something to bring to an event and I had all the ingredients, including dried cherries and chocolate chips. I threw these together in my stand mixer using the flat paddle, used my #16 disher, and got 13 scones. I "plopped" them onto a parchment lined half sheet and baked them about 28 minutes. After taking them out, I drizzled them with a simple frosting of powdered sugar, half & half, butter, vanilla extract and almond extract. They looked impressive, everybody who got one loved them, and people who didn't get one came to me hoping that there were still some left.
For some reasons, I like scones recipe although recipes are almost identical. I used my mini scone pan that I purchased from KAF. They came out good. Question : can I still put dough in freezer to get the height? I am confused a direction in this recipe. Can anyone explain it to me?
Thanks for stopping into our online chat with your questions. I'm glad we could help you out. MJR @ KAF