A customized print-friendly version of this recipe is available by clicking the "Print Recipe" button on this page.
Simply Sinful Cinnamon Muffins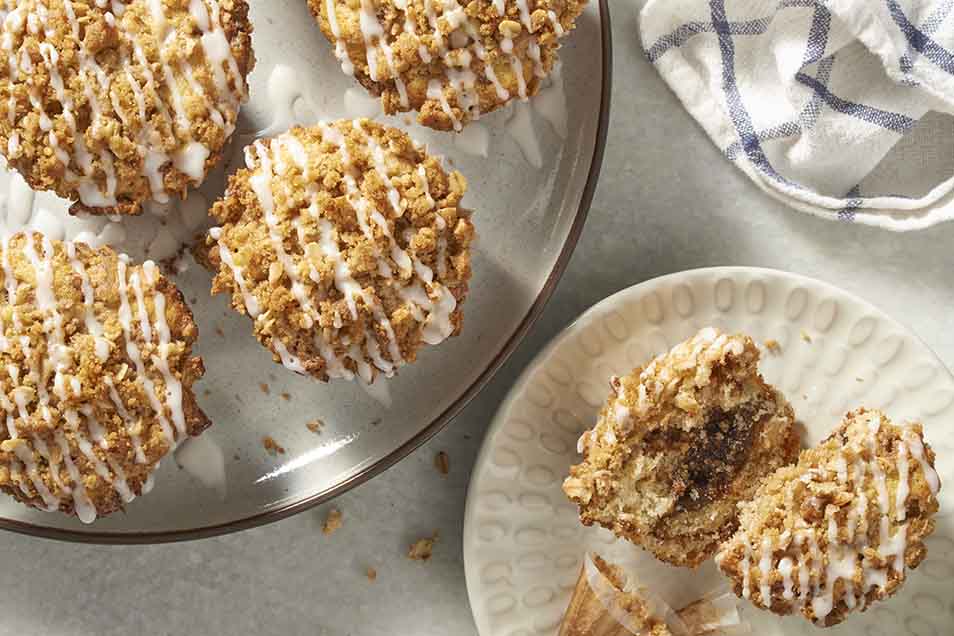 These muffins feature a luscious center of moist, rich cinnamon filling. Add a confectioners' sugar glaze once they're cool, if you like, but they're really just as good with simply their streusel topping.

How about turning this recipe into a DIY gift? Check out our Simply Sinful Cinnamon Muffins recipe bundle.
Ingredients
Topping
1/4 cup diced pecans
1/4 cup rolled oats
3 tablespoons soft butter
1/3 cup brown sugar
Batter
1/2 cup (8 tablespoons) butter, melted
3/4 cup lukewarm milk
2 large eggs
1 3/4 cups King Arthur Unbleached All-Purpose Flour
1/2 cup rolled oats
2 tablespoons cornstarch, optional; for added tenderness
3/4 cup granulated sugar
1 tablespoon baking powder
1/2 teaspoon salt
1/4 teaspoon ground nutmeg
1/2 cup cinnamon chips or butterscotch chips
Glaze
2/3 cup confectioners' sugar
pinch of salt
1 tablespoon milk, or enough to make a pourable glaze
Instructions
Preheat your oven to 400°F. Line a 12-cup muffin pan with cupcake papers, or grease it lightly.

Prepare the topping by mixing the ingredients together until crumbly. Set aside.

Prepare the filling by mixing the Baker's Cinnamon Filling with enough water to make filling with a soft, pudding-like consistency. If you're using the substitute, simply mix together all of the ingredients. Set aside.

To make the batter: In a bowl or measuring cup, whisk together the melted butter, milk, and eggs.

In a separate bowl, whisk together the dry ingredients, including the chips.

Add the liquid mixture to the dry ingredients, stirring just until combined.

Divide half the batter evenly among the muffin cups; a tablespoon cookie scoop, generously filled, works well here.
Dollop 2 teaspoons cinnamon filling onto each muffin; a teaspoon cookie scoop, filled level, works well here.

Top with the remaining batter.

Sprinkle generously with the topping, pressing it in lightly.

Bake the muffins for 20 to 25 minutes, or until they're golden brown.

Remove the muffins from the oven, and wait 5 minutes before transferring them from the pan to a rack to cool.

To make the glaze: Mix the glaze ingredients together until smooth. Drizzle over the cooled muffins.
Nutrition Information
Serving Size

111g

Servings Per Batch

12
Amount Per Serving:
Calories

400

Calories from Fat

150

Total Fat

17g

Saturated Fat

9g

Trans Fat

0mg

Cholesterol

60mg
Sodium

250mg

Total Carbohydrate

58g

Dietary Fiber

2g

Sugars

34g

Protein

6g
* The nutrition information provided for this recipe is determined by the ESHA Genesis R&D software program. Substituting any ingredients may change the posted nutrition information.
Tips from our bakers
Don't have Baker's Cinnamon Filling mix? Substitute 3 tablespoons (1 1/2 ounces) melted butter, 1/2 cup (3 3/4 ounces) brown sugar, and 1 1/2 tablespoons (3/8 ounce) ground cinnamon for the Baker's Cinnamon Filling mix and water. Important: omit the listed water! Use only butter, sugar, and cinnamon. Let the mixture sit for 15 minutes before using, to thicken.
Reviews
Very good muffins. I did not make the streusel topping and instead of putting the cinnamon butter in the middle layered it on top and folded it a bit with a knife. It spread to make a crunchy topping and did not make a huge oily mess as others have noted. I did not care for the texture of the oatmeal in the batter and would omit in the future and perhaps replace with a bit of oatmeal flour. Otherwise would definitely make again.
These are to die for! The cinnamon is full bodied flavor.Nice and moist, I don' t like nutmeg so used extra cinnamon instead. Made them for Christmas morning and they were a hit with my family
Great recipe and very tasty. I live at 7,000 feet elevation and made a simple adjustment: 1) I reduced the granulated sugar to 1/2 cup plus 2 Tablespoons. I suspect that this adjustment actually enhanced the taste as using all sugars would seem cloyingly sweet. 2) I adjusted the leavening (baking powder) to 2 1/4 teaspoons. Everything else in the recipe was left the same and the 400 degree temperature was also the same. I used walnuts as I had no pecans and I believe they are more flavorful. Thank you for the wonderful recipe. I would use no other flours. Have never go wrong with them.
We've been OD-ing lately on the Silver Palate raspberry streusel muffins and a change of pace was called for :). As I was browsing the internet for a good cinnamon muffin recipe, I stumbled across this one. KAF recipes are always great, so, despite lacking a few ingredients, I dived in. For the KAF filling, I substituted a filling made of muscavado dark brown sugar, cinnamon, and butter. I used the cornstarch, but only half. And I was out of milk, so I used almond milk. I made the streusel topping in my mini Cuisinart (I love it for things like this), so the texture was really crumbly and nice. These were delicious and proved to be a strong contender to our family raspberry muffin. Thanks KAF!
These muffins are moist, sweet, and well-spiced with cinnamon streusel and filling. There is a distinct butter taste--which I liked--and the nutmeg in the batter somehow shines through all the cinnamon and adds a little complexity. The texture is tender, but they held together well except for places where the filling got too close to the edge of the muffin which tend to crumble off. This was really due to slightly sloppy assembly on my part. I made the recipe with walnuts instead of pecans, subbing 1/2c walnuts to the batter in place of the chips (I didn't want to buy a bag), using the alternative homemade cinnamon filling, and adding the optional 2T cornstarch. I didn't make the icing and think they might be too sweet for my taste if I had. There are more steps than a plain muffin recipe, but the actual layering (batter/filling/batter/streusel) was less tedious and messy than I thought it might be and the distinct layers in the end result were worth the effort. My only critique is this made a lot of batter for 12 muffins. My muffin liners were ominously full after assembly and I was concerned some would overflow in the oven, but I trust KAF recipes and kept going. They did not overflow, but the muffin tops did rise over and beyond the muffin tin's depressions, flattened out on the overhang (if that makes sense), and stuck to the pan a bit. I measured by weight and used a standard sized muffin tin so I think this recipe is just a bit generous. To save bakers from stress, I would suggest adding a note that the recipe that the recipe makes a lot of batter and maybe some guidelines on how full the tins should be for best results (3/4 full? 90%? to the top?), and/or a warning that you might have a little batter left over. In hindsight, I'd probably have made a 13th muffin in a small separate container so the remaining 12 would be better looking and easier to handle.

Thanks for the suggestion, S. Despite being standard-sized, muffin pans can vary slightly in the capacity of each well. It's best to err on the side of caution in this case to avoid overflow: Fill each well about 2/3 full since the streusel topping will take it to about 3/4 of the way full. We found this recipe to yield 12 muffins in our pans, but you can most certainly make them all slightly smaller to produce 13 if that fits in your pan better. Happy baking! Kye@KAF
I made these muffins and absolutely loved the flavor. However the texture was not good, I either overmixed the batter or added too much flour as they were dry and tough - not moist or light and fluffy. I do recommend this recipe as they tasted so good and I think the poor results were on my part so just make sure you follow the recipes/measurements exactly and mix only until just combined.
My first attempt wasn't exactly what I had hoped, but they tasted sooo good I will try again. Wondering has anyone made this in cake pan as a coffee cake?

We haven't tried baking this recipe as a quick bread or cake-pan coffeecake, but think it could work nicely if you extend the baking time as necessary to fully bake the cake. If you'd like some tips that might help make your next bake more successful, consider giving our friendly Baker's Hotline a call at 855-371-BAKE(2253). Kye@KAF
I made these this morning. I would make them again, with a few changes. I added 1 small golden delicious apple small dice to the batter since there was a "too dry" review and really like the apples in them. I also substituted whole wheat flour for 1/2 C of the all purpose flour (slightly less than 1/2 C of WW). I always think that makes things a little more healthy -- LOL. They were too sweet for my taste and I wouldn't use more than 1/2 C sugar in the batter next time. There is plenty of sugar in the filling and topping. I will try them again at some point with less sugar -- maybe even 1/3 C.
The 1st time I made these, I liked the flavor but hated the texture. Halfway to work, I suddenly realized I had left out the baking powder. Ack! So I finally had time to bake another batch a few days ago. OMG! These are amazing! I have been neglecting the morning crossword in order to linger over the cinnamon perfection of these muffins.
I used all kaf ingredients but was not crazy about the taste - thought it might be the corn starch. Other than the filling, didn't think the chips added much.

We're sorry to hear these muffins didn't sweep you off your feet, Barbara. The cornstarch in the batter is used to help prevent gluten from forming and ensure a tender texture. Next time you can try using our Cake Flour instead of all-purpose flour and cornstarch. We think you'll like the results better with this adjustment. Feel free to customize the add-ins to your taste as well. Kye@KAF