A customized print-friendly version of this recipe is available by clicking the "Print Recipe" button on this page.
Simply Sinful Cinnamon Muffins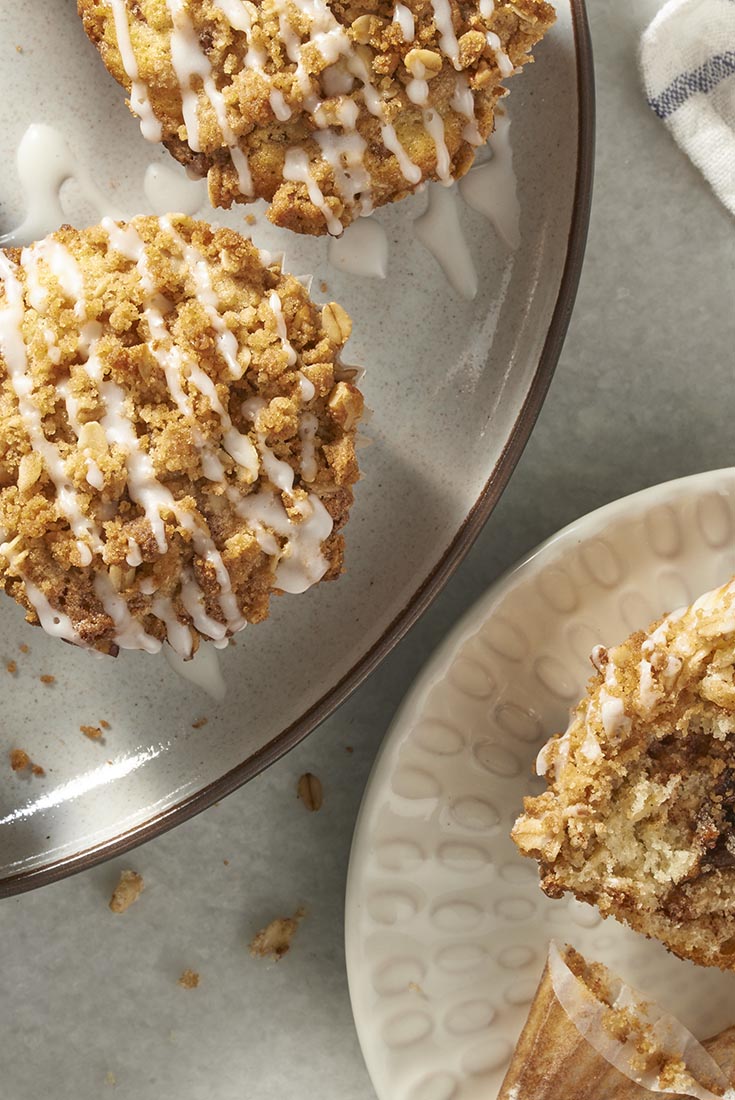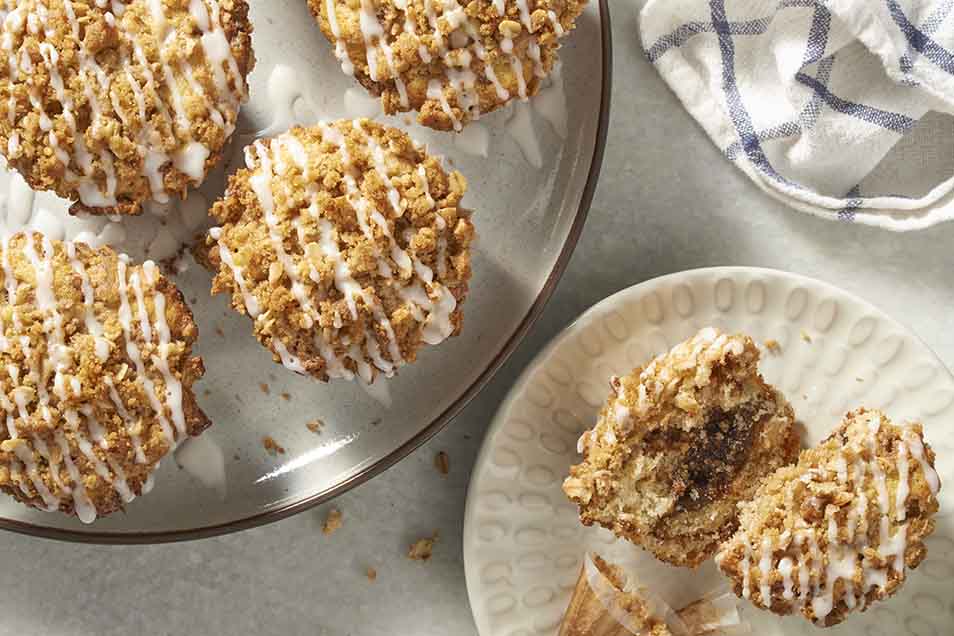 These muffins feature a luscious center of moist, rich cinnamon filling. Add a confectioners' sugar glaze once they're cool, if you like, but they're really just as good with simply their streusel topping.

How about turning this recipe into a DIY gift? Check out our Simply Sinful Cinnamon Muffins recipe bundle.
Ingredients
Topping
1/4 cup diced pecans
1/4 cup rolled oats
3 tablespoons soft butter
1/3 cup brown sugar
Batter
1/2 cup (8 tablespoons) butter, melted
3/4 cup lukewarm milk
2 large eggs
1 3/4 cups King Arthur Unbleached All-Purpose Flour
1/2 cup rolled oats
2 tablespoons cornstarch, optional; for added tenderness
3/4 cup granulated sugar
1 tablespoon baking powder
1/2 teaspoon salt
1/4 teaspoon ground nutmeg
1/2 cup cinnamon chips or butterscotch chips
Glaze
2/3 cup confectioners' sugar
pinch of salt
1 tablespoon milk, or enough to make a pourable glaze
Instructions
Preheat your oven to 400°F. Line a 12-cup muffin pan with cupcake papers, or grease it lightly.

Prepare the topping by mixing the ingredients together until crumbly. Set aside.

Prepare the filling by mixing the Baker's Cinnamon Filling with enough water to make filling with a soft, pudding-like consistency. If you're using the substitute, simply mix together all of the ingredients. Set aside.

To make the batter: In a bowl or measuring cup, whisk together the melted butter, milk, and eggs.

In a separate bowl, whisk together the dry ingredients, including the chips.

Add the liquid mixture to the dry ingredients, stirring just until combined.

Divide half the batter evenly among the muffin cups; a tablespoon cookie scoop, generously filled, works well here.
Dollop 2 teaspoons cinnamon filling onto each muffin; a teaspoon cookie scoop, filled level, works well here.

Top with the remaining batter.

Sprinkle generously with the topping, pressing it in lightly.

Bake the muffins for 20 to 25 minutes, or until they're golden brown.

Remove the muffins from the oven, and wait 5 minutes before transferring them from the pan to a rack to cool.

To make the glaze: Mix the glaze ingredients together until smooth. Drizzle over the cooled muffins.
Nutrition Information
Serving Size

111g

Servings Per Batch

12
Amount Per Serving:
Calories

400

Calories from Fat

150

Total Fat

17g

Saturated Fat

9g

Trans Fat

0mg

Cholesterol

60mg
Sodium

250mg

Total Carbohydrate

58g

Dietary Fiber

2g

Sugars

34g

Protein

6g
* The nutrition information provided for this recipe is determined by the ESHA Genesis R&D software program. Substituting any ingredients may change the posted nutrition information.
Tips from our bakers
Don't have Baker's Cinnamon Filling mix? Substitute 3 tablespoons (1 1/2 ounces) melted butter, 1/2 cup (3 3/4 ounces) brown sugar, and 1 1/2 tablespoons (3/8 ounce) ground cinnamon for the Baker's Cinnamon Filling mix and water. Important: omit the listed water! Use only butter, sugar, and cinnamon. Let the mixture sit for 15 minutes before using, to thicken.
Reviews
My first attempt wasn't exactly what I had hoped, but they tasted sooo good I will try again. Wondering has anyone made this in cake pan as a coffee cake?

We haven't tried baking this recipe as a quick bread or cake-pan coffeecake, but think it could work nicely if you extend the baking time as necessary to fully bake the cake. If you'd like some tips that might help make your next bake more successful, consider giving our friendly Baker's Hotline a call at 855-371-BAKE(2253). Kye@KAF
I made these this morning. I would make them again, with a few changes. I added 1 small golden delicious apple small dice to the batter since there was a "too dry" review and really like the apples in them. I also substituted whole wheat flour for 1/2 C of the all purpose flour (slightly less than 1/2 C of WW). I always think that makes things a little more healthy -- LOL. They were too sweet for my taste and I wouldn't use more than 1/2 C sugar in the batter next time. There is plenty of sugar in the filling and topping. I will try them again at some point with less sugar -- maybe even 1/3 C.
The 1st time I made these, I liked the flavor but hated the texture. Halfway to work, I suddenly realized I had left out the baking powder. Ack! So I finally had time to bake another batch a few days ago. OMG! These are amazing! I have been neglecting the morning crossword in order to linger over the cinnamon perfection of these muffins.
I used all kaf ingredients but was not crazy about the taste - thought it might be the corn starch. Other than the filling, didn't think the chips added much.

We're sorry to hear these muffins didn't sweep you off your feet, Barbara. The cornstarch in the batter is used to help prevent gluten from forming and ensure a tender texture. Next time you can try using our Cake Flour instead of all-purpose flour and cornstarch. We think you'll like the results better with this adjustment. Feel free to customize the add-ins to your taste as well. Kye@KAF
these were a hit at my church bake sale and the church folks loved that the muffins were "sinful." i made my own cinnamon filling mix from an online search and it was fine. i also didn't have (nor did i want to buy) cinnamon chips so used crushed heath bars. it's probably just me, and i know kaf has to get something in return for these terrific free recipes, but i always feel like i have to work around buying some exotic ingredient that only kaf sells. filling mix and cinnamon chips are examples. i would like to try these products but am usually deterred by the shipping costs and i rarely want to up my purchase to fifty bucks to get free shipping. maybe with the arrival of delivery blimps and drones, even kaf can find a cheaper way to ship.

Thanks for taking the time to share your success with this recipe as well as your thoughts on how our shipping prices have affected you, fellow baker. We're always happy to hear from our customers and appreciate your note. You can be sure that we will continue to monitor related costs and best practices in order to meet the needs of our community. In the meantime, if we can ever suggest a substitution for a specialty ingredient, please give our free and friendly Baker's Hotline a call at 855-371-BAKE. We're happy to help! Mollie@KAF
Made these tonight for my family... I made it exact to the instructions with the exception of grating some fresh nutmeg which was less than the said amount simply because I don't like an overwhelming nutmeg flavor. The flavor of these muffins was amazing, I doubted the oats in the natter and crumble would be good but it was it was amazing. I didn't have the filling from KAF, so I made my own... it did spread some but didn't boil over or make them look unappetizing. It was slot of crumble but I used it all and tried my best to get it all on top of the muffins. These were a huge hit and I will definitely be making these again! Thank you!!!!
I made these this weekend. I always use jumbo muffin pans so that is always tricky. They tasted amazing. The filling did sink to the bottom and they were crumbly. I will make these again. Any suggestions on the filling?

Kimberly, thank you for letting us know about this experience. It sounds like you had a bit too much flour in the batter. To ensure you're using the right amount, we recommend either measuring your flour by weight using a scale, or fluffing and sprinkling the flour gently into your measuring cup one spoonful at a time before leveling off with a knife. This will help you measure light cups of flour that weigh about 4 1/4 ounces per cup.

Somewhat recently, we had a "lot" (or single batch) of the Baker's Cinnamon Filling that didn't perform as expected, and we're wondering if perhaps this was this case with the filling you used. More of this ingredient, or a few tablespoons of flour, had to be added in order to get the filling to thicken properly. We reached out to customers who purchased this items in the batch by email and phone to offer a replacement, but it's possible this was cause of your sinking filling. We genuinely apologize for this experience, and we hope you'll consider calling our Customer Support Team at 800-827-6836 so we can make this right for you. Laurie@KAF
While I loved this recipe when my mom made it, it didn't quite work as well when I made it! First, don't bake it over 20 minutes, it will dry it out. It's really hard to tell if it's golden brown since the topping is already sort of golden brown. Instead, try using a toothpick and see if it's "pretty clean." The topping is a lot, but works for this muffin. I used "tulip" muffin liners, because it's a rather lumpy batter and the topping falls everywhere and doesn't stick very well even after it's baked (maybe something I did?). The "tulip" muffin liners work great for these muffins. I had an issue filling. It didn't spread out at all. I used the cookie scoop and it just stayed there, in a crunchy lump and never spread out at all. I remember when my mom made these it was a more like a coffee cake, all spread out inside. So, what am I doing wrong?! I'd love to know before I make them again. They taste great, but not perfect yet. I highly recommend the cinnamon bits from King Arthur, they make all the difference!

All of the symptoms you're describing make us think that perhaps you were measuring you flour by scooping it right from the bag, which compacts it in the measuring cup and often results in dry, heavy dough that fails to spread. To ensure you're using the right amount, we recommend either measuring your flour by weight using a scale, or fluffing and sprinkling the flour gently into your measuring cup one spoonful at a time before leveling off with a knife. This will help you measure light cups of flour that weigh about 4 1/4 ounces per cup. I hoe that helps, and happy baking! Kye@KAF
These were simply INCREDIBLE and so easy to make! Will do these again, and soon
I love my organic King Arthur flour which is why I opted to try one of their recipes. These are the ugliest muffins I have ever seen. The filling spread out from the center (i made my own according to instructions) and bubbled over out around the edges and onto the top of the muffin pan. This hindered the muffins from properly rising and having a typical attractive muffin top. They may taste delicious, but they are far from presentable :/ So much work to end up disappointed!

We agree, Jamie, and we're sorry to hear that your first experience with one of our recipes wasn't a success. It sounds to us like the filling might have been too thin, which could easily happen if you accidentally included the 3-4 Tbsp water along with your homemade filling (our apologies if the wording is tricky there). If you'd like to talk this over anymore or if we can help you find another reliable recipe to try out, we hope you'll give our free Baker's Hotline a call at 855-371-BAKE. Mollie@KAF