A customized print-friendly version of this recipe is available by clicking the "Print Recipe" button on this page.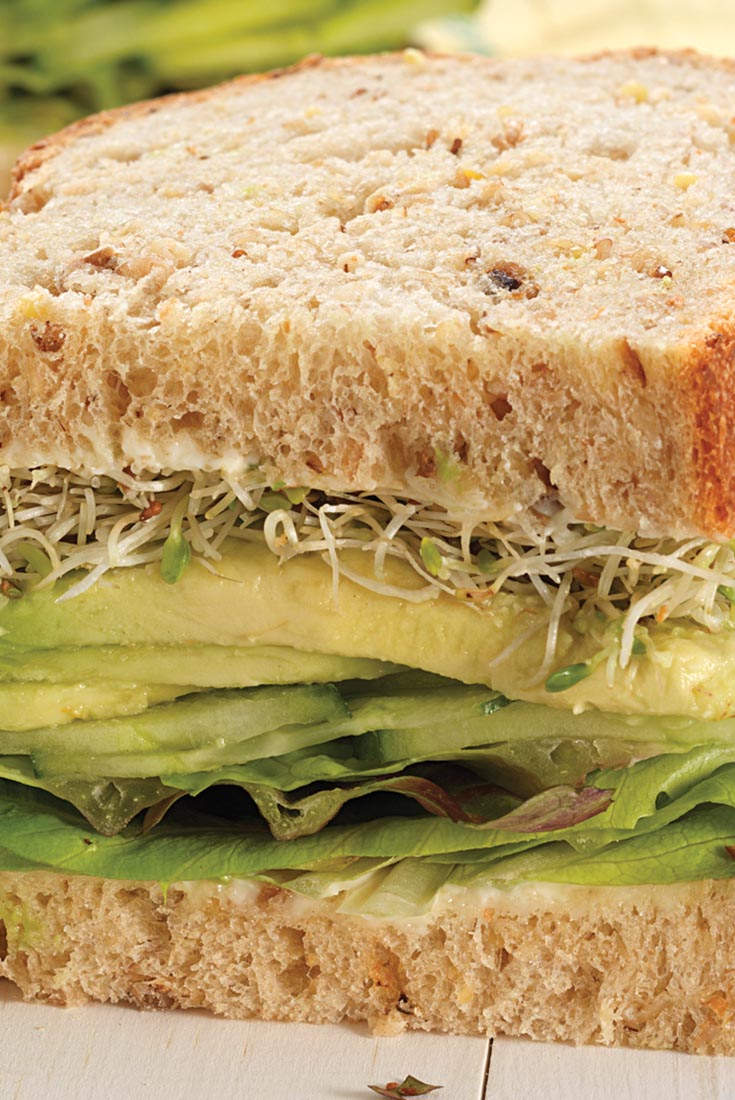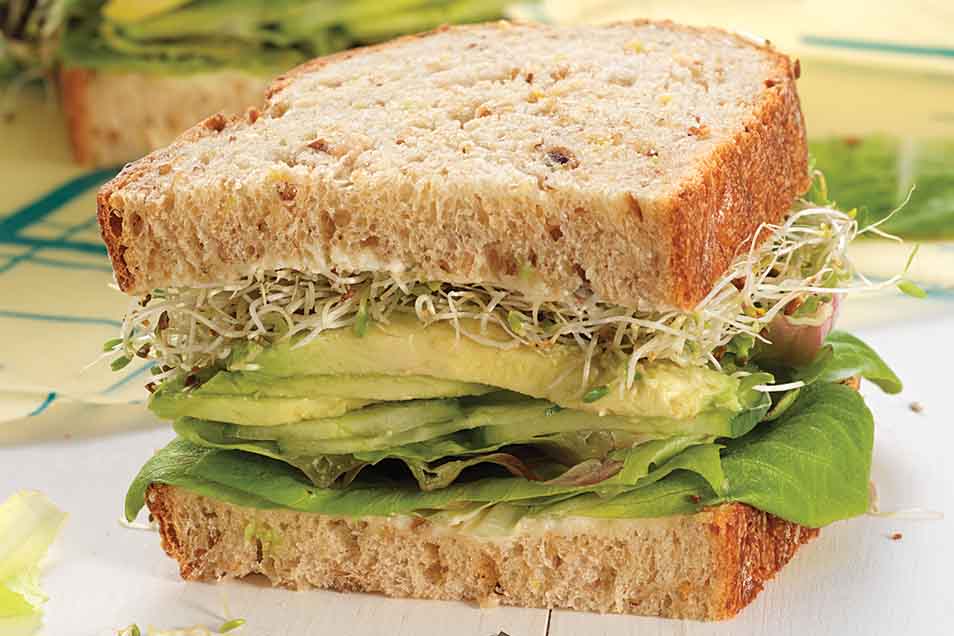 This soft, high-rising loaf has lots of whole grains and a pleasant, nubbly texture that's great for sandwiches, toast, or your dinner bread basket.
Instructions
Combine all the ingredients in a large bowl or the bucket of a bread machine. Mix and knead by hand, electric mixer or bread machine until the dough is smooth and supple, adding additional liquid or all-purpose flour as needed.

Place the dough in a lightly greased bowl, cover, and let it rise for about 1 hour. (In a bread machine, allow the machine to complete its dough cycle.)

Turn the dough onto a lightly oiled work surface, and shape it into a 9" log.

Place the loaf in a lightly greased 9" x 5" pan, cover the pan, and let the loaf rise about 40 to 60 minutes, or until it's crowned about 1" over the rim of the pan. Towards the end of the rising time, preheat the oven to 350°F.

Bake the bread for 30 to 40 minutes, or until it's golden brown and its internal temperature registers 190°F on an instant-read thermometer.

Remove the bread from the oven, remove it from the pan, and allow it to cool on a rack.

Yield: 1 loaf.
Tips from our bakers
Want to use Kamut® flour in this recipe? Substitute 1 1/2 cups (6 1/4 ounces) Kamut® and 1 1/2 cups (6 1/4 ounces) King Arthur Unbleached All-Purpose Flour for the all-purpose and white whole wheat flours. Shape the loaf into an 8" log, and place it in a lightly greased 8 1/2" x 4 1/2" loaf pan. Cover it and let it rise about 30 minutes, until it's crowned about 1" over the rim of the pan. Continue with the recipe as directed.
For a crustier loaf, form the risen dough into a ball (boule), and bake in a bread baking bowl or on a lightly greased or parchment-lined baking sheet for 30 to 40 minutes.
Reviews
I bake lots of bread, most in the bread machine! This is one of the best I have ever made! My Grandchildren totally agree,
My husband and I love this recipe! I followed the recipe exactly, the first time, weighing the ingredients in grams and then adjusting the water a bit to get the right dough consistency. Our home was filled with the most delicious fragrance while it baked, and the bread tasted just as good. The second time, we decided to try soaking the six-grain mix with boiling water for an hour, and we like that texture even better. It still has plenty of crunch, but we think the soaking brings out the flavor of the grains a bit more. We want to try some more KAF multi-grain recipes, but we're stuck on this one, for now. We crave this bread, and sometimes, between the two of us, we eat nearly half a loaf as soon as it has cooled enough to cut. We're going to get fat, if we keep this up! Great recipe, KAF! Thank you so much!
A very easy, very tasty whole wheat loaf. I did increase the water by 1/3 cup, as the initially resulting dough looked quite dense and heavy. I was surprised at how much I had to add, more than for what just flour hydration could account. I ended up doing that in three smaller batches to get it right, and did some 'stretch and fold' after initial dough hook kneading. I also initially added double the butter, and will do so again. Next time will use honey instead of white sugar. To those reporting a poor rise, I got a great rise out of it, so much that it barely fits into my breadbox! I let it over-proof a bit for the first rise (about 1.5 times volume), then knuckled it down thoroughly, then pan proofed it (which was actually quite rapid compared to most wheat loaves I have done before) to almost 1.5' over the edge of the pan. Cast iron pan preheated in the oven, with hot water added at the time I put the loaf in the oven provided a steam environment in the oven to help with the rise. I ended up with a loaf superior in crumb and texture to almost anything 'multi-grain' commercial I have seen. Too bad pictures aren't allowed here.
I have to confess, due to some pantry shortages, I could not follow this recipe exactly as written. However, what I did was close enough to the original to say this recipe is outright stellar! Might be my new favorite KAF recipe. FYI, the changes I made: I didn't have any Vital Wheat Gluten. So I subbed 1 cup + 2 TBSP KAF Bread Flour for APF. Because I didn't have any 6 Grain Blend, I subbed same amount of Bob's Red Mill 5 Grain cereal and about 2 TBS BRM 7 Grain Cereal ( Hey, that averages out to 6 grains, right? :-) ) Therefore had to increase water a touch when kneeding. Wow! So good!
Yum! I just baked this for the first time and I love it! I weighed all of the major ingredients and increased the amount by 1/3 based on the reviews that said it didn't rise very high. I also presoaked the 6-grain blend for about 20 minutes in hot water. I baked it in a straight sided 4x9 pan (pain de mie pan without the lid). It turned out perfectly. Lots of flavor, moist, great grainy texture, and it looks beautiful too!
I made this recipe twice with the same results. Very heavy dense bread that was ok for toast but terrible for bread hence the three stars. The first time I followed the directions to the letter measuring with cups and spoons. The second time I weighed all ingredients on a scale with the same results. I've read many reviews and I may be missing something! Any help would be appreciated! JAG

JAG, this bread is slightly heavier than other sandwich breads by nature because of the whole grains that are added to it. If you're looking for something lighter, you might want to try replacing some of the whole wheat flour with all-purpose flour. It's also important to include the vital wheat gluten if you're looking to make a lofty loaf. If you're already doing this, consider giving our Baker's Hotline a call at 855-371-BAKE(2253) so we can hear more about your ingredients and method. We'll help you make the loaf you're looking for. Kye@KAF
Very tasty and much softer than I expected it to be. Thanks to an unexpected phone call I ended up proofing the yeast (not called for in the directions) about twice as long as I normally would which likely gave my bread a head start. I did use the KA whole grain bread improver which might also have helped. The only change I'll make for the next go around is to boost the salt just a little.
We are really enjoying this bread. I added some dried cranberries to it and the extra tang is really nice. The loaf was beautiful. The only other thing I did differently was to replace part of the water with milk as I was a little short on my dry milk (Maybe a tablespoon off of the 1/3 c.) The bread rose well - a beautiful loaf! Our only problem is that the bread is a bit delicate when you want to slice it for the toaster... tends to break apart. Did I let it rise too long? Also, can the dry milk be replaced with liquid milk if the total liquid amount remains the same? I don't always have dry milk on hand. We will be making this again!

Debbie, if you'd like to omit the dry milk powder, you can use 1 1/4 cups of fresh milk in place of the water in the recipe. As for the delicate texture, you can try using King Arthur Bread Flour in place of the all-purpose to give the dough more structure. Be sure you're not using too much flour, and let the loaf cool completely before cutting. Whole grain breads are slightly crumbly by nature, but these tips should help improve your results next time. Happy baking! Kye@KAF
A few weeks ago I made this bread for my nephew. He told me there was only one problem......there wasn't enough of it! I guess that one small Slice I took upset him! I have been trying so many different breads and hadn't made this for myself yet. So this is in my breadmaker using the dough cycle this very minute. And this one is all mine. Well i may give my husband a bite or two. I followed the recipe exactly. Thanks KAF for all your great recipes.
This is a fantastic recipe. It is so fluffy and soft - I expected a dense bread given it has whole wheat flour and whole grains. Since I did not have milled mixed grains, I coarsely ground mine in a spice mill and then soaked it in hot water (the same amount as mentioned in the recipe). Once the mixture reached room temperature, I added it to the rest of the ingredients and proceeded as usual. Thanks again for a tasty, healthy recipe!