A customized print-friendly version of this recipe is available by clicking the "Print Recipe" button on this page.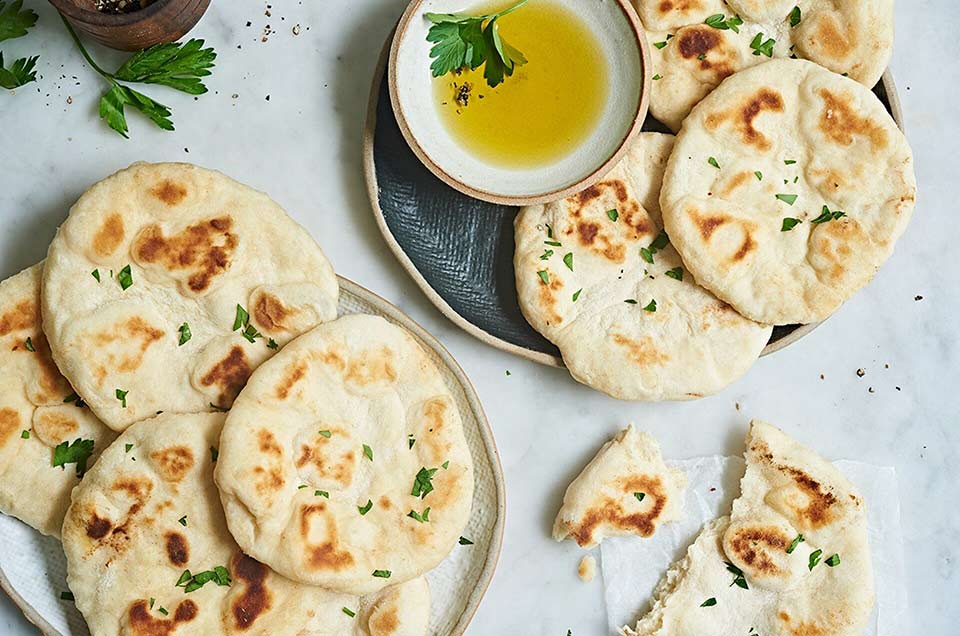 Using a basic ratio of five pantry staples, you can have fresh, hot bread on the table in less than 30 minutes AND no need to turn on the oven. Add and change ingredients to your taste, and you'll have an endless array of tasty flatbreads to accompany any meal.
Ingredients
2 teaspoons baking powder
1 1/2 teaspoons salt
3 tablespoons olive oil or vegetable oil
1 cup ice water
2 to 3 additional tablespoons vegetable oil, for frying
Instructions
Place the flour, baking powder, and salt in a large mixing bowl and stir to combine.

Add the oil and ice water, and mix to make a soft, cohesive dough. Adjust with flour or water as needed. The dough should be moist but not sticky. Cover with plastic wrap, and let rest for 10 minutes.

Preheat a heavy-bottomed skillet on the stovetop. Add 1 tablespoon oil and heat until the oil starts to shimmer in the pan.

Divide the dough into 10 to 12 equal pieces. Each piece should weigh about 1 1/2 to 2 ounces, about the size of a large egg. Dredge each piece in flour, and roll to a rough circle or oval, about 1/4" thick. OR hand shape the pieces by flattening between your palms.

In batches, fry the flatbreads in the hot oil for 2 to 3 minutes, or until golden brown. Flip and fry on the second side for another 2 minutes. Transfer from the pan to a rack to cool slightly before serving. Add more oil as needed for frying successive batches.

Yield: 10 to 12 flatbreads.
Tips from our bakers
Rye variation (pictured): Replace 1 cup of the all-purpose flour with 1 cup Perfect Rye Flour Blend and 2 teaspoons Deli Rye Flavor. All other ingredients remain the same. Serve with cream cheese, chives, tomato, thinly sliced onion and capers.
Pizza bread version: Add 2 teaspoons Pizza Dough Flavor and 2 teaspoons dried Italian herbs or Pizza Seasoning to the flour mixture. Serve with marinara sauce for dipping.
Reviews
Excellent, like a flat baking soda biscuit
So easy, the dough tasted salty when I tried it raw, but was perfect once cooked.
The reviews don't lie! This is a fantastic recipe, deeply flavorful and delightfully easy. Like some others, I have made the half recipe with successso do try that if you're cooking for two. My one tweak? (We all have one, right?) For the full recipe, I use 2 tsp salt instead of 1-1/2. I have found the amount as-written to be a little bland, while 2 tsp delivers a wonderful punch of flavor without being salty. Over the weekend, I made a pita recipe with a two-day rise, several kneading phases, and cooking under a broiler in the ovenit took 45 hours start to finish. The half-size of this recipe takes 45 minutes start to finish. Tonight, my wife said she prefers this one. I think she's right.
I halved the recipe and it was really good although I added too much water, it worked out. I'm wondering why the cold water?

These flatbreads are somewhat biscuit-like, Cheryl,so the cold water helps to keep the fat cold. Even the fat is oil this still helps to make for a more tender bread. Mollie@KAF
FINALLY, my search for the perfect flatbread can stop here! I have tried so many flatbread recipes that were either too dense, too dry, too complicated, or way too time consuming. This one ,though, is perfect! Thank you!
I substituted gluten-free flour and added a little xanthan gum to make these gluten-free. They were a bit crumbly but that's typical of the flour I used. Very tasty and easy to make!
I love this recipe. I've been modifying it, using a pan with no oil to cook it, and even recently I've been trying to bake it. What temperature would you recommend for that?

Andrew, we haven't tried this in our test kitchen, but if you want to experiment with baking these flatbreads, try baking them in a 450°F oven for about 5-10 minutes, until they've puffed up slightly and are golden around the edges. Watch them closely as you bake the first few to until to find the right baking time for your taste buds. Kye@KAF
Too salty. Cut it back and they'll be ok.

Since the salt in this recipe is added mainly for flavor (as opposed to structure), feel free to adjust it to your personal taste preferences. The baking powder can contribute a slightly salty taste as well, so you may also want to experiment with different brands until you find one that you like best. Good luck! Kye@KAF
I love this recipe- not only simple but so versatile - I add Italian seasoning or cinnamon etc depending on purpose thanks for this one KAF
My 10-year-old and I enjoyed making and eating these! We used half white whole wheat flour and half AP; only 1 t salt; and 45 g evoo. Mixed the dough in a bread machine (6 minutes on dough cycle), divided into 16 pieces, then used a tortilla press to flatten. Cooked one minute per side in a cast iron skillet lightly brushed with oil. The fresh flatbread made lovely open-faced sandwiches and we're looking forward to making mini pizzas with the leftovers.