A customized print-friendly version of this recipe is available by clicking the "Print Recipe" button on this page.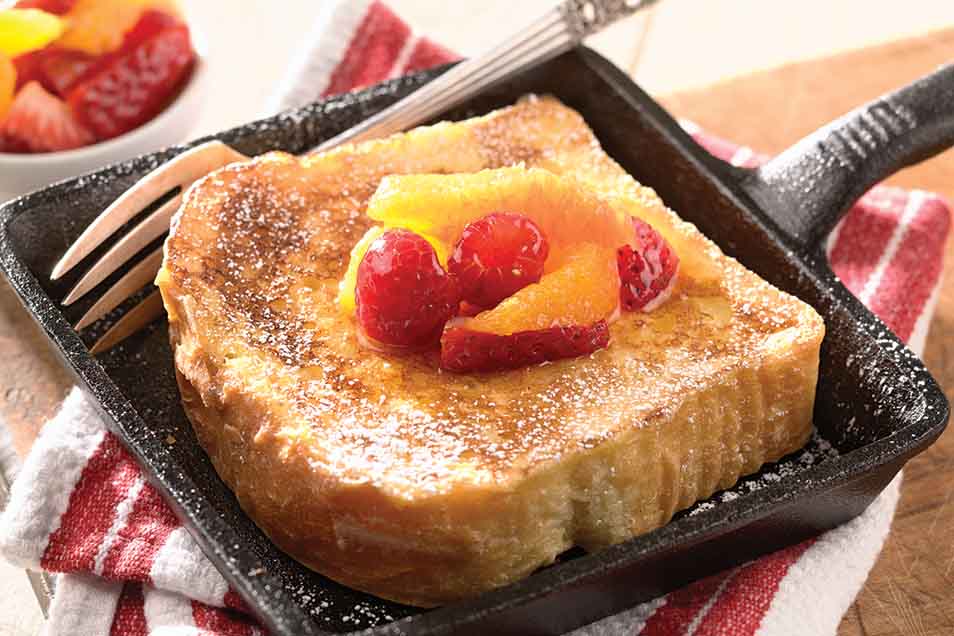 This breakfast favorite is lightly scented with citrus, vanilla, and rum, and topped with fresh fruit.
Ingredients
French toast
3 large eggs
3/4 cup heavy cream, light cream, or half & half
pinch of salt
3 drops Fiori di Sicilia, optional but delicious
2 tablespoons sugar
2 tablespoons rum
1 teaspoon vanilla extract
4 thick slices bread, somewhat stale (about 1" thick, 2 1/2 ounces per slice)
Topping
3 tablespoons raspberry jam, or jam of your choice
1 tablespoon water
1 orange, peeled and sectioned; sections cut into bite-sized pieces, if large
1/2 cup fresh blueberries or strawberries, chopped if large
1/2 cup fresh raspberries
Instructions
To make the French toast: Preheat the oven to 400°F. Grease or line a baking sheet with parchment paper and set it aside. Grease a heavy skillet or individual skillets, and heat over medium heat. Alternately, grease and heat an electric griddle to 300°F.

In a small bowl, whisk together the eggs, cream, salt, Fiori, sugar, rum, and vanilla. Pour into a shallow dish large enough to hold the 4 pieces of bread snugly.

Soak one side of the bread for about 1 minute. Turn the slices over, and soak for about 30 seconds on the other side. You want the bread to absorb some of the liquid, but not become soggy. If they seem a little fragile, lift them out with a slotted spatula.

Fry the French toast in the skillet or on the griddle until the underside is golden brown; this should take about 2 to 3 minutes.

Turn the toasts over, and fry the second side for about 2 minutes, until golden brown.

Transfer the French toast to the prepared baking sheet, and place in the preheated 400°F oven; or place the individual skillets into the oven. The toast will finish cooking while you prepare the topping.

To make the topping: Warm the jam in the microwave with the water until syrupy.

Stir in the fruit.

Remove the French toast from the oven and top with the fruit and syrup.

Dust with confectioners' sugar; or top with whipped cream, if desired.

Yield: 4 servings.
Tips from our bakers
If you're using individual square skillets, chances are you'll need to trim the crusts from your bread to have it fit the pans, unless you've made a pain de mie (Pullman) loaf, which will fit the skillets perfectly.
Reviews
I just made French Toast this morning with this recipe and it was delicious. We had some old sweet French bread around, and I followed the recipe exactly (didn't have Fiori di Sicilia so I left that out.) It was delicious!! Everyone loved it! Thank you so much, baking team at KAF.
This was VERY good! Even though I realized at the last minute we were out of rum, it was still excellent. We didn't make the fruit topping, my family wanted maple syrup with it instead. Even my picky eaters liked it! This recipe is a keeper.
Just made this recipe for a family beach trip, and OHHH was it a hit! My husband who doesn't even like french toast was enjoying it, and my nephew, who is 10 years old, was like...Are you going to make this when we come up to visit? I did not make the topping - we just did powdered and cinamon sugar topping. Excellent recipe - definitely by the Fiori di Sicilia - it makes the recipe!!
The best French Toast we have ever had! We used potato bread from our old family recipe. The hints of citrus and rum were tantalizingly delectable to the nose bouquet, and the mouth party. Yum!