A customized print-friendly version of this recipe is available by clicking the "Print Recipe" button on this page.
Slow Cooker Peanut Butter Fudge Cake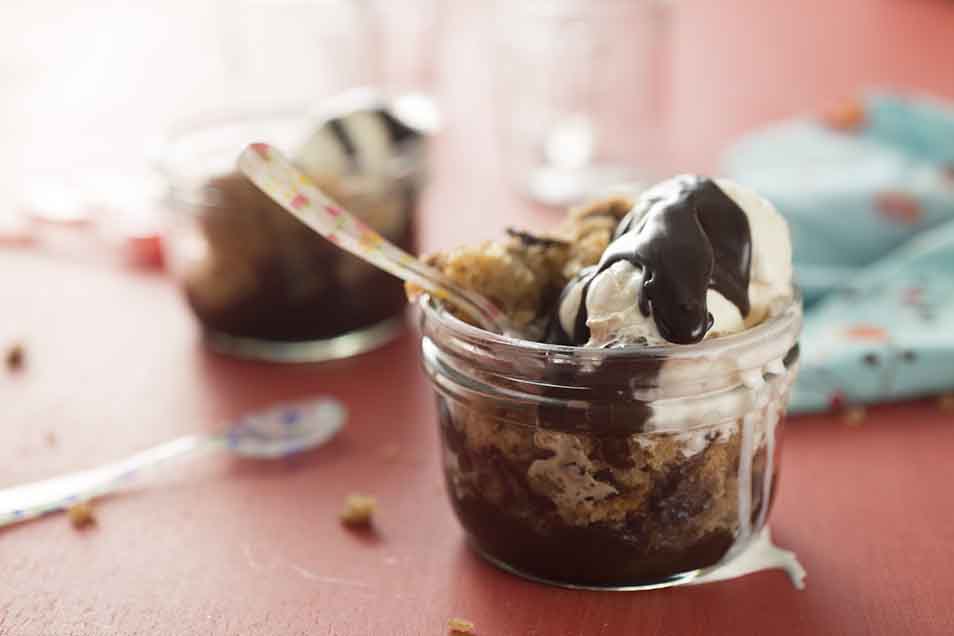 A slow cooker can be your best friend when it comes to making dessert. A few simple pantry staples such as peanut butter, sugar, milk, and cocoa powder, plus a couple hours of hands-off cooking, and you'll be savoring this warm, rich cake after a hard day's work.
Ingredients
Cake
1/2 cup sugar
1 teaspoon baking powder
1/2 teaspoon salt
1/2 cup peanut butter
1/2 cup milk
2 tablespoons soft butter or vegetable oil
1 teaspoon vanilla extract
Instructions
To make the cake: In a medium-sized bowl combine the flour, sugar, baking powder, and salt. Add the peanut butter, milk, butter or oil, and vanilla. Stir to make a smooth, thick batter; it'll be closer to a loose cookie dough than a traditional cake batter.

Grease the bottom and sides of a 4-quart slow cooker. Pour in the batter and spread it level. You can use a 6-quart cooker instead; the baking time will be closer to 2 hours than 3 hours.

To make the topping: In the same bowl, stir together the topping ingredients. Pour over the cake batter in the slow cooker. DO NOT STIR TOGETHER WITH THE CAKE BATTER.

Cover the cooker with the lid and cook on high for 2 to 3 hours. The cake is done when a cake tester inserted in the center comes out clean.

Serve warm from the slow cooker, with whipped cream or vanilla ice cream. Refrigerate any leftovers for 2 to 3 days.

Yield: approximately 8 servings.
Reviews
I had the same experience as someone else below. I followed recipe exact (I have a 4 quart cooker). The flavor was awful. After 2 hours I opened to stir - edges a little burned and center still liquid! Threw it all away

We're sorry to hear you had so much trouble with the baking of this recipe. We're wondering if your slow cooker runs hotter than most, which would explain why the edges cooked through before the centers. Try using the lowest setting on your slow cooker to get a more even bake. If this doesn't work, you can also bake this recipe in a regular oven at 350°F for 35-40 minutes in an 8" square pan. We hope this helps give you better results with your next batch. Kye@KAF
Do you set the slow cooker to low or high?
Sorry for any confusion. It's in step 4, "cook on high heat for 2 to 3 hours." MJR @ KAF
Any suggestions on making this gluten free?

We haven't done that, but you can definitely give it a try. Be sure to add some xantahan gum (1/4 tsp per cup of GF flour) to add some structure. Happy baking! Laurie@KAF
Can this be made with gluten free flour?
Eva, you can replace the all-purpose flour in this recipe with our Gluten-Free Measure for Measure Flour if you'd like to convert it to be gluten-free. No other changes are necessary. Happy GF baking! Kye@KAF
I don't own a slow cooker, so I adapted this recipe to make in the oven. I made the peanut butter batter with crunchy natural peanut butter. I split the batter into 6 well-greased ramekins. I added 1 t espresso powder to the chocolate mix, then poured the mixture on top, trying to be even between the ramekins. I baked the ramekins on a cookie sheet at 350 until they were fluffy on top and the liquid was bubbling around the edges, about 28-30 minutes. I let them sit for about 15 minutes before eating. They came together quickly, and since I used the same glass measuring cup to measure/warm the peanut butter mixture, boil the water, and mix the chocolate mixture, it didn't make too many dishes. They taste great. They're rich, and I could see how they would be good with a scoop of ice cream. I didn't have any, so my husband and I enjoyed them with a cold glass of milk. I put the rest in the fridge to re-warm later this week. I would make these again.
My husband loved this cake so much he ate it all in two days. It has a delicious peanut butter flavor and the fudge sauce was gooey with an intense chocolate flavor. I found it very easy to make. I did use chunky peanut butter because that was all I had, and I liked the little crunchy peanuts in the cake. We reheated the leftovers in the microwave, in a bowl covered with plastic wrap, and found them to be just as good as the original.
I don't know what went wrong. I cooked this for 3 hrs and it still was not done. It cooked around the edges, center did not cook.
I am sorry this recipe didn't work for you. Please call us at the Hotline (855 371 2253) so that we can troubleshoot together. ~Jaydl@KAF
This is a great recipe-very easy and DELICIOUS. I brought my crock-pot to work today, along with the ingredients (dry ingredients in bags-one for the cake and one for the topping, peanut butter, vanilla and butter in a small bowl and separate bowl for mixing and utensils). Mixed up quickly and baked to perfection. The only thing we needed was some vanilla ice cream. It was cakey with crevices of chocolate goodness. I'll make for my family tomorrow night as my co-workers were my testers. Raves! KAF recipes have never let me down.
I like this recipe. Quick and easy to make. Less than the 2 hr time recommended to cook it. I only gave it 4 stars because my boyfriend didn't care for it. He took a bite (it was warm) and was not impressed with it. I will give him another chance to try it cold. And see what his decision is then. Being that he is a very fussy eater it will be interesting. This cake warm with ice cream would be quite good to me.
A friend got this in an email and forwarded it to me. I made it tonight for my son and I. It was quite tasty and moist. The only change I might make would be to add a little more volume to the sauce. Looking forward to trying it again.