A customized print-friendly version of this recipe is available by clicking the "Print Recipe" button on this page.
Soft and Chewy Oatmeal-Raisin Cookies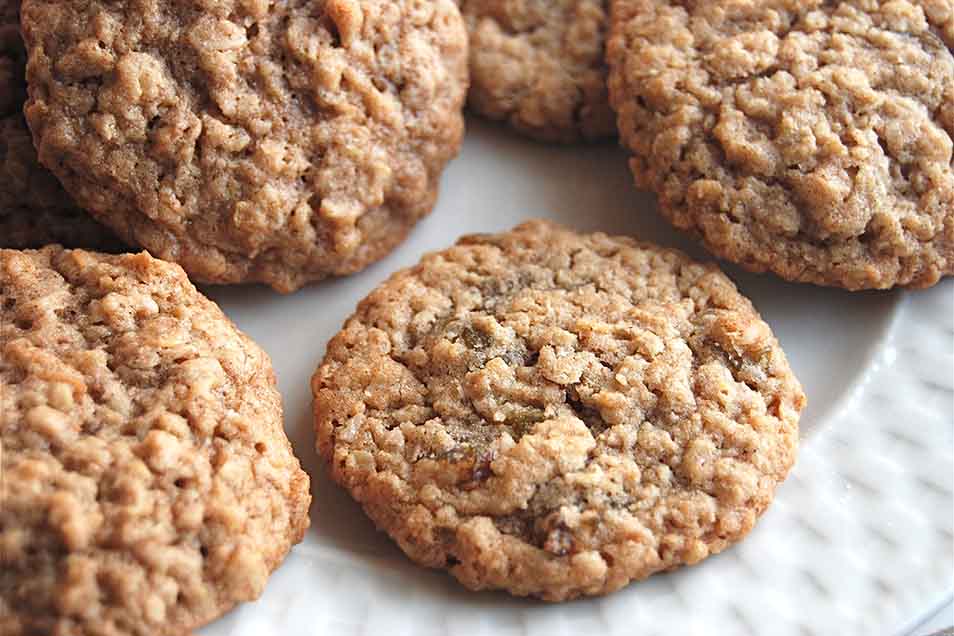 These humble cookies may seem old-fashioned, but their signature oatmeal cookie flavor and soft/chewy texture never go out of style.
Ingredients
1/2 cup butter
1/4 cup granulated sugar
1/3 to 1/2 cup brown sugar, to taste
1 teaspoon ground cinnamon
1/4 teaspoon ground allspice
1/2 teaspoon ground ginger
heaping 1/2 teaspoon salt*
1/2 teaspoon baking soda
1 teaspoon vanilla extract
1 large egg
3 tablespoons honey
3/4 cup King Arthur Unbleached All-Purpose Flour or 100% White Whole Wheat Flour
1 1/2 cups quick-cooking oats
1 1/2 cups raisins (golden or regular), or currants
*If you use salted butter, reduce salt to 1/2 level teaspoon.
Instructions
Lightly grease (or line with parchment) two baking sheets.

Beat together the butter, sugars, spices, salt, baking soda, and vanilla, mixing until smooth.

Beat in the egg, then the honey.

Stir in the flour, then the oats, then the raisins.

Cover the dough, and refrigerate it for 1 to 2 hours, until it's thoroughly chilled.

Note: To save time, you can freeze unbaked cookies for 1 hour, rather than refrigerating the dough; see step 6, below.
Drop the chilled dough by generous tablespoonfuls onto the prepared baking sheet; a tablespoon cookie scoop works well here. The cookies will spread, so leave 2" or so between them.

If the dough hasn't been chilled, place the pans of shaped cookies in the freezer for 1 hour.

Just before baking, preheat the oven to 375°F.

Bake the cookies for 10 minutes, until they're barely beginning to brown. Reverse the pans (top to bottom, bottom to top) midway through baking. If the cookies have been frozen, bake them for 14 minutes.

Remove the cookies from the oven, and cool right on the pan; or transfer to a rack if you need the pan for the next batch.

Yield: about 26 cookies.
Tips from our bakers
To keep cookies soft, store them airtight at room temperature.
Why the range in the amount of sugar? Some of our taste-testers thought the higher-sugar version was just too sweet, while others thought it was just right. Our advice? Try the lower-sugar version first, and see how you like it. If the cookies seem not quite sweet enough, increase the sugar next time you bake them.
Enjoy fresh cookies whenever you want them: Drop the balls of dough close together onto a pan. Place in the freezer. When the dough balls are frozen, wrap them airtight in a plastic bag. They'll be ready to bake (just a couple at a time in a toaster oven, if desired) whenever you get a hankering for a warm cookie.
Not a fan of honey? Substitute light or dark corn syrup, or molasses.
Reviews
Made this recipe with the lower amount of sugar and molasses. I loved the spices and the molasses-y flavor, texture was great too, yum! ... but they were still too sweet even with the lower amount of sugar called for :( I might make them again and try reducing the sugar even more, undecided. Try them if you like really sweet cookies!
These cookies were perfect. I used all white sugar and added a splash of molasses. I also used unsalted butter and coarse sea salt and substituted butterscotch chips for raisins. I made these last minute so I had to do a little improvising. Turned out delicious! After chilling over night I had to form into balls with my hands, I think the oats soaked up a little more moisture than expected, but they baked into perfect cookies.
I always have good luck with King Arthur recipes but I tried this one and they came our dry and a little burned on the bottom! I used coconut sugar instead of brown sugar, but everything else stayed the same. I froze for 1 hour and they didn't flatten out at all. Could the coconut sugar substitution make that big a difference? Thanks!

Thanks for reaching out to us, Cassie! We have a feeling that the coconut sugar was the culprit here because it has a lower burning temperature than regular or brown sugar does. Where regular sugar could reach up to almost 350°F before burning, coconut sugar will perform best under 250°F.

That's not to say it's impossible to bake this recipe with coconut sugar, it just might take a few batches of trial and error to have them come out the way you want. This could involve making changes to the amount of liquid needed to bring the dough together, lower oven temperatures, and chilling the dough in the fridge rather than the freezer.

Coconut sugar melts differently than regular or brown sugar so you may find you need to press the cookies into hockey pock shapes rather than balls to get them to spread the way you want to. Feel free to reach out to our free and friendly Baker's Hotline staff at 855-371-BAKE (2253) if you have any questions — Happy experimenting! Annabelle@KAF
These are great cookies; I especially like the spices. I used 1/4 cup of brown sugar, left out the vanilla and honey, and used old fashioned oats. Once mixed, I leave them in the refrigerator until the next day.
A breeze to make, very delicious. Substituted plumped dried cranberries, a few mini chips and walnuts. Really good.
I made a few changes to this basically excellent recipe. *I used 1/4 C each brown and white sugars and the full anount of honey. The cookies were still too sweet to my taste, so next time I'll halve the amount of honey. *I used whole wheat pastry flour, adding 2 T because, even at under 2500', I usually need to make adjustments for high altitude. *I used half the amount of cinnamon called for. I use Ceylon/Sri Lankan cinnamon, which I think has more flavor than Vietnamese/Saigon cinnamon. The resulting spiciness was just right and delicious. The addition of allspice is brilliant and blends beautifully with the cinnamon and ginger. *I didn't have quite enough rolled oats so added 1/4 C flaxseed meal. I loved the addition, so next time I'll replace even more of the oats with flaxseed. *I used 1 C currant raisins (zante currants) in place of regular raisins. I prefer currants in all my baking, because their smaller size means their flavor is more evenly distributed. You don't get a wodge of raisin in one bite and then nothing in the next. 1 C was more than enough fruit; you could get away with half that amount and produce a delicious cookie. Had I used the full 1 1/2 C, the cookies would have been even sweeter and less to my taste. *I made the cookies smaller than directed for the sake of my family's health and to save my labor. Someone who's going to take 3 cookies will take 3 cookies, whatever the size. I used a 1" cookie scoop and flattened them as directed. *The first sheet I baked got too dark. (Yes, I have an oven thermometer.) The cookies didn't taste burned, but I thought they looked less appetizing than they might, so I lowered the heat to 350°. I don't like underbaked cookies; others who do may not have a problem because they would remove the cookies from the oven sooner than I would. All these changes reflect my personal preferences and do not diminish my assessment of the recipe in any way.
Wonderful, wonderful delicious soft cooky! This is not my first time baking this recipe as it is my "go-to" oatmeal standby. They bake up soft, with lightly browned edges and do not become hard and dry, especially if you keep them in a Cooky Jar. I came out with 18 medium-large cookies, baked at 375F for exactly ten minutes I added the spices called for: Cinnamon, Allspice and Ginger which give it a goumet taste. Make sure you prepare this recipe just like it says, using quick-cooking oats. If you don't, the texture will not be correct- I know this, because I made this very mistake before in an earlier time. I added 1/3rd cup diced (diced very small) green apple, variety unknown but it was a flavorful, dry green apple, and the 1 & 1/2 cup raisins called for in the recipe. The addition of finely diced apple did not affect the texture one whit - and I did not alter the recipe in any way except for the addition. Beautiful, very delicious and tasty cooky- a recipe to save and use often. Thank you. Kristin in Arizona
This is a keeper! I made up a double batch the first try. I used KA white whole wheat for the flour. I used maple syrup instead of the honey and I used KA apple cinnamon jammy bits instead of the raisins. The texture is perfect. They baked up beautifully. I scooped the dough with an ice cream scoop. I let it chill for about an hour and had no problems. Although I used the smaller amount of sugar, they are still a tad sweeter than I like. It was probably because I used the jammy bits instead of raisins. I took a picture but can't figure out how to get it on here.
Cookies tasted good but mine came out soft and as if I didnt use flour. They did not stay together at all, but tasted great
I didn't want such a sweet cookie, so I used only 1/4 C of white sugar and 1/4 C of honey. No brown sugar at all. I increased the vanilla to 2 teaspoons and used only 1 C of raisins. Also added 1/4 teaspoon of nutmeg. And I didn't take the time to freeze or refrigerate the cookies before baking them. They came out perfectly ! Will definitely make them again....maybe even using less sugar as they are really sweet. Wonderful recipe !