A customized print-friendly version of this recipe is available by clicking the "Print Recipe" button on this page.
Soft and Chewy Oatmeal-Raisin Cookies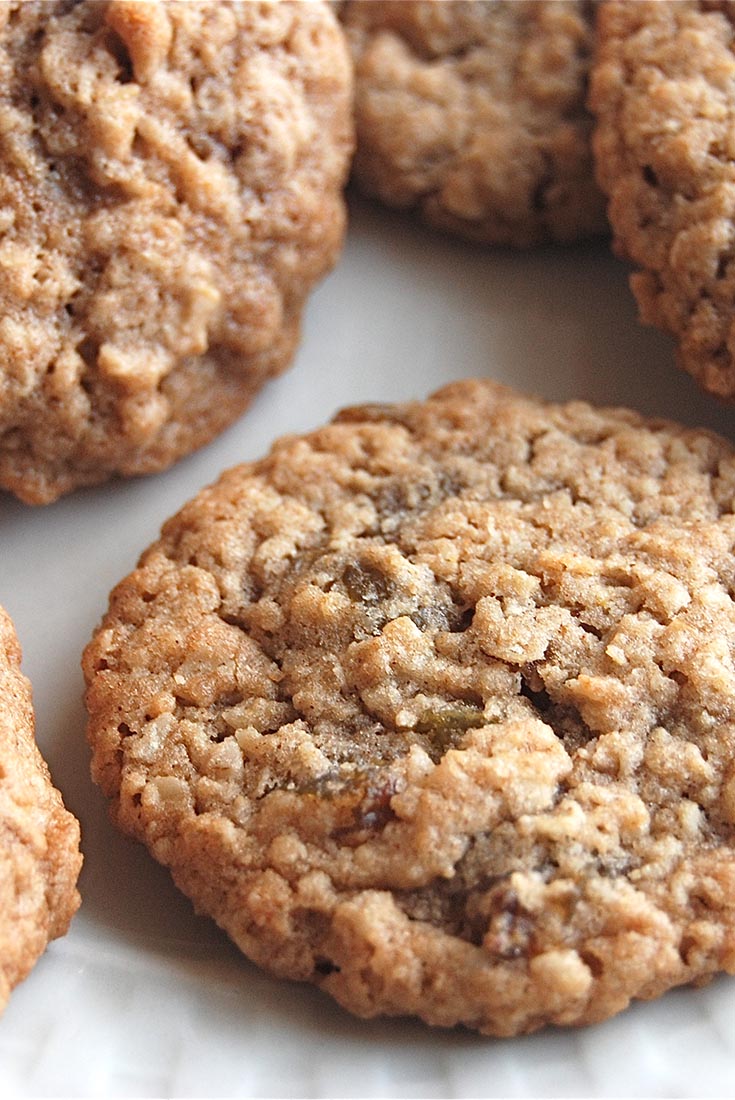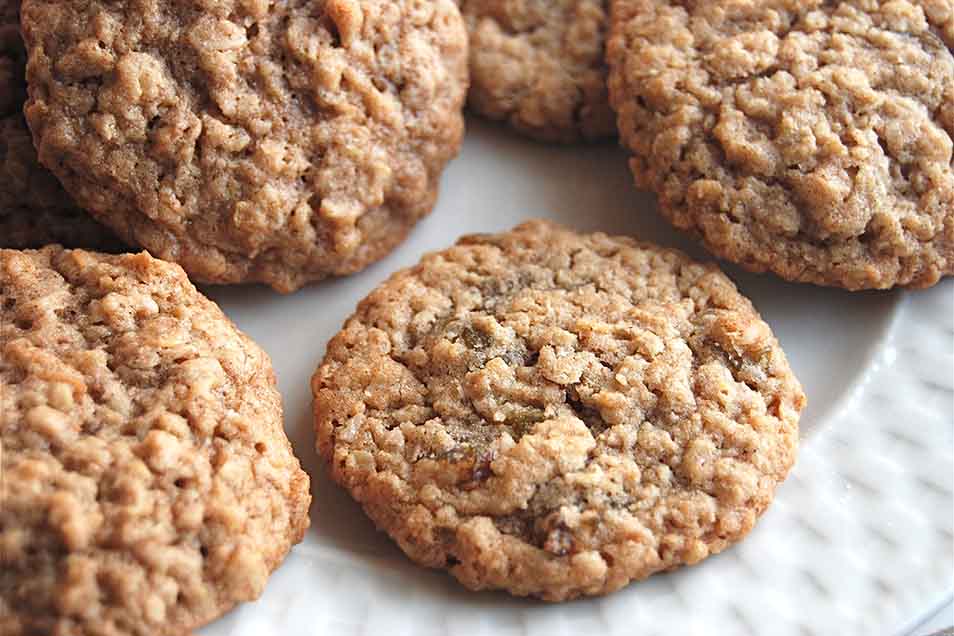 These humble cookies may seem old-fashioned, but their signature oatmeal cookie flavor and soft/chewy texture never go out of style.
Ingredients
1/2 cup butter
1/4 cup granulated sugar
1/3 to 1/2 cup brown sugar, to taste
1 teaspoon ground cinnamon
1/4 teaspoon ground allspice
1/2 teaspoon ground ginger
heaping 1/2 teaspoon salt*
1/2 teaspoon baking soda
1 teaspoon vanilla extract
1 large egg
3 tablespoons honey
3/4 cup King Arthur Unbleached All-Purpose Flour or 100% White Whole Wheat Flour
1 1/2 cups quick-cooking oats
1 1/2 cups raisins (golden or regular), or currants
*If you use salted butter, reduce salt to 1/2 level teaspoon.
Instructions
Lightly grease (or line with parchment) two baking sheets.

Beat together the butter, sugars, spices, salt, baking soda, and vanilla, mixing until smooth.

Beat in the egg, then the honey.

Stir in the flour, then the oats, then the raisins.

Cover the dough, and refrigerate it for 1 to 2 hours, until it's thoroughly chilled.

Note: To save time, you can freeze unbaked cookies for 1 hour, rather than refrigerating the dough; see step 6, below.
Drop the chilled dough by generous tablespoonfuls onto the prepared baking sheet; a tablespoon cookie scoop works well here. The cookies will spread, so leave 2" or so between them.

If the dough hasn't been chilled, place the pans of shaped cookies in the freezer for 1 hour.

Just before baking, preheat the oven to 375°F.

Bake the cookies for 10 minutes, until they're barely beginning to brown. Reverse the pans (top to bottom, bottom to top) midway through baking. If the cookies have been frozen, bake them for 14 minutes.

Remove the cookies from the oven, and cool right on the pan; or transfer to a rack if you need the pan for the next batch.

Yield: about 26 cookies.
Tips from our bakers
To keep cookies soft, store them airtight at room temperature.
Why the range in the amount of sugar? Some of our taste-testers thought the higher-sugar version was just too sweet, while others thought it was just right. Our advice? Try the lower-sugar version first, and see how you like it. If the cookies seem not quite sweet enough, increase the sugar next time you bake them.
Enjoy fresh cookies whenever you want them: Drop the balls of dough close together onto a pan. Place in the freezer. When the dough balls are frozen, wrap them airtight in a plastic bag. They'll be ready to bake (just a couple at a time in a toaster oven, if desired) whenever you get a hankering for a warm cookie.
Not a fan of honey? Substitute light or dark corn syrup, or molasses.
Reviews
One of the best cookies I have ever made.!!! Will be making a double batch next time!!!!!
Delicious cookies. Used 2 cups of brown sugar. Also used Einkorn whole wheat flout.
I just made these Oatmeal Raisin cookies this afternoon, hoping for a departure from the Quaker Oat canister recipe for a change. These cookies are amazingly delicious with a more complex taste and a softer texture. I used 1/3 C brown sugar and 3 T honey with 3/4 C KA Unbleached AP Flour ( as stated in recipe). Easy to make and so delicious- much more like the Oatmeal Raisin cookies I remember as a kid, thanks to the Allspice. Thank you KA, I just found my new favorite cookie recipe.
I just made these and they are amazing! I wasn't sure when I first read the recipe because the lack of flour seemed strange but they turned out great! I don't like raisins so I put in a bag of milk chocolate toffee chips. My kids and husband loved them so much I had to hide a few for tomorrow!
hi i made these just now, and they are deliscios, i though put less raisins and less sugar for less sweetness, the only thing they didn't spread at all, they were chilling in the fridge for 2 hours, i scooped and press them a little bit before the oven but nothing happined, they kept in the original shape, the second patch i had to press thinly in order to get thin spread cookies, what possibly i could have done wrong?

Thanks for giving these cookies a bake, Hana. In addition to flavor, sugar also plays a role in the structure of baked goods, and one common result of reducing sugar is less spread. For a look into the chemistry behind this and tips for successfully reducing sugar in cookies, take a read through the article on our blog entitled, "Reducing sugar in cookies and bars". We think you'll find lots of helpful guidance for future bakes. Mollie@KAF
I made these cookies without raisins, using maple syrup instead of honey, to rave reviews.
My mom, who doesn't even like oatmeal raisin cookies, absolutely loved these.
These were the best I have ever made I used old fashioned oat . So delicious
I made Quaker's Best Oatmeal Cookie recipe a week or so ago and they are much better than King Arthur's recipe. I am always looking for ways to make cookies healthier. So, I thought I would give this recipe a try today. I used 1/4 cups of King Arthur's 100% whole wheat flour and 1/2 cup of all purpose flour. In addition, I added a heaping tablespoon of milled flax seed. I also used both California and golden raisins (1 cup total) and a 1/2 cup of dark chocolate chips. Despite using a scoop to ensure that each ball was uniform in size, they all came out different sizes. The addition of dark chocolate chips made these cookies fragile, but I didn't have that problem with Quaker's recipe.

Thanks for sharing your frank feedback with us, Derek. We're sorry to hear that these cookies didn't come out as we'd all have hoped. The swap of flours and add-ins you describe sound like they should have been just fine, though we wonder if you were using milled flax in place of some of the egg or fat in the recipe? If so, that could have led to some of the trouble. It's also worth noting that our recipes assume a relatively light cup of flour (4.25 oz or 120 grams), while some other recipe writers assume a heavier cup. A heavier cup in our recipes will result in a drier dough and consequently a drier final product, which could prove crumbly. To get this lighter cup, we suggest either measuring by weight or by fluffing the flour up in its container, sprinkling it into the measuring cup, and leveling it off. This technique should help to make for happier baking with this, and all of our other recipes. Mollie@KAF
I bought quick-cooking oats instead of the regular oats for our breakfast by mistake, what a relief to find this wonderful recipe using up those quick oats! My husband LOVES these and said they are the best cookies I've ever made. He said they remind him of a favorite packaged cooky he loves, that are soft and chewy. These are soft. I like the ginger as one of the spices, it gives it that extra something. I did not want to add the honey with this recipe, as I do not care for honey and cinnamon combination, so I used two tablespoons of apple cider instead. Oh man, fabulous. I can not recommend this recipe highly enough. What a life saver, and this is now my go-to oatmeal cooky recipe. Thank you guys!!