A customized print-friendly version of this recipe is available by clicking the "Print Recipe" button on this page.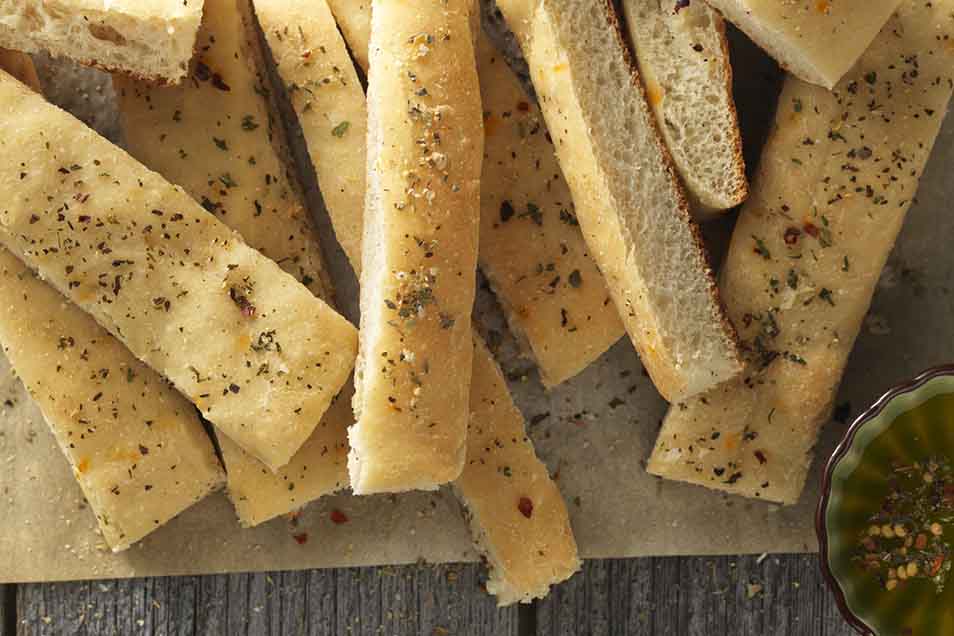 If you've ever enjoyed soft bread sticks at Pizza Hut, you'll recognize these. The best part is, you can have them on the table in under 90 minutes, with just about 10 minutes of actual "hands-on" time. These are wonderful served with marinara sauce (as they are in restaurants), or dipped in your favorite flavored olive oil.
Instructions
Lightly grease an 18" x 13" pan (half sheet pan), and drizzle 1 to 2 tablespoons olive oil in the bottom.

Combine all of the ingredients, and beat at high speed with an electric mixer for 60 seconds.

Scoop the sticky batter into the prepared pan, spreading it nearly to the edges. Oiling your fingers helps with the job.

Use a rolling pizza wheel or knife to score the dough in 3/4" to 1" wide crosswise strips, to make 13"-long strips. Score the dough once lengthwise, so that you now have 6 1/2"-long strips. Cover the pan, and let the dough rise at room temperature for 60 minutes, till it's become puffy.

While the dough is rising, preheat the oven to 375°F.

Drizzle the dough lightly with olive oil, and sprinkle with pizza seasoning, and/or the dried herbs of your choice, if desired.

Bake the bread till it's a very light golden brown, about 25 minutes.

Remove it from the oven, and carefully lift it out of the pan onto a rack.

As soon as you can handle it, cut the dough along the score lines. A pair of scissors works well here.

Place the bread sticks back on their baking pan, on edge. You can put them close together. Return them to the oven, and bake for 5 minutes (for soft bread sticks), or 10 minutes (for bread sticks that can stand up to a stiffer dip).

Remove them from the oven, and serve warm, or at room temperature.
Nutrition Information
Serving Size

1 stick, 24g

Servings Per Batch

36
Amount Per Serving:
Calories

56

Calories from Fat

15

Total Fat

2g

Saturated Fat

0g

Trans Fat

0g

Cholesterol

0g
Sodium

105mg

Total Carbohydrate

9g

Dietary Fiber

0g

Sugars

0g

Protein

2g
* The nutrition information provided for this recipe is determined by the ESHA Genesis R&D software program. Substituting any ingredients may change the posted nutrition information.
Tips from our bakers
For REALLY soft bread sticks, bake the bread, cut it into strips, and serve immediately; don't bake further.
Reviews
Can I please rate this recipe 10 stars? This is my 4th time making this recipe and it seems that each time it gets better! I bought the pizza dough flavor especially. They are flavorful, crispy enough, soft enough in the middle, I can hardly keep people from eating them all before I put dinner on the table! I sprinkle the top with Italian spices and freshly grated Parmesan.
Love this recipe! Very fast and easy. I'd like to bake them at my daughters house when we go to dinner Christmas Eve. How long can they stay in pan before baking.

Ali, we're so glad to hear you enjoyed this recipe! As mentioned in the recipe, allowing the bread sticks to rise for 60 minutes before baking is a good general rule, but this will vary depending on things like your kitchen temperature. If it's quite cold in your kitchen, you may want to leave them longer. This is a fairly forgiving recipe, though. If you forget them and they go a bit longer than expected, they should still turn out fine. Happy baking! Kat@KAF
I was searching for a dairy-free, egg-free alternative because I had neither on hand. Now it is a guarantee I will never go back. These sticks come together in one bowl and a pan. I didn't have a sheet pan, so when I bake these, they come out very THICK. When oil is brushed on the top during the last 10ish minutes of baking, it makes they soft and fluffy on the inside with just enough crunch. Another note, that if you use an oil other than olive oil, it will alter the consistency of the dough. I only had vegetable oil on hand the last two times I made these, and the first time I had to play around with the water and oil ratio. Came out fine but not great. Today I measured out 5 tbsp vegetable oil and they came out as though I hadn't changed a thing - though I do prefer using olive oil. Try these and you will drop your other cost inefficient breadsticks recipes in the bin.
These were absolutely delicious with a lovely texture, soft and airy on the inside, while a little crunchy on the outside. And bonus points for being quick to whip up! I had no trouble with them sticking to the sheet pan--sprayed with pan spray and drizzled pretty generously (probably closer to the two tablespoons) with olive oil that gave them a great crunch on the bottom (as well as added flavor), and they slid right off the pan. I did use the KA pizza crust flavoring in the dough, and for the top, I drizzled on some really flavorful olive oil and sprinkled with Italian herbs and flakey sea salt as well as a little parmesan and asiago. They are full of flavor just on their own, but I made some olive oil dipping sauce with a Mediterranean herb blend I had on hand. Kudos to KA for yet another perfect recipe!
Baked these today to go with my spaghetti and meatball dinner. Yum!! Delicious, light, fluffy and flavorful. I put some olive oil in a small dish and added fresh rosemary and chopped garlic and let it sit for a few hours. Before I put the risen dough into the oven, I drizzled the dough with the rosemary and garlic infused oil, added some freshly grated parmesan cheese and some kosher salt (for crunch). Wow - excellent. One thing though -notwithstanding the oil I brushed onto the bottom of my pan, it did stick a bit - one of the reviewers recommended parchment paper. Great idea - next time. In the meantime, this is a super simple recipe which takes very little time to put together with excellent results. In other words, it's a keeper, for sure. My kids and husband loved it.
To dry with the cut edges. Otherwise ok at best. Will stick with a more traditional dough of pizza or bead from now on.

Hi Ann, we're sorry to hear this recipe didn't turn out quite as you hoped it would. The most common reason why bread (including bread sticks) turn out dry is because too much flour is added to the dough. To ensure you're using the right amount (no matter what recipe you're using), we encourage you to measure your flour by weight using a scale. You can also click on the "Measuring Standards," next to the ingredients header above for more details. Kye@KAF
These just came out of the oven and they are very good. Some recommendations: Make sure you use some herbs or seasoning ( I used the pizza seasoning) you need these for more flavor. I also recommend brushing them with melted butter before second bake, bake 3 min more, remove and sprinkle on some cheese ( I used real parmigiana regianno) bake in oven 2 more minutes. Nice little crunch on the outside and chewy inside. These are dunkers for my Mac & Tomato soup tonight.
Pretty good but no depth of flavor despite using my starter. Good for pasta sauce but not really that good as stand alone bread.

It's true that these bread sticks are designed to act as a vehicle to enjoy yummy dips, spreads, and sauces. If you are looking for them to have some tasty flavor on their own, you should be sure to include the 4 teaspoons of Pizza Dough Flavor. It's a delicious combination of savory flavors like garlic, herbs, and cheese. Enjoy! Kye@KAF
I made a half recipe. I used parchment paper, which made the bread very easy to handle. I seasoned it with a good olive oil and zatar. The breadsticks were yummy.
I used garlic butter for the seasoning, and I didnt cut them or cook them on the sides. Instead, I took the whole sheet of breadsticks out of the pan and placed them directly on the oven rack for the last 5 minutes to crisp up the bottom. Then I cut them before serving. Have made them twice this way they are great.