A customized print-friendly version of this recipe is available by clicking the "Print Recipe" button on this page.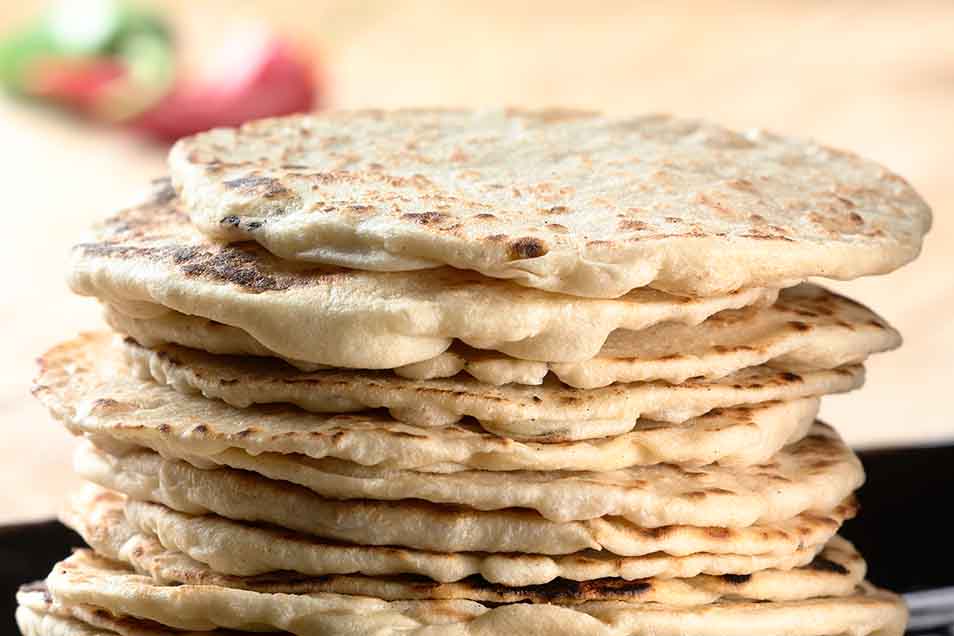 These soft, tasty tortillas include a touch of high-fiber barley flour.
Ingredients
1/2 cup Sustagrain® barley flour*
2 teaspoons baking powder
1 teaspoon salt
1 tablespoon vegetable oil
1 cup warm milk
1 teaspoon instant yeast
*Substitute 1/2 cup King Arthur Unbleached All-Purpose Flour, if desired
Instructions
Combine all the ingredients, then beat at high speed for about 1 minute to make a soft, slightly sticky dough.

Place in a greased bowl, cover, and let rest for 30 minutes.

Place the dough on a greased work surface. Divide it into 12 pieces, each about the size of a walnut (about 1 5/8 ounces).

Roll each piece into a ball. Cover the balls and let rest for 15 minutes.

Use a tortilla press, a rolling pin, or your hands to pat each ball of dough into a thin, 4" to 5" circle.

Let these rest 15 minutes (they'll shrink a bit), then roll each circle into a thin 6" to 8" round. Keep rolled-out dough rounds covered to prevent drying out.

Heat an ungreased heavy cast iron skillet or griddle over high heat. Cook the tortillas one at a time, until small dark spots form and the dough is set, about 20 to 30 seconds per side.

Stack finished tortillas in a napkin, or wrap in foil to keep warm until ready to serve.

Tortillas may be rewarmed in the microwave, or wrapped in foil and heated in a 350°F oven.

Yield: 12 tortillas.
Tips from our bakers
To make quick and easy "tortilla pizzas," place 6 tortillas on a baking sheet. Top with crumbled goat cheese, or your favorite mild cheese. Heat for about 5 minutes in a 350°F oven, just till the cheese softens and tortillas are warm. Remove from the oven, and top with fresh salsa cruda; we love a version made with tomatoes and corn.