A customized print-friendly version of this recipe is available by clicking the "Print Recipe" button on this page.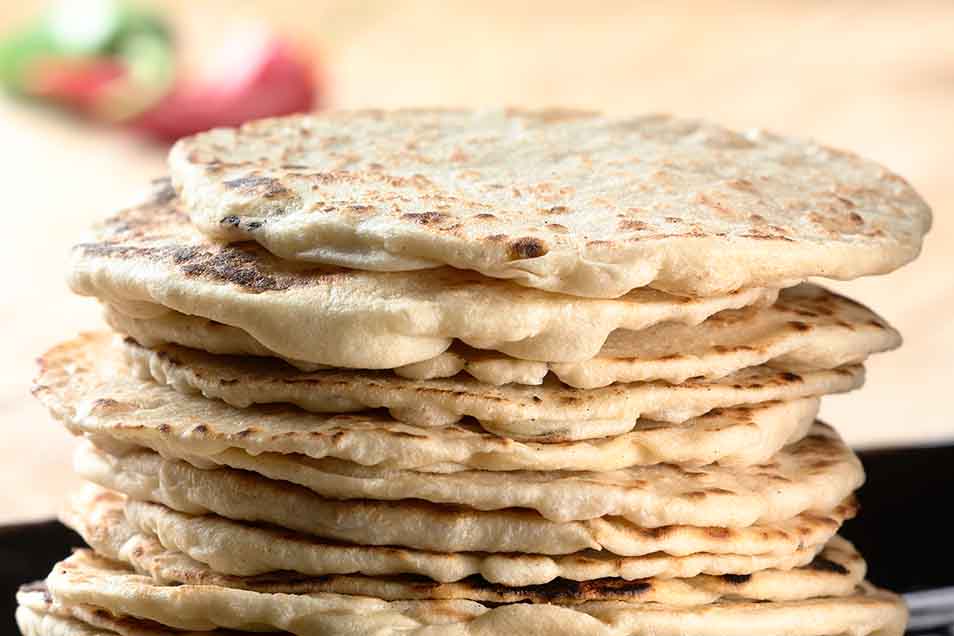 These soft, tasty tortillas include a touch of high-fiber barley flour.
Ingredients
1/2 cup Sustagrain® barley flour*
2 teaspoons baking powder
1 teaspoon salt
1 tablespoon vegetable oil
1 cup warm milk
1 teaspoon instant yeast
*Substitute 1/2 cup King Arthur Unbleached All-Purpose Flour, if desired
Instructions
Combine all the ingredients, then beat at high speed for about 1 minute to make a soft, slightly sticky dough.

Place in a greased bowl, cover, and let rest for 30 minutes.

Place the dough on a greased work surface. Divide it into 12 pieces, each about the size of a walnut (about 1 5/8 ounces).

Roll each piece into a ball. Cover the balls and let rest for 15 minutes.

Use a tortilla press, a rolling pin, or your hands to pat each ball of dough into a thin, 4" to 5" circle.

Let these rest 15 minutes (they'll shrink a bit), then roll each circle into a thin 6" to 8" round. Keep rolled-out dough rounds covered to prevent drying out.

Heat an ungreased heavy cast iron skillet or griddle over high heat. Cook the tortillas one at a time, until small dark spots form and the dough is set, about 20 to 30 seconds per side.

Stack finished tortillas in a napkin, or wrap in foil to keep warm until ready to serve.

Tortillas may be rewarmed in the microwave, or wrapped in foil and heated in a 350°F oven.

Yield: 12 tortillas.
Tips from our bakers
To make quick and easy "tortilla pizzas," place 6 tortillas on a baking sheet. Top with crumbled goat cheese, or your favorite mild cheese. Heat for about 5 minutes in a 350°F oven, just till the cheese softens and tortillas are warm. Remove from the oven, and top with fresh salsa cruda; we love a version made with tomatoes and corn.
Reviews
I made these with 1c whole wheat and 1.5c white flour. I found it difficult to get the tortillas big enough without tearing them. If I make them again I'll probably only make 9 or 10 so they don't tear as easily.
Second bread project - second success! These were prepared with my stand mixer and 10 minutes into the first rest, I realized I'd forgotten the vegetable oil. Called the Baker's Hotline and was advised that I shouldn't skip this step and I could incorporate into the dough by hand (but don't overwork the dough) or back in the stand mixer. Having already cleaned up, by hand it was. I do not have a press and my tortillas were much flatter than pictured (maybe the oil incorporated into the recipe properly would've made the difference) but cooking them in my cast iron pan was super quick. Less than 30 seconds the first side and much less than that on the second. They rolled up beautifully, looked and tasted just great. My only thought is, what is the best way to store the remaining cooked tortillas? Thanks so much KAF for another success!
You might try storing your tortillas in a ziplock bag. Reheat them in the microwave for 30 seconds under a moist paper towel.~Jaydl@KAF
I've been (trying) to bake great breads for about four years now, I have been having a lot of problems (especially with the rising). Long story short, with the help of this great website (I discovered it this morning!!!) I have finally successfully baked (flat)breads! I used those breads to make pizzas, with homemade sauce and homegrown veggies (from my balcony, because I live in the city!); it was the MOST DELICIOUS meal I EVER ate in my life!!! Thank you so much KAF!!!!
I substituted hole wheat white flour for the AP and barley. Very good
Despite not being traditional tortillas, my whole family loved this softer, more fluffy version.
Awesome recipe! I substituted 1 cup whole wheat flour instead of the all purpose and they we're yuummmmy!!!
My first attempt at these turned out awful. I did not separate them between "greased" sheets of wax paper. I couldn't get the dough off the paper and was only able to salvage enough dough for 3 tasty "tortilla's". We were so disappointed. What was salvaged tasted fantastic. So I tried it again and used semolina instead of barley flour. This time, I made individual pizza's the first night, and flatbread last night and will see if another day in the fridge will work to make flatbread tonight. Great taste. Thank you King Arthur!
We admire your baking/recipe tenacity and are so glad you gave this recipe a second chance. Happy Baking! Irene @ KAF
Great - once I got the knack for allowing the dough to rest and rise at least twice.
I wish everyone would stop complaining about these not being authentic tortillas! Yes they are different than traditional tortillas but that doesn't mean they aren't delicious! Just made a batch of these for some Chipotle Romaine Chicken Salad Tacos and they were delicious! I like that they are a little thicker and hold up to hardier fillings. I didn't have the barley so I used some white whole wheat flour in place of it. I will definitely make these again as they were easy and delicious. Thanks for the recipe!
If you can get beyond the fact that these are not a "traditional" tortilla, then they are great. They are about halfway between a tortilla and a pita or nan, when it comes to thickness and chewyness. My favorite thing about them is that there is no lard or shortening and they still felt indulgent. We ate them as soon as they were made and then reheated the next day. While they weren't bad the following day, they were definitely better fresh.