A customized print-friendly version of this recipe is available by clicking the "Print Recipe" button on this page.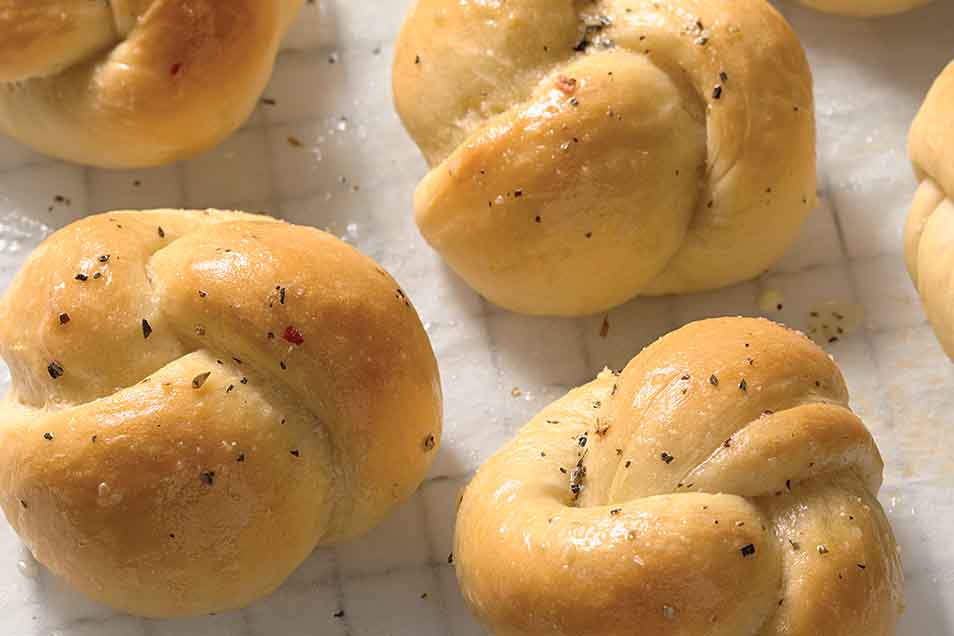 Drenched in garlic and butter, these soft rolls are even better than the ones you get at the pizza parlor.
Ingredients
Glaze
2 to 6 cloves peeled, crushed garlic
4 tablespoons melted butter
freshly grated Parmesan cheese, optional
1/2 teaspoon Pizza Seasoning or Italian seasoning, optional
Instructions
To make the dough: Whisk the dry ingredients together to prevent the potato flour from clumping when liquid is added.

Stir in the olive oil and water, then mix and knead — by hand, mixer, or bread machine — to form a smooth, elastic dough, adding additional water or flour as needed.

Place the dough in a lightly greased bowl, cover it, and allow it to rise for about 1 hour, until it's doubled in bulk.

Preheat the oven to 350°F.

Divide the dough into 16 pieces, and roll each into a rope about 11" long; tie each rope into a knot, tucking the loose ends into the center. Place the knots on a lightly greased or parchment-lined baking sheet, cover, and let rise for 45 minutes to about an hour, until very puffy looking.

Bake the knots for 15 to 18 minutes. They should be set, but only very lightly browned.

To make the glaze: Whisk together the melted butter and garlic.

Remove the knots from the oven, and brush or drizzle them with the garlic butter. Sprinkle with Pizza Seasoning or Italian seasoning or Parmesan cheese, if desired. Serve warm.
Tips from our bakers
For garlic knots with an extra crackly-crunchy crust, set a baking stone in the middle of your oven before preheating. Place the prepared knots on a piece of parchment, transfer them to the hot stone — either with the help of a large peel or an upside-down baking sheet — and bake and finish the knots according to the recipe instructions.
Reviews
These little beauties were amazing. I decided to make a nice Italian dinner for Valentine's day for me and my little dude. We have a restaurant we go to frequently that serves garlic knots so I thought I would give these a try. I am so glad I did. I had to make a couple changes based on things I had on hand but all of the proportions were kept the same. I only had a cup of AP flour left but had a bag of bread flour so I used that for the rest. I also didn't have powdered milk or potato flour so I left those out but I did have to add 2 tbsp more liquid so I used whole milk. The dough was beautiful to work with and the taste and texture were spot on. I'm excited to try these again using the proper ingredients because if they were this good like that, I can only imagine how much better they will be. Mm Mm Mm.
I have a printed version of this recipe from 2005. It's the exact recipe but it yields 8 rolls. Now it says 16. Was that a typo? By the way, they were delicious! I plan on making them for Christmas.

We changed it to 16 so they're a little smaller, but you can totally still make the recipe as 8 larger knots, Sandy! Either works. Annabelle@KAF
Wow- this is a great easy recipe! I didn't have the recommended products do I used half pastry flour & AP flour & powdered milk & potato flakes no dough enhancer. I added a tablespoon of Italian seasoning and they were great easy dough to handle rose as indicated and served with meatballs & pasta. They were delicious I wouldn't hesitate to make a batch with seasoning adjustments & serve with thanksgiving dinner. Thanks King Arthur another great recipe.
Baked for the first time today, and they were a big hit. Used all AP flour, and milk instead of water and dried milk. I did not have the pizza seasoning for the dough, but looking at the description of the product, I added 2 tsp grated Parmesan cheese, 1 tsp garlic powder, and 1 tsp Italian seasoning to the dough, and that gave it great flavor. These were very easy to roll out and shape ... check out the linked blog for great hints on shaping! Will definitely make these again.
I made these for dinner last night to go with my new favorite pasta dish. I wanted some kind of bread to go with the pasta, and a friend suggested I settle on these. I did not use the dough improver as I don't like to keep it around, but I did use tons of pizza dough flavor, which I do like in my pantry, both in the dough and in the garlic glaze. I also added plenty of Italian seasoning and salt to the garlic butter as well. The knots came out very soft and light and bursting with flavor. The only thing I wish I had done different was to mince the garlic into a paste. I am not generally a fan of processed foods, but I might try using those jars of minced garlic when making something like this. Anyway, incredibly delicious and the perfect texture. Thanks for yet another keeper of a recipe.
These are delicious. Easy and fairly quick too. I did not use dough improver or flavor. Used regular powdered milk. Very happy.
I used a bread machine to make the dough for this recipe. Super simple. I was always confused when using the bread machine to make dough, if a second rising is needed after the bread machine cycle is complete. For this recipe, when the dough cycle was complete, I took the dough out of the bread machine and went straight to forming the garlic knots. One more rise, 45 minutes to an hour after the knots are formed, and then in the oven. They turned out beautiful. The simple garlic glaze is what gives the rolls their signature garlic taste. I melt butter with the garlic over low heat on the stovetop for a few minutes. This softens the taste of the garlic.
Easy recipe and the end result is fantastic. I use my bread machine to knead the dough and rise, and then all I did was shape it before the final rise. Perfection! Don't miss the pizza dough flavoring - it totally makes it.
These were fantastic! So soft and fluffy but with enough chew to be satisfying. I did not add the KAF specific ingredients (except the flour ), since I did not have them on hand, but the knots came out wonderfully. Definitely a keeper
Wow - these are super. I accidentally forgot to add in the dry milk powder, but you wouldn't know it. These garlic knots are so tender and very tasty - just the way they should be - not like the heavy ones we usually purchase from our local pizza store. The pizza dough flavor and pizza seasoning from KAF brought these to a new level. My youngest daughter loves garlic knots and I made these for her - she loved them! My oldest daughter doesn't like garlic knots - until now. I mixed the glaze ingredients together and applied them after they baked with a pastry brush. Yum! I'll be making these again, to be sure!