A customized print-friendly version of this recipe is available by clicking the "Print Recipe" button on this page.
Soft Sandwich Bread with Flax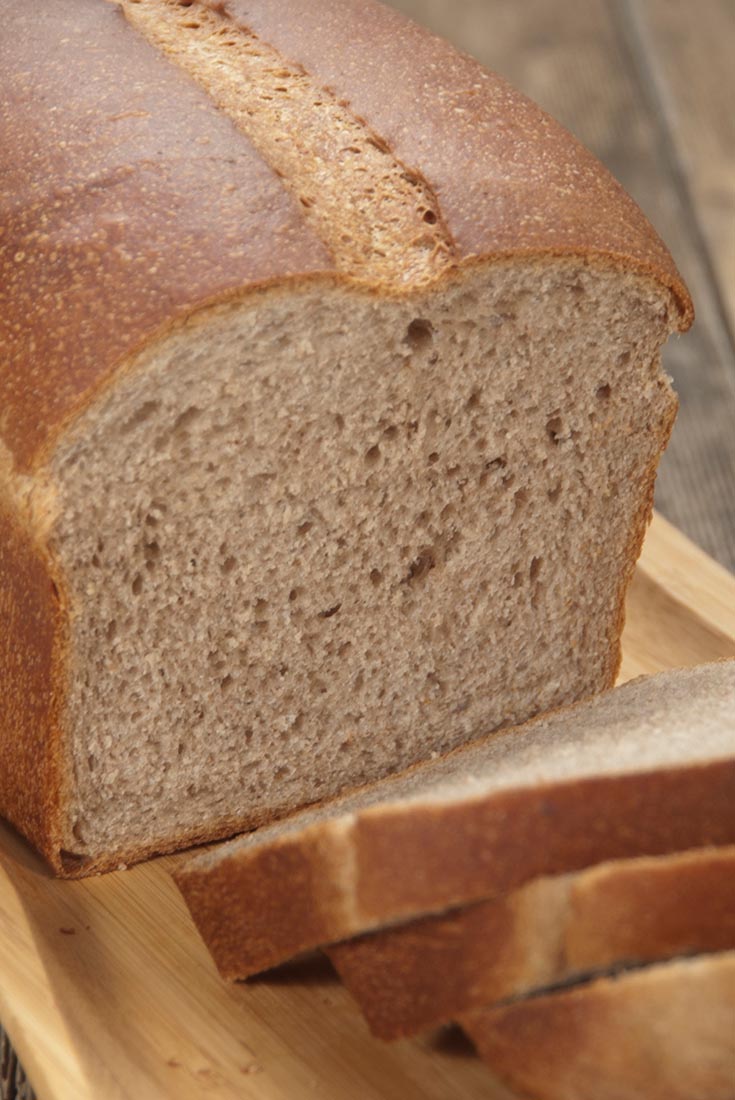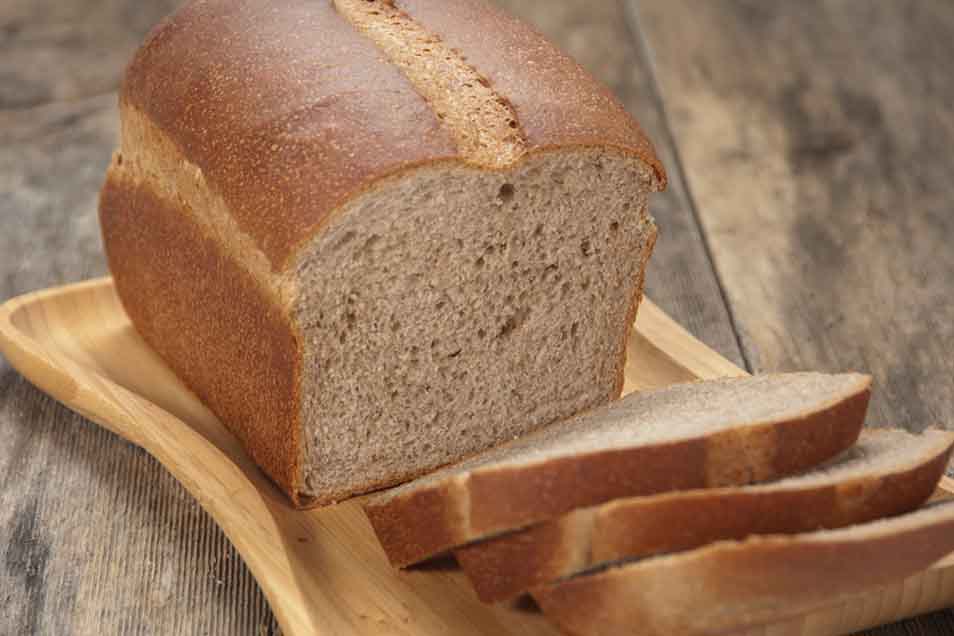 Sometimes mistakes make wonderful things happen. In a bit of a fog one morning, we left the eggs out of the challah. Not realizing why the dough was so dry, we added water until the dough looked right, and this fabulous bread is the result: a beautiful crumb and perfect crust, plus the nutrition of flax. We couldn?t have made a better flax-enhanced sandwich loaf if we'd tried!
Instructions
Combine all the ingredients, and mix and knead, by hand, mixer, or bread machine, to make a soft, smooth, slightly sticky dough.

Place the dough in a lightly greased bowl, cover the bowl, and allow it to rise till it's almost doubled in size, about 60 to 90 minutes.

Lightly grease a 9" x 5" loaf pan. Gently shape the dough into a smooth log, and settle it into the pan, smooth side up.

Tent the pan with lightly greased plastic wrap, and allow the loaf to rise till it's crowned over the rim of the pan by about 3/4", 30 to 60 minutes. Towards the end of the rising time, preheat the oven to 350°F.

Bake the bread for 30 to 35 minutes, or until the center registers 190°F on an instant-read thermometer. Remove it from the oven, and turn it out of the pan onto a rack.

Remove the bread from the oven, and place on a rack to cool.

Yield: 1 loaf.
Reviews
This is one of my favorite breads for the machine. It always comes out beautifully. I only use the machine to mix it but bake it in the oven. Oh, what a wonderful smell as I take it out when done!
Light and flavorful. Very easy recipe. May be my new everyday bread.
I made this last summer and really liked it, then made it for a friend's husband who needed a nutrition boost due to illness. He loved it, actually they both did. It had been a while, so thought I would make it again for them. When I gave it to her, she squealed when she recognized it. She was thrilled, as she was wondering if I'd make it again! I'm glad I did, this recipe will really whet your appetite, its aroma is very buttery while baking. Mine turned out perfect. It is a bit sticky, and soft, but the rise was really nice and it will be the next i make for us. It's a good way to add some nourishing fiber to your diet. If you are unsure of the flax, you won't notice its there. You can't go wrong with this recipe.
This bread came out fabulous. I did over proof for the second rise but it was still OK. I did take a commentors advise and use grams instead if volume. Perfect. I will use grams all the time when baking now.
There is too much liquid in this recipe for the amount of flour. Dough way too sticky to knead, it would not climb up the dough hook, & had difficulty rising.

We're surprised to hear you had such trouble with this recipe, fellow baker, as it's a well-loved sandwich bread by many. The most common reason why dough turns out too sticky and difficult to work with is because another kind of flour is used other than King Arthur Flour. Our flour has a higher protein content than most other brands, which means it absorbs liquid more readily and provides more structure in dough than softer flours. If you're already using King Arthur All-Purpose Flour in this recipe, consider giving our Baker's Hotline a call at 855-371-2253(BAKE) so we can troubleshoot further. Kye@KAF
The taste was great. I didn't have much honey so i used a little sugar in addition to about a teaspoon of honey. In retrospect, using several spoons of honey would have made this perfect.
Way too much salt for me. But it rise for the maximum recommended time but it wasn't long enough because of the flax. Needed a longer baking time in my oven. it came out exceptionally heavy and dense. Going to add some more honey next time, kneed a little longer, Let It Rise maybe 10 minutes longer then the max recommendation. for my only third loaf of bread ever I was pretty happy with it except for the salt! Ruined it for me.

Thanks for making this your third bake, Jacaranda! Feel free to reduce the salt by up to half. Any more than that, and you're likely to see changes in the fermentation and gluten structure, in addition to the flavor. To help avoid a heavy and dense loaf, we recommend weighing your ingredients with a scale rather than measuring by volume, or else using the fluff, sprinkle and level method to achieve a relatively light cup of flour. There are also a number of factors that can affect how quickly your dough rises, so we suggest using rise times as a general guide, allowing the dough to rise until it shows the tactile and visual signs indicated in the recipe. This may be more or less than what the recipe suggests, depending on the ambient temp and humidity, temp of ingredients, kind of yeast used, etc. Hope this helps make for an even happier next bake! Mollie@KAF
It was a success! I followed the advise from KAF to one of the reviewers that KAAPF in this recipe can be changed to WWF. I did 1 1/2 cup KAAPF, 1 cup KAWWF and 1/2 cup flaxseed meal. It was delicious! Thank you KAF for this recipe. One question.. Can I add oatmeal or other grains in this recipe? Thanks again!

It's always great to hear about baking successes! It sounds like you might want to check out the recipe called Wheat Oat Flax Buns (which can be made into a loaf if you prefer). It's designed to incorporate white whole wheat flour as well as flax and oats. This will give you better results than adding oats or other grains to this recipe, which might make the dough a bit heavier than you'd like. Happy baking! Kye@KAF
I saw that someone else had a problem with this bread not rising. Me too! It has a good taste, though. I did use "volume" vs. "grams" to measure. I have found at times that gram measurements with bread (this and other sites) result in a better product. Also I shorted the total white flour by 1/4 c. because the dough seemed to me to be getting dry. And I never add salt to recipes because I am living with an individual who has to keep his salt intake down. I plan to make this recipe again because of the great taste and ease of baking. 2nd time around I will use grams and I will add 1/8 tsp yeast additional. I will still keep the salt out and will only add as much flour as the dough can absorb. We'll see what happens. I'm hoping for a good outcome. 2nd time's a charm!
We love this bread! It is both flavorful and tender. I got incredible oven spring. It makes great sandwiches and toast. I'm always looking for ways to incorporate flax into my diet as it has so many health benefits. I did add some sprouted wheat flour and will try increasing that in my next batch to up the nutrition even more. Thank you for this delicious recipe.