A customized print-friendly version of this recipe is available by clicking the "Print Recipe" button on this page.
Soft Sandwich Bread with Flax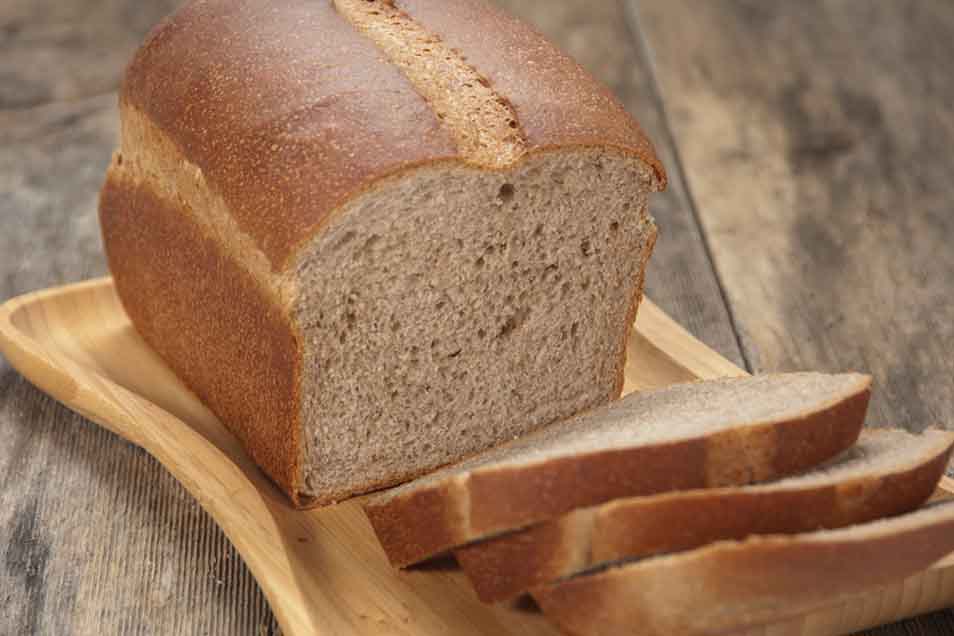 Sometimes mistakes make wonderful things happen. In a bit of a fog one morning, we left the eggs out of the challah. Not realizing why the dough was so dry, we added water until the dough looked right, and this fabulous bread is the result: a beautiful crumb and perfect crust, plus the nutrition of flax. We couldn't have made a better flax-enhanced sandwich loaf if we'd tried!
Instructions
Combine all the ingredients, and mix and knead, by hand, mixer, or bread machine, to make a soft, smooth, slightly sticky dough.

Place the dough in a lightly greased bowl, cover the bowl, and allow it to rise till it's almost doubled in size, about 60 to 90 minutes.

Lightly grease a 9" x 5" loaf pan. Gently shape the dough into a smooth log, and settle it into the pan, smooth side up.

Tent the pan with lightly greased plastic wrap, and allow the loaf to rise till it's crowned over the rim of the pan by about 3/4", 30 to 60 minutes. Towards the end of the rising time, preheat the oven to 350°F.

Bake the bread for 30 to 35 minutes, or until the center registers 190°F on an instant-read thermometer. Remove it from the oven, and turn it out of the pan onto a rack.

Remove the bread from the oven, and place on a rack to cool.

Yield: 1 loaf.
Reviews
This bread is delicious and the texture is great, but like a lot of people I had a terrible time with the dough being wet and hard to work with. Also, like a lot of people, the bread was tasty enough to convince me to stick with the recipe anyway. I always bake by weight, so I felt sure my measurements were correct, but this time (my third try) I decided to double check, measuring both volume and weight for the wet ingredients. Sure enough, the vegetable oil I use weighs only 32g per 1/4 cup not 50g and the honey I'm using weighs 34g for 2T, not 43g. By using the weights listed, I was using much more liquid by volume than had I used the volumes listed. I'm sure the equivalencies they give are true for some vegetable oil and some honey, but not the ones I have. I'm currently waiting for this third batch to rise and the dough is, not surprisingly, completely different. For one thing, it's *dough* not a puddle of paste on my counter. I'm hoping the lower oil content won't sacrifice too much of the softness I love about this bread, but if it does, I'll make my next batch wetter. Even if it was a sticky nightmare to knead, it was still worth it for the texture.

Grace, that's very interesting that you got such significantly different measurements for your ingredients. We didn't re-test our honey as it's a fairly expensive ingredient and we weren't baking anything with it, but we did run into the kitchen to check on our vegetable oil weight, just in case our chart was off. My quarter cup clocked in at 48 grams, which is close enough for me to suspect that 50 grams is pretty much on the money. I also double checked with a manufacturer's website for a brand of vegetable oil that we don't use. Is there any chance you were using dry measuring cups instead of wet? In any case, wet doughs are often the predecessors to soft breads. Whichever way you measure it, we hope you end up with the loaf you're hoping for! Kat@KAF
I have been looking for a delicious, healthy sandwich freindly bread and I definitely found it! This recipe is fabulous. I used a generic AP flour for mine. I bake in fairly large volumes and, unfortunately for me, KAF is too expensive but, truly, it made no difference! Personally, I found the salt amount to be spot on. I followed the recipe exactly using a scale to measure my ingredients. I read all of the reviews. There are several that mentioned a failure to rise adequately in the specified times allotted. Rise times are variable and depend on a lot of different conditions, i.e. ambient temps, types of yeast (active dry vs rapid rise), humidity, etc. It seems to me that several of reviewers changed the recipe and swapped out different ingredients (oat flour, whole wheat flour, active dry instead of rapid rise). In my experience, all of these things affect rise times! For myself, I prefer to try a recipe unadulterated first! Easier for me to tell if it's operator error or recipe error and in my experience, it's more often than not operator error! Keep up the good work, KAF! This recipe is fabulous!
This bread was awesome!!Perfect directions as I placed in bread machine as listed to mix and then brought out to rise.My favorite bread recipe by far.Thank You for sharing.I did grind my flax seed and again well pleased
I am new to baking and followed the recipe and measurements closely. The loaf turned out good however the top sunk down at the end. Not sure what caused that. Also, do you have any recommendation on bread pans as I have the clear\glass type. Thank you!

Hi, Marc! The sinking that you saw on the ends of the loaf could have been caused by how the loaf was shaped before the second rise. We would suggest making sure you shape the loaf tightly (paying special attention to the ends) so that it can rise evenly in the pan. Also, scoring the loaf before putting it in the oven can help it rise better. We suggest trying out a metal loaf pan, as it holds heat better and more evenly. Happy baking! Morgan@KAF
The dough is not very easy to put together, but the bread is amazing and turned out really soft. I used the stretch and fold in the bowl technique, and it worked.
Best bread I have ever made. I will be making this bread all the time now.
Bread turned out fluffy and soft!!! I loved it and so did hubby...he actually said " I don't know why we buy bread" coz it was so good. I used ground flax and the rest was per recipe. Easy to make too and I love that it includes flax seeds. Thank you for the recipe!!!!
I would rate this bread at 5 for its taste; it gets 3 because I don't think the directions are satisfactory. My first attempt to make this bread was a disaster; you can read about that in an earlier review. The dough is very wet and can be a challenge to work with. The bread is so tasty, however, that I was unwilling to give up on it. Here's what I did to make the recipe work and produce a loaf that looks like the photo: First, use a digital scale and measure everything precisely. I put all the ingredients into the bowl of my mixer and with the paddle attachment I mixed the ingredients for about two minutes on low speed. It will look like cake batter at this point. I then let the batter rest for 30 minutes, covered. This rest enables the flour to continue absorbing moisture. I then switched to the dough hook and kneaded the dough on speed 2 for 12 minutes. At about the half way point I decided to add maybe an ounce more flour (I was not using KA Flour). This produced a dough instead of a batter. I put the dough into a greased bowl and then let the dough sit for as long as it took for it to just about double in size. There are lots of variables that go into this time calculation; my kitchen is at 66-68 degrees and so things take longer. The dough should be light and airy, soft and dough like for want of a better description. At the end of the bulk rise I gently turned the dough out onto a barely floured - I'm talking a few specks of four - counter. I then gently stretched the dough into a square shape,, maybe eight inches square. Grab the top right corner, stretch it and fold into the center. Rotate the dough 90 degrees counterclockwise. Take the right 'corner,' stretch it and fold into the center. Do the same with the left 'corner.' Now take the bottom 'corner,' stretch it and fold it over the top of the dough and pull the dough towards you. The goal is to create some surface tension, which requires that the dough stick to the counter, thus the minimal dusting of flour to accomplish just the square shaping. Continue to shape the dough by pulling it carefully towards you; the top edge will stick to the counter and create more surface tension. When you're satisfied, shape into a log the width of the pan and place the dough into the pan. Cover and again wait as long as it takes for the dough to crown just above the top of the pan. I use on of those 'shower cap' plastic covers for this because you can puff it above the rim so the dough doesn't stick to the plastic. Bake and enjoy.
This is one of my favorite breads for the machine. It always comes out beautifully. I only use the machine to mix it but bake it in the oven. Oh, what a wonderful smell as I take it out when done!
Light and flavorful. Very easy recipe. May be my new everyday bread.