A customized print-friendly version of this recipe is available by clicking the "Print Recipe" button on this page.
Soft Sandwich Bread with Flax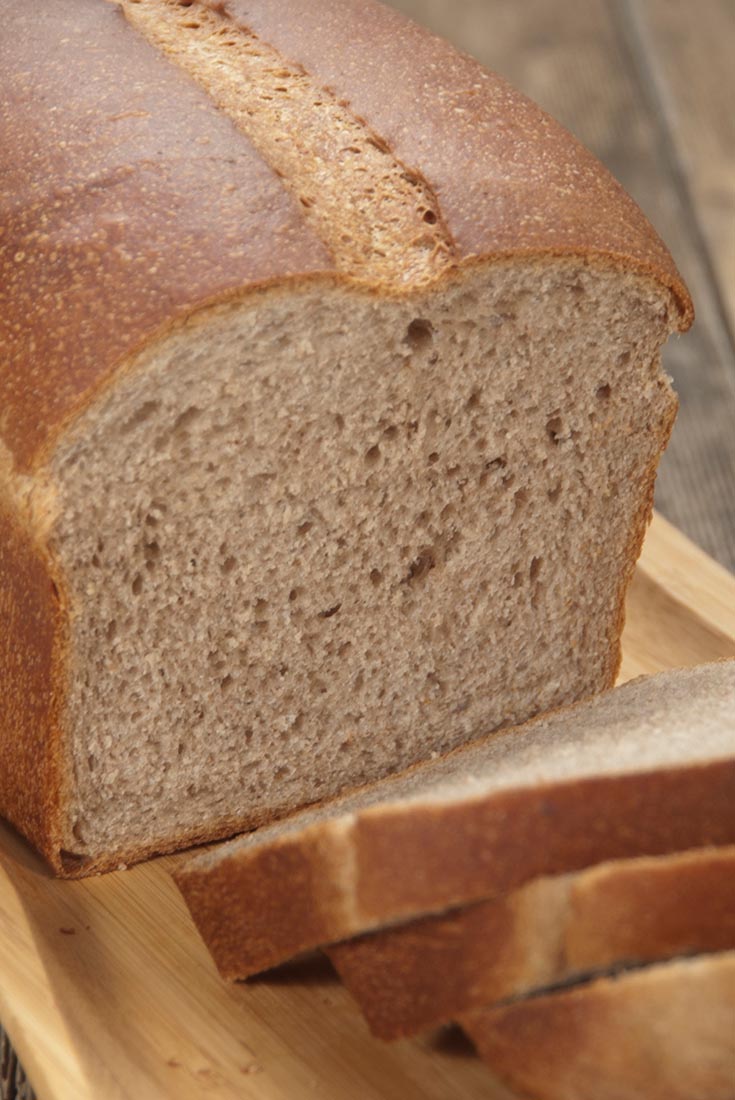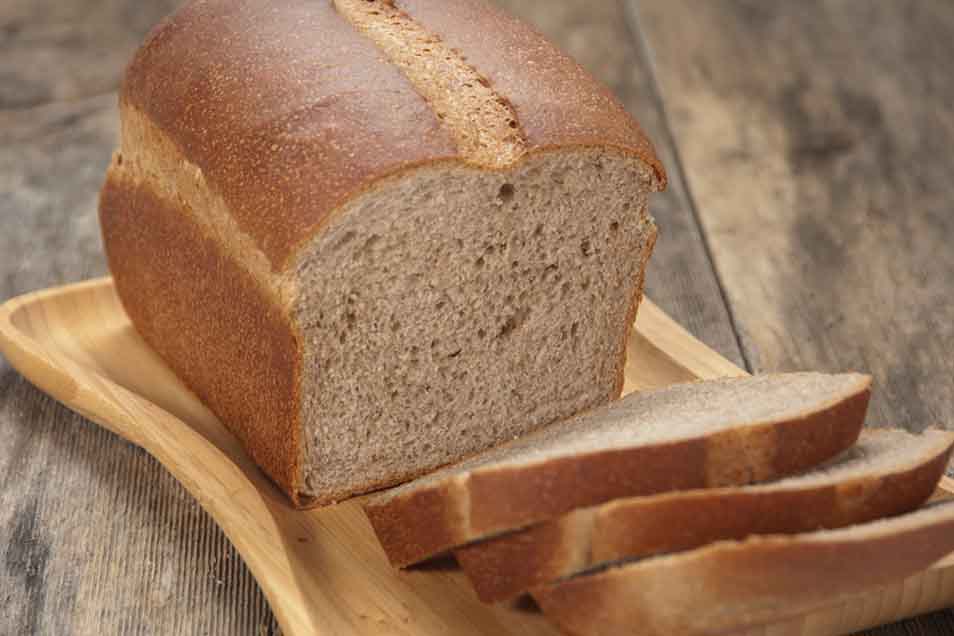 Sometimes mistakes make wonderful things happen. In a bit of a fog one morning, we left the eggs out of the challah. Not realizing why the dough was so dry, we added water until the dough looked right, and this fabulous bread is the result: a beautiful crumb and perfect crust, plus the nutrition of flax. We couldn't have made a better flax-enhanced sandwich loaf if we'd tried!
Instructions
Combine all the ingredients, and mix and knead, by hand, mixer, or bread machine, to make a soft, smooth, slightly sticky dough.

Place the dough in a lightly greased bowl, cover the bowl, and allow it to rise till it's almost doubled in size, about 60 to 90 minutes.

Lightly grease a 9" x 5" loaf pan. Gently shape the dough into a smooth log, and settle it into the pan, smooth side up.

Tent the pan with lightly greased plastic wrap, and allow the loaf to rise till it's crowned over the rim of the pan by about 3/4", 30 to 60 minutes. Towards the end of the rising time, preheat the oven to 350°F.

Bake the bread for 30 to 35 minutes, or until the center registers 190°F on an instant-read thermometer. Remove it from the oven, and turn it out of the pan onto a rack.

Remove the bread from the oven, and place on a rack to cool.

Yield: 1 loaf.
Reviews
The dough is not very easy to put together, but the bread is amazing and turned out really soft. I used the stretch and fold in the bowl technique, and it worked.
Best bread I have ever made. I will be making this bread all the time now.
Bread turned out fluffy and soft!!! I loved it and so did hubby...he actually said " I don't know why we buy bread" coz it was so good. I used ground flax and the rest was per recipe. Easy to make too and I love that it includes flax seeds. Thank you for the recipe!!!!
I would rate this bread at 5 for its taste; it gets 3 because I don't think the directions are satisfactory. My first attempt to make this bread was a disaster; you can read about that in an earlier review. The dough is very wet and can be a challenge to work with. The bread is so tasty, however, that I was unwilling to give up on it. Here's what I did to make the recipe work and produce a loaf that looks like the photo: First, use a digital scale and measure everything precisely. I put all the ingredients into the bowl of my mixer and with the paddle attachment I mixed the ingredients for about two minutes on low speed. It will look like cake batter at this point. I then let the batter rest for 30 minutes, covered. This rest enables the flour to continue absorbing moisture. I then switched to the dough hook and kneaded the dough on speed 2 for 12 minutes. At about the half way point I decided to add maybe an ounce more flour (I was not using KA Flour). This produced a dough instead of a batter. I put the dough into a greased bowl and then let the dough sit for as long as it took for it to just about double in size. There are lots of variables that go into this time calculation; my kitchen is at 66-68 degrees and so things take longer. The dough should be light and airy, soft and dough like for want of a better description. At the end of the bulk rise I gently turned the dough out onto a barely floured - I'm talking a few specks of four - counter. I then gently stretched the dough into a square shape,, maybe eight inches square. Grab the top right corner, stretch it and fold into the center. Rotate the dough 90 degrees counterclockwise. Take the right 'corner,' stretch it and fold into the center. Do the same with the left 'corner.' Now take the bottom 'corner,' stretch it and fold it over the top of the dough and pull the dough towards you. The goal is to create some surface tension, which requires that the dough stick to the counter, thus the minimal dusting of flour to accomplish just the square shaping. Continue to shape the dough by pulling it carefully towards you; the top edge will stick to the counter and create more surface tension. When you're satisfied, shape into a log the width of the pan and place the dough into the pan. Cover and again wait as long as it takes for the dough to crown just above the top of the pan. I use on of those 'shower cap' plastic covers for this because you can puff it above the rim so the dough doesn't stick to the plastic. Bake and enjoy.
This is one of my favorite breads for the machine. It always comes out beautifully. I only use the machine to mix it but bake it in the oven. Oh, what a wonderful smell as I take it out when done!
Light and flavorful. Very easy recipe. May be my new everyday bread.
I made this last summer and really liked it, then made it for a friend's husband who needed a nutrition boost due to illness. He loved it, actually they both did. It had been a while, so thought I would make it again for them. When I gave it to her, she squealed when she recognized it. She was thrilled, as she was wondering if I'd make it again! I'm glad I did, this recipe will really whet your appetite, its aroma is very buttery while baking. Mine turned out perfect. It is a bit sticky, and soft, but the rise was really nice and it will be the next i make for us. It's a good way to add some nourishing fiber to your diet. If you are unsure of the flax, you won't notice its there. You can't go wrong with this recipe.
This bread came out fabulous. I did over proof for the second rise but it was still OK. I did take a commentors advise and use grams instead if volume. Perfect. I will use grams all the time when baking now.
There is too much liquid in this recipe for the amount of flour. Dough way too sticky to knead, it would not climb up the dough hook, & had difficulty rising.

We're surprised to hear you had such trouble with this recipe, fellow baker, as it's a well-loved sandwich bread by many. The most common reason why dough turns out too sticky and difficult to work with is because another kind of flour is used other than King Arthur Flour. Our flour has a higher protein content than most other brands, which means it absorbs liquid more readily and provides more structure in dough than softer flours. If you're already using King Arthur All-Purpose Flour in this recipe, consider giving our Baker's Hotline a call at 855-371-2253(BAKE) so we can troubleshoot further. Kye@KAF
The taste was great. I didn't have much honey so i used a little sugar in addition to about a teaspoon of honey. In retrospect, using several spoons of honey would have made this perfect.