A customized print-friendly version of this recipe is available by clicking the "Print Recipe" button on this page.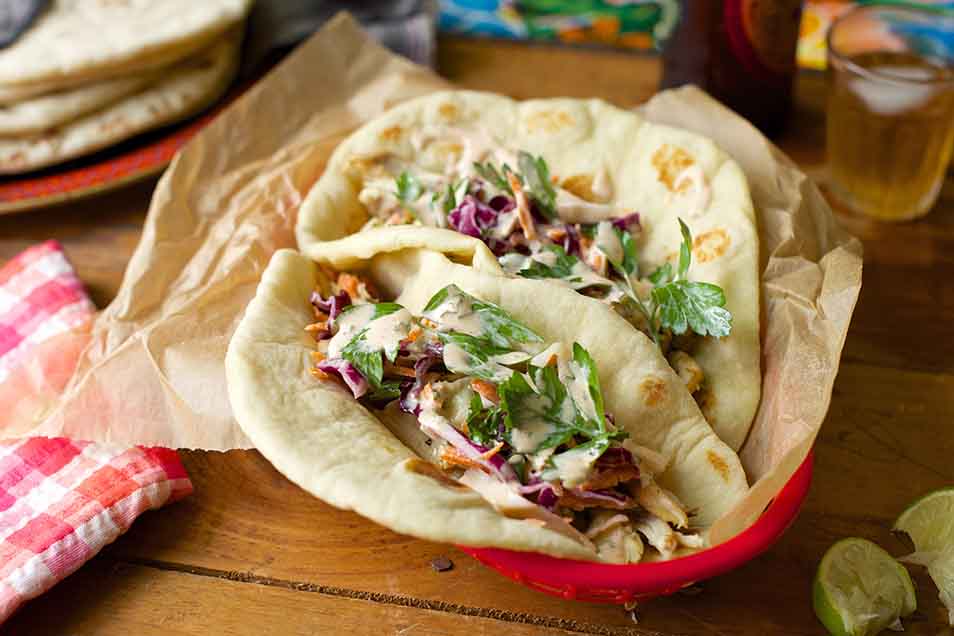 Let's start with the sandwich basic: bread. There's sandwich bread — a rectangular loaf, baked in a pan and sliced — and then there's "new age" sandwich bread, any of a variety of tortillas, wraps or flatbreads designed to enfold, roll around, or cradle their fillings. We've become really enamored of these wraps; they're easy to make, quick to bake, and sturdy enough to take wherever your meal ends up — indoors, outdoors, or in the car.

We use a rather unusual method to make this bread: boiling water is added to the flour, "cooking" the starch and making the resultant dough soft and easy to roll out. In addition, pre-cooking the starch this way eliminates any possibility of a "starchy" taste in the final bread; all in all, these wrap-like rounds are better tasting than conventional flour tortillas or other wraps. Texture-wise, they're more like a Taco Bell Gordita or a pita bread than a tortilla, so if you like the bread in your sandwich to be a substantial part of the whole, this is a good recipe for your files.
Instructions
Place 2 cups of the flour into a bowl or the bucket of a bread machine. Pour the boiling water over the flour, and stir until smooth. Cover the bowl or bucket and set the mixture aside for 30 minutes.

In a separate bowl, whisk together the potato flour (or flakes) and 1 cup of the remaining flour with the salt, oil and yeast.

Add this to the cooled flour/water mixture, stir, then knead for several minutes — by hand, mixer or bread machine — to form a soft dough. Add additional flour only if necessary; if kneading by hand, keep your hands and work surface lightly oiled. A 5-minute knead in the bread machine, once it gets up to full kneading speed, is fine. Let the dough rise, covered, for 1 hour.

Divide the dough into 8 pieces (each about the size of a handball, around 3 ounces), cover, and let rest for 15 to 30 minutes.

Roll each piece into a 7" to 8" circle, and dry-fry them (fry without oil) over medium heat for about 1 minute per side, until they're puffed and flecked with brown spots. Adjust the heat if they seem to be cooking either too quickly, or too slowly; cooking too quickly means they may be raw in the center, while too slowly will dry them out.

Transfer the cooked breads to a wire rack, stacking them to keep them soft.

Serve immediately, or cool slightly before storing in a plastic bag for up to 4 days. Freeze for up to a month.
Nutrition Information
Serving Size

1 bread, 85g

Servings Per Batch

8
Amount Per Serving:
Calories

207 cal

Calories from Fat

Total Fat

4g

Saturated Fat

Trans Fat

Cholesterol
Sodium

336mg

Total Carbohydrate

37g

Dietary Fiber

2g

Sugars

Protein

5g
* The nutrition information provided for this recipe is determined by the ESHA Genesis R&D software program. Substituting any ingredients may change the posted nutrition information.
Tips from our bakers
This recipe works best with instant yeast because it dissolves during the kneading process, so you don't have to knead liquid into the dough. If you really prefer to use active dry yeast, use only 1 cup boiling water for the initial dough, dissolve the yeast in 1/4 cup warm water, and add this mixture to the dough along with the potato flour mixture. It'll be somewhat "slippery" at first, but will knead in and eventually become smooth.
Reviews
I have made this twice. First time I had some difficulty with the dough but by the second try I understood how to handle the dough. However, both times the end result was delicious. Reading the other comments helped me out with working the dough. Yes a little extra water is needed in the first step. Patience is required but in my opinion a forgiving dough. My second batch was perfect and easy to work with. Third batch-tomorrow. :)
We love this bread. However the recipe is not super baker-friendly. These are the things I found out when making this recipe. Tips: 1.The flour/water mix is best done by hand. It will not be watery or smooth but more of a lumpy mass. 2.When mixing the dry ingredients, add the salt to one side of the bowl and the yeast to the other. This decreases the likelihood of the salt decreasing the efficiency of the yeast. 3.Don't be afraid to add more boiling water when incorporating the dry ingredient/oil mixture to the water/flour mixture. You will need some but don't add too much. Just enough to incorporate all the dry ingredients and form a nice dough. 4.When using a stand mixer, knead on the "stir" setting for about 10 minutes or until the dough forms a nice smooth ball. 5.When dry-frying, make sure the pan is nice and preheated. If it isn't, the first one will take a lot longer to cook. Happy baking!
Made this several times, for flatbread (as directed) and Kaiser rolls (bake at 350 for 40 minutes). It works just fine with active dry yeast: mix 1T. yeast, 1T. sugar, 2T. flour into 1/4 c. warm water, stir in 2/3 c. pureed sweet potato, let it proof while the scalded flour is cooling. Common orange sweet potatoes ("yams") give a lovely yellow color and a flavor that's a good match for barbecue.
I've made this recipe twice now. Both times I had to add about 1/2 to 2/3 cup of additional water to get the dough to come together. It's a lovely dough that is easy to work with. We use these wrap for all sorts of things. They are wonderful to keep around. I plan to freeze some from today's batch.
I saw a prior commenter used a baked potato instead of the potato flakes, so I tried a baked sweet potato. It came out so good! Reminiscent of naan and pita bread which I also love. I will definitely be making this recipe on a regular basis.
I found the dough stiff at first, but I left the Kitchen Aid kneading it for 5 minutes, and it loosened up nicely.
I have made this recipe twice now and found the dough to be a bit dry both times. I did add a small amount of extra water until I got the consistency I wanted which worked out just fine. I fried easily and taste great!
Used a small baked potato instead of potato flour/ flakes. Works every time! Even my very picky son loves them.
I too had to fiddle with the recipe and add more water. You recommend weighing the flour. But the problem is that the dough is so stiff with only the beginning amount of 2 cups of flour and 1 1/4 cups of water that I do not see how a baker can add any of the added dry ingredients and get a soft dough. I added at least another 1/2 cup of water for the dough to feel right. The recipe was delicious after making the addition of more water.
Made for dinner the other night. I wasn't sure how it was going to go together, but super easy to follow, worked the dough by hand. Next time I will try dissolving the yeast in the water first. Results were great. I ended up putting my salad in it and enjoying that way. Flavor is wonderful, will make again, soon.