A customized print-friendly version of this recipe is available by clicking the "Print Recipe" button on this page.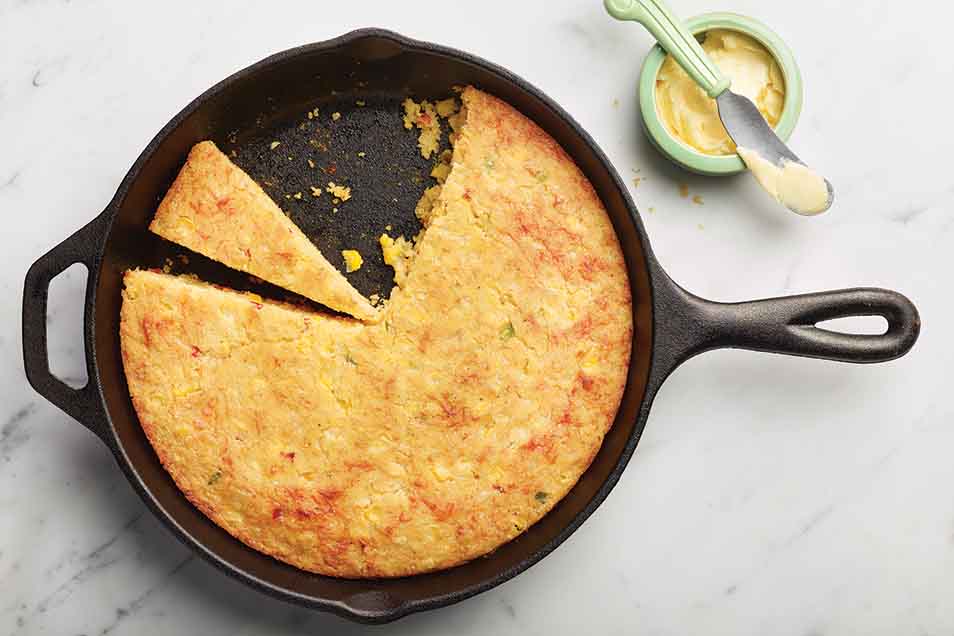 I absolutely adore the dialogue this humble newsletter engenders with readers. Susan Murphy from Long Island wrote me the following after receiving her Autumn issue of The Baking Sheet®:

"...the recipe for the Potato Borek made me think of a recipe that I just found in a 1983 cookbook with international recipes from countries all over the world. I picked up the cookbook for $1.00 at a library in Rhode Island which sells books to raise money. One recipe in particular caught my attention for Sopa Paraguaya-Paraguayan Cornbread. The recipe consisted of onions, chopped and fried in oil, milk, salt, lard or vegetable oil, cheese, cottage cheese, cornmeal, and eggs. It was heavy on the fat and the onions. So I did a search on the Internet and came up with a few hits for Sopa Paraguaya, but none that sounded really good and at least somewhat healthy. Do you have any recipes for Sopa Paraguaya?"

Off I went on a recipe hunt. I found a number of recipes, each of which had something about it that appealed, but none that I was willing to buy into altogether. So I did some combining and morphing and testing. I learned that Paraguayan cornbread is often baked in the drippings from a roast chicken, which sounded mighty good to me; something like a Latin American Yorkshire pudding. Some recipes called for separating the eggs and folding them in, but that seemed a bit prissy for what was originally a sturdy country dish, often served next to a hearty beef soup or stew. As the recipe came together, I realized it was a nutritional powerhouse. One serving has practically all the whole grains you're supposed to be getting per day, there's lots of protein from the cheese, and with a couple of minor tweaks it can be made with very little cholesterol.

This is a dense, very moist, quite yummy dish. Perfect for winter with a roast, some chili, or some soup. I hope Susan and everyone else will find it as satisfying as we did.

Susan Reid, editor The Baking Sheet

Read our blog about this cornbread, with additional photos, at Flourish.
Ingredients
1 tablespoon butter
1 tablespoon corn or vegetable oil
1 cup diced onion
1/4 cup diced red bell pepper
1/4 cup diced green bell pepper
1 1/2 cups cornmeal
1 cup milk
2 tablespoons sugar
1/2 cup cottage cheese; low-fat or nonfat are fine
2 large eggs
1 teaspoon salt
1/4 to 1/2 teaspoon coarsely ground black pepper, to taste
2 teaspoons baking powder
1 1/2 cups fresh or frozen corn kernels
1 cup grated Monterey Jack or pepperjack cheese
Instructions
Preheat the oven to 375°F. Grease a 9" x 9" pan that's at least 2" deep; a shallow 2-quart casserole dish; or a 10" cast-iron skillet (at least 2" deep).

In a medium skillet over medium heat, melt the butter and pour in the oil. Add the onions and cook until translucent, stirring occasionally. If you're going to bake in a 10" cast-iron skillet, go ahead and use it to sauté the vegetables.

Add the peppers and cook for 1 more minute. Remove from the heat and cool to room temperature. If you're using the same skillet to bake the bread, remove the vegetables. There's no need to wash the pan; just wipe out any stray bits of stuck-on veggie.

In a large bowl, combine the cornmeal and milk.

Stir in the sugar, cottage cheese, eggs, salt, pepper, and baking powder.

Stir in the corn kernels and cooled onion mixture.

Stir in the cheese, and then transfer the batter to the prepared pan. If you're using the same skillet in which you sautéed the vegetables, grease it again, using non-stick vegetable oil pan spray or shortening.

Bake for 40 to 45 minutes (in a 9" x 9" pan), or 30 to 35 minutes (in a 10" cast-iron skillet), until the center feels set when lightly touched with your finger, and the edges are beginning to brown.

Remove from the oven, cut in squares or wedges, and serve warm.

Yield: 12 to 16 servings.
Tips from our bakers
This is not a typical high-rising, cake-like cornbread. Midway between casserole and bread, it's very moist, and quite dense. It makes a tasty (and colorful!) accompaniment to soup or stew in the winter, and salad or grilled steak (or burgers) in the summer.
Reviews
I followed every part of the recipe except I used shredded Monterrey Jack and Colby Jack cheese blend, I skipped the peppers, and I used salted butter to grease my pan. Also I had put about 4 small slices of butter into the frozen corn that I cooked. The result looked pretty, brown edges, little cracks, puffed up, but it turned out salty. I recommend not adding the extra Monterrey Jack cheese, it would be fine without. And don't use salted butter or add salt, the cheese was salty enough. Overall, the texture and flavors were great.
I made this last night and it came out of the oven looking gorgeous in my cast iron pan. The recipe was easy to follow but I did omit the peppers. My son liked it but my husband was not a fan. He didn't like the texture - I think he was hoping for something more like cornbread. I liked it, but wasn't sure where and when I would serve this dish. I had a room temperature piece this morning for breakfast with coffee and it was lovely! Perfect to make the night before and have ready in the morning. I have no idea if they eat it for breakfast in Paraguay, but it works for me! I should have refrigerated it because of the moisture content, and I will now. But I think it's very tasty without being warmed.
Great recipe. Not as dense as I feared, just a nice corny flavor. Loved a small pat of butter melted on top. Didn't have Monterey Jack cheese so I used half extra sharp cheddar half mozzarella. Will try it with pepper jack next time. I followed the recipe using the grams method. Worked perfectly in a Pyrex square dish. Grease thoroughly, as it stuck to the pan at first. After it sat awhile it released just fine. Does the leftover cornbread need to be refrigerated because of the veggies? I noticed on the blog that it freezes well once cooked.

Good question, Kim. This recipe has enough moisture in it to get moldy if it's left to sit out for too long. It's best to refrigerate any leftovers and then rewarm in the toaster or oven before serving. Happy baking! Kye@KAF
My husband is on a gluten free diet and we really liked this except we don't like things sweet so I used only 1 tsp sugar instead of 2 Tbs. Next time I'm going to add some green chilis instead of the green bell pepper.
As a fellow Paraguayan in the USA I have to agree with Evo that peppers have absolutely nothing to do with this dish! A little trivia: the dish is named: Sopa Paraguaya, Paraguayan soup, but it is more like a bread or casserole (foreigners always laugh at this when they first encounter it on a menu). In the mid 1800's, the then Paraguayan president liked a hearty soup for lunch. One day his cook added way too much cornmeal into the soup and it was too late to start a new soup. When the president, known for his magnanimity, was served this 'solid' soup, he declared: this will be called from now on: "Sopa Paraguaya" (Paraguayan Soup).
This is a great recipe! Tastes great and with a great big salad it's filling enough to be a light meal when your vegetarian friends come calling. Fast, easy and different. Yummy!
Fantastic, I couldn't have hoped for a better gluten-free cornbread recipe. So moist and satisfying, with a perfect hint of sweetness.
As a Paraguayan-American I was so happy to see this recipe here. Sopa Paraguaya is total confort food for us and is found in most Paraguayan tables. The recipe looks great and I know how wonderful this taste. The only thing I should mention is that in Paraguay the "Sopa Paraguaya" NEVER has peppers (green or red) but... if its good like the others said, then who cares... Enjoy! :)
Preparation went quickly and easily. I made it in a ceramic baking pan (yellow) and it blended beautifully with the finished product. The richness of the cornbread made it a lot more than cornbread. It had a wonderful flavor or better the flavors blended beautifully. I am going back for another piece. It is delicious.
I loved this cornbread. I read the recipe and had to make it right away. Lucky I had all ingredients at home. I wish I had had a pot of chili to go with it. I did not use pepper jack, I think that would have made it better. I even heated it up the next morning for breakfast with some extra butter on top. Yum.