A customized print-friendly version of this recipe is available by clicking the "Print Recipe" button on this page.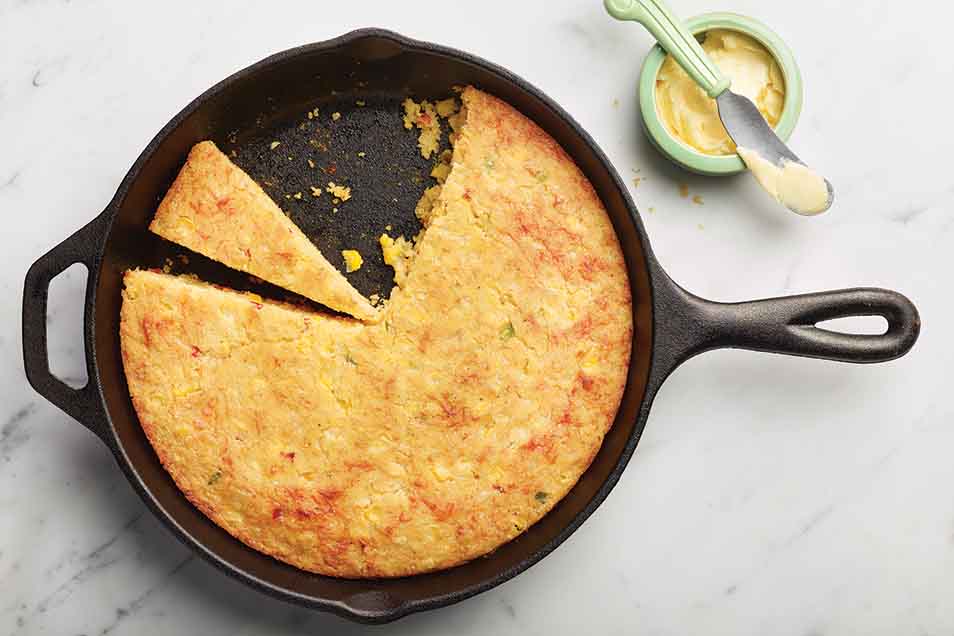 I absolutely adore the dialogue this humble newsletter engenders with readers. Susan Murphy from Long Island wrote me the following after receiving her Autumn issue of The Baking Sheet®:

"...the recipe for the Potato Borek made me think of a recipe that I just found in a 1983 cookbook with international recipes from countries all over the world. I picked up the cookbook for $1.00 at a library in Rhode Island which sells books to raise money. One recipe in particular caught my attention for Sopa Paraguaya-Paraguayan Cornbread. The recipe consisted of onions, chopped and fried in oil, milk, salt, lard or vegetable oil, cheese, cottage cheese, cornmeal, and eggs. It was heavy on the fat and the onions. So I did a search on the Internet and came up with a few hits for Sopa Paraguaya, but none that sounded really good and at least somewhat healthy. Do you have any recipes for Sopa Paraguaya?"

Off I went on a recipe hunt. I found a number of recipes, each of which had something about it that appealed, but none that I was willing to buy into altogether. So I did some combining and morphing and testing. I learned that Paraguayan cornbread is often baked in the drippings from a roast chicken, which sounded mighty good to me; something like a Latin American Yorkshire pudding. Some recipes called for separating the eggs and folding them in, but that seemed a bit prissy for what was originally a sturdy country dish, often served next to a hearty beef soup or stew. As the recipe came together, I realized it was a nutritional powerhouse. One serving has practically all the whole grains you're supposed to be getting per day, there's lots of protein from the cheese, and with a couple of minor tweaks it can be made with very little cholesterol.

This is a dense, very moist, quite yummy dish. Perfect for winter with a roast, some chili, or some soup. I hope Susan and everyone else will find it as satisfying as we did.

Susan Reid, editor The Baking Sheet

Read our blog about this cornbread, with additional photos, at Flourish.
Ingredients
1 tablespoon butter
1 tablespoon corn or vegetable oil
1 cup diced onion
1/4 cup diced red bell pepper
1/4 cup diced green bell pepper
1 1/2 cups cornmeal
1 cup milk
2 tablespoons sugar
1/2 cup cottage cheese; low-fat or nonfat are fine
2 large eggs
1 teaspoon salt
1/4 to 1/2 teaspoon coarsely ground black pepper, to taste
2 teaspoons baking powder
1 1/2 cups fresh or frozen corn kernels
1 cup grated Monterey Jack or pepperjack cheese
Instructions
Preheat the oven to 375°F. Grease a 9" x 9" pan that's at least 2" deep; a shallow 2-quart casserole dish; or a 10" cast-iron skillet (at least 2" deep).

In a medium skillet over medium heat, melt the butter and pour in the oil. Add the onions and cook until translucent, stirring occasionally. If you're going to bake in a 10" cast-iron skillet, go ahead and use it to sauté the vegetables.

Add the peppers and cook for 1 more minute. Remove from the heat and cool to room temperature. If you're using the same skillet to bake the bread, remove the vegetables. There's no need to wash the pan; just wipe out any stray bits of stuck-on veggie.

In a large bowl, combine the cornmeal and milk.

Stir in the sugar, cottage cheese, eggs, salt, pepper, and baking powder.

Stir in the corn kernels and cooled onion mixture.

Stir in the cheese, and then transfer the batter to the prepared pan. If you're using the same skillet in which you sautéed the vegetables, grease it again, using non-stick vegetable oil pan spray or shortening.

Bake for 40 to 45 minutes (in a 9" x 9" pan), or 30 to 35 minutes (in a 10" cast-iron skillet), until the center feels set when lightly touched with your finger, and the edges are beginning to brown.

Remove from the oven, cut in squares or wedges, and serve warm.

Yield: 12 to 16 servings.
Tips from our bakers
This is not a typical high-rising, cake-like cornbread. Midway between casserole and bread, it's very moist, and quite dense. It makes a tasty (and colorful!) accompaniment to soup or stew in the winter, and salad or grilled steak (or burgers) in the summer.