A customized print-friendly version of this recipe is available by clicking the "Print Recipe" button on this page.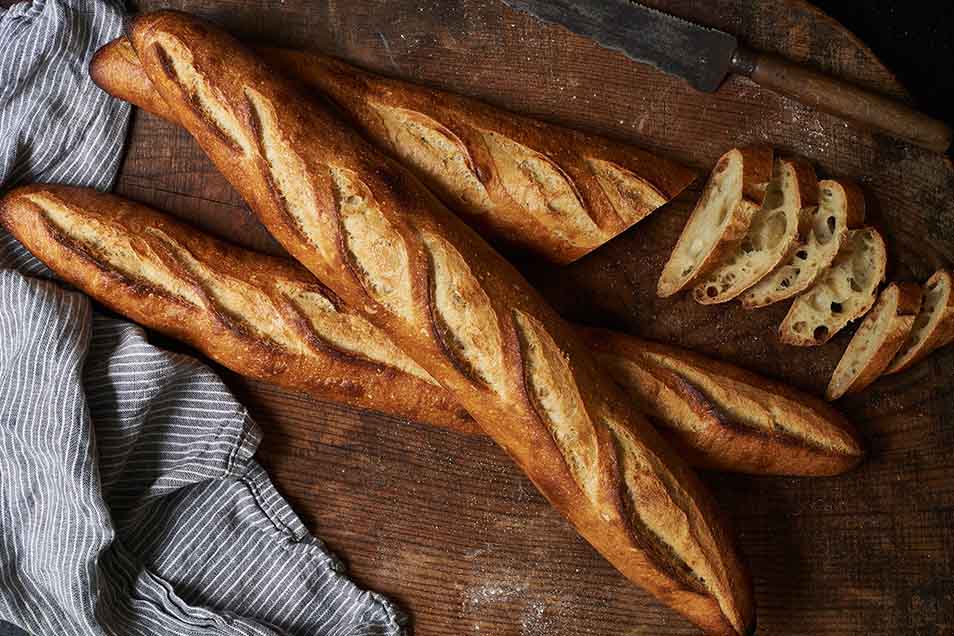 Crisp and light, with a crackly brown crust, these baguettes are super-easy to make.
Instructions
In a large bowl, combine the water, starter, and 3 cups of the flour, mixing until smooth.

Stir in the salt, sugar, yeast and gluten, then an additional 1 1/2 to 2 cups of flour. Stir until the dough pulls away from the sides of the bowl, adding only enough additional flour as necessary; a slack (sticky) dough makes a light loaf.

Knead the dough for about 7 minutes in a stand mixer; or 8 to 10 minutes by hand, on a lightly greased work surface. You may also knead this dough using the dough cycle on your bread machine; once it's finished kneading, transfer it to a bowl to rise, as directed below.

Turn the dough into an oiled bowl, cover the bowl, and let the dough rise until doubled in bulk, about 90 minutes.

Gently deflate the dough, and divide it into six pieces (for thin baguettes) or three pieces (for thicker Italian loaves).

Shape each piece into a 16" long loaf, and place the loaves, at least 4" apart, on parchment-lined baking sheets, or in lightly greased baguette pans (French loaf pans). If you're using baguette pans, make the loaves 15" long.

Cover the loaves with lightly greased plastic wrap, and let them rise for 1 1/2 to 2 hours, or until they're nice and puffy. Towards the end of the rising time, preheat your oven to 450°F.

For a classic look, make three diagonal slashes in each loaf, cutting about 1/4" deep. For taller, rounder baguettes, don't slash.

Bake the baguettes for about 25 minutes, or until they're a rich golden brown. Remove the loaves from the oven, turn off the oven, and crack it open a few inches. Immediately return the loaves to the cooling oven without their pan, placing the loaves right on the oven rack. Letting the loaves cool in the turned-off oven helps preserve their crunchy crust.

Yield: 6 baguettes or 3 Italian-style loaves.

Bake the baguettes for about 25 minutes, or until they're a rich golden brown. If you baked in baguette pans, remove the loaves from the oven and unmold. Turn off the oven, return the loaves (without the pan) to the oven, and crack the oven door open a few inches. If you baked on a parchment-lined baking sheet, simply turn off the oven and crack the oven door open a few inches. Letting the loaves cool right in the turned-off oven helps preserve their crunchy crust.
Tips from our bakers
The more yeast you use (and the more vigorous your starter), the faster your dough will rise. But speed can come at the expense of flavor; it's only over time that sourdough dough produces the lactic and acetic acids so critical to its taste. For the most pronounced flavor, you can try eliminating the packaged yeast entirely, understanding that your rising times will probably be considerably longer than those listed here. We suggest, if you feel your starter is nice and vigorous, to try making the bread with 1 teaspoon of yeast; and if you like those results and are willing to experiment, dropping the amount of yeast down until you reach your favorite combination of flavor and rising times.
If you feed your sourdough before using, the loaves will rise better; but if you're in a hurry, unfed sourdough will simply lend its flavor, while the yeast in the recipe takes care of the rise.
Want to make just 3 baguettes instead of 6? Or two short, fat Italian-style loaves? Cut all of the ingredients except the yeast in half, leaving the yeast at 1 teaspoon.
If desired, brush risen loaves with 1 egg yolk lightly beaten with 1 tablespoon water just before baking, and sprinkle with Pizza Seasoning, artisan bread topping, or the toppings of your choice. While totally untraditional, this does add flavor and color to the crust.
Reviews
I received the KAF starter 4 days ago and have religiously fed it as directed and it's been very active. So I was excited to begin making the baguettes this morning. I started the recipe and realized I didn't have the vital wheat gluten so I used half AP and half bread flour (both King Arthur brand). I also added 1 teaspoon of the KAF citric acid since my husband & I both love a heavy sourdough tang. I wasn't sure how "slack" the dough should be so I may have left it too slack because I had to coat both hands with olive oil to keep the dough from sticking while forming the baguettes. I opted for the 3 larger baguettes and placed 2 in a metal baguette pan and left one baguette without a pan but bolstered it's sides with a stiff bakers' cloth. All baguettes were covered with saran wrap that I had sprayed with Pam. The second rise took about 1 hour 45 minutes and the baguettes in the pan had a nice rise but the single baguette flattened out when the cloth was moved. I slashed the tops of all 3 baguettes but the slashed area closed right back and never expanded. The oven was 450 when I put the bread in and I added ice to a hot iron skillet sitting on the oven floor. I baked for 25 minutes and cooled in the oven as directed. Unfortunately, the single baguette ended up like ciabatta and all baguettes were very pale and have no large holes. They aren't pretty but the taste is absolutely wonderful so I'm determined to try again! Can you help me with my shortcomings? Thank you for this great tasting recipe and any help you may give in my search for a "better than store bought" baguette!

We're happy to help Angela! It sounds like your dough may have been a little too slack as you suggested. We would suggest checking out our blog article titled: "Kneading wet dough by hand" which you may find helpful and will give you a visual representation of what we mean by a "slack dough". It sounds like the baguettes may have been a little over-proofed and that is what caused the lack of color as well as the slashes and loaf not holding their shape. For further tips on perfecting your baguettes, please feel free to reach out to our free and friendly Baker's Hotline at 855-371-BAKE (2253). Hope this helps! Morgan@KAF
Wonderful! They taste just as they should. The only errors were mine! My kitchen is warmer than I thought and it more than doubled. Maybe that's why there are no big holes in the loaves? They taste just right but now I need to learn how to shape baguettes instead of the oblong loaves.

We're glad these were a hit, Mercedes! We think you're correct that the over-proof caused the big bubbles to collapse, so shortening up that rising-time should fix things. Annabelle@KAF
Best recipe ever. First time I have ever had the crust just the way it should be....crisp, chewy....delicious.
Recipe seems good except for covering with greased plastic. When I removed the plastic the loaves colapsed. Anybody else experience this or have suggestions?

We're surprised to hear that even when the plastic was greased, it stuck to the top of your loaves. We apologize for any disappointment you might have experienced. Next time, you might want to try using large overturned bowls to cover your baguettes while they rise. It's important to cover them in some way to prevent them from drying out and developing a skin. We hope this helps make your next batch even better! Kye@KAF
Have made this recipe 3 times, following the instructions for shaping into baguettes. Today I tried baking half of the dough in a 5 qt. Lodge Dutch Oven and the other half in a Le Cruset 3&1/2 qt. brazer. Just wanted to see which would work best. Split decision. Both turned out great. Next time I will line the black iron pot with parchment.
If 602 g = 5 cups, then 4.5 cups should be 520, not 539, right? Would be helpful if the 3 cups mentioned in step ` and the 1 1/2 to 2 cups flour in step 2 were also converted to grams when the recipe is displayed in grams. Frustrating to be mixing/measuring dough ingredients and have to get the calculator out.
Is there a category for OMG? I baked this bread yesterday, and it is incredible! I've had my starter (from KAF, naturally!) for little over a year, and it's nice and sour. However, one thing, when I gently pulled the greased plastic wrap off the baguettes before popping them in the oven, it also pulled half of the dough off, so they didn't rise quite as much as I would have liked. I talked to your support department, and Morgan M suggested that I sprinkle flour on top of the dough before laying down the plastic wrap. Other than that this recipe is perfect! The bread is chewy on the inside and crunchy on the crust, but not so hard as to break your teeth. I didn't cool them in oven, but they worked just fine.
This is a great go to recipe for baguettes or "Italian" bread. I halved the recipe and brushed the crust with olive oil instead of egg wash. My starter was fed recently but I would still consider what I used as discard as it was already started to get foamy on top. The crust is delicious and chewy/ crispy, but very tender. The inside is very soft with a little chew. Overall this is a great recipe and a great way to use up extra starter.
This was my first proper baguette recipe and I loved it! I used unfed starter and it came out awesome! I used closer to 4 cups flour and was worried my dough would fall flat when I formed my loaves, but it was great! Added black and white sesame seeds to two loaves and garlic and nutritional yeast to the other. It was heaven toasted with butter, and my roommate was happy too!
I just made this for the first time. Fantastic! The only problem I had was using 2 cookie sheets. The loaves on the bottom were browning on the bottom too quickly. Before it was quite done I switched shelves. I set off the smoke alarm because the paper on the bottom rack started to burn on the edges. Just a little excitement !