A customized print-friendly version of this recipe is available by clicking the "Print Recipe" button on this page.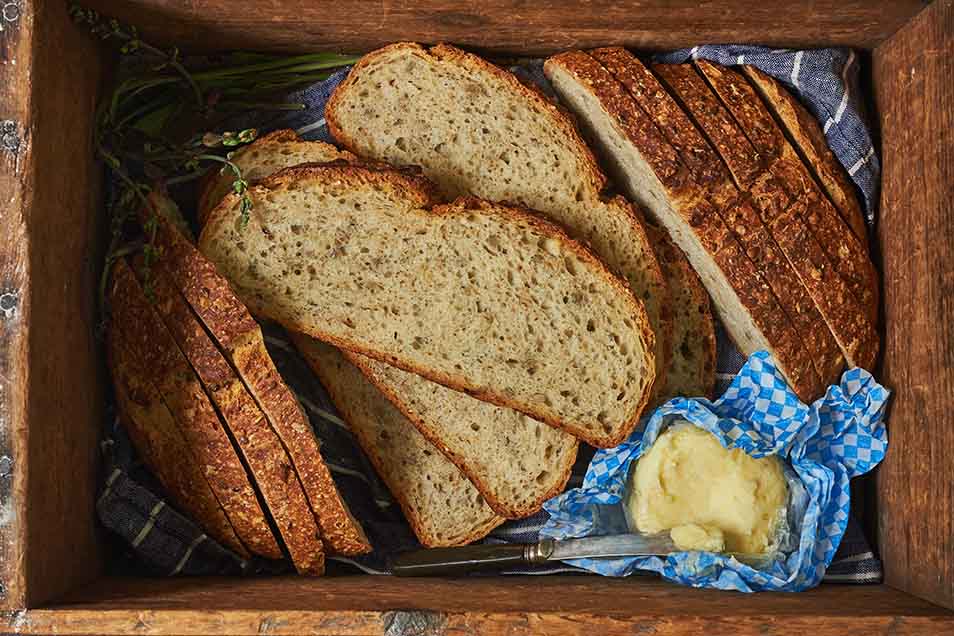 This tangy, tasty sourdough loaf is enhanced with whole grains and a generous topping of whole flax seeds.
Ingredients
Dough
1 cup ripe (fed) sourdough starter
3/4 cup to 3/4 cup + 2 tablespoons lukewarm water*
3 1/2 cups Artisan Bread Flour or King Arthur Unbleached All-Purpose Flour
1/2 cup sunflower seeds, toasted until golden for best flavor
2 teaspoons salt
1 1/2 teaspoons instant yeast
*Sourdough starter can vary quite a bit in consistency. Use enough water to make a soft dough.
Instructions
To make the soaker: Put the wheat flakes or oats in a heatproof bowl, and pour the boiling water over them, stirring to combine. Let cool to lukewarm before using.

To make the dough: In a large mixing bowl, or the bucket of a bread machine, combine the fed sourdough starter and 3/4 cup of the water, mixing until smooth.

Add the remaining dough ingredients plus the soaker, and mix and knead — by hand, mixer, or bread machine — until you've made a soft dough, adding additional water as needed.

Cover the dough in the bowl, and let it rise until it's almost doubled, about 1 to 1 1/2 hours.

Turn the dough out onto a lightly greased work surface and gently fold it over a few times to deflate it.

Shape the dough into a large round. Grease a Dutch oven or baking crock, and place the dough into it.

Cover the crock, and let the loaf rise until it's very puffy, about 1 1/2 to 2 hours.

Just before baking, brush or spray the loaf with water, and sprinkle with seeds. Use a lame or a very sharp knife to make several slashes across the top of the loaf, in the shape of a pound sign.

Place the covered crock into a cold oven, set to 450°F, and turn on the oven. Bake the bread for 35 minutes.

Uncover and continue baking until the bread is deep golden brown, about 10 additional minutes.

Remove the bread from the oven and turn it out of the crock onto a rack to cool.
Nutrition Information
Serving Size

68g

Servings Per Batch

16
Amount Per Serving:
Calories

170

Calories from Fat

25

Total Fat

3g

Saturated Fat

0g

Trans Fat

0g

Cholesterol

0mg
Sodium

290mg

Total Carbohydrate

32g

Dietary Fiber

2g

Sugars

1g

Protein

6g
* The nutrition information provided for this recipe is determined by the ESHA Genesis R&D software program. Substituting any ingredients may change the posted nutrition information.
Reviews
Delicious with a nice crust. I substituted toasted sesame seeds for the sunflower seeds in the recipe and used old fashioned oats instead of malt flakes. Making it again today. I had the same problem as another poster last time with it deflating after being scored. This time I'm going to try a shorter proof.
Just wondering if it's normal for the risen dough to deflate like a balloon when scored before baking. I've made this recipe twice and both times the lovely rise before scoring falls. The bread was delicious, but only 2 1/4" high. Any suggestions?

Hi Mary! Dough will deflate if it's over-proofed, so shortening your final rise by 10 to 20 minutes should help. Check out our blog article "Over-proofed dough" for some helpful visuals and tips. Annabelle@KAF
Yum! I baked this today (because where else would I be on Christmas Eve but in the kitchen?). I have just gotten a sourdough starter going so had discard to use (it's new so not at all sour, but still). I also have a new Staubel Cocotte, so yeah, I wanted to bake this bread! I used oats for the soaker and otherwise followed the recipe. My only real mistake was not holding back the extra 2 T of water. My dough was pretty wet and I ended up trying to mitigate damage with a little extra flour. As it happens, this worked fine but I will remember next time. Both rises were faster than expected. Bake time as directed was good. I maybe could have given it a minute or two more before I took the lid off--it was ever so slightly damp in the center. But. It slipped right out of the pan and looked beautiful. My family loved it. We ate almost half the loaf (ahem) at supper with a pot of potato-leek soup and some garlic-herb goat cheese. Since tomorrow is Christmas, I know I'll be up before dawn to make the day's magic happen. I am already looking forward to toasting a slice of this bread to enjoy in the early quiet. I'm wondering...do you think I could add a bit of orange zest to the next loaf of this bread?

Hello, Lori! We're thrilled to hear that you enjoyed this recipe! You sure could add some orange zest to this bread next time. Happy baking! Morgan@KAF
I have made this recipe numerous times and enjoyed the lovely results. The last time I made this, the resulting loaf had a great rise, but cooked up doughy and wet. I believe something has changed with the online version, not for the better... Noticing other posts mention the catalog version, so I called the hotline. The current online recipe calls for a total of 12-13 oz water while the printed version calls for 8 oz. Please re-post the printed version of this recipe!!! :)

Hi Denise, we're sorry to hear you struggled with this recipe the last time you made it. This recipe has been tweaked slightly, but it was a very basic change: Instead of simply mixing in the 1 cup of malted wheat flakes, we now call for soaking the flakes in boiling water before adding them to the dough to soften the texture. If you preferred the crunchy texture of the flakes without soaking, feel free to omit that step and simply mix all of the ingredients together.

Two other reasons why bread can still have a doughy/wet texture on the inside is if its under-proofed or under-baked. Be sure you're giving the dough sufficient time to rise and bake through completely. The internal temperature of the bread should reach 195 to 200°F when it has finished baking. We hope this helps, and happy baking! Kye@KAF
this was delicious. i got the recipe from your monthly catalog. the catalog didn't mention a soaker, but i used my own sourdough starter and it was fine. instead of sunflower seeds, i used a combination of hemp and chia seeds that i had onhand. and for the artisan bread topping, i just made an everything bagel topping that i found online. it all seemed to work well, great bread. oh and i just used a regular glass casserole dish and it did the trick.
I baked the bread in an Emile Henry clouche. The dough got stuck with the cover. When I uncovered it after the timer went off, I tore part of the top off. :0( The bottom got stuck too even though I dusted it witha thick layer of flour. I had to continue baking uncovered for another 15 minutes to get a nice brown crust. I love the taste though. It was worth all the effort! I am wondering how I can bake this in the Emile Henry loaf baker and not have the same problem. KAF any ideas?

Even though it made for a sticky situation, Pauline, we're very glad that your dough rose so well! We're happy to help make the next loaf a bit easier to work with.

It sounds like there was too much dough for the cloche to hold, and that's why it stuck to the lid. The cloche fits recipes calling for 3 to 4 cups of flour. Including the flour in the sourdough and the cup of wheat flakes in the soaker, this recipe has a total of about 5 cups of flour/grains. One solution would be to cut the recipe down and make a 2/3 batch, or, use 2/3 of your dough to form a loaf and use the remaining dough to make a few tasty sourdough rolls baked on a separate tray.

The Emile Henry Covered Bread Loaf Baker is also designed to hold recipes using 3 to 4 cups of flour, so making a smaller batch or reserving some dough for rolls would be the best move here as well.

To help prevent sticking, we recommend using parchment paper. If you're baking in the cloche, cut out a circle of parchment to cover the bottom. If you're using the loaf pan, you can make a parchment paper sling that covers both the bottom and the two longer sides. The sling is especially helpful because once your loaf is baked and out of the oven, you can lift it out by the parchment paper to allow it to cool. Happy baking! Annabelle@KAF
I made this recipe exactly as written, with the exception of adding 1/4 cup of bakers special dry milk (I thought it would help with the rise). Put it in my dutch oven (5 1/2 qt). Left it on the counter to rise, and went about doing some gardening outside. When I came back in the kitchen and looked at the risen dough, it had split open on three sides! Well, I figured I wouldn't need to slash it because of this, so just put it in the oven. It baked fine, however, didn't have very much oven spring. Do you think my problem is twofold? Having too large a dutch oven, and perhaps not watching the second rise close enough, and having it rise too much? Thanks

That's one big overproof, Kae! In the warm, humid weather we've been having, bread rises a lot faster. It didn't have the strength for oven spring because the gluten stretched out so much overrising. Next time, to test if it's ready to bake, poke it with your finger. If the indent pops back out, it needs to rise longer. If the indent stays, pop it in the oven right away. We hope this helps! Annabelle@KAF
I added 1/3 cup KAF Bakers Special Dry Milk and got great results. I also (very successfully) baked it in my "long loaf" crockery bread pan, by shortening up the pan by inserting a earthenware coffee cup to adjust the length and to give the dough something (of roughly the same material) to rise against.
Unbelievable, my first time placing the dough into a cold oven! I had my doubts but it went awesome, lovely bread, and it went so fast, for me it's a record in sourdough breads. I definitely recommend it. May I ask if I can repeat this method with different recipes?

You totally can, Anna! Avoid this method with things like baguettes or ciabatta, but sourdough? Go for it! Annabelle@KAF
Hmph--starting from cold oven this bread has baked 35 with lid on, 10 with lid off and is still only 180*by my Thermapen. Giving it another 5-10 minutes, but I can already smell burning. This may be the first KA recipe I'm not happy with. And yes, my oven temp is calibrated, and I used my Staub pot to bake it in. Yep. Took an additional 5 minutes to get the interior to 200. Burnt on the bottom. I won't be using this recipe again.