A customized print-friendly version of this recipe is available by clicking the "Print Recipe" button on this page.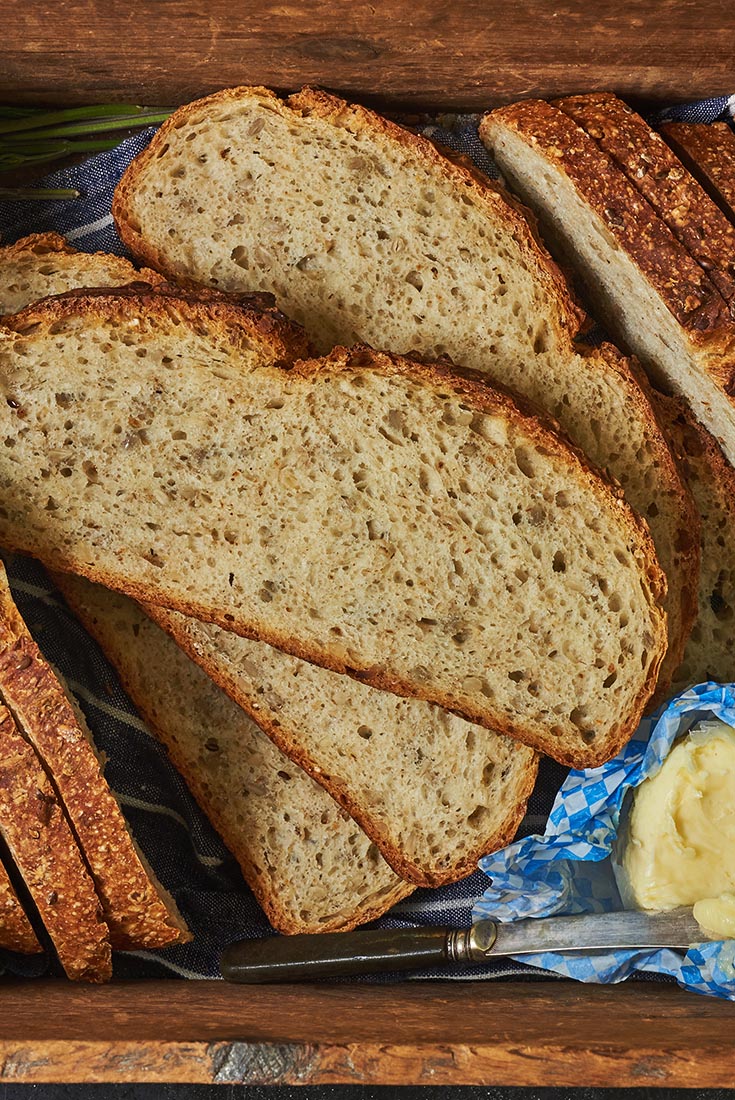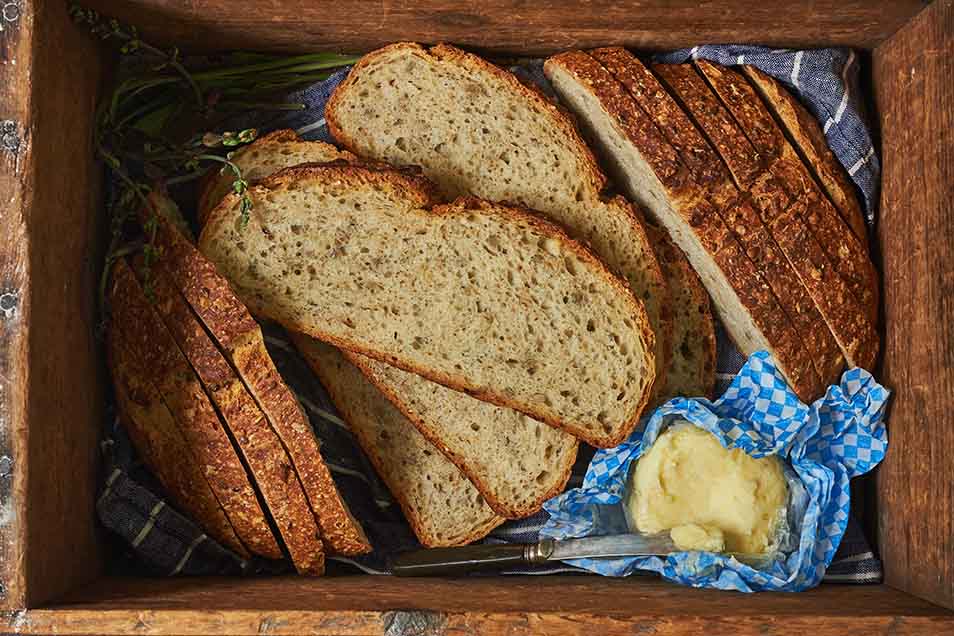 This tangy, tasty sourdough loaf is enhanced with whole grains and a generous topping of whole flax seeds.
Ingredients
Topping
1 to 2 tablespoons whole flax seeds
Instructions
In a large mixing bowl, or the bucket of a bread machine, combine the fed sourdough starter and 1 cup of the water, mixing until smooth.

Add the remaining dough ingredients, and mix and knead — by hand, mixer, or bread machine — until you've made a soft dough, adding additional water as needed.

Cover the dough in the bowl, and let it rise until it's almost doubled, about 1 to 1 1/2 hours.

Turn the dough out onto a lightly greased work surface and gently fold it over a few times to deflate it.

Shape the dough into a large round. Grease a Dutch oven or baking crock, and place the dough into it.

Cover the crock, and let the loaf rise until it's very puffy, about 1 1/2 to 2 hours.

Just before baking, brush or spray the loaf with water, and sprinkle with seeds. Use a lame or a very sharp knife to make several slashes across the top of the loaf, in the shape of a pound sign.

Place the covered crock into a cold oven, set to 450°F, and turn on the oven. Bake the bread for 35 minutes.

Uncover and continue baking until the bread is deep golden brown, about 10 additional minutes.

Remove the bread from the oven and turn it out of the crock onto a rack to cool.
Nutrition Information
Serving Size

68g

Servings Per Batch

16
Amount Per Serving:
Calories

170

Calories from Fat

25

Total Fat

3g

Saturated Fat

0g

Trans Fat

0g

Cholesterol

0mg
Sodium

290mg

Total Carbohydrate

32g

Dietary Fiber

2g

Sugars

1g

Protein

6g
* The nutrition information provided for this recipe is determined by the ESHA Genesis R&D software program. Substituting any ingredients may change the posted nutrition information.
Reviews
Hmph--starting from cold oven this bread has baked 35 with lid on, 10 with lid off and is still only 180*by my Thermapen. Giving it another 5-10 minutes, but I can already smell burning. This may be the first KA recipe I'm not happy with. And yes, my oven temp is calibrated, and I used my Staub pot to bake it in. Yep. Took an additional 5 minutes to get the interior to 200. Burnt on the bottom. I won't be using this recipe again.
I love, love, love this bread. I used the oats option and, not having sunflower seeds, used hemp hearts. I baked in a Le Creuset Dutch Oven. I was skeptical of starting it in a cold oven because I've always had great luck with the preheated vessel and oven, but I decided to trust KA. I'm glad I did. The result was a huge beautiful boule, with a crisp, deeply caramelized crust.
Omg, this bread is delicious! Used harvest grains blend instead of sunflower seeds and baked it in my Emile Henry Cloche. Perfection!
Absolutely delicious, this loaf was the hit of my brunch party! It made a hearty and flavorful loaf that was an excellent carrier for avocado, all sorts of veggies, and baked brie! I had never made bread before, and this was a perfect beginner recipe. I don't have a baking crock yet, so I jerry-rigged a crock out of a pie plate and upside down Pyrex bowl as the "lid". Lol, it worked great, giving me a nice crust! I followed the method as written, and instead of malted wheat flakes, I used a 5 grain blend of oat, wheat, rye, barley, and triticale flakes. Next time, I'd like to try slow proving overnight in the fridge to amp up the sourdough flavor :)
I love this recipe but I have a question, if I use natural starter why the commercial yeast? Does it make it fluffier?

Anna, the sourdough starter contributes flavor while the commercial yeast ensures a strong rise and pleasant texture. It's certainly possibly to make a recipe using only sourdough starter to make it rise (check out our recipe called Extra-Tangy Sourdough Starter), but the success hinges on the health of your starter. It must be very vigorous and active in order to make the bread rise. The commercial yeast acts as an insurance policy of sorts here. Happy baking! Kye@KAF
This is one of my favorite sourdough recipes to make. I usually bake it the traditional way, in a 10" stoneware loaf pan, in a preheated 425 oven. Generally I use 1 cup whole wheat flour, 1/2 C pumpernickel flour, and the rest all purpose. I no longer have malted wheat flakes, so I use oats, and also add a Tbsp of malted barley flour. It makes a very large, delicious loaf! When it cools, I slice it and freeze it, using wax paper between the slices. Makes delicious toast! Sometimes I bake it in a round loaf when I bring it or serve it for a dinner with guests.
Great recipe! I especially love the crust--it's crispy with a little bit of chew. The bread itself is moist. Yum. I have an electric oven and since it takes a while to come up to the proper temperature, I started the oven five minutes before I popped the bread in. I used my Le Creuset Dutch Oven, which was probably a tad too small. I'll look for a larger one at the store because I will definitely make this bread again. Baked it this morning, and served for lunch. Great with a bed of salad topped with sliced, fresh tomatoes and some fresh mozzarella. Good olive oil and a good balsamic vinegar--what more could you want?
I made this today with our Italian sourdough starter. I used 1 cup of the Harvest Grain Blend I have Instead of the oats and did put sunflower seeds on the top. It is so, so good. I highly recommend it.
Came out great (one variant: I didn't have any sunflower seeds, so I used rye chops), but... ...one question: This recipe seems to be slightly unusual in that you start the initial baking by putting the bread in a cool oven and then turning the oven on. Most recipes typically seem to call for starting with a very hot oven (sometime the temp is even reduced later on); the reason usually given is to maximize "oven bounce". Was wondering what is the difference here? (Just curious.)

Nichael, we're guessing you're referring to oven spring, which is when the loaves pick up and rise in height once they meet the heat of the oven. The method used here does still promote oven spring if the dough is made and shaped properly. It's known as the cold start method, and it allows the pot to heat up slowly along with the oven. This way the pot is nice and hot once the oven is preheated, and as a result the bread tends to bake more evenly and have a crispy crust. It sounds like it worked great for you with this recipe! Kye@KAF
I made this 3 times: 1. Did not have malted wheat flames so I substituted Harvest Grain blend and baked as a rounded loaf (not in Dutch oven), it was very good. 2. Made in a loaf pan using malted wheat flakes, it was ok but was a bit dense. 3. Followed the recipe exactly and bake in my 5 at Le Crueset, it was perfection! My loaf was about 4 - 4.5 inches tall and 9 + inches across.