A customized print-friendly version of this recipe is available by clicking the "Print Recipe" button on this page.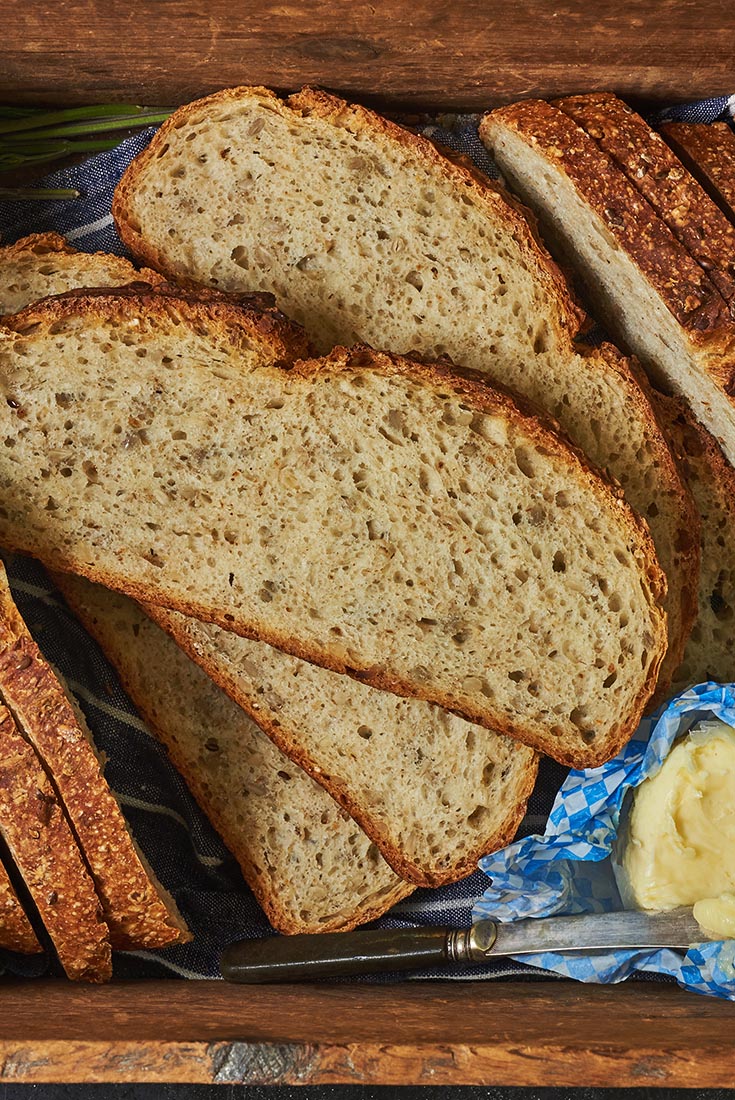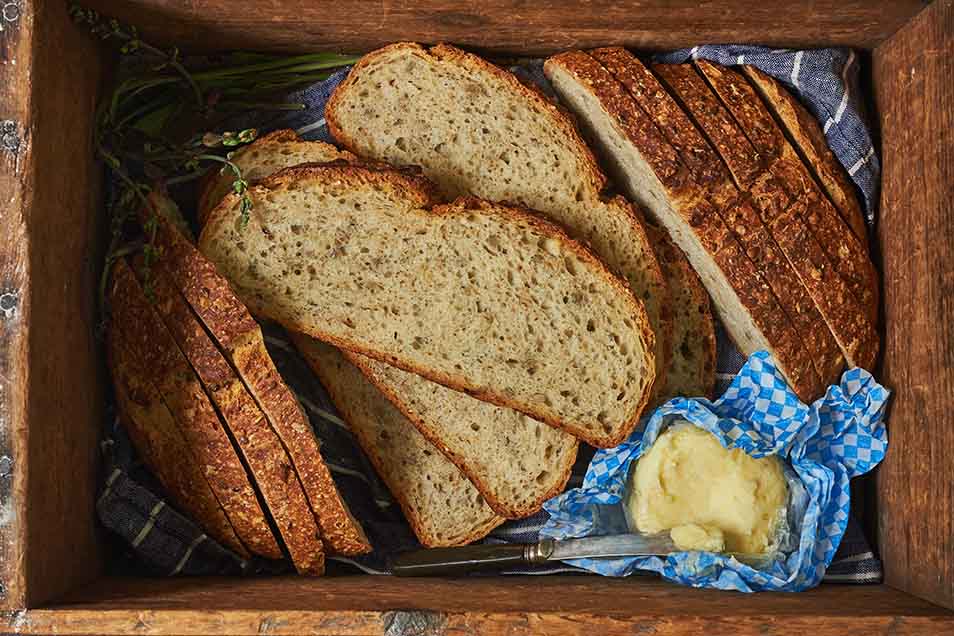 This tangy, tasty sourdough loaf is enhanced with whole grains and a generous topping of whole flax seeds.
Ingredients
Topping
1 to 2 tablespoons whole flax seeds
Instructions
In a large mixing bowl, or the bucket of a bread machine, combine the fed sourdough starter and 1 cup of the water, mixing until smooth.

Add the remaining dough ingredients, and mix and knead — by hand, mixer, or bread machine — until you've made a soft dough, adding additional water as needed.

Cover the dough in the bowl, and let it rise until it's almost doubled, about 1 to 1 1/2 hours.

Turn the dough out onto a lightly greased work surface and gently fold it over a few times to deflate it.

Shape the dough into a large round. Grease a Dutch oven or baking crock, and place the dough into it.

Cover the crock, and let the loaf rise until it's very puffy, about 1 1/2 to 2 hours.

Just before baking, brush or spray the loaf with water, and sprinkle with seeds. Use a lame or a very sharp knife to make several slashes across the top of the loaf, in the shape of a pound sign.

Place the covered crock into a cold oven, set to 450°F, and turn on the oven. Bake the bread for 35 minutes.

Uncover and continue baking until the bread is deep golden brown, about 10 additional minutes.

Remove the bread from the oven and turn it out of the crock onto a rack to cool.
Nutrition Information
Serving Size

68g

Servings Per Batch

16
Amount Per Serving:
Calories

170

Calories from Fat

25

Total Fat

3g

Saturated Fat

0g

Trans Fat

0g

Cholesterol

0mg
Sodium

290mg

Total Carbohydrate

32g

Dietary Fiber

2g

Sugars

1g

Protein

6g
* The nutrition information provided for this recipe is determined by the ESHA Genesis R&D software program. Substituting any ingredients may change the posted nutrition information.
Reviews
This is one of my favorite sourdough recipes to make. I usually bake it the traditional way, in a 10" stoneware loaf pan, in a preheated 425 oven. Generally I use 1 cup whole wheat flour, 1/2 C pumpernickel flour, and the rest all purpose. I no longer have malted wheat flakes, so I use oats, and also add a Tbsp of malted barley flour. It makes a very large, delicious loaf! When it cools, I slice it and freeze it, using wax paper between the slices. Makes delicious toast! Sometimes I bake it in a round loaf when I bring it or serve it for a dinner with guests.
Great recipe! I especially love the crust--it's crispy with a little bit of chew. The bread itself is moist. Yum. I have an electric oven and since it takes a while to come up to the proper temperature, I started the oven five minutes before I popped the bread in. I used my Le Creuset Dutch Oven, which was probably a tad too small. I'll look for a larger one at the store because I will definitely make this bread again. Baked it this morning, and served for lunch. Great with a bed of salad topped with sliced, fresh tomatoes and some fresh mozzarella. Good olive oil and a good balsamic vinegar--what more could you want?
I made this today with our Italian sourdough starter. I used 1 cup of the Harvest Grain Blend I have Instead of the oats and did put sunflower seeds on the top. It is so, so good. I highly recommend it.
Came out great (one variant: I didn't have any sunflower seeds, so I used rye chops), but... ...one question: This recipe seems to be slightly unusual in that you start the initial baking by putting the bread in a cool oven and then turning the oven on. Most recipes typically seem to call for starting with a very hot oven (sometime the temp is even reduced later on); the reason usually given is to maximize "oven bounce". Was wondering what is the difference here? (Just curious.)

Nichael, we're guessing you're referring to oven spring, which is when the loaves pick up and rise in height once they meet the heat of the oven. The method used here does still promote oven spring if the dough is made and shaped properly. It's known as the cold start method, and it allows the pot to heat up slowly along with the oven. This way the pot is nice and hot once the oven is preheated, and as a result the bread tends to bake more evenly and have a crispy crust. It sounds like it worked great for you with this recipe! Kye@KAF
I made this 3 times: 1. Did not have malted wheat flames so I substituted Harvest Grain blend and baked as a rounded loaf (not in Dutch oven), it was very good. 2. Made in a loaf pan using malted wheat flakes, it was ok but was a bit dense. 3. Followed the recipe exactly and bake in my 5 at Le Crueset, it was perfection! My loaf was about 4 - 4.5 inches tall and 9 + inches across.
This is the first loaf I've made in my new enameled cast iron Dutch oven (4.5 qt), and I am so pleased! I subbed 4 oz of the AP flour with white whole wheat. It took nearly 3/4 c additional water to make the dough workable (despite my starter being on the wet side, AND the humidity in my kitchen being 80% on account of a sick husband running the humidifier). I sprinkled a little semolina in the bottom of the oiled Dutch oven to aid in releasing, as I'd read somewhere, and it tumbled right out. Thumbs up!
I made this loaf last week and it turned out truly beautiful -- best crumb and crust of all of my sourdough attempts. I used my rather large Dutch oven and the loaf was a bit wider and shorter than I'd like (though it didn't really spread, which was a relief). I was thinking of using my 2.75 Staub cocotte oven this time, but am worried that it's too small for this recipe. Can I use my small cocotte for this loaf?

Laurie, this loaf might be just slightly too large to fit into your 2.75 quart cocotte. You can try reducing the recipe by 25% or you could prepare the full batch of dough and bake off a few rolls separately on a baking sheet (the baker's treat!). Hope that helps. Kye@KAF
I have been making this Boule for sandwich bread for some time now and love it. I usually make 2 at a time. When cooled, I slice each in half and freeze the loaves. I would love to be able to make this in loaf pans to have a more uniform slice. Would it be possible to modify the recipe to bake it in loaf pans?

A single batch of this recipe makes quite a large loaf, so if you'd like to use loaf pans you will need to use a 9" by 5" pan rather than the standard 8 1/2" by 4 1/2" size. Another option is use a smaller pan and weigh out about 1 to 1 1/2 lbs. of the prepared dough. Shape it into a loaf, and bake off any remaining dough as rolls or mini loaves. Happy baking! Kye@KAF

When using loaf pans, you can skip the cold oven start and instead place the risen dough into a 425°F oven for about 40 minutes. Check for doneness using an instant read thermometer; it should reach at least 195°F when it has finished baking. Hope that helps! Kye@KAF
I baked this bread using the Artisan bread flour and oats because I didn't have wheat flakes. I didn't have Sunflower seeds so I left those out. I did use flax seeds on top. I didn't do a good job of shaping the loaf to bake it so it looked more like a cake of cornbread than a loaf of bread. I'll do better next time. I'll also try it with the sunflower seeds. It has a nice crust and a chewy texture. It doesn't have a tangy flavor but that's probably due to the fact that my starter was new. I made the starter and wasn't sure if it would work or not but the bread tured out pretty good. I baked it in my cast iron Dutch oven and I think that maybe I either need to lower the temperature or lessen the baking time because the bottom was a little too brown. I will make this again.
I baked this bread today and used a Dutch oven for the first time. I was very pleased with the result. I was concern about the amount of rise I'd see, but it turned out OK. I did do two rises with a GENTLE folding twice around the dough between the rises. Final baked dimensions of the loaf were 9-inch diameter (size of the Dutch oven) and height about 2.5 inches (could have been a little higher, but loaf was of good quality the way it was). My plan (as called for by the recipe) was to start with cold oven and cold Dutch oven with temperature set at 450 degrees F.; bake with lid on for 35 minutes then remove lid and bake for 10 minutes more. (Note: It took about 20 minutes for the electric oven to get up to temperature. Interesting.) When I removed the lid at 35 minutes I checked the internal temperature of the loaf--it was already up to 208 so I yanked the bread. If I had baked the loaf for an additional 10 minutes as called for it would have been grossly overbaked and possibly burned. This is something to keep a close eye on while the loaf is baking and it is again a strong endorsement for using a good instant/quick read thermometer to check doneness. Also, the old standby tests of the "gluten windowpane" to determine if the kneading done is adequate and the "push the dough gently with a finger and see if the indentation stays in" test for adequate proper rising stood me in good stead. All in all a very good outcome for a rookie effort.