A customized print-friendly version of this recipe is available by clicking the "Print Recipe" button on this page.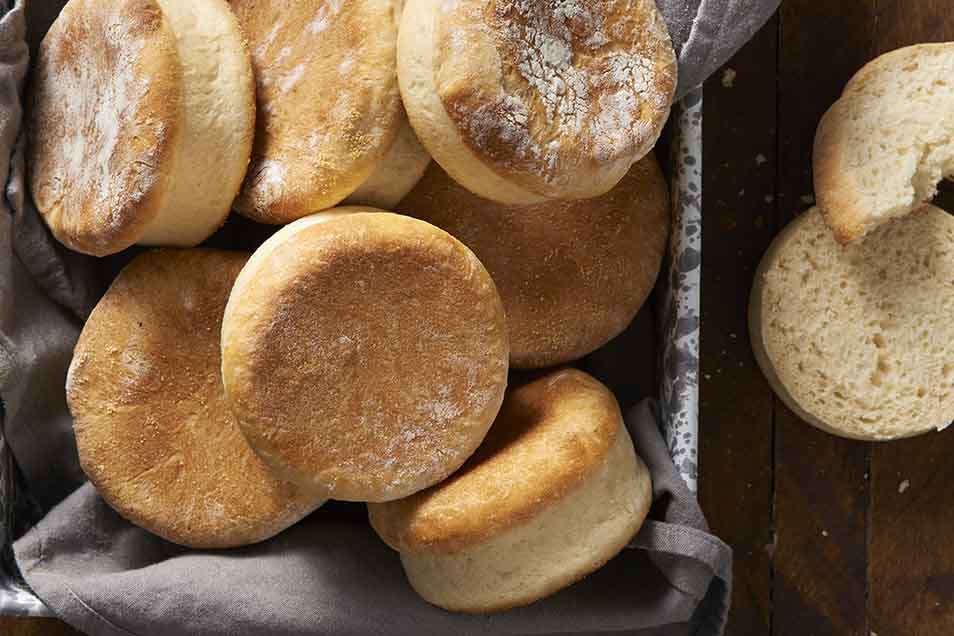 Though they look like English muffins, these big, buxom buns aren't "holey" enough for that label. They have a relatively smooth, fine-grained, moist interior, which we love. And their hint of tanginess makes them an ideal breakfast sidekick to bacon and eggs, as well as entirely appropriate for lunchtime sandwiches.

While English muffin rings make these buns perfectly round, you can also shape and bake the buns without them; see "tips," below.
Instructions
Mix all of the ingredients together — by hand, mixer, bread machine, or food processor — just until the dough comes together; it will remain slightly tacky.

Turn the dough out onto a well-floured surface, cover with a piece of greased plastic wrap and let it rest for 30 to 40 minutes. The dough won't rise all that much; the goal is to just let it relax.

Divide the dough into 8 pieces, roll each piece into a ball, then cover and set aside to rest for 10 to 15 minutes.

Meanwhile, dust a half sheet pan with cornmeal, lightly grease eight English muffin rings, and place them on the baking sheet.

Flatten the balls of dough into 3 3/4" circles. Fill each ring with a piece of dough, and sprinkle the tops with cornmeal.

Grease the back of a half sheet pan, and place it on top of the rings and dough, with the greased side facing the dough. Let the buns rise for 40 to 60 minutes, until they're bumping up against the top pan.

Preheat the oven to 375°.

With the pan on top, bake the buns for 20 to 25 minutes, until they're lightly browned on top and bottom.

Remove the buns from the oven, let them cool for 10 minutes, then turn them out of the rings onto a rack to cool completely.

Store, well-wrapped, for up to 5 days on the counter. Freeze for up to 3 months.
Tips from our bakers
If you don't have English muffin rings, these buns can be baked without them. Simply shape the dough according to the recipe instructions, let them rise for 40 to 60 minutes (until they're puffy), and bake on a pan (without the addition of the top baking sheet) for 15 to 20 minutes in a preheated 375°F oven.
See our step-by-step directions for creating your own sourdough starter from scratch. Or, if you're looking for a head-start, check out our classic fresh sourdough starter, a simpler path to fresh, ready-to-use sourdough starter.
Reviews
I have baked this several times and the results are fantastic. A big shout out to the help line who recommended the substitution of half and half for the water and milk powder. My only quibble is that you are way off on the recommendation for 8 buns. A good portion size is 12 which scales to about a 2.5 oz portion of dough. When I did the recipe the first time at 8 they were just too large but at 12 they are beauties!!! I have 2 sets of muffin rings so the extra go into a bun/giant muffin tin where they emerge in a different shape but are still wolfed down by the crew. I also got this recipe out of the catalog, its my favorite part of the mailing. BTW I much prefer to visit the mother ship than buy from the catalog but then I pass thru Norwich monthly, lucky me!
Turned out perfect. I followed the recipe with no substitutions. My family used the buns for hamburgers and I'll use the rest for sandwiches this week. I rotate my pans during the baking so I get more even results so I rotate at 10 minutes and then if needed, at 20 minutes. At the 20 minute mark the tops (under the greased pan) were not browned so I took the pan off the top for the last 5 minutes. The tops browned nicely.
I wanted sourdough hamburger buns so used this recipe, placing my dough balls in my recently acquired KAF bun/tart pan rather than using the muffin rings. Then I baked without the top pan. Perfect buns for our pulled pork with coleslaw last evening! And as my pan is for six buns or mini pies, I made pizza with the extra portion. Wow! One of my best pizzas yet!
I made some changes as I eat a vegan diet. I subbed 1 cup of whole-wheat flour (2 cups white 1 cup whole-wheat), used 1 tbsp flax mixed with 2 tbsp water to replace the egg, used vegan butter (Miyoko brand), used 3/4 cups cashew milk in place of water and used blue agave syrup as my sweetener and did not use the dried milk. The bread was delicious.
Excellent, excellent recipe. I may never purchase store-bought muffins again! I'm always looking for something new and different to use my KAF Sourdough starter as I feed it once each week (and it seems to have a perfect wonderful slightly sour aroma each week when I get it out of the fridge). I just started my starter from KAF about 2 months ago and I am totally impressed with it! Anyway, made these buns last night for our typical Sunday evening 'breakfasty' type of supper. I made my rendition of an egg McMuffin on them and they were out of this world good. This recipe appeared in a recent KAF catalog I received in the mail. So glad I tried it. My son left for work this morning taking a peanut butter and homemade peach jam sandwich on one of these muffins.
Mine just came out of the oven so I haven't tasted them yet but my tops did not brown at all. I even left them in longer but their internal temp was 200 so I had to pull them. I may have inadvertently caused the problem by placing parchment paper over the buns and the cookie sheet.
i agree with other reviewers, these buns are great. i resisted buying english muffin rings, figuring i'd only use them once. but i keep finding more and more uses. kaf's price isn't bad, as long as you somehow manage to get free shipping. i used these for a pulled beef recipe and they are sturdy enough to hold up to a saucy concoction.
I baked this recipe on a whim out of the picture and recipe in the catalog, thanks for including these inspirational recipes BTW. That being said I made these bus with starter that had been fed a week ago and was due to be drawn off. Plus I didn't have any dry milk and omitted it completely. I was really pleased with the taste, texture and overall result though they puffed up so much that I would make 12 buns and not 8 and I wouldn't use the English muffin rings again. The size of the buns at the 8 count size are a bit overwhelming if you don't have a big appetite. I look forward to making these again as they are quite easy.
Love. Love the texture. Love the flavor.
I made this recipe following all the instructions without any substitutions. I have several sets of Fox Run brand 3.75" English Muffin rings, and the buns turned out well. The 8 buns rose enough to mushroom over the edge of the rings when baked. They are about twice the height of the rings, so the edge of the "cap" makes a convenient line to slice them in half. However, I had a problem getting the dry powdered milk to dissolve into the dough. I ended up hand kneading the bread for quite a while to get the milk powder chunks to break up into the dough. I would change the directions to add a step: Mix the milk powder with the 1/2 cup water, making sure all lumps are dissolved before adding to the other ingredients. I notice this recipe doesn't have a photo on the website. I've photographed my results if here is a place to submit the picture.

Thanks for giving this recipe a bake, Chrissy! The milk powders we carry are non-instant and actually don't reconstitute well, so rather than mixing with liquid, we'd recommend breaking up any chunks of powder with the back of a spoon, in a coffee grinder, etc. before mixing in with the other dry ingredients. Thanks also for your offer to share a photo. We don't currently have the capacity to store customer photos, but we will keep this recipe in mind for future updates. Mollie@KAF