A customized print-friendly version of this recipe is available by clicking the "Print Recipe" button on this page.
Sourdough Cinnamon Crumb Cake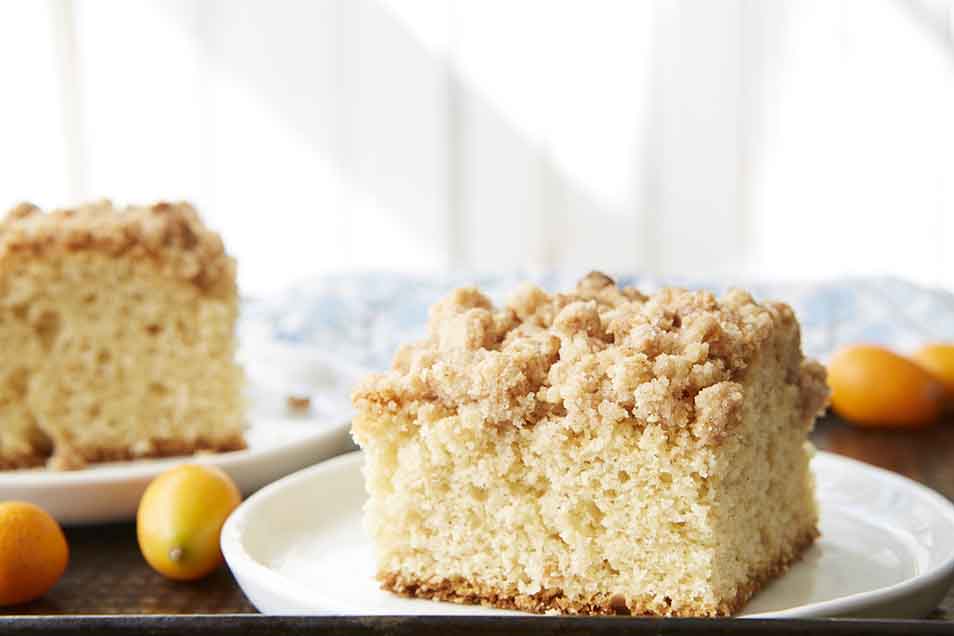 A crown of buttery cinnamon crumbs nicely balances the tang of sourdough in this unique take on a classic crumb coffee cake.
Ingredients
Batter
8 tablespoons (1/2 cup) unsalted butter
1 cup granulated sugar
2 large eggs
1 tablespoon vanilla extract
1 cup sourdough starter, unfed/discard
1 tablespoon potato flour or 2 tablespoons instant mashed potato flakes
1 teaspoon baking powder
1/2 teaspoon baking soda
1/2 teaspoon salt
1/4 cup milk
confectioners' sugar (optional)
Instructions
Preheat the oven to 350°F. Grease a 9" square pan.

To make the topping: In a medium bowl, whisk together the flour, sugar, cinnamon, and salt. Add the vanilla and almond extracts to the melted butter and pour the butter into the flour mixture, stirring until you have a uniformly moist mixture. Set aside while you make the batter.

To make the batter: In a large mixing bowl, beat the butter and sugar until well combined. Add the eggs, vanilla, and starter, mixing until smooth and scraping the bowl's sides and bottom as you go.

In a medium bowl, whisk together the all-purpose flour, potato flour, baking soda, salt, and baking powder. Add to the butter/starter mixture, stirring until evenly combined. Add the milk and mix until smooth.

Spread the batter in the prepared pan. Sprinkle the crumb mixture evenly over the top.

Bake the cake for 45 to 50 minutes, until a paring knife inserted in the center comes out clean, and the edge of the cake just barely pulls away from the pan. Remove it from the oven and cool on a rack; dust the top with confectioners' sugar if desired.

Store the cake, the pan covered with plastic, at room temperature for several days; freeze for longer storage.
Nutrition Information
Serving Size

2" square, 96g

Servings Per Batch

16
Amount Per Serving:
Calories

375

Calories from Fat

135

Total Fat

15g

Saturated Fat

9g

Trans Fat

1g

Cholesterol

54mg
Sodium

197mg

Total Carbohydrate

54g

Dietary Fiber

1g

Sugars

25g

Protein

5g
* The nutrition information provided for this recipe is determined by the ESHA Genesis R&D software program. Substituting any ingredients may change the posted nutrition information.
Tips from our bakers
Some bakers have commented on the "overly generous" amount of crumb topping. After re-testing just to make sure, we stand by the amount of topping as written: enough to cover the cake generously, without leaving any bare spots. If desired, reduce the topping ingredient amounts by 25 percent.
Reviews
Pulled this out of the oven an hour ago, and just tried a piece. WONDERFUL! Not too sweet; just enough. I followed the recipe exactly, but baked in a 10" round pan with 3" sides. Baked for 50 minutes. It's a keeper!
Such a forgiving recipe. Had no eggs, made it anyway, and it's not a bad cake. Used slightly more starter instead, but really, that is no substitute for eggs. Used a different-sized pan. For reasons, had to use vegan butter and some soy creamer instead of milk. Did use KAF ap white flour and regular white sugar. Oh, and I ran out of vanilla and didn't have enough vanilla. Still a nice tasty coffeecake, light, moist, flavorful, yummy. Really enjoyed the outrageous quantity of streusel topping, as did the other eaters. Will come back to this recipe over and over again to a) make a nice quick cake and b) use that extra starter that I can't bear to just throw away.
Best coffee cake ever! I have made this several times and it always comes out delicious.
I'm glad I read the many reviews so I could suss out potential issues before I started baking. Caveat: I added an extra tsp of cinnamon to the topping (cinnamon needs no excuse); and having exhumed a bag of your now-discontinued mini cinnamon chips which I'd vacuum sealed and tossed into my freezer at some point, I tossed ~90g of those into the batter at the end. Having said that, with the copiously delicious amount of topping obscuring the edges, it was hard to tell when they started to pull away from the sides. Also, the buttery goodness of the topping made it a bit tricky to tell precisely when "done" was "done." I'd say that I baked the cake about 5 minutes too long judging by the extra browning on the outer edges of the cake so an hour would have sufficed. Did we care? I'll know better next time. Even with the extra baking, the cake is moist with a gorgeous crumb just the right vanilla notes. The almond sort of fades as the cake cools, leaving behind a sweetness that's hard to place if you don't know it's there. The topping is crunchy/crumbly and oh so good. We've been enjoying it for 3 days now and it's still delicious. My only real complaint is that it seemed like I used every measuring utensil in my kitchen and it took me nearly an hour to get it into the oven, but I'm an older baker and I'm moving a bit slower these days. It was absolutely worth the effort and I'm overjoyed to have such a yummy use for sourdough discard.
I took a chance and gave this a short for a little get together. I'm sourting a sourdough bread recipe tomorrow and thus had no shortage of discard. This is a great recipe! Everyone enjoyed it. It was easy to make and very tasty - a great alternative to something like a coffee cake. The only odd deviation was that it took way longer to cook than specified (and my oven is calibrated). No big deal, this is why we check doneness at the end. I will make this again.
Well I had a post on here about me baking this recipe. I can't find it. Anyway, I made it and I'm pretty certain I didn't miss anything and it turns out even with the crumb topping it's just not sweet enough. I guess I'm comparing it to the coffee cakes Hostess that I buy in the store. The cake itself in those are sweet however, this chrome was not very sweet at all. Kind of a bummer after all that work LOL

We're surprised to hear that with 2 cups of total sugar in this recipe, you didn't find the crumb cake quite sweet enough, Eric. It sounds like you might be using an alternative kind of sugar, in which case you may want to adjust the amount you're using in order to get the best results. If you are in fact using granulated sugar and would still like a sweeter final result, feel free to increase the sugar in the batter by 1/2 cup (99g), and in the crumb by as much as 1/2 to 3/4 cup (99 to 149g). We hope this helps make your next crumb cake perfect, and we wish you happy baking! Kye@KAF
This cake about perfect use of discard starter! Delicious with morning coffee :-) I substituted with almond milk and omitted the potato flour (I didn't have on hand in the pantry). The cake was dense but tasty. I wonder if the substitutions/ omissions made a difference. Any thoughts? Also, I reduced the crumb topping by 25% (as per the feedback) and it was the perfect amount! Covered plenty and perfect contrast to the cake.

Hi Teresita! The potato flour really would make a difference in lightness, it's pretty amazing! One thing you can try if you're unable to find potato flour in your local stores is to add a couple of tablespoons of cornstarch. Annabelle@KAF
The cake is delicious, I have reduced Sugar in the batter down to 150gr and it was just sweet enough to our taste. Crumb is moist yet fluffy, delicious!
So delicious, not too sweet. I added two small diced apples to the batter and probably only 100 gm of starter. Due to the apples increasing the volume, I baked it in a 9x13 pan. subtracted 10 minute from the recommended bake time. Loved the crumbs! Amazing tender and delicious recipe.
Just fabulous. To cut down on fat, I substituted apple sauce in the batter. I used a 9-inch spring-form pan. It rose nice and high. The flavor is superb and the crumbs are just the right amount and oh so delicious. I will make this cake again.