A customized print-friendly version of this recipe is available by clicking the "Print Recipe" button on this page.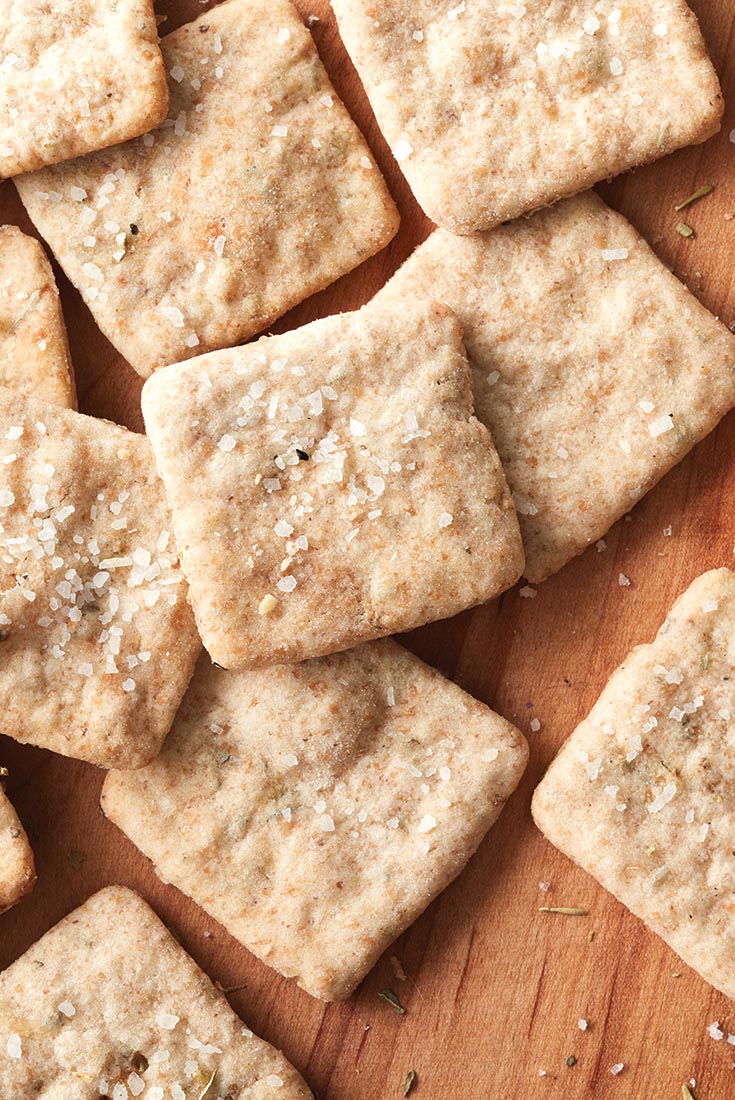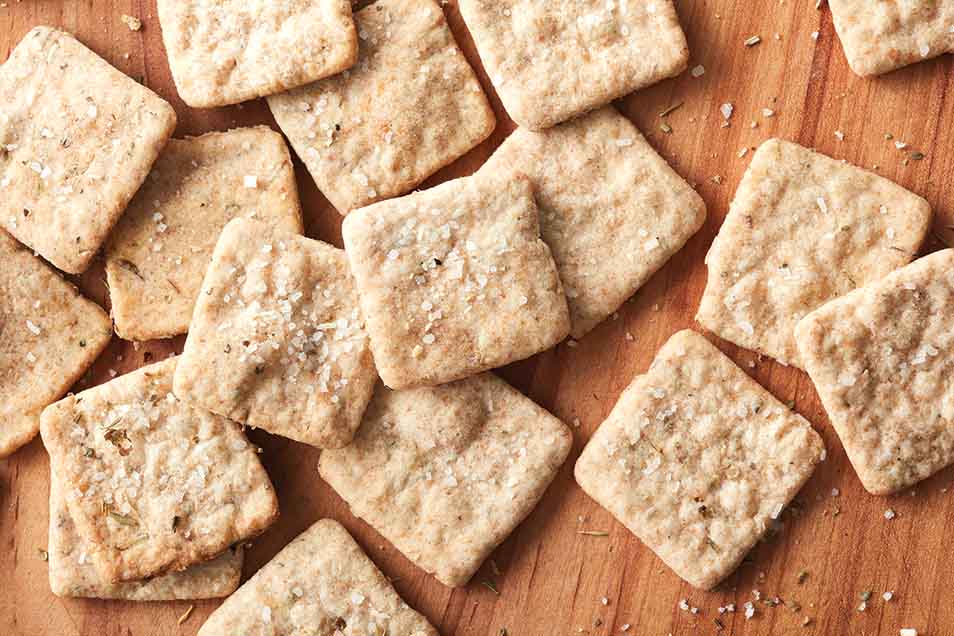 Here's the perfect solution to your discarded sourdough dilemma. The rosemary, while optional, complements the tang of the sourdough perfectly. We're addicted to these crackers, dipped into some healthy hummus.
Ingredients
1 cup King Arthur Premium Whole Wheat Flour or White Whole Wheat Flour
1/2 teaspoon sea salt
1 cup sourdough starter, unfed/discard
1/4 cup (4 tablespoons) unsalted butter, room temperature
2 tablespoons dried herbs of your choice, optional
oil for brushing
coarse salt (such as kosher or sea salt) for sprinkling on top
Instructions
Mix together the flour, salt, sourdough starter, butter, and optional herbs to make a smooth(not sticky), cohesive dough.

Divide the dough in half, and shape each half into a small rectangular slab. Cover with plastic wrap, and refrigerate for 30 minutes, or up to a couple of hours, until the dough is firm.

Preheat the oven to 350°F.

Very lightly flour a piece of parchment, your rolling pin, and the top of the dough.

Working with one piece at a time, roll the dough to about 1/16" thick. The dough will have ragged, uneven edges; that's OK. Just try to make it as even as possible.

Transfer the dough and parchment together onto a baking sheet. Lightly brush with oil and then sprinkle the salt over the top of the crackers.

Cut the dough into 1 1/4" squares; a rolling pizza wheel works well here.

Prick each square with the tines of a fork.

Bake the crackers for 20 to 25 minutes, until the squares are starting to brown around the edges. Midway through, reverse the baking sheets: both top to bottom, and front to back; this will help the crackers brown evenly.

When fully browned, remove the crackers from the oven, and transfer them to a cooling rack. Store airtight at room temperature for up to a week; freeze for longer storage.
Nutrition Information
Serving Size

5 crackers, 22g

Servings Per Batch

20 servings
Amount Per Serving:
Calories

57

Calories from Fat

22

Total Fat

2g

Saturated Fat

1g

Trans Fat

0g

Cholesterol

6mg
Sodium

298mg

Total Carbohydrate

7g

Dietary Fiber

1g

Sugars

0g

Protein

2g
* The nutrition information provided for this recipe is determined by the ESHA Genesis R&D software program. Substituting any ingredients may change the posted nutrition information.
Tips from our bakers
Note: Thanks to reader feedback, as of 9/20/17 we've reduced the baking temperature to 350°F. This should avoid any burnt crackers!
Reviews
Awesome crackers I made them yesterday but I noticed today that they are A bit softer not as crispy as they were day one. what is the best way to store them. I used a mason jar once cooled.

If you've tried storing your crackers in an airtight container and didn't like the way they turned out, then you might want to try storing them in a paper bag next time. (This is what we recommend for crusty bread.) Curl the top of the bag so it's closed; some air exchange may occur but the crackers should stay crisp. We hope this helps and happy baking! Kye@KAF
Oh, and I learned this from experimenting both ways: don't bother with brushing them with oil, it makes hardly any difference and is a pain in the patootie! :)
Excellent crackers! Crispy and can't-stop-munching delicious. My tips: Use spelt flour. It makes them light and nutty (I'm not a 'weird-flour' fan, but this rocked.) Dock them before you cut them. Roll them as thin as you can if you like the kind of light-crisp that disappears in your mouth. They're perfect with just kosher salt on top, but experiment with add-ins. I've tried, with great success: sesame seeds (scatter generously on thin dough, then roll them in), finely chopped nuts of your choice (same technique), coarsely cracked pepper, and lemon zest with pepper (sandwich the zest in the dough when you've half-finished rolling it out). Next I'm going to try a sweet version. Try these. If you like crackers, you will love them, I promise!
I made this recipe because my starter was looking a little sad so I needed to discard and feed... absolutely amazing. Pretty easy and turned out great. I forgot to poke the first batch but I kinda like the bubbles that turned out... kinda like crunchy pita. You can definitely taste a little sour but it reminds me of cheese crackers a bit. Regardless, I'll definately make this again when I need to use extra starter. Im
I'm new to sourdough baking and love finding new things to make with discard. I made these yesterday, my issue is they were a little too chewy. The outside ones came out perfect, maybe I need to bake them longer? Regardless, they didn't last longer than 10 min so they were a smash hit.

Eve. Once the crackers along the outer rows look done, remove the tray from the oven and use a spatula to move the crackers that are done to a cooling rack. Put the rest of the crackers back in the oven and bake for another 2 to 3 minutes to ensure that all of the crackers on the baking sheet end up with the best texture. Happy baking! Kye@KAF
These crackers are amazing. I double the recipe and make them weekly and they don't last more than a few days. I'm buying rosemary in bulk and feeding the sourdough just so I can make crackers. Everyone in my family loves them, even my picky kids, and my friends are absolutely amazed that I can make crackers.
These don't last an hour in my house and I will never buy boxed crackers again. I make a compound butter with roasted garlic and an Italian herb blend and use that in the dough along with parmesan cheese. I have left the dough in the fridge up to 2 days and it still comes out great. I use my KitchenAid pasta roller to roll them out - 2-3 times through on the widest setting and once more through on setting 2. I can't wait to experiment with more flavors. Thanks KAF!!
I love this recipe. I roll small nuggets of mixture into breadsticks and bake them for slightly longer as they are thicker than the crackers. No issues with storing them for up to a week, they barely last the day!!
I've been trying to maintain sourdough starter with weekly feedings without throwing any away. Since we already go through a lot of store bought cheese crackers, I figured making crackers would be a good route. Used this recipe as the base, working 2 cups finely grated sharp cheddar into the dry ingredients until it resembled coarse sand. I cut back on the salt and butter a little bit since cheese has plenty of salt and fat. And instead of rosemary, I added 1 t garlic powder, 1 t black pepper, .5 t cayenne, and .5 t toasted onion powder. I baked half of the dough after an hour in the fridge and the other half went in the freezer for a week. Both batches were gone before the end of the day they were baked (with only 2-3 people eating them!). I'm excited to try other variations since this recipe proved so amenable to my tinkering, but the spicy cheese and garlic went over so well that I'm making more now!
@Kye@KAF, Thanks for the great response and tips. I will definitely try the Whole wheat bread recipe with the KA sprouted wheat flour. As for the starter weight, my starter had dropped down and needed to be fed when I pulled a cup out to make this recipe. When I fed it is when it tripled in size and escaped it's confines. Very strange about the weight.. Right now I have the sponge for the sourdough pancakes percolating on the counter. So excited!! (Is it weird that I get so excited about batter?! LOL!) Thanks again for your response. :)