A customized print-friendly version of this recipe is available by clicking the "Print Recipe" button on this page.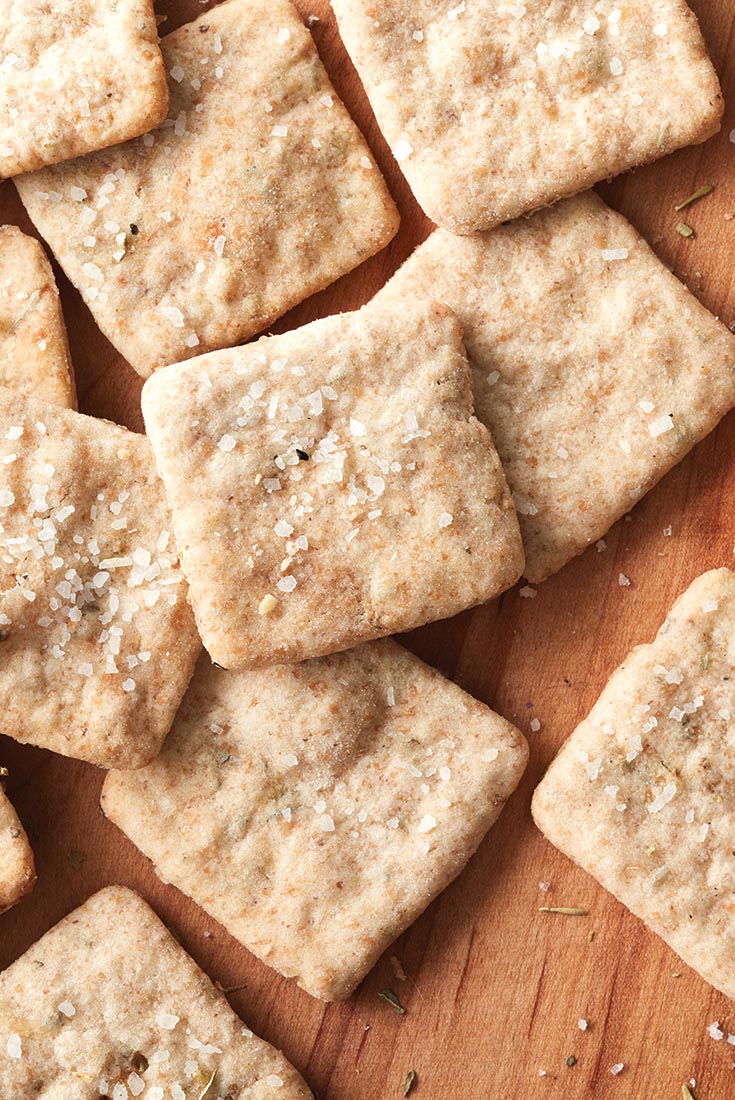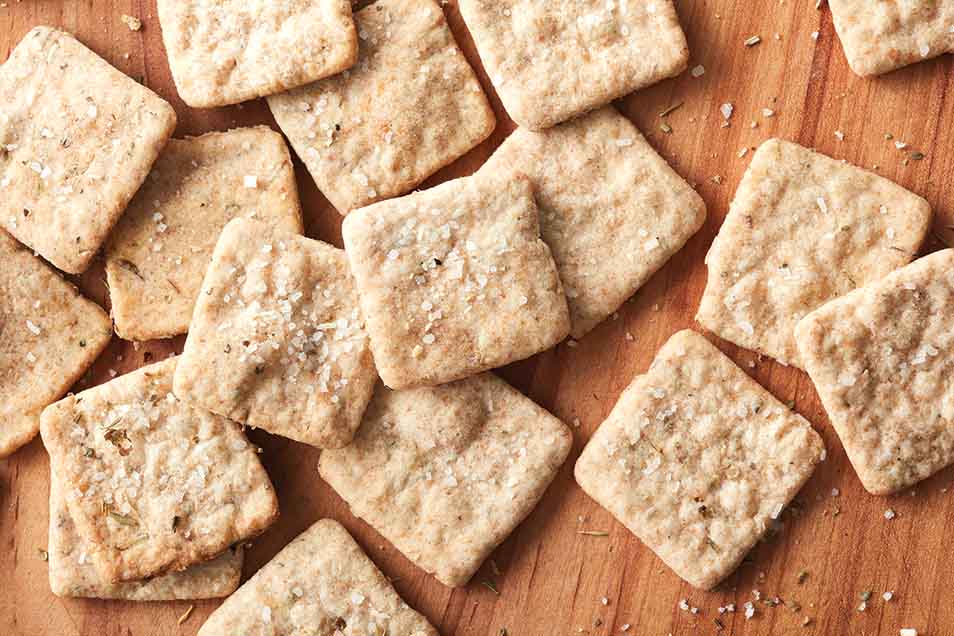 Here's the perfect solution to your discarded sourdough dilemma. The rosemary, while optional, complements the tang of the sourdough perfectly. We're addicted to these crackers, dipped into some healthy hummus.
Ingredients
1 cup King Arthur Premium Whole Wheat Flour or White Whole Wheat Flour
1/2 teaspoon sea salt
1 cup sourdough starter, unfed/discard
1/4 cup (4 tablespoons) unsalted butter, room temperature
2 tablespoons dried herbs of your choice, optional
oil for brushing
coarse salt (such as kosher or sea salt) for sprinkling on top
Instructions
Mix together the flour, salt, sourdough starter, butter, and optional herbs to make a smooth(not sticky), cohesive dough.

Divide the dough in half, and shape each half into a small rectangular slab. Cover with plastic wrap, and refrigerate for 30 minutes, or up to a couple of hours, until the dough is firm.

Preheat the oven to 350°F.

Very lightly flour a piece of parchment, your rolling pin, and the top of the dough.

Working with one piece at a time, roll the dough to about 1/16" thick. The dough will have ragged, uneven edges; that's OK. Just try to make it as even as possible.

Transfer the dough and parchment together onto a baking sheet. Lightly brush with oil and then sprinkle the salt over the top of the crackers.

Cut the dough into 1 1/4" squares; a rolling pizza wheel works well here.

Prick each square with the tines of a fork.

Bake the crackers for 20 to 25 minutes, until the squares are starting to brown around the edges. Midway through, reverse the baking sheets: both top to bottom, and front to back; this will help the crackers brown evenly.

When fully browned, remove the crackers from the oven, and transfer them to a cooling rack. Store airtight at room temperature for up to a week; freeze for longer storage.
Nutrition Information
Serving Size

5 crackers, 22g

Servings Per Batch

20 servings
Amount Per Serving:
Calories

57

Calories from Fat

22

Total Fat

2g

Saturated Fat

1g

Trans Fat

0g

Cholesterol

6mg
Sodium

298mg

Total Carbohydrate

7g

Dietary Fiber

1g

Sugars

0g

Protein

2g
* The nutrition information provided for this recipe is determined by the ESHA Genesis R&D software program. Substituting any ingredients may change the posted nutrition information.
Tips from our bakers
Note: Thanks to reader feedback, as of 9/20/17 we've reduced the baking temperature to 350°F. This should avoid any burnt crackers!
Reviews
can I freeze the dough or leave in the fridge to bake in the day after?

Hi there, Cristiane. We wouldn't recommend that, as this dough really does need to be baked shortly after it's mixed up. Thankfully, it only needs about 30 minutes to set up in the fridge before baking, so there aren't any necessary long rises to slow down the process. Annabelle@KAF
I love the use of sour dough starter, the ease of the recipe, and the flakiness of the cracker. I was not 100% happy with the taste of my white flour cracker with white flour starter (I thought it was OK but a bit bland) so I remade the recipe using rye starter with 1c white flour and 1.5 tsp caraway seeds, then salted the top before baking. Delicious.
I love this recipe. My 18 month old son and my two year old granddaughter also love these. Actually anyone and everyone who has tried these delicious crackers are instantly addicted. It's true:) My favorite flavor is a mixture of poppyseed and dried onion flakes. We tried a Cajun seasoning that is super tasty too. I think my next flavor will be sesame seeds. I can't wait to try all the different spices I have in my cabinet, which is a lot! I also love reading all the comments and helpful tips. Thanks KAF for not only great products that make baking fun but also great recipes!
made this for the first time, as the recipe calls for. Added 2 tbsp. Green goddess seasoning mix from our local spice store....great decision. Having said that, 1/16 is really hard to judge, so I over browned them just a little with an extra 2 minutes baking. Thinking about trying BBQ seasoning next.
Luckily I only had 2/3c starter, so I used that and 2/3c flour, but kept everything else the same. This turned out a very delicious cracker recipe that I was exceedingly happy about! Thin and crispy; absolutely perfect. I also added fresh rosemary to the dough, and used canola oil+EVOO as the fat base. The next day I made the recipe as is, which turned out horrible. The crackers were thick and very hard. I prefer the 2/3c amount, which makes a more wet dough (still extremely easy to roll out), and tastes far better. If I didn't accidentally only have 2/3c starter the first time when I made these, and only made them as the recipe states, then I would've been disheartened with such a disappointing cracker recipe. But I'm very lucky to have done that that way because I have a cracker recipe for life. **So try it with 2/3c starter and 2/3c flour, everything else the same, if you'd like thin and crispy crackers. ...unless you like how the recipe turned out with 1c starter and 1c flour. Thanks KAF!! I still very much appreciate the recipe :)
Wow, what a disappointment. I bought King Arthur white whole wheat flour and followed the directions exactly. The dough was very sticky, much like a thin cookie dough. I refrigerated it, per the instructions, to see if it would firm up, but it did not. Then I called the K.A. Baker's Hotline. The woman suggested that I add more flour until the dough reached a consistence that could be rolled out. I did that, but I had to add over a half cup of flour to get it to that consistency. I baked the crackers, but they were barely edible. I wasted a lot of time and money on this one!

We're genuinely sorry to hear about your frustrating baking experience, Sourdough Baker. We're surprised to hear that things went so awry with this much-loved recipe. It sounds like the sourdough starter may have been a different ratio of flour to water than what we used to develop this recipe, which was a 100% hydration starter (equal parts flour and water by weight). If your starter contained more water or hadn't been fed for a very long time (more than just a week or two), it's possible that the dough was compromised by the condition of the starter. For best results, we recommend using starter that's been fed within the last week that's made up of a ratio of just slightly over 4 ounces of flour and water each. Kindly, Kye@KAF
I don't add any seasoning. My teen with braces loves these rolled more thick and not poked so they bake up like little biscuits. The other teen prefers them with no salt on top. Unseasoned means we can dip them in anything! I like them dipped in full fat Greek yogurt. Or just munch on while working.
These are so tasty. They have a pie crust type texture. Could I leave it plain and in one piece to use it as pie crust?

What a creative (and delicious) idea, Vicky! It isn't something we've tested, but it definitely sounds worthy of some experimentation. Because this recipe tends to be on the thinner side, we'd recommend using a filling that isn't too wet. Rather than strawberries or peaches, which create a lot of juice, apples may be the perfect filling for this crispy sourdough crust. You'll have to let us know how it turns out! Annabelle@KAF
I just received my KAF sourdough starter (and crock, love it!) yesterday and started my feeding. This morning I used my first discard to make these crackers. I had not made crackers before in my life, but the process looked pretty easy so I plunged in. So glad I did - they turned out perfectly. I followed the recipe exactly, using Italian seasoning blend. Now that I have tried for the first time I can venture out with my experimentation with other herbs and/or seasonings. Thanks KAF!
I love this recipe great way to use unfed starter. I used rosemary ad garlic with sea salt sprinkled on top and served with hummus ... delicious! I also used my pasta press to get the desired thinnest I was after. Will defiantly make these agai n