A customized print-friendly version of this recipe is available by clicking the "Print Recipe" button on this page.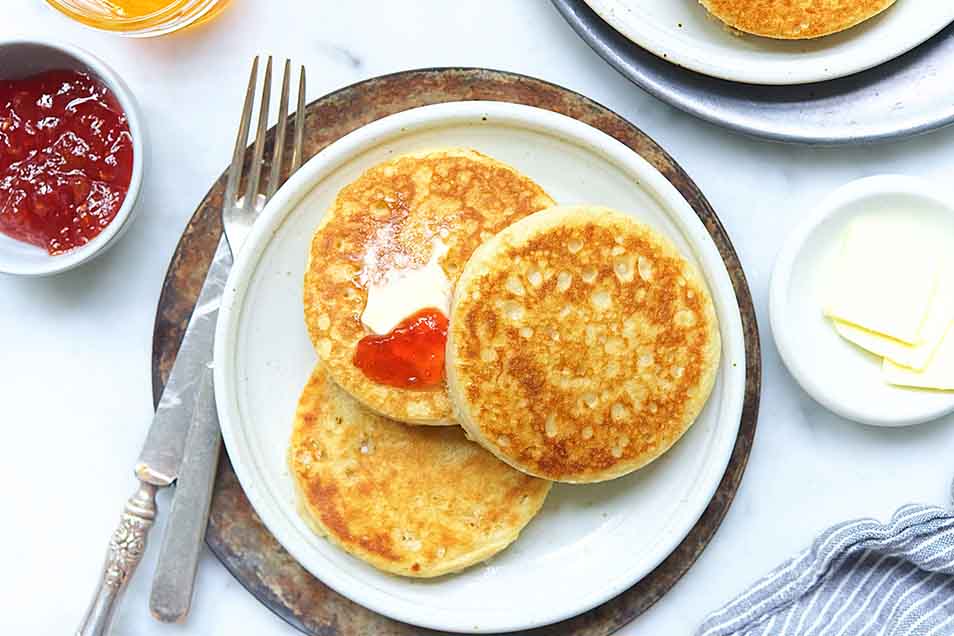 Do you have a long-neglected starter you'd like to resurrect? The absolutely easiest and fastest thing to do with a groggy starter is to make a kind of modified crumpet, a.k.a. pikelet. Crumpets are normally griddled in rings, while pikelets are griddled free-form. With fewer holes than a typical English crumpet, Australian-style pikelets are a very simple and basic kind of "toaster pancake," a great use for your sourdough starter.
Ingredients
1 cup sourdough starter, unfed/discard
1 teaspoon sugar
1/4 to 1/2 teaspoon salt
1/2 teaspoon baking soda
Instructions
Place the starter in a medium-sized bowl. Note: This is a good opportunity to feed the remainder of your starter, if necessary. Sprinkle the sugar, salt, and baking soda over the surface. Whisk together. The batter should rise up, becoming the consistency of whipped cream.

Heat your griddle over medium-low heat. Lightly grease the surface.

To make crumpets, lightly grease English muffin rings (1" high and 4" across) and place on the griddle. Scoop the batter into the rings, filling them about 1/4" deep. Cook over low heat until the tops are set and full of small holes. Remove the rings and flip the crumpets over for a minute or two.

If you're making pikelets, scoop the batter onto the griddle and cook over low heat until the tops are set and full of small holes. Flip the pikelets over to finish for a minute or two.

Toast the crumpets or pikelets to brown and crisp them before serving with butter and jam.

Store any leftovers at room temperature for several days. Freeze for longer storage — up to 3 months.
Tips from our bakers
See our step-by-step directions for creating your own sourdough starter from scratch. Or, if you're looking for a head-start, check out our classic fresh sourdough starter, a simpler path to fresh, ready-to-use sourdough starter.
If your starter has tinges of pink, please don't use it for this (or any) recipe. It's a sign of an unhealthy starter and should be discarded.
Taking the pancake idea one step further, the flavor of these crumpets or pancakes, while quite delicious with butter, syrup or jam, is equally good with savory additions. Try adding a half cup each of grated zucchini, cheese, apple, chives, or onion, or a combination of your own, and serve them with lunch or dinner.
Reviews
I'm new to sourdough baking, and my starter is only a couple days old but has really bubbled up well. Looking at the reviews of this recipe I decreased the amount of sugar and salt to just a pinch of each, and swapped the sofa for baking powder and again used only a pinch. My husband has made me a stainless steel cooking ring, so after oiling that and a non stick pan, the mixture didn't stick at all. My trick with this recipe is to have the pan as low as it will go and be patient. The crumpets rose well and had lovely little air pockets in, but overall the texture and taste was closer to an underdone Yorkshire pudding. They were nice but I think I'll need to tweak the recipe to get the taste closer to English crumpets.
I had trouble with your recipe and used this one with King Arthur Flour Starter! I got the rings hot and had no sticking. Ingredients 270g sourdough starter 1tbsp runny honey 1/2 tsp salt 1/2 tsp bicarbonate of soda Rapeseed oil for greasing pan and rings You will need 9cm crumpet rings (you could make your own by removing the top and bottom of a small can) Method Mix the starter, honey, and salt together. Stir, then allow the starter to start bubbling. Rub your griddle and crumpet rings with oil, then place over a medium heat. It is very easy to burn the bottom of the crumpets if you're not careful, so be ready to adjust the temperature. Stir the bicarb into the batter. It should start bubbling. Once the rings are hot, spoon the batter into them, leaving a 1/2cm gap at the top to allow for rising. When the edges are cooked, remove the crumpets from the rings and flip them over and cook for a further 3 minutes. Repeat the process with the remaining batter.
Didn't work for me I got the overwhelming baking soda taste some commenters complained about. I also didn't get much if any rise, and I think those things might be connected: Baking soda needs acid to work (remember that foamy vinegar & baking soda volcano in grade school?) and hungry starter produces acid (that's what makes sourdough sour). But I suspect my starter wasn't acidic enough, so the reaction didn't happen. If it had, the baking soda and acid would have been converted to water and carbon dioxide, but instead the unreacted baking soda was left in the finished product. Yuck. Possible solutions in order of preference: 1) Really neglect that starter. Mine was unfed for two days but still had no liquid on top. Next time I'll wait until there is and if the batter doesn't foam right away, I won't continue. 2) Use baking powder instead of baking soda. Baking powder is just baking soda with the acid included, in the form of cream of tartar. According to the internet, you need to use about twice as much baking powder when substituting. 3) Maybe add something acidic like lemon or orange juice? Depending on the flavor you're going for, this might be an option. I hate discarding starter so I'll probably try this again. If so I'll report back with the results!

Aw, we're sorry to hear that these didn't work out for you, but we think you're spot-on about the reasoning. Leaving your starter unfed for a bit will definitely increase the acetic acid in your starter. If you don't want to do that, feel free to add a little lemon juice or vinegar to your crumpet batter to make sure that baking soda gets activated. Happy baking! Kat@KAF
I have tried this recipe several times now, both ways with rings and without but it never comes out good! I have great starter because I make sourdough bread often but this recipe leaves out any information on how thick or loose the stater should be. Either way I cook them they never seem done.

Eric, all our sourdough starter recipes assume you're following our sourdough baking guide, which calls for a starter that's a 50/50 flour to water ratio by weight (or 100% hydration, if you're using baker's percentages). If they're not getting "done" when you cook them, it may be that turning up the temperature under your griddle will help. Since everyone's stove is different, it takes a little bit of experimentation. Hope that helps! Kat@KAF
I have been making English crumpets for years but usually the yeast recipe.As i make sourdough bread i thought i would try this to use up my sourdough discard.I am British and grew up eating crumpets.They did turn out ok but i have no idea why sugar would be used in a recipe as the only purpose sugar is used in a crumpet recipe is to feed the yeast.I do have a tip though for using crumpet rings.It dosent matter how much you oil them the batter always sticks.As non stick proper crumpet rings seem to be unavailable i cut strips of parchment paper to fit the rings and oil them on both sides.This works like a dream and takes little time to make the strips.

Hi there, Dee! Thanks so much for sharing that helpful tip with other bakers! You're more than welcome to leave the sugar out of this recipe if you'd prefer. Happy baking! Morgan@KAF
I made these into savory sourdough pancakes by using no sugar and about 1/8 tsp salt. They turned out lovely! I enjoyed them with salsa and hummus. Easiest way to use up my discard starter.
Really enjoyed the recipe. Although, I didn't get much rise from the 1/2 tsp of baking soda. Any suggestions?

Billinton, feel free to add a pinch of yeast (about 1/8 tsp) to the starter and let it rest for about an hour before mixing the batter. Happy baking! Annabelle@KAF
I made this recipe this morning; it sounded quite interesting and I needed to use up discard, and it looked quite simple. They were very different than anything I had tasted before; I liked them better than my husband did (the reason for the neutral 3 stars). I will make them again, but I would VERY much appreciate the following information before I do that: how dark should they get while on the griddle? Should they brown at ALL? should they be golden brown before you take them off of the griddle? Same for the toasting: what color should they be? No information at all was given as to how long to cook them or what color they should be. Mine were a bit soft/gooey in the middle, which I thought was just fine, but once again my husband was dubious. It's unusual for a KAF recipe to have such little information regarding color - or a photo, which would have been VERY helpful! (I would NOT recommend this recipe the way that it stands; i WOULD recommend it with either a photo or description of color coming from the griddle and the toaster were included).

Hi there, Dorace. We're sorry to hear that there was some confusion while you were making your crumpets. While the rings are on the griddle you'll want to cook the crumpets until the tops are set and have little holes in them — kind of like when making pancakes. You want the crumpets to be a light golden brown and cooked through when you pull them off the griddle. Then when you toasted the crumpets you can let them get as much or as little color as you'd like. We hope this helps for future crumpet making adventures. Kindly, Morgan@KAF
I've tried making this twice and I am surely doing something wrong, as I'm never getting much of a rise and not ending up with a batter that has the consistency of whipped cream. The first time I imagine that I overwhisked the batter after sprinkling on the baking soda, etc. The second time i added a bit of water to my discard (which was pretty thick and sticky to start) to get it the consistency of pancake batter, and I did just some light whisking. I got a little rise, but again i wouldn't describe it as the consistency of whipped cream. I made the pikelets and they taste good but they are flat like pancakes. Any advice would be much appreciated!

Hi there, Jess! We're sorry to hear that you're having some trouble with this recipe. We wonder what the consistency of your sourdough starter discard is? It should be like a thick pancake batter. If yours is a bit thinner, feel free to add a tablespoon or two of flour to it so it becomes a little thicker. If we can talk through this recipe further or help troubleshoot, please feel free to give our friendly Baker's Hotline folks a call at 855-371-BAKE (2253). Kindly, Morgan@KAF
Perfect use of discard starter! I needed to revive my starter for a loaf of bread, but really hate ditching the discard. I also didn't have time today to let something sit for hours, or to do many steps. This recipe fit the bill! So quick, I could see myself doing this in the morning before church or homeschool lessons.