A customized print-friendly version of this recipe is available by clicking the "Print Recipe" button on this page.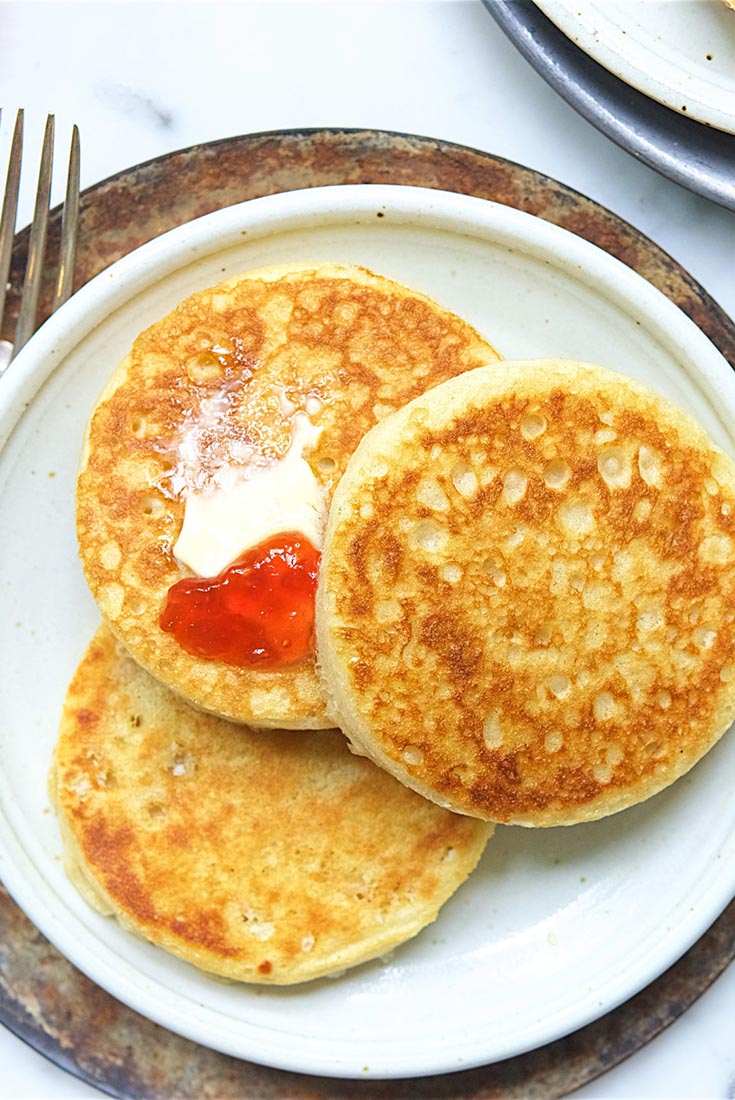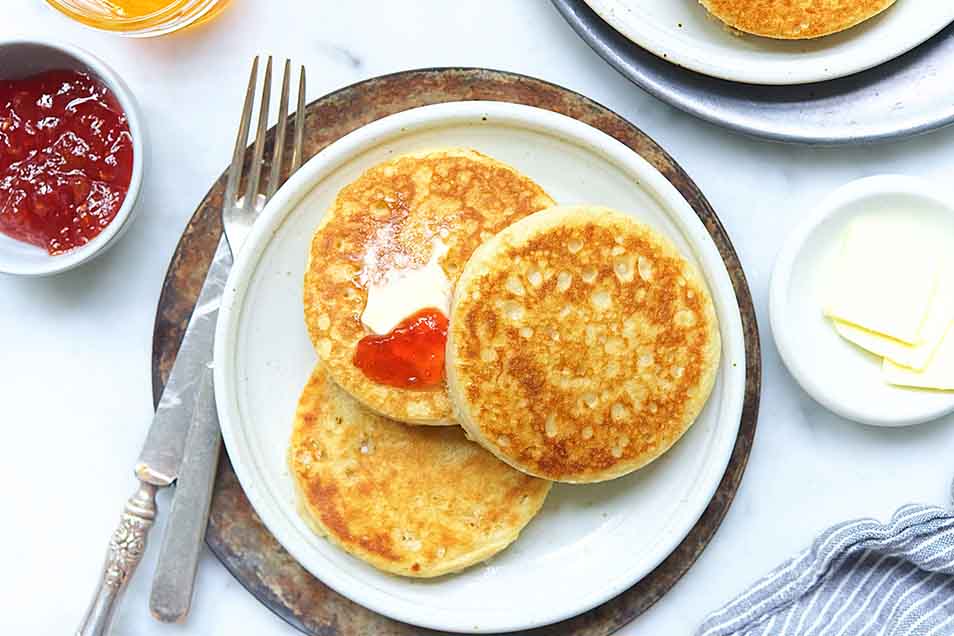 Do you have a long-neglected starter you'd like to resurrect? The absolutely easiest and fastest thing to do with a groggy starter is to make a kind of modified crumpet, a.k.a. pikelet. Crumpets are normally griddled in rings, while pikelets are griddled free-form. With fewer holes than a typical English crumpet, Australian-style pikelets are a very simple and basic kind of "toaster pancake," a great use for your sourdough starter.
Ingredients
1 cup sourdough starter, unfed/discard
1 teaspoon sugar
1/4 to 1/2 teaspoon salt
1/2 teaspoon baking soda
Instructions
Place the starter in a medium-sized bowl. Note: This is a good opportunity to feed the remainder of your starter, if necessary. Sprinkle the sugar, salt, and baking soda over the surface. Whisk together. The batter should rise up, becoming the consistency of whipped cream.

Heat your griddle over medium-low heat. Lightly grease the surface.

To make crumpets, lightly grease English muffin rings (1" high and 4" across) and place on the griddle. Scoop the batter into the rings, filling them about 1/4" deep. Cook over low heat until the tops are set and full of small holes. Remove the rings and flip the crumpets over for a minute or two.

If you're making pikelets, scoop the batter onto the griddle and cook over low heat until the tops are set and full of small holes. Flip the pikelets over to finish for a minute or two.

Toast the crumpets or pikelets to brown and crisp them before serving with butter and jam.

Store any leftovers at room temperature for several days. Freeze for longer storage — up to 3 months.
Tips from our bakers
See our step-by-step directions for creating your own sourdough starter from scratch. Or, if you're looking for a head-start, check out our classic fresh sourdough starter, a simpler path to fresh, ready-to-use sourdough starter.
If your starter has tinges of pink, please don't use it for this (or any) recipe. It's a sign of an unhealthy starter and should be discarded.
Taking the pancake idea one step further, the flavor of these crumpets or pancakes, while quite delicious with butter, syrup or jam, is equally good with savory additions. Try adding a half cup each of grated zucchini, cheese, apple, chives, or onion, or a combination of your own, and serve them with lunch or dinner.
Reviews
This is such an easy use of sourdough "discard"! My husband didn't like the bread I made with my sourdough starter (too sour) so it sat in the fridge neglected for two weeks. I used it (1/2 whole wheat/1/2 bread flour) right out of the fridge and followed the recipe exactly. My first attempt at making anything like this, and they came out great! My husband had to make himself stop after toasting and enjoying two of them.
Perfect! Loved them! Great use of sourdough discard.
I make this recipe frequently, a terrific use of unfed starter. I most frequently use it to make 3 waffles in my single serve waffle maker.
I detest wasting food, so, I always attempt to use my discard starter rather than tossing it out. I was a bit short on time and needed something super simple and quick. This recipe delivered beautifully! I put this together while I was cooking dinner (they essentially require no effort!) and my entire family loved them. As others have mentioned, I used greased Mason jar rings with great success. Those little nooks and crannies held a bit of jam perfectly! I will certainly use this recipe when I am short on time, and freeze any excess crumpets (if there ever are any leftovers!).
Just made these this morning using a 100% hydration starter. No rings on hand, so I set out to do pikelets. My starter was certainly lively enough, as once I began whisking in the sugar, salt and baking powder it poofed up nicely. I think perhaps a stiffer starter might be needed, though, if not using rings. What I wound up with were closer to crepe thickness than anything that could be put in an upright toaster. Might try again if I can find or fashion some rings.

Sourdough starters are notoriously unique, so you may need to add a few additional tablespoons of flour in order to get the right consistency in your crumpets (the batter should resemble thick pancake batter). You may also want to add a bit of additional sugar to balance out the flavors. Happy baking! Kye@KAF
Oh boy....yet ANOTHER recipe that I really really love! Made these this morning but not sure if I would like them I just made a half batch. Had to make like pancakes as I couldnt even find a mason jar lid! After making i went ahead and toasted and topped with apricot jam. Tasty! So off to THE local retailer to get mason jar lids. Also got some lemon curd cause my husband loves lemon. Gonna make him some this weekend....or tonight. Lol Easiest thing i have ever made.
What a good use of sourdough starter!! It is amazing how the baking soda causes such a rise with the starter. I added a little more sugar to the batter. Buttering the skillet and the crumpet molds is the key to success. With a bit of red raspberry jam and tea I had the makings of a great breakfast!
Love love love this little formula. Over the years I've evolved it and no longer use the sugar, I find the results more like a real crumpet that way. Delicious, simple, wonderful.
This recipe is wonderful! I used to just die inside when I had to throw away starter. Now, I just griddle-up some crumpets, and my family sings my praises.