A customized print-friendly version of this recipe is available by clicking the "Print Recipe" button on this page.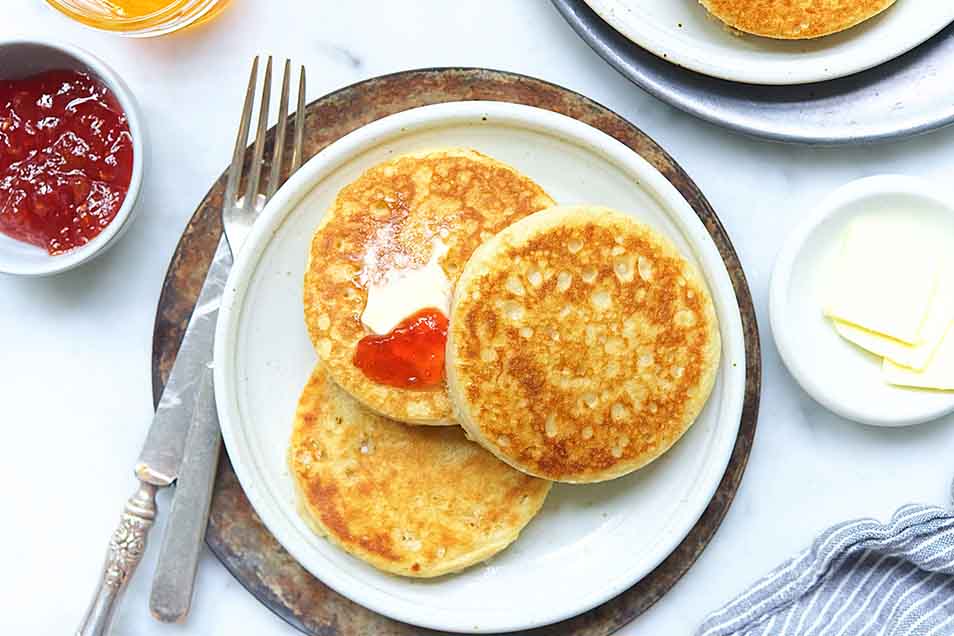 Do you have a long-neglected starter you'd like to resurrect? The absolutely easiest and fastest thing to do with a groggy starter is to make a kind of modified crumpet, a.k.a. pikelet. Crumpets are normally griddled in rings, while pikelets are griddled free-form. With fewer holes than a typical English crumpet, Australian-style pikelets are a very simple and basic kind of "toaster pancake," a great use for your sourdough starter.
Ingredients
1 cup sourdough starter, unfed/discard
1 teaspoon sugar
1/4 to 1/2 teaspoon salt
1/2 teaspoon baking soda
Instructions
Place the starter in a medium-sized bowl. Note: This is a good opportunity to feed the remainder of your starter, if necessary. Sprinkle the sugar, salt, and baking soda over the surface. Whisk together. The batter should rise up, becoming the consistency of whipped cream.

Heat your griddle over medium-low heat. Lightly grease the surface.

To make crumpets, lightly grease English muffin rings (1" high and 4" across) and place on the griddle. Scoop the batter into the rings, filling them about 1/4" deep. Cook over low heat until the tops are set and full of small holes. Remove the rings and flip the crumpets over for a minute or two.

If you're making pikelets, scoop the batter onto the griddle and cook over low heat until the tops are set and full of small holes. Flip the pikelets over to finish for a minute or two.

Toast the crumpets or pikelets to brown and crisp them before serving with butter and jam.

Store any leftovers at room temperature for several days. Freeze for longer storage — up to 3 months.
Tips from our bakers
See our step-by-step directions for creating your own sourdough starter from scratch. Or, if you're looking for a head-start, check out our classic fresh sourdough starter, a simpler path to fresh, ready-to-use sourdough starter.
If your starter has tinges of pink, please don't use it for this (or any) recipe. It's a sign of an unhealthy starter and should be discarded.
Taking the pancake idea one step further, the flavor of these crumpets or pancakes, while quite delicious with butter, syrup or jam, is equally good with savory additions. Try adding a half cup each of grated zucchini, cheese, apple, chives, or onion, or a combination of your own, and serve them with lunch or dinner.
Reviews
I used a 6 in h cake ring, added chopped green onions When done cut it in half and made a hot grilled corned beef sandwhich
Delicious and quick! My husband loved them and said they tasted just like crumpets (which he ate regularly while living in England.)
These are so amazingly good! I like them as thick as I can get them in my egg rings. Outside crispy, inside dense and chewy. These don't compare to store bought. I plan to make these for Christmas. I have a son who is vegan and it's always a challenge to make something he will eat. I believe he will love these with some home made jam and coffee. The grandkids are always requesting these. I make my sourdough starter with einkorn flour. My grandaughter is sensitive to gluten. I would like to try rye as suggested by another reviewer. Delicious!
I have made these twice on my electric griddle. I followed the directions but they came out raw in the middle even after toasting them. They are very brown on the first side and I did the second side for 2 minutes as suggested. I had my griddle on 325. Do you have suggestions to get them to be cooked through after toasting?

Hi, Juli! We would suggest turning your griddle up a little bit. It sounds like they need a little more heat so the inside cooks through without the outsides getting too dark. We hope this helps! Morgan@KAF
I reduced salt and sugar, but left the amount of baking soda unchanged. With the rye sourdough starter they are great; and my family can't get enough of them. I made this recipe with the San Francisco sourdough culture (wheat flour) as well and it came out good too (but rye crumpets are my favorite ones). Stored in the freezer, and then defrosted/toasted - I use these crumpets while I am waiting for refreshed sourdough to mature.
These were great! I always hate throwing out discard and this is a great, very quick way to use it up. They were great, not too sour, salty or sodary. I did add a teeny bit extra sugar though. Thanks for the recipe!
The comments about excess saltiness and soda flavor are spot on. Comparing this recipe to other sourdough crumpet recipes this one has almost double the percentage of soda and salt of any other recipe for sourdough crumpets. Nonetheless, as I always do the first time, I followed it exactly with my long-running 100% starter. It's not like I'm ever going to run out of excess starter after all, and you can't adjust a recipe to your taste until you know what it tasted like "by the book". Sadly, as I expected, the results of doing this one "by the book" were salty to the point of being completely inedible. Just NASTY. However, that gave me the baseline I needed to adjust it. I found a good starting point was to cut the soda by half and only use a quarter the salt. I cook for a household used to a relatively low-salt diet so ended up cutting them even further back on subsequent batches. You can get to a good crumpet recipe starting with this one, but plan on really slashing the amount of salt and soda then adjusting their ratio to give you enough seasoning and enough bubbling without fouling your palate.

We're sorry to hear that this recipe didn't do the trick for you, Dave and thank you for letting us know. If we can help pick out a recipe that better fits your tastes, please give our Baker's Hotline a call at 855-371-BAKE. Kindly, Annabelle@KAF
These tasted really good. And were super easy. I will make them again. A great way to use us starter discard. Hoping to get some advice though. First, they stuck to the muffin rings. I tried both brushing oil and spraying Pam on the rings and they still stuck and were a bit hard to get out and turn over. Second, I was hoping for more or a crumpet height. Only one of mine rose (to where I thought it should) while cooking. The rest remained pretty flat. More pancakes than crumpets. Maybe they would have risen more if I had not oiled the rings?? and if this is the case, how do people get them out?

Debbie, try spraying the rings with a high-quality non-stick spray like Everybake Pan Spray (find it in the "Shop" section of our website) and then dipping the rings in semolina flour or cornmeal. (These ingredients both have a bit of a gritty texture, so they'll act like a buffer and prevent the crumpets from sticking.)

As for your question about how to make the crumpets taller next time, try turning the temperature of the skillet up slightly so the sudden burst of high heat gives them some spring and encourages them to rise high. (Turn the temperature back down once the bottoms are nicely brown so they cook through completely.) You can also try portioning more sourdough batter into the rings to give them more height. Happy baking! Kye@KAF
This was super easy. I cooked the first crumpets on too high a heat and they were a little uneven. Second set were perfect. Tho I did need to heavily oil the "biscuit cutters. My son loves these. He said they were better than pancakes!
Maybe I'm missing something, but my discard starter was much too dense for this recipe. I tried it anyway, and they were obviously very dense.

Thanks for giving this recipe a go, Emilie. The sourdough starter we use in our recipes has equal parts of flour and water by weight, so it's possible that your starter has a higher ratio of flour. Next time, so you can get results more similar to ours, add in a little extra water until your starter has the consistency of a thick pancake batter. Annabelle@KAF