A customized print-friendly version of this recipe is available by clicking the "Print Recipe" button on this page.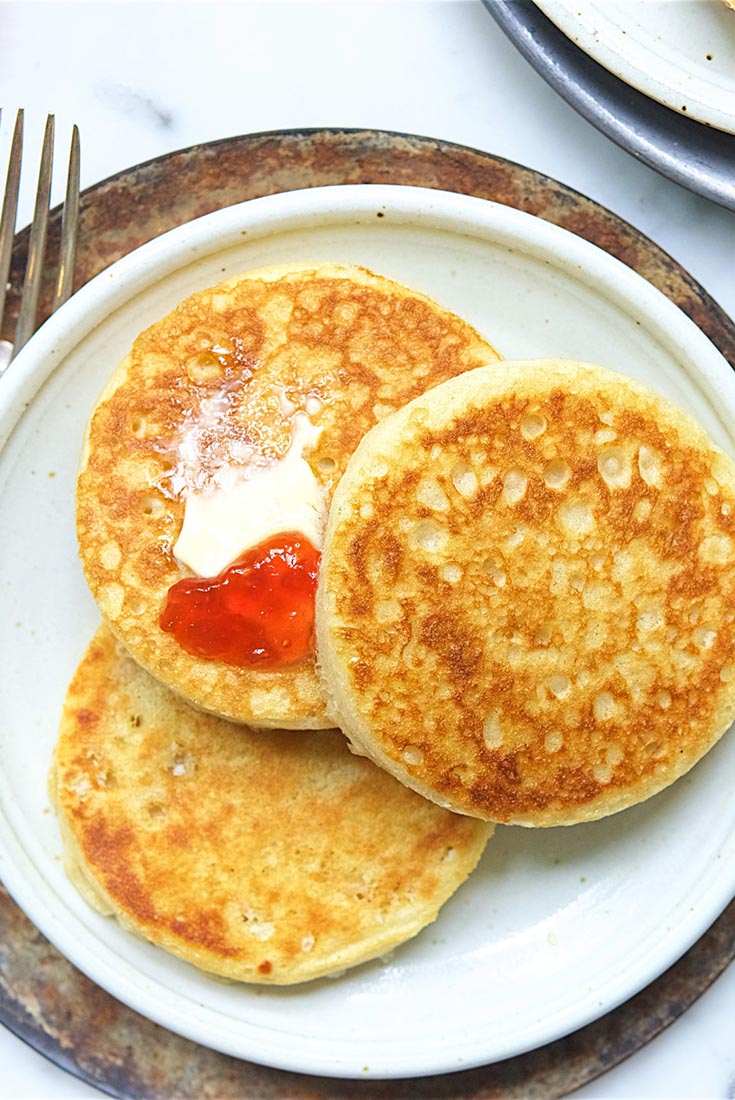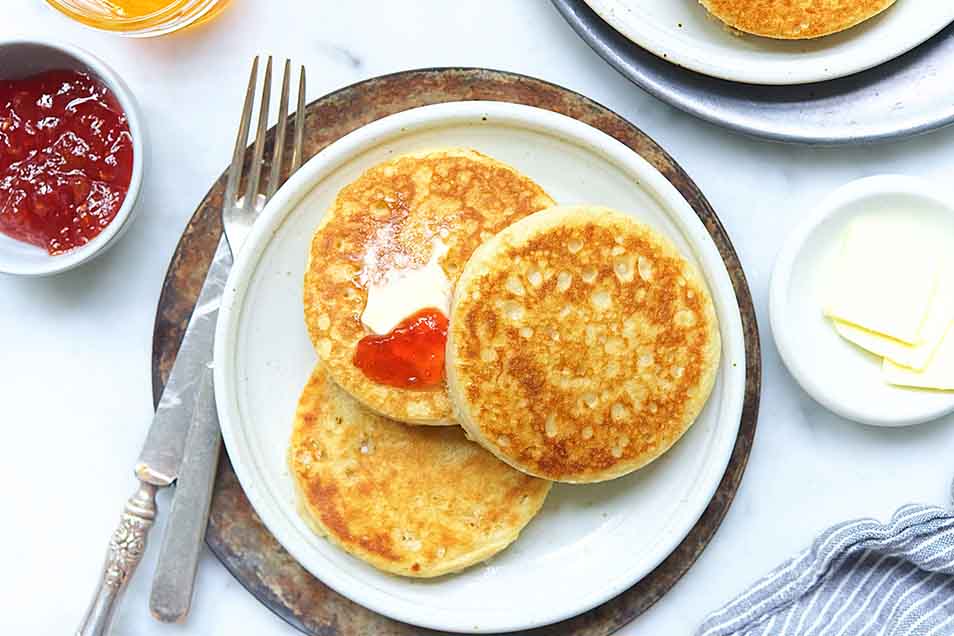 Do you have a long-neglected starter you'd like to resurrect? The absolutely easiest and fastest thing to do with a groggy starter is to make a kind of modified crumpet, a.k.a. pikelet. Crumpets are normally griddled in rings, while pikelets are griddled free-form. With fewer holes than a typical English crumpet, Australian-style pikelets are a very simple and basic kind of "toaster pancake," a great use for your sourdough starter.
Ingredients
1 cup sourdough starter, unfed/discard
1 teaspoon sugar
1/4 to 1/2 teaspoon salt
1/2 teaspoon baking soda
Instructions
Place the starter in a medium-sized bowl. Note: This is a good opportunity to feed the remainder of your starter, if necessary. Sprinkle the sugar, salt, and baking soda over the surface. Whisk together. The batter should rise up, becoming the consistency of whipped cream.

Heat your griddle over medium-low heat. Lightly grease the surface.

To make crumpets, lightly grease English muffin rings (1" high and 4" across) and place on the griddle. Scoop the batter into the rings, filling them about 1/4" deep. Cook over low heat until the tops are set and full of small holes. Remove the rings and flip the crumpets over for a minute or two.

If you're making pikelets, scoop the batter onto the griddle and cook over low heat until the tops are set and full of small holes. Flip the pikelets over to finish for a minute or two.

Toast the crumpets or pikelets to brown and crisp them before serving with butter and jam.

Store any leftovers at room temperature for several days. Freeze for longer storage — up to 3 months.
Tips from our bakers
See our step-by-step directions for creating your own sourdough starter from scratch. Or, if you're looking for a head-start, check out our classic fresh sourdough starter, a simpler path to fresh, ready-to-use sourdough starter.
If your starter has tinges of pink, please don't use it for this (or any) recipe. It's a sign of an unhealthy starter and should be discarded.
Taking the pancake idea one step further, the flavor of these crumpets or pancakes, while quite delicious with butter, syrup or jam, is equally good with savory additions. Try adding a half cup each of grated zucchini, cheese, apple, chives, or onion, or a combination of your own, and serve them with lunch or dinner.
Reviews
This was super easy. I cooked the first crumpets on too high a heat and they were a little uneven. Second set were perfect. Tho I did need to heavily oil the "biscuit cutters. My son loves these. He said they were better than pancakes!
Maybe I'm missing something, but my discard starter was much too dense for this recipe. I tried it anyway, and they were obviously very dense.

Thanks for giving this recipe a go, Emilie. The sourdough starter we use in our recipes has equal parts of flour and water by weight, so it's possible that your starter has a higher ratio of flour. Next time, so you can get results more similar to ours, add in a little extra water until your starter has the consistency of a thick pancake batter. Annabelle@KAF
Oh my god, these were delicious and a bit crispy! Not going to shop bought crumpets as long as I have starter in my kitchen! I can say I am a convert now! I can't wait for my starter to be strong enough to bake a loaf of bread. I have tried another crumpet recipe before and it was a disaster. A really good taste and texture and an excellent and easy way to use up discard sourdough starter in the morning
Waffles. I am so glad for the review or two that suggested waffles. I think you do need a good waffle iron with a very good, in-good-condition non-stick surface, and some wooden tongs to pry them out. But, they come out in one piece without too much trouble and it is very worth it so that I don't have to waste the discard, and can make low sugar waffles without any eggs in them (cholesterol). Double the recipe to feed two people we two each had three of the four square waffles from the All Clad waffle maker. I think it might become a weekly routine.
Hi I just made these and had a question. I made pikelets bc I don't have any utensils to make crumpets ( I made one using a cookie cutter just to try it!) dirt they took a longer time to cook than I expected , about 20 minutes I think. Second , mine had the string baking soda metallic taste that others have mentioned. I couldn't find where that was addressed in the review comments and wonder if you could provide the solution. I added a scant tsp more sugar than called for , as I had read that suggestion. I can still taste the baking soda , but would like to give these another try as they're easy and I can see how they would be quite adaptable , and we all always need ways to use our discard !! Thanks !

Hello, Mary! We'd love to be able to help with the metallic taste. You may be one of those people with very sensitive palate when it comes to baking soda. (I'm also one of those people!) While it's a little strange, you might try swapping out the baking soda for baking powder. Baking powder, as you probably already know, is just a combination of baking soda and one or more acidic ingredients. Having the acid already in it tends to mellow out that metallic flavor that plain baking soda can sometimes have, and might be worth trying on the next batch! You can feel free to keep that extra sugar added if you enjoyed the sweetness level. Annabelle@KAF
Too sour.

If you'd like to make your crumpets less sour next time, try using sourdough starter that's been recently fed (fed within the last 24 hours). This way the mixture will have more of a fresh, floral aroma and zippy taste that's pleasant rather than overpowering. Alternately, if you'd like no sour flavor in your crumpets, you can consider using our recipe simply called "Crumpets," instead. We hope this gives you some options to make your next bake more successful. Kye@KAF
Too salty

We're sorry to hear these were too salty for you, Jana, and encourage you to experiment lowering the salt to your taste. Annabelle@KAF
Super easy and yummy way to use up unfed starter and I have now made it many times. However, as an Aussie I must point out that crumpets and pikelets are not the same - pikelets are basically just little pancakes and not airy like crumpets. Pikelets usually aren't toasted but served with some cream and jam; crumpets are toasted and served with butter and often golden syrup or honey.

Thanks for pointing out this distinction, Laura. We always appreciate baking knowledge, especially when it comes from other areas of the world. Happy baking! Kye@KAF
This recipe was my first time making crumpets, and they were so easy and delicious! I have made them about six times now. I can't believe how fast this is - just adding three ingredients to your discard starter and they cook in only five minutes. I can easily whip these up in the morning before work in the same amount of time it would take to make eggs and toast. I bought crumpet rings, but my tiny nonstick egg frying pan works perfectly for one large crumpet at a time - batter fills the pan so it has a perfect round shape and rises nicely as it cooks.
This is such an easy use of sourdough "discard"! My husband didn't like the bread I made with my sourdough starter (too sour) so it sat in the fridge neglected for two weeks. I used it (1/2 whole wheat/1/2 bread flour) right out of the fridge and followed the recipe exactly. My first attempt at making anything like this, and they came out great! My husband had to make himself stop after toasting and enjoying two of them.