A customized print-friendly version of this recipe is available by clicking the "Print Recipe" button on this page.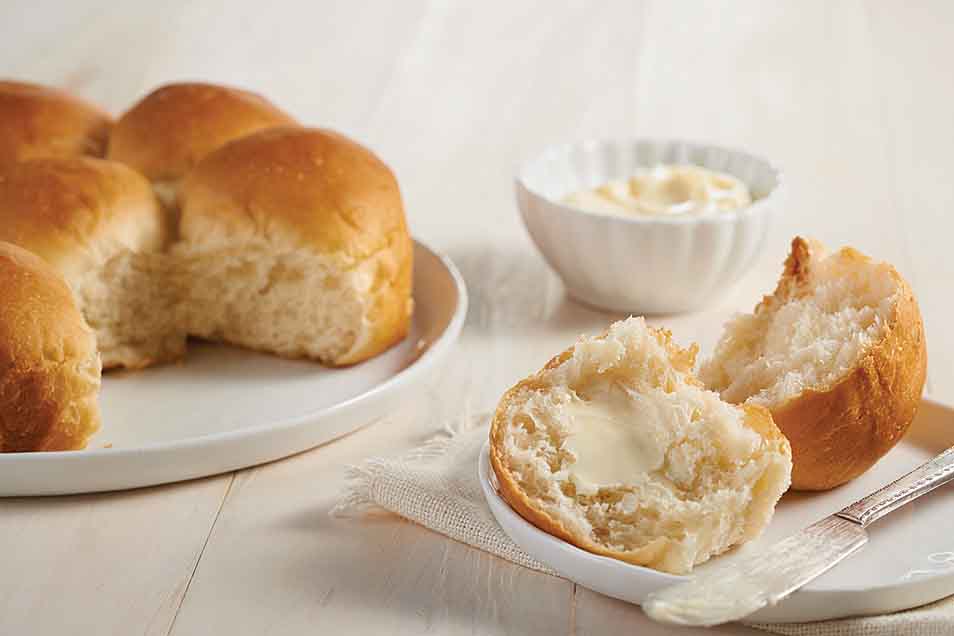 Sourdough adds a touch of its distinct flavor and chewiness to these light, moist, buttery rolls. They're baked, clustered together, in two 8" round pans, ensuring that each roll retains its soft, pillowy texture on all sides. They're perfect for soaking up a melting pat of butter, or gravy and cranberry sauce at a Thanksgiving feast.
Instructions
Combine all of the ingredients, and mix and knead — by hand, mixer, or bread machine set on the dough cycle — adding more flour or water if necessary to make a soft, smooth dough.

Place the dough into a lightly greased bowl, cover, and allow it to rise at warm room temperature until it's nearly doubled in bulk, 60 to 90 minutes.

While the dough is rising, lightly grease two 8" round cake pans.

Transfer the dough to a lightly greased work surface, gently deflate it, and divide it into 16 pieces.

Shape each piece of dough into a ball. Place eight balls in each of the round pans; if you space the balls evenly, they shouldn't touch one another.

Cover the pans and allow the rolls to rise until they touch one another and are very puffy, about 60 to 90 minutes.

While the rolls are rising, preheat the oven to 350°F.

Bake the rolls for 24 to 26 minutes, until they're a light golden brown on top; a digital thermometer inserted into one of the center rolls should read 190°F.

Remove the rolls from the oven and, after 2 or 3 minutes, carefully transfer them to a rack to cool.
Reviews
This is such an easy recipe. I did the first rise using my dough cycle on the bread machine and then shaped and let them rise once more for an hour. I reduced the rise time and also the yeast by 1/2 t. since I live over 5,000 ft. Excellent rolls.
These rolls turned out so good! I didn't have regular sugar on hand so I used honey, and also substituted rice flour for the potato flour since that's what I had on hand. I only have 9 inch pans and the results were still good, although next time I'm going to try to divide the dough into 15 parts and use a rectanglular pan instead. Fingers crossed! Thanks for the great recipe KAF!
Probably better without substitutes. I need more gluten.

Thanks for giving this recipe a go, James. We're not sure which ingredients you substituted, but encourage you to try the recipe as written if you're looking for a soft dinner roll to use your sourdough in. If you're looking for a chewier, crusty roll, check out our recipe for Chewy Sourdough Rolls. It might be just the ticket. Annabelle@KAF
I made these on Sunday for (Canadian) Thanksgiving dinner yesterday . I bake a lot of bread so my family has high expectations for my bread, and this was a deviation from our traditional recipe so I was hoping it would "measure up", and boy did it! These are wonderfully flavourful, they rose beautifully and disappeared at dinner :) the only change I made was making the rolls about 70g each. I baked them at the upper end of the time range due to the size. Oh, and my starter is at 70% hydration and was used about 8-9 hours after being fed.
I made this with no potato or dried milk as I had none. I used 3/4 cup KA White Whole Wheat flour + 2 cups regular four and only 1 tsp yeast. Divided dough into balls immediately and placed in fridge until the afternoon when I proofed and baked them. Delicious! Will make again.
Rolls came out soft. Used rice and whole wheat flour. Skipped potato n milk powder as I didn't have it,used rice flour instead.
I have been looking for more sourdough starter recipes, this one is great for a crowd, worked perfectly with my starter. I will definitely keep this recipe in my rotation. Soft sweet rolls, the family loved them.
Made these wonderful rolls. I am very new at this bread making thing. The dough did not rise as much as it should, nor did the rolls on the 2nd rise. Used my Kitchenaide, wonder if I did not mix long enough. They rolled but the dough was loose. How long should I mix. Used the dough hook. Tasted awesome. Thoughts?

Kate, the dough should be kneaded until it feels smooth and bouncy, and springs back readily when you poke it with your finger. This usually takes about 5 minutes on a medium-low speed in a stand mixer using the dough hook. Your dough may not have risen because of the kind of yeast that was used; be sure you're using either a regular instant (not RapidRise) or active dry yeast for best results. We're glad the flavor was spot on -- you're more than halfway there! Kye@KAF
These are really good. What is the best way to store leftovers?

We're glad you like them, Beth! Once cooled, we recommend storing the rolls in a plastic bag or airtight container at room temperature. If storing longer than a day or two, we'd recommend transferring them to the freezer. Annabelle@KAF
Absolutely delicious! I seasoned my batch with rosemary, thyme, garlic and Asiago (which went on top as well). Such a nice and easy recipe. I love the 'mix everything together' bread recipes. Will definitely be making these again!!