A customized print-friendly version of this recipe is available by clicking the "Print Recipe" button on this page.
Sourdough English Muffins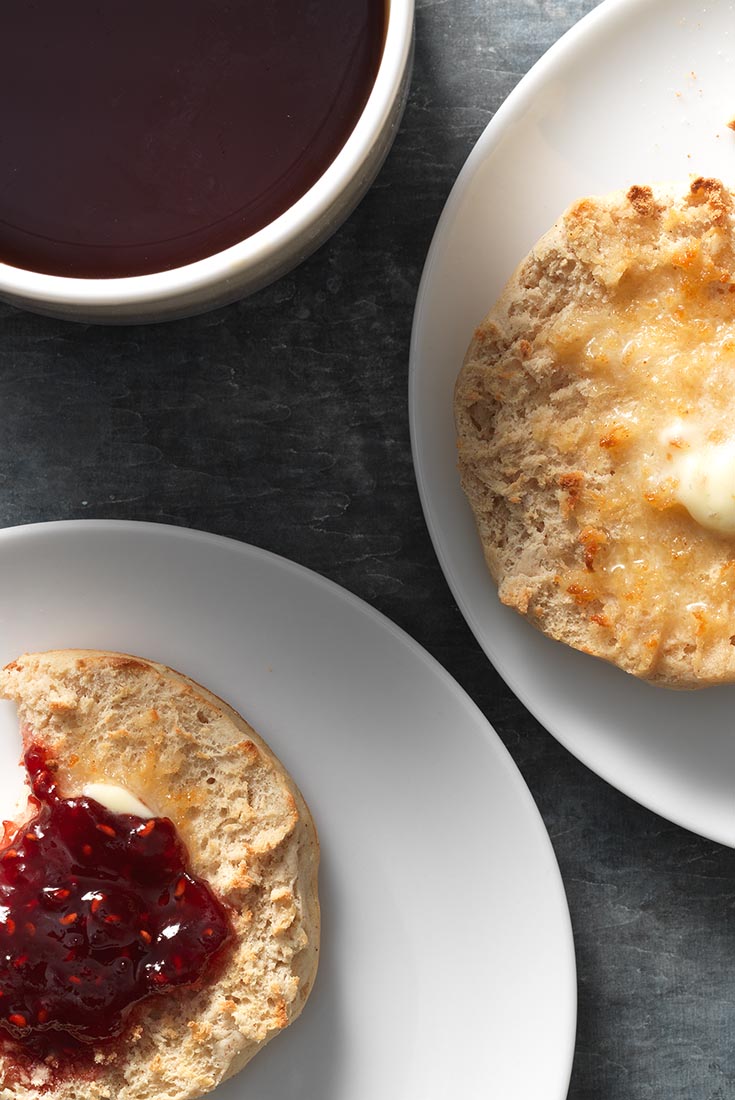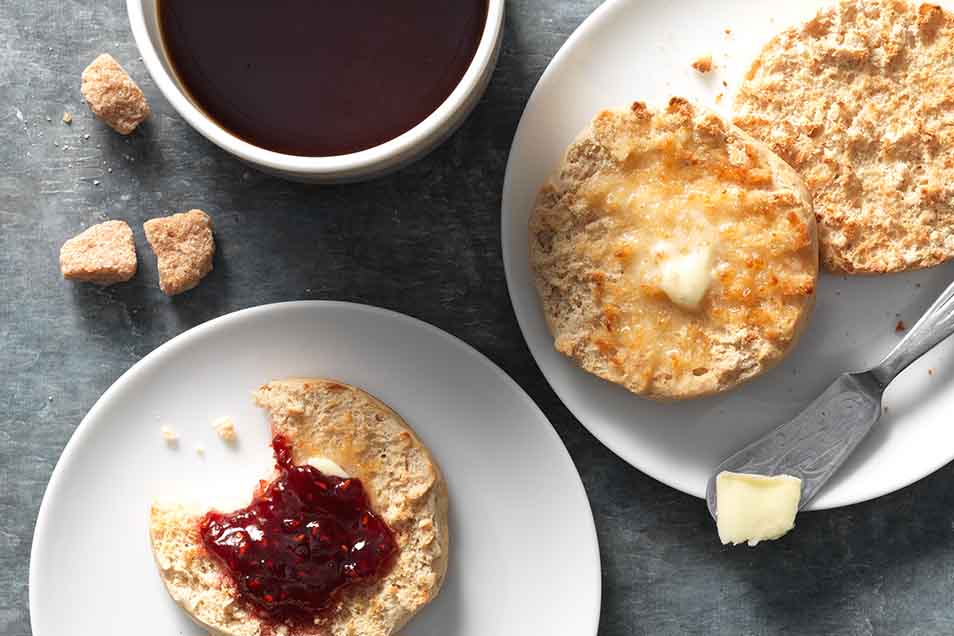 Who doesn't love English muffins? Homemade sourdough muffins seem even more scrumptious, and some of the taste-testers here had to admit that these crusty, chewy, tangy gems were some of the best they'd ever eaten.
Ingredients
2 tablespoons sugar
2 cups warm water (110°F-115°F)
1 tablespoon active dry yeast or instant yeast
1 cup sourdough starter, ripe (fed) or discard; ripe will give you a more vigorous rise
1/2 cup Baker's Special Dry Milk or nonfat dry milk
1/4 cup (4 tablespoons) butter, at room temperature
1 tablespoon salt
1/4 teaspoon sour salt (citric acid), optional; for enhanced sour flavor
semolina or cornmeal, for coating
Instructions
Combine all of the dough ingredients, except the cornmeal/semolina, in a large bowl.

Mix and knead — by hand, electric mixer, or bread machine — to form a smooth dough. The dough should be soft and elastic, but not particularly sticky; add additional flour if necessary.

Place the dough in a lightly greased bowl, cover, and set it aside to rise for about 1 1/2 hours, or until it's noticeably puffy. For most pronounced sour flavor, cover the bowl, and immediately place it in the refrigerator (without rising first). Let the dough chill for 24 hours; this will develop its flavor.

Gently deflate the dough, turn it out onto a lightly floured work surface, cover it, and let it sit for a few minutes, to relax the gluten. Divide the dough in half. Working with one piece at a time, roll 1/2" thick, and cut in 3" rounds. Re-roll and cut any remaining scraps. Repeat with the remaining half of dough.

Alternatively, divide the dough into 24 pieces (total). Shape each piece into a round ball, then flatten each ball into a 3" round. For a somewhat more even rise as the muffins cook, flatten each ball slightly larger than 3", and trim edges with a 3" cutter (or trim all around the edge with a pair of scissors). Muffins with cut (rather than flattened) sides will rise more evenly.

Place the rounds, evenly spaced, onto cornmeal- or semolina-sprinkled baking sheets (12 per sheet). Sprinkle them with additional cornmeal or semolina, cover with plastic wrap, and let them rise until light and puffy, about 45 to 60 minutes. If the dough has been refrigerated overnight, the rise time will be about 2 hours.

Carefully transfer the rounds (as many as a time that will fit without crowding) right-side up to a large electric griddle preheated to 350°F, or to an ungreased frying pan that has been preheated over medium-low heat.

Cook the muffins for about 10 to 12 minutes on each side, or until an instant-read thermometer inserted in the center of a muffin registers 190°F. The edges may feel a bit soft; that's OK.

Remove the muffins from the griddle, and cool on a rack. Store tightly wrapped at room temperature for 4 or 5 days; freeze for longer storage.

Yield: 2 dozen large muffins.
Nutrition Information
Serving Size

one muffin

Servings Per Batch

24
Amount Per Serving:
Calories

171

Calories from Fat

Total Fat

2.3g

Saturated Fat

Trans Fat

Cholesterol

6mg
Sodium

270mg

Total Carbohydrate

32g

Dietary Fiber

1g

Sugars

1g

Protein

5g
* The nutrition information provided for this recipe is determined by the ESHA Genesis R&D software program. Substituting any ingredients may change the posted nutrition information.
Tips from our bakers
This recipe is easily halved, if you don't want to make 2 dozen muffins. Halve all of the ingredients; for a slightly faster rise, reduce the yeast to 2 teaspoons, rather than 1 1/2 teaspoons.
For best sourdough flavor, refrigerate the dough for 24 hours before shaping and cooking the muffins.
For best shape, cook muffins for about 5 minutes on their first side; then lay a cake pan, cookie sheet, or similar flat (though not overly heavy) object atop them. Continue cooking for 7 minutes or so; then remove the pan, turn muffins over, and finish cooking without the pan on top. This helps keep muffins flat across the top (rather than domed).
To shorten cooking time, use a lidded electric fry pan heated to 325°F. Cook the muffins for about 10 minutes without the lid (or until they're nicely browned), turn them over, and add the lid. Don't set the lid on tight; leave a small opening for any steam to escape. Cook the muffins for an additional 8 to 10 minutes, until their bottom sides are browned.
If you're having trouble getting muffins to cook all the way through on the stove top, cook until golden brown on both sides, then transfer to a preheated 350°F oven and bake until the muffins' interior shows no sign of wet dough, about 10 minutes or so.
Reviews
Wow! What a great recipe! Just like everything else on KAF, these muffins turned out perfectly the first time, and every time since. Today I am going to try cutting them square instead of round, just to see how the are. I love the size of this recipe, no need to double. Thanks KAF, the only problem is that now I can't eat regular e. muffins anymore!
My dough came out extremely stiff and totally unworkable! I was not able to knead it at all due to how dry it was. I followed the volume measurements exactly and later checked the grams measurements. The dry volume measurements called for 7 cups of flour and the grams measurement called for 843 grams which I later measured out to roughly 4 cups. Why is there such a discrepancy? I had to throw out my dough because I just couldn't use it. Such a shame and such a waste of flour! :(

We're sorry to hear that you had a frustrating experience while making this recipe, Debby, but we're here to help. It sounds like when your flour was measured by volume, it packed down into the measuring cup which is very common, as its what flour naturally wants to do.

The way we measure our flour by volume is to fluff it up with a whisk or spoon, sprinkle it into a measuring cup, and scrape off the excess. Using this method results in a cup weighing about 120g, giving you that 843g total for the 7 cups of flour in this recipe. If able, we recommend making any King Arthur Flour recipe by weight for accuracy and consistency — plus, fewer dishes to wash! If you prefer to measure by volume, we recommend using the fluff, sprinkle, and scrape method.

We sincerely hope that your next baking experience is more enjoyable and that this explanation helps. If you have any questions, our free and friendly Baker's Hotline is available at 855-371-BAKE (2253). Kindly, Annabelle@KAF
We love these English Muffins. I have substituted two to three cups of whole wheat flour with great results. Thanks for the recipe!
So easy and didn't have to heat up the oven!
Made it twice and they're terrific. I find it easier to shape into 1/4 ounce balls then flatten onto a sheet pan lined with wax paper and cornmeal. Then onto a hot griddle then into the oven to finish. I modified this to a sourdough (your sourdough appears to make too many for my needs) so I'm using this recipe with 290 grams milk, 143 grams sour and 539 grams flour. It's proofing now so we'll see how that goes.
This recipe resulted in better muffins than a non-sourdough recipe on this site. The texture and flavor are superb. I do wish it didn't call for powdered milk. I've substituted half and half but I'm guessing about quantity. What the folks are King Arthur don't tell you is how much fun this is to make. The look on folks' faces when you give them home-made English muffins is priceless.
This recipe is amazing! However, I've made it with fed and unfed starter and it hasn't had a noticeable sourdough flavor at all. Does the addition of your salt make that much of a difference?

Looking to add more of a noticeable sourdough flavor to your English muffins, Briana? Try using unfed starter again and be sure to let the dough chill overnight for 24 hours to let the flavor develop. The cool temperature brings out more sourness during the fermentation process.

As for your question about the sour salt, it truly does add a pronounced sourness to sourdough bread and baked goods. It adds a zippiness that's comparable to a zesty dill pickle rather than the complex, nuanced flavor that you taste in naturally-leavened sourdough bread. If zest is what you're looking for, the sour salt might be a worthwhile investment. Happy baking! Kye@KAF
I made half a recipe but baked them instead of using a skillet or grill. I thought they tasted great although not like sourdough, but sourdough gives a certain extra texture to the dough I think. I've made regular english -muffins on my Griddler before, but I didn't like the cornmeal that spilled over the counters and floor. Also when using the muffins for a sandwich, they broke apart in several pieces. Do you think that was because they were not grilled? Maybe the grilling toughens them up a bit. I definitely want to make them again.

Hi Judy, for your next batch of English Muffins, we think you might want to try letting the shaped English Muffins rest in the fridge overnight before baking the next day to increase their sourness. You might also want to try griddling half of the muffins and baking the other half; this way you can do a direct comparison of the two cooking methods to see which one you prefer. Crumbly muffins sometimes are a result of too much flour being added to the dough, so consider holding back the last 1/4 cup and adding it only if it seems necessary to achieve the right dough consistency. Happy baking! Kye@KAF
3 days in fridge! End result fantastic! Halved recipe however next batch be 24. Big hit with family! Didn't realize they were so simple to make.
I tried this recipe over the weekend, I only used sourdough starter & no commercial yeast at all! Used only bread flour & did give it a 24hr retardation in the fridge! Unfortunately they came out very doughy in the middle... even though I let them go almost black on each side! My cooktop gas was on medium and I used a big cast iron griddle instead of a frying pan! Appreciate some feedback! Not using yeast was the problem? Or using bread flour?

These English muffins benefit from a low and slow approach, M. Berglehner. Next time try turning down your griddle to a low setting after you begin to see some color on the crust, and let the English muffins cook until an instant-read thermometer reaches at least 190°F (or 195°F if you're looking for a more thoroughly cooked muffin). You can also finish the muffins in a 350°F oven if they brown faster than expected on the stovetop. Tent with foil in the oven if necessary. Your next batch is going to be perfect! Kye@KAF