A customized print-friendly version of this recipe is available by clicking the "Print Recipe" button on this page.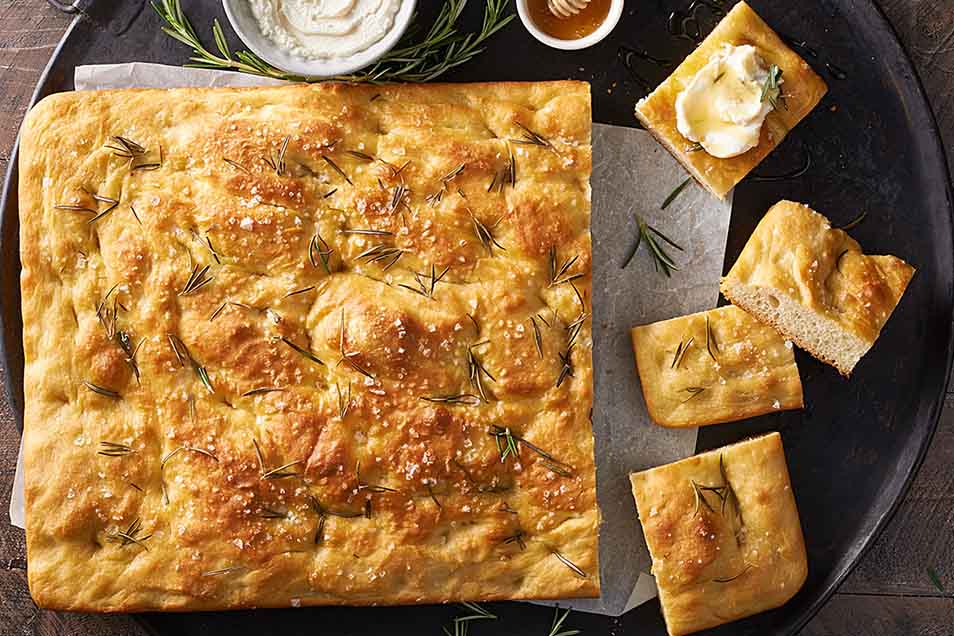 It's hard to forget a meal at Mindy Segal's restaurant, Hot Chocolate, in Chicago. For us, the thick squares of soft yet chewy sourdough focaccia were so memorable that we had to create our own version. The restaurant serves its focaccia with honey-sweetened ricotta, but it's just as tasty served plain.
Ingredients
Dough
1 1/2 cups ripe (fed) sourdough starter
1 1/2 cups lukewarm water
6 cups High-Gluten Flour
6 tablespoons olive oil, plus extra for the pan and the top of the focaccia
1 tablespoon salt
2 tablespoons honey, salted or regular*
1 tablespoon instant yeast
fresh or dried rosemary, for topping
*If using regular honey, add 1/2 teaspoon salt
Spread
1 cup ricotta cheese
1 tablespoon Bees Knees Salted Honey or regular honey*
*If using regular honey, add 1/4 teaspoon salt
Instructions
To make the dough: Combine the starter and water in a large mixing bowl.

Combine the flour with the starter, water, and remaining ingredients. Mix and knead — by hand or stand mixer — until the dough is smooth and elastic. If you're using a stand mixer, this should take 5 to 7 minutes on the lowest speed using the dough hook attachment. If you're kneading by hand, you'll need 12 to 15 minutes.

Place the dough in a bowl that's been lightly coated with olive oil, cover, and allow to rise for 60 minutes.

Gently fold the dough over three or four times, and let it rise for another 60 minutes.

Drizzle a generous 2 tablespoons olive oil into the center of a large sheet cake pan. Don't have a large sheet cake pan? See "tips," below.

Transfer the dough to the pan, and turn it over to coat it with the oil.

Gently stretch the dough into the edges and corners of the pan. As soon as the dough begins to shrink back, cover it, and let it rest for 10 to 15 minutes. Gently stretch the dough again, repeating the rest once more, if necessary, until the dough fills the pan.

Cover the pan and transfer it to the refrigerator to let the dough rise for 14 to 16 hours (overnight).

The next day, remove the pan of dough from the refrigerator and preheat the oven to 425°F for 30 minutes (if your kitchen is warm) to 60 minutes (in a cooler kitchen)

Just before you're ready to bake, gently dimple the dough at irregular intervals with your fingers, pressing down firmly but not abruptly; you don't want to deflate the focaccia too much.

Drizzle 2 tablespoons olive oil (or enough to collect a bit in the dimples), then sprinkle with rosemary and a bit of flaked sea salt.

Bake the focaccia for 20 to 25 minutes, until light golden brown.

Remove the focaccia from the oven. Allow it to cool enough for you to handle it comfortably, 10 to 15 minutes, then turn it out of the pan onto a rack.

Make the spread by stirring together the ricotta and honey. Serve the focaccia warm or at room temperature, accompanied by the spread; it's best the same day it's made. You can freeze any leftover focaccia and reheat defrosted slices in a toaster or 350°F oven, just until warmed through.
Tips from our bakers
If you don't have a large sheet cake pan, this recipe can be baked in two 9" x 13" pans. Or to make a smaller focaccia, cut the recipe in half and bake in a 9" x 13" pan.
You can use all-purpose flour in place of the high-gluten flour, but be sure to start with 1/4 cup less water when you mix the dough.
Reviews
I make a variety of focaccia breads, but family think this is the best. I made a 1/2 recipe in a 9x13 pan, with fresh rosemary from the garden. I also left out the salt in the honey and used extra virgin olive oil from Italy. We're going to cut slices in half through the middle and make panini with what is left, after everyone sampled it.
Have been making this at least once weekly (After cooling, I slice and freeze). Sometimes add an autolyse period as per the KA blogs. I like using same weight of KA white whole wheat flour or a mix of KA flours (which take additional water) I prefer a wet dough but make sure the texture matches the description, To get a crisper crust, I add more oil to the pan and turn the dough so it's coated, then sprinkle with additional kosher salt.
I sent in a question about the necessity of using commercial yeast in a recipe that also uses 50% mature starter but received no reply so decided to try this recipe out. It does make a light, springy bread, but if you are used to real sourdough (no added yeast) the smell and taste of the yeast is quite overwhelming. So could I please ask again after having made this recipe why is it necessary to use so much yeast?

Hi there, Beenz. We're sorry to hear that your question got missed initally. We do our best to make great results with our recipes attainable for all bakers, which is why some of our sourdough recipes call for additional yeast. If you would like, feel free to give this recipe a go either with a reduced amount of yeast or no additional yeast. If you skip the yeast, just ensure that your starter is very ripe so there will still be enough activity to make the bread rise after the overnight rest. Kindly, Morgan@KAF
My focaccia turned out beautiful and tasty! Just how I expected. Thank you KA!
To clarify my comment below, I meant a ninety minute rise in place of the overnight rest in the refrigerator. The other two rises were as per recipe. If it's a bit more hydrated ( but still dough like, not batter like) the folding won't be as pronounced ( and may have to be aided by a silicone spatula and rotation of the bowl) bc the dough will be more slack and sticky. I handlethe dough with oiled, not floured, hands. And, I mix my white whole wheat with other high gluten flour from KA. Also, it may be obvious, but if the mother starter is not sufficient for the generous amount of discard needed, I prefer to accumulate over a few days of feeding an active room temp starter.
So delicious! My families new favorite.
Delicious even if you are impatient and bake half after only a ninety minute room temperature rise. I sometimes like to use KA white whole wheat and I season much more aggressively. Texture is perfect balance of focaccia springy soft with chewier bits on the outside even when baked on oiled parchment. If like me, your inclination is to work with a wetter dough when using sourdough starter, you won't be able to fold it or create divots but the resulting texture will be closer to blitz foccacia and not as chewy as the original.
A real treat, so soft in texture and delicious flavour. Froze half and it did not affect the taste. Better than any other I have tried. I am just proving another batch for a friend.
The best Focaccia ever! Even better than the local restaurant that makes great Focaccia and I baked it myself!! It is perfect, the only thing I changed is I used Red Star Yeast instead of instant, that is my personal preference for all of my baking. I keep the dough a little more on the wet side, the overnight rest was about 20 hours. I sprayed with water before baking and got a nice crispy artisan crust. This is a keeper and I love that I can use my sourdough starter for a very quick and easy and delicious bread.
Absolutely gorgeous focaccia. I added a little extra olive oil in the pan for it to bake in, and I used the Boyajian Garlic Oil (sold on the KAF website) as the final oil drizzle. Perfection. Making it again tonight. This recipe makes a huge slab of focaccia -- which is a good thing! Cut into quarters, and double-wrap with cling film, then aluminum foil, and pop into the freezer. Freezes and reheats beautifully.