A customized print-friendly version of this recipe is available by clicking the "Print Recipe" button on this page.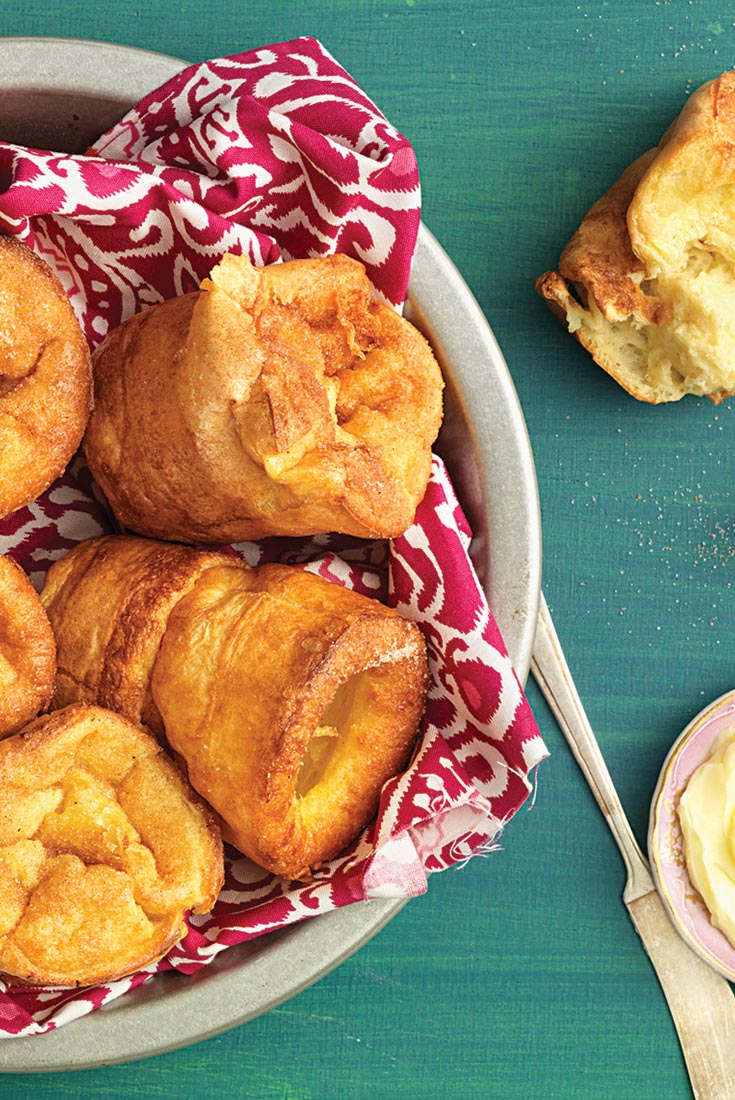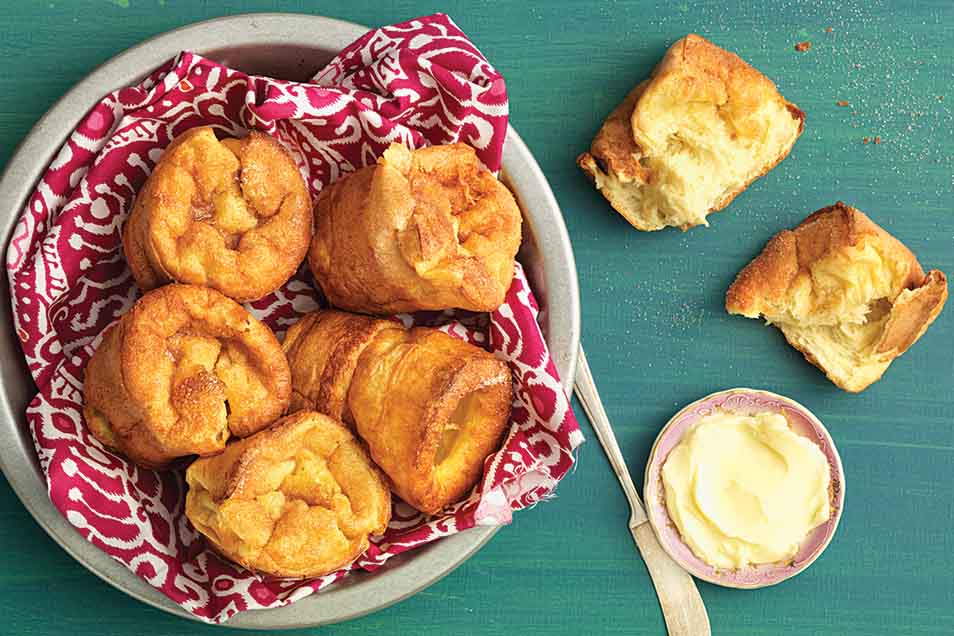 With only five ingredients, this recipe means you can have popovers mixed up and ready to go into the oven as soon as it's heated up. Half an hour later — hot popovers! The sourdough starter gives them just the slightest tang. And, while these aren't the lightest popovers you'll ever experience, their combination of crisp crust and soft interior is a wonderfully comforting treat.
Ingredients
1 cup milk (full-fat, reduced-fat, or skim)
3 large eggs
1/2 cup sourdough starter, ripe (fed) or discard
3/4 teaspoon salt
Instructions
In the microwave or in a small saucepan, warm the milk until it feels just slightly warm to the touch.

Combine the warm milk with the eggs, sourdough starter and salt, then mix in the flour. Don't over-mix; a few small lumps are OK. The batter should be thinner than a pancake batter, about the consistency of heavy cream.

Heat a muffin or popover pan in the oven while it's preheating to 450°F.

Carefully remove the hot pan from the oven, and spray it thoroughly with non-stick pan spray, or brush it generously with oil or melted butter. Quickly pour the batter into the cups, filling them almost to the top. If you're using a muffin tin, fill cups all the way to the top. Space the popovers around so there are empty cups among the full ones; this leaves more room for expansion.

Bake the popovers for 15 minutes, then reduce the oven heat to 375°F and bake for an additional 15 to 20 minutes, until popovers are golden brown.

Remove the popovers from the oven and serve immediately.

Yield: 6 popovers.
Tips from our bakers
Can you double this recipe to make a dozen popovers? Sure, go right ahead; simply double all the ingredients.
Can you make these with whole wheat flour? Sure. The result will be a very eggy whole wheat muffin, though, not a popover.
For sweet, cinnamon-sugar popovers: Prepare and bake the popovers as instructed. When the popovers come out of the oven, brush them with melted butter (about 1/4 cup per batch), and roll them in cinnamon-sugar (about 1/4 cup per batch).
For savory, cheddar-herb popovers: Mix 2 teaspoons herbes de Provence and 1/4 cup Vermont cheese powder to the flour before stirring it into the sourdough-egg mixture. Finish the popovers according to the recipe instructions.
Reviews
Great recipe- I made it gluten free and dairy free using KAF Measure for Measure instead of the flour and soy milk instead of the regular milk- works like a charm! Not quite as tall as classic popovers but almost and lots of great flavor from the sourdough starter (also GF). Great way to use the discard when I feed my starter.
My sourdough starter is 2 weeks old. I had fun getting it started. But what to do with it? Perfect recipe to start with. Very easy to get very good results. I made these to go with a frittata. Then I made another batch and used them stuffed with creme pate.
This is absolutely delicious! It's brilliant to use fed/unfed starter, especially if you're feeding the starter for another bread. Simple and easy for both weekday and weekend breakfasts.
Great recipe and good use of my discard. The batter is very similar to one I use to make a Dutch baby pancake in a 10 inch cast iron skillet. Could I use this batter for the Dutch baby?

Go for it, Colleen. It will be a very tasty experiment! Annabelle@KAF
I have used this recipe for years and made beautiful popovers. We recently got a new oven and now my popovers don't pop anymore. The oven has a fan that blows hot air. Could this be impacting the pop? Any other ideas?

Heather, it's possible that your oven heats and cools in cycles, which can make your popovers rise less. You also may want to put an oven thermometer inside the oven to make sure it's running true to temperature. Consider bumping the temperature up by 25°F next time to see if that helps improve your results. Happy baking! Kye@KAF
I made these today for Christmas using my ripe starter and they exceeded my expectations! Even my incredibly picky 16-year-old loves them! I will definitely be making these again. I was considering stirring in some shredded cheddar. Would they still rise as well?

Popovers are my favorite food in the world and your question is a great one! Shredded cheddar may be a little too heavy and very much keep them from popping as much. We've had success using powdered Parmesan or our Vermont Cheese Powder along with some small bits of herbs or cracked black pepper. You could also experiment with sprinkling a bit of shredded cheese on top when there's about 10 minutes of bake time left. Happy baking! Annabelle@KAF
I made these this afternoon and they were LOVE at first bite! AMAZING! I used unfed starter, and I did make a mistake in the process.... I dumped it all together in the beginning instead of adding the flour at the end. But if it affected the final result, it was lost on me and my family. We ate them with LOTS of butter and strawberry-rhubarb jam. These will be made again and again!
My KAF sourdough starter arrived in the mail this week, and this was the first recipe i tried with the discard starter and it was delicious! Now onward to Basic Sourdough Bread. Thank you for these delicious recipes and helpful website.
I love both popovers and sourdough, so I was excited to try this recipe. The popovers were easy to make, rose well and were nicely browned. They were more doughy than my usual popovers, but that is because the smoke detector in my apartment goes off whenever my oven is set to over 400 degrees, so I had to cook them at a lower temperature (the smoke detector went off anyway when I was taking the hot pan out of the oven and left the door open while I reached for a potholder!). Doesn't matter - the popovers were so delicious that I will continue to cook them at the lower temperature. They are a new family favorite.
Love love love these and I make them all he time!!!