A customized print-friendly version of this recipe is available by clicking the "Print Recipe" button on this page.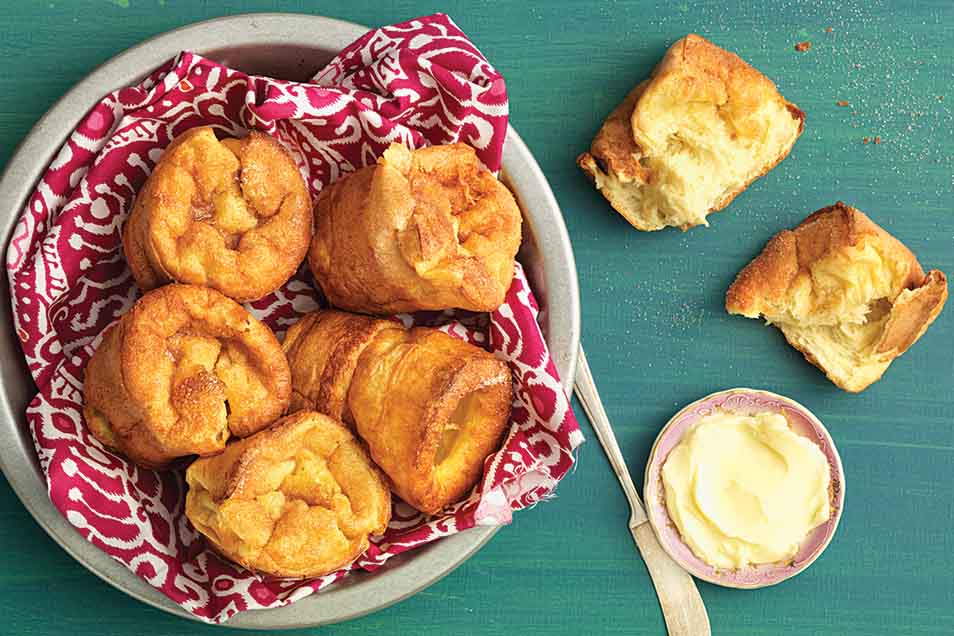 With only five ingredients, this recipe means you can have popovers mixed up and ready to go into the oven as soon as it's heated up. Half an hour later — hot popovers! The sourdough starter gives them just the slightest tang. And, while these aren't the lightest popovers you'll ever experience, their combination of crisp crust and soft interior is a wonderfully comforting treat.
Ingredients
1 cup milk (full-fat, reduced-fat, or skim)
3 large eggs
1/2 cup sourdough starter, ripe (fed) or discard
3/4 teaspoon salt
Instructions
In the microwave or in a small saucepan, warm the milk until it feels just slightly warm to the touch.

Combine the warm milk with the eggs, sourdough starter and salt, then mix in the flour. Don't over-mix; a few small lumps are OK. The batter should be thinner than a pancake batter, about the consistency of heavy cream.

Heat a muffin or popover pan in the oven while it's preheating to 450°F.

Carefully remove the hot pan from the oven, and spray it thoroughly with non-stick pan spray, or brush it generously with oil or melted butter. Quickly pour the batter into the cups, filling them almost to the top. If you're using a muffin tin, fill cups all the way to the top. Space the popovers around so there are empty cups among the full ones; this leaves more room for expansion.

Bake the popovers for 15 minutes, then reduce the oven heat to 375°F and bake for an additional 15 to 20 minutes, until popovers are golden brown.

Remove the popovers from the oven and serve immediately.

Yield: 6 popovers.
Tips from our bakers
Can you double this recipe to make a dozen popovers? Sure, go right ahead; simply double all the ingredients.
Can you make these with whole wheat flour? Sure. The result will be a very eggy whole wheat muffin, though, not a popover.
For sweet, cinnamon-sugar popovers: Prepare and bake the popovers as instructed. When the popovers come out of the oven, brush them with melted butter (about 1/4 cup per batch), and roll them in cinnamon-sugar (about 1/4 cup per batch).
For savory, cheddar-herb popovers: Mix 2 teaspoons herbes de Provence and 1/4 cup Vermont cheese powder to the flour before stirring it into the sourdough-egg mixture. Finish the popovers according to the recipe instructions.
Reviews
These are a breakfast favorite in our house, with buttermilk syrup and fruit on top. However, the cooking time is way too long. I do 15 minutes for both sets, and I might even cut that down. The last time I made these I used half sprouted white wheat flour, and it still turned out great!

Hi Lisa! We're happy to hear that you enjoy these popovers and have found a baking time that works best for you. Happy baking! Morgan@KAF
Perfect! Quick, easy and perfect use of discard. Tasty treat!
More custardy and not as airy as a popover recipe without starter. But, in my opinion, these have more flavor than a regular popover recipe. Very nice served with soup and an easy quick way to use discard.
I have chickens and their eggs are generally on the medium side. Should I increase the eggs in this recipe? I just went with three the first time I made it and they still turned out yummy.

The best way to approach this, Audria, if you're looking to be precise is to weigh your eggs using a scale. A large egg out of the scale weighs about 50 grams. If you're not looking to be exact, go ahead and add an additional egg to the popover batter. Popovers are one kind of baked goods that can benefit from the rise and texture of a little bit more egg. Happy baking! Kye@KAF
These were not light and airy as I expect a popover to turn out. On the plus side, the flavor was good.
It always surprises me that some recipes you have to follow them to a "T" and others are a bit more forgiving. I made the mistake of using my sourdough starter cold and it was very stiff and had the beat the heck out of the batter to incorporate it (I still had a few lumps of SD starter) set the oven at recommended temperature and filled the hot pan with the mix. 15 minutes later they were a nice golden brown- lowered the temp- but the continued to brown up. 18 minutes they were getting past the pretty golden shade and were quickly working towards brown- I pulled them and they were done and tasted great.
Great recipe! I don't eat dairy, so I substituted warm water for the milk and it came out great. Thanks for another great recipe.
This was awesome! I love the recipe. Only your temperatures are a bit high. I was concerned with the 230°C and decreased it to 190°C after only 5 Minutes and the popovers where perfect.
I had some sourdough starter purposefully leftover this morning for some pancakes...until I realized that we have no baking soda or baking powder. (Don't judge me; we just moved and I'm gradually restocking the pantry.) So a quick search for sourdough breakfast recipes led me to my favorite source for all things baking, King Arthur, and this super easy recipe that requires no baking soda or powder. I did add a little fresh grated nutmeg into the wet ingredients. After the 15 minutes at 450, they were very golden brown, so I placed a sheet of aluminum foil on them for the remainder of the cooking time. About ten minutes into them baking at 375, they seemed done so I took them out. Within 30 seconds they started to collapse so I threw them back in for 8 minutes or so. They were perfect. Delicious, eggy and light in the middle. Nice and crispy on the top. I placed them on a cooling rack, brushed the sides and top with butter, and generously sprinkled cinnamon sugar all over. We devoured them immediately, so I'm not sure how they would hold up as leftovers. I think this is one of those things you need to eat right away. I'll definitely try a savory version with dinner one evening. These are very adaptable!