A customized print-friendly version of this recipe is available by clicking the "Print Recipe" button on this page.
Sourdough Pumpernickel Bread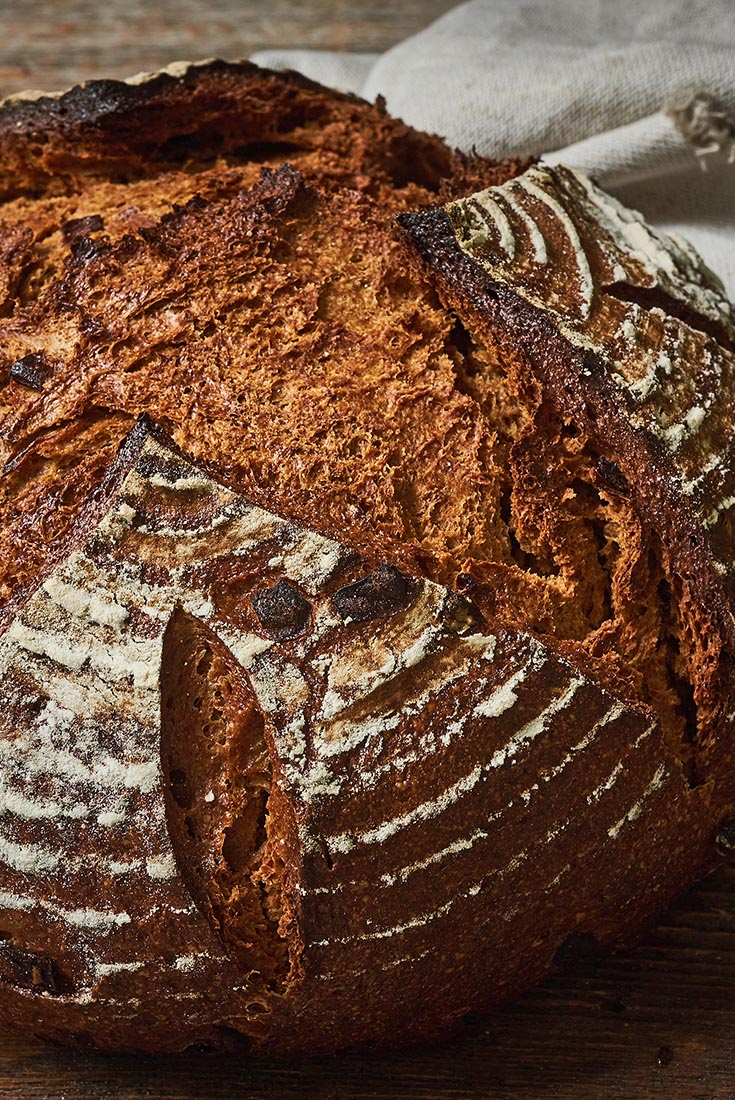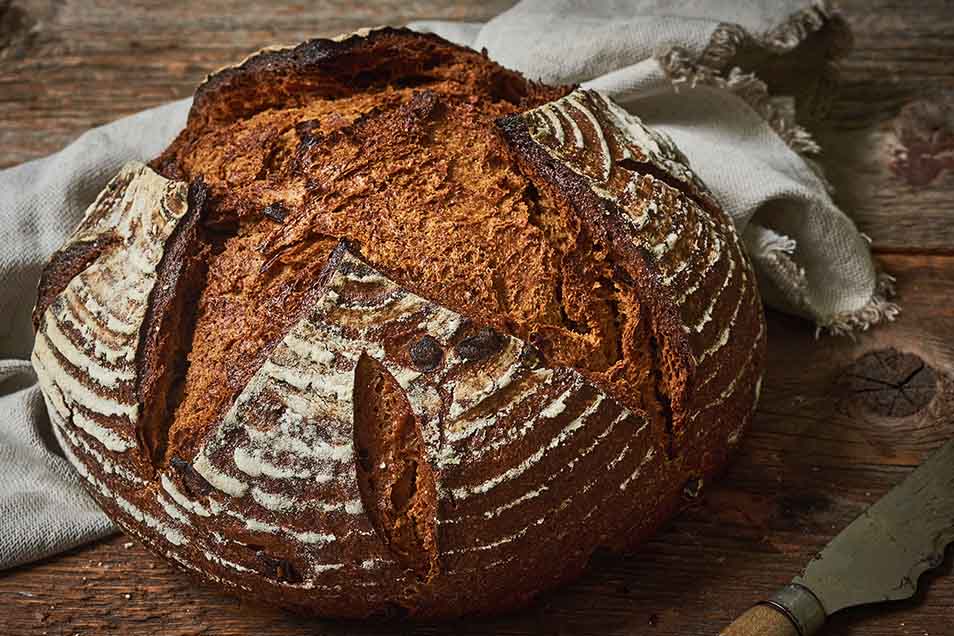 This bread, made without the help of commercial yeast, is a great accompaniment to borscht or any other hearty soup. It's made with whole grain rye flour, a.k.a. pumpernickel. Rye flour has less gluten-forming protein than wheat, and so creates a denser bread. For an even heartier loaf, substitute a cup of whole wheat flour for a cup of the all-purpose.

After you've put the dough together and shaped it, it'll need to rise for 2 or 3 hours. If you make one loaf, it'll need to bake for about 45 minutes. Two loaves will each take about 35 minutes. Take this timing into consideration before you start.
Ingredients
Sponge
1 1/3 cups ripe (fed) sourdough starter
1 cup room temperature water, black coffee, or potato water (water in which potatoes have been boiled)*
2 cups pumpernickel flour
1/2 cup chopped onion
*See "tips," below.
Dough
2 tablespoons vegetable oil
2 teaspoons salt
1/4 cup molasses
Instructions
To make the sponge: Measure the starter into a bowl. Add the coffee or potato water, pumpernickel, and onion. Stir together, cover, and let bubble away at room temperature overnight.

To make the dough: The next day, stir the oil, salt and molasses into the sponge. Stir in the flour 1 cup at a time, until the dough comes together.

Turn the dough out onto a lightly floured surface and knead, adding only enough additional flour to keep it from sticking to your hands.

There are a number of ways to shape this dough. Make one large round loaf, which you'll place on a pumpernickel-sprinkled baking sheet. Or make two smaller versions of the same thing. Or place the entire amount of dough into a large (10" x 5") loaf pan. Or divide it in half, and use two smaller (8 1/2" x 4 1/2") loaf pans.

Cover the loaves with a piece of lightly greased plastic wrap. Let them rise in a draft-free spot. You can predict the amount of rise somewhat by the temperature of the space where they're rising: at 55°F to 60°F, they'll probably take 3 to 5 hours to rise; at 65°F to 70°F, 2 to 4 hours.

A short time before the loaves have doubled in size, place them in a preheated 350°F oven; they'll continue to rise during the first 15 minutes of baking.

Bake two smaller loaves for about 35 minutes; one large loaf will bake for about 45 minutes.

The loaves are done when the centers measure 200°F when measured with an instant-read thermometer. Remove from the oven and put on a rack to cool before slicing.

Yield: 1 or 2 loaves, 24 servings.
Nutrition Information
Serving Size

1 slice, 60g

Servings Per Batch

24 servings
Amount Per Serving:
Calories

144

Calories from Fat

14

Total Fat

2g

Saturated Fat

0g

Trans Fat

0g

Cholesterol

0mg
Sodium

199mg

Total Carbohydrate

29g

Dietary Fiber

2g

Sugars

3g

Protein

4g
* The nutrition information provided for this recipe is determined by the ESHA Genesis R&D software program. Substituting any ingredients may change the posted nutrition information.
Tips from our bakers
When you knead dough that contains rye flour, it will never completely lose its tacky feel. Instead of adding extra flour, which would make the loaves dry heavy, oil your hands and work surface to prevent sticking.
Using potato water yields a slightly stickier dough, and bread with enhanced keeping qualities. Using coffee tightens the dough a bit, making it easier to handle; and results in a slightly taller loaf than bread made with potato water.
Reviews
Delicious! I have found my pumpernickel recipe! This makes a flavorful, dark, deli rye. I just deleted my previous two rye recipes because this will now be my go-to recipe. I used coffee and omitted the onions. I added 3 tablespoons of caraway seeds. Made one large round loaf. Let it rise for 3 hours in a 75-degree room (my furnace room) in my banneton basket. Preheated my dutch oven. Sprayed loaf with water, slashed it, and plopped it into the hot dutch oven. Baked it covered for 35 minutes and uncovered for 10. Came out perfectly. Thank you, KA for the great recipe.
I made it with coffee, and my white flour sourdough starter. It's delicious toasted the next day, with orange marmalade and cheddar cheese. I'll make it again.
I'd rank this as a solid "meh". It baked beautifully, looks great, even smells pretty good. However I am not a fan of adding the coffee. To me, the coffee really overpowers the subtle taste of rye, and the flavor of sourdough is lost entirely to the coffee. However, if you like the combination of rye and coffee, you will be thrilled with the result! With that said, I really like the technique -- Seems a great and easy way to make rye sourdough. I'll be interested to try this recipe again with potato water, or even plain water

Thanks for sharing your thoughts about the flavors in this bread, Fred. We're glad to hear you're feeling encouraged to try it again, making the necessary adjustments to make it more pleasing to your palate. We hope your next bake yields delicious results. Kye@KAF
Realized too late that this recipe was posted on April 1. It tastes powerfully like onions and old coffee, and there's nothing funny about that. Also the dough was extremely dry as I was making it; I had to add an extra half cup of water, which ended up lengthening baking time by another 15 to 20 minutes. I think the crust would have benefitted from an initial period in a Dutch oven at 450 to 500. Suggestions aside, I'm pretty sure this recipe isn't good as a starting point unless you want to prank some other people. Will be checking date of posting from here on out!

We'll admit that the flavor of this bread is unique, but the recipe is no joke. Our intention was to provide a recipe for bakers to combine the tang of sourdough and onions with the earthiness of pumpernickel flour and coffee. We're sorry to hear your results didn't turn out as you were hoping for. We've shared your feedback about the flavor and dough texture with our Recipe Team to consider in future discussions about this recipe. In the meantime, we hope you find a recipe that's more along the lines of what you're looking for (perhaps our Whole Wheat and Rye Sourdough Bread). Kindly, Kye@KAF
My starter was more active than I expected and the weather, hot and humid so my timing was off. I placed the completed dough in the refrigerator of night (in the mixing bowl covered with plastic wrap). In the morning I took it out and then waited until it was close to room temperature to shape, and then left it to rise. The result was excellent.
I wanted to try to bake a pumpernickel so ordered the flour and Deli Rye Flavor last week. I decided to try this recipe since I was feeding my starter, and luckily, it was fairly easy! I might add some Rye Flavor next time, since we really like the taste of rye and this one is very subtle (but very tasty). I decided to bake 2 small loaves, so I could share with my sister, and it took about 3.5 hours to rise.
I've made this recipe twice and like how it turns out. I see a recipe as a suggestion and tend to add to it and subtract but always start with the basic recipe. I have used some of the pumpernickel flavor and made the dough wetter than I normally would. stretch and fold twice in 30 minutes after a 6 minute kneed. took 4 hours to come to a full rise. baked off in a 450 oven for 20 minutes and down to 400. love it. turned out perfect.
I made this recipe using dark rye flour and distilled water(no coffee or potato water) with my sourdough start. I used olive oil, kosher salt and molasses in the dough portion with the 4 cups all purpose flour. I put the sponge in the oven at 90' degrees F and it took about 6 hours to rise. I then added the final ingredients and let rise for 6 hours as two small loaves. Even though the dough seemed dense and dry, the two loaves rose well in the pans and baked up perfectly. Super good recipe for Dark Rye & All Purpose flour with sourdough start of which there aren't many on the internet. Thanks
This is an odd recipe. It produces a very stiff dough and a very dense crumb, which would be absolutely fine if it tasted like pumpernickel. It does not. It looks gorgeous, but it tastes... bizarre. I followed the recipe precisely, and although I appreciate the color that coffee and molasses contribute to this bread, there's enough of each that they completely drown out any rye flavor
Melissa, I'm sorry to hear that this recipe didn't meet your expectations, but do appreciate your feedback. To increase the pumpernickel flavor in this bread you could try using the potato water instead of the coffee and reducing the molasses a bit. Replace any molasses you remove with an equal amount of water. Barb@KAF
I made this bread twice, and each time I halved the recipe. Both times I added a little less than 1 1/2 cups of all purpose flour, even though the recipe calls for 2 cups. I came out delicious both times. I love the simplicity of this recipe, and using only your starter without the commercial yeast for the leavening. Takes longer but in my mind is more natural and healthful.