A customized print-friendly version of this recipe is available by clicking the "Print Recipe" button on this page.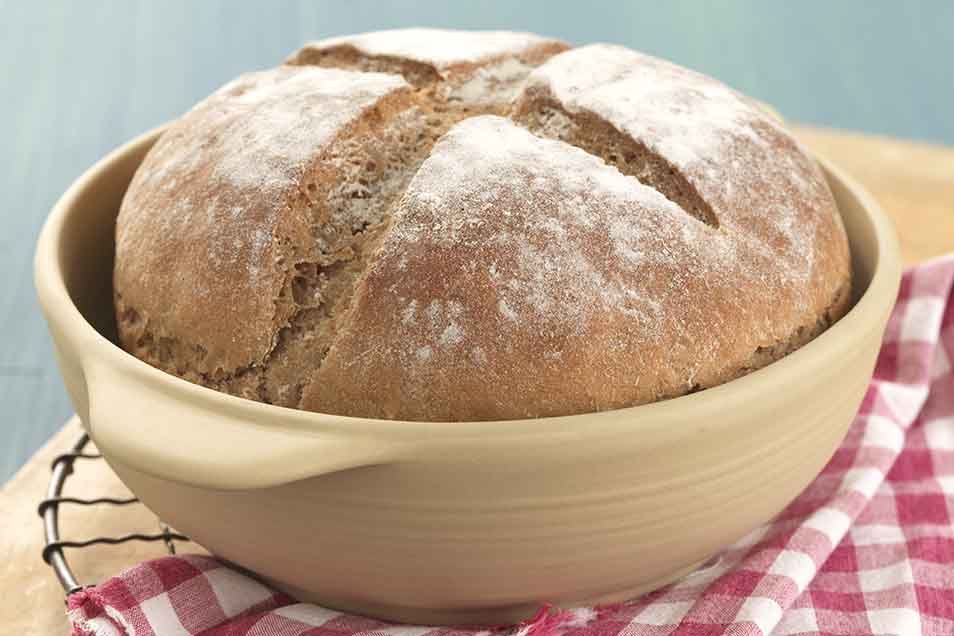 While this bread machine bread isn't "authentic" sourdough, it makes a wonderfully textured, high-rising, great-tasting loaf, thanks to King Arthur Whole-Grain Bread Improver. Want to bake a round loaf (as pictured above) instead of baking in your machine? See "tips," below.
Ingredients
Starter
3/4 cup milk heated to 120°F, then cooled to 100°F
1 teaspoon active dry or instant yeast
3/4 cup white rye flour
Instructions
To make the starter: Combine the milk, yeast, and flour. The mixture will be thick. Cover with plastic wrap and place in a warm (at least 70°F) place for three days, stirring occasionally. The mixture will thin out slightly.

To make the bread: Place all the ingredients into your bread machine bucket in the order recommended by the manufacturer; this recipe is appropriate for 1 1/2-pound to 2-pound machine. Program for basic or white bread, and press start.

Check the dough about 10 minutes before the end of the final kneading cycle; it should be soft and smooth. Adjust the consistency with additional flour or water, as needed.

When the machine completes its cycle, remove the baked bread, and cool it on a rack.

Store bread in a plastic bag for 3 days on the counter; or freeze for up to 3 months.
Tips from our bakers
If you like the look of a more rustic loaf, use the bread machine's dough cycle. Once the cycle is complete, remove the dough from the pan of the bread machine and form it into a round loaf. Place in a greased 9" round pan or ceramic baker, cover, and let rise for 45 to 60 minutes. Preheat the oven to 400°F. When the loaf is almost doubled, slash the top and bake for 25 to 30 minutes, until nicely browned and hollow-sounding when thumped on the bottom. Remove from the oven and cool on a rack.
Want some classic sourdough starter? See our step-by-step directions for creating your own sourdough starter from scratch. Or, if you're looking for a head-start, check out our classic fresh sourdough starter, a simpler path to fresh, ready-to-use sourdough starter.
You'll need to make the starter three days before you plan to bake the bread, or substitute 1 cup of your own sourdough starter if you wish.