A customized print-friendly version of this recipe is available by clicking the "Print Recipe" button on this page.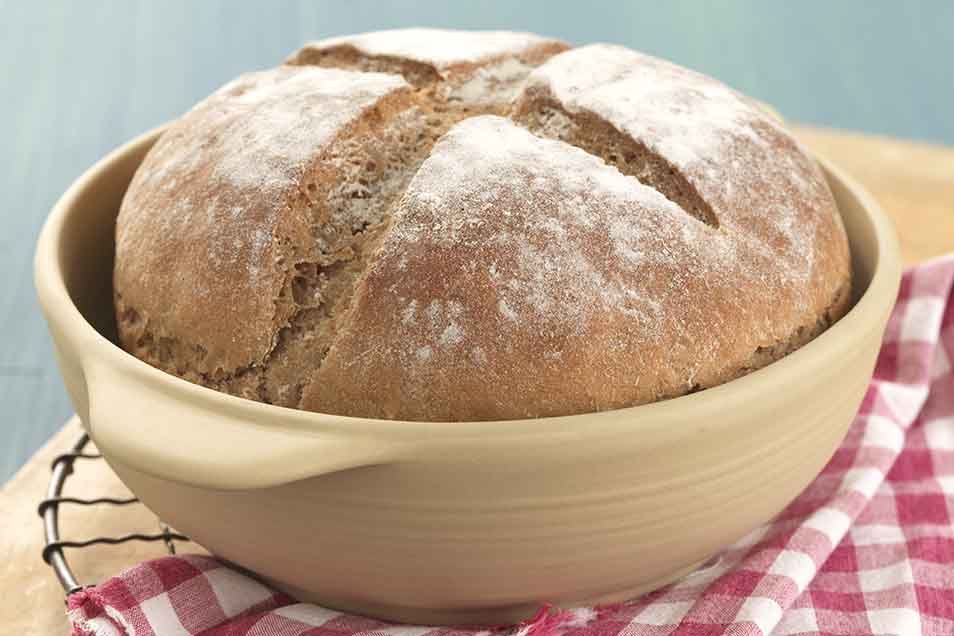 While this bread machine bread isn't "authentic" sourdough, it makes a wonderfully textured, high-rising, great-tasting loaf, thanks to King Arthur Whole-Grain Bread Improver. Want to bake a round loaf (as pictured above) instead of baking in your machine? See "tips," below.
Ingredients
Starter
3/4 cup milk heated to 120°F, then cooled to 100°F
1 teaspoon active dry or instant yeast
3/4 cup white rye flour
Instructions
To make the starter: Combine the milk, yeast, and flour. The mixture will be thick. Cover with plastic wrap and place in a warm (at least 70°F) place for three days, stirring occasionally. The mixture will thin out slightly.

To make the bread: Place all the ingredients into your bread machine bucket in the order recommended by the manufacturer; this recipe is appropriate for 1 1/2-pound to 2-pound machine. Program for basic or white bread, and press start.

Check the dough about 10 minutes before the end of the final kneading cycle; it should be soft and smooth. Adjust the consistency with additional flour or water, as needed.

When the machine completes its cycle, remove the baked bread, and cool it on a rack.

Store bread in a plastic bag for 3 days on the counter; or freeze for up to 3 months.
Tips from our bakers
If you like the look of a more rustic loaf, use the bread machine's dough cycle. Once the cycle is complete, remove the dough from the pan of the bread machine and form it into a round loaf. Place in a greased 9" round pan or ceramic baker, cover, and let rise for 45 to 60 minutes. Preheat the oven to 400°F. When the loaf is almost doubled, slash the top and bake for 25 to 30 minutes, until nicely browned and hollow-sounding when thumped on the bottom. Remove from the oven and cool on a rack.
Want some classic sourdough starter? See our step-by-step directions for creating your own sourdough starter from scratch. Or, if you're looking for a head-start, check out our classic fresh sourdough starter, a simpler path to fresh, ready-to-use sourdough starter.
You'll need to make the starter three days before you plan to bake the bread, or substitute 1 cup of your own sourdough starter if you wish.
Reviews
Made this and was short a few thing. No milk, not enough honey or caraway, etc. Still fantastic. I used a stand mixer, baked at 350 about 35 minutes in one oblong loaf, no pan. Next time I'll add salt, which is not on the ingredient list.
The only reason I rated this 4 stars is because you really don't need the bread improver. Here are the changes I made to this recipe. Omit the honey and use 2 Tablespoons molasses (since we don't like sweet bread for sandwiches). I used 1 cup 3 year old sourdough starter and only used 1 Tablespoon caraway seeds. Since I do not own a bread machine, allowed my Bosch to knead for 10 minutes, then transferred the dough to a lightly oiled bowl and let rise for 2 hours. Punched the dough down, put it into a 9x5 greased bread pan and allowed it to rise another 1 hour and 15 minutes. Bake at 350 degrees for 35 minutes uncovered, then tent loosely and bake for an additional 15 minutes. This bread turned out delicious! I will definitely make again!
I used KAF Rye flour. I don't prefer a strong caraway flavor so I cut back on the seeds. I also don't own a bread machine as I prefer to make bread either with my Kitchen Aid mixer with a dough hook. I wanted a loaf so I made it in a 9 X 5 inch KAF bread loaf pan. It came out fabulous!
Don't have a bread machine, used my KITCHEN AID and my own wild yeast starter, fed. It turned out awesome! I baked free form loaves, dusted with flour and slashed, on baking stone in 450 degree oven for 1st 15 mins with spritz of water every 5 mins then turned down to 425 degrees. The crust was wonderful. The taste was amazing. This turned out a beautiful tasty artisan loaf, delicious.
I've tried many sourdough recipes over the years. I've made my own starter and have used King Arthur French Sourdough Starter (which made a very flavorful loaf!) This recipe turned out so poorly that after trying a single slice, I immediately threw the rest away! I followed the recipe exactly, from beginning to end, with step one being preparation of the "starter". Because I live in a hot climate, I made sure to keep it in place that wasn't TOO warm. After three days, the reek was beyond belief! It was NOT the pleasant sour/beery aroma one associates with sourdough. It was that of spoiled milk. I was ready to put this down the drain, but thought, "Hey, maybe when used in the bread recipe it will turn out fine." Was I ever wrong! Oh, it was a lovely looking loaf. It rose well and had a nice color....but the stench was even more overpowering! My whole house smelled so bad that I had to burn incense to try to get rid of it. Still I felt obligated to taste a piece. Big mistake! I can say that will NEVER make this again...or any other recipe that calls for leaving milk out refrigerated for days. In conclusion this bread recipe has the dubious distinction of being the only one of King Arthur's that I would NEVER recommend!

It sounds like your sourdough starter captured some bad bacteria or live cultures that spoiled the flavor. This is always possible as a true sourdough starter gets its flavor from the host environment. We'd be happy to help you troubleshoot your sourdough making process to prevent this type of disappointment in the future if you give our Baker's Hotline a call at 855-371-BAKE. We look forward to helping your achieve a beautiful loaf of bread that also tastes delicious! Kye@KAF
Best sourdough loaf I've made so far! I made this recipe in the spirit of the sourdough pumpernickel recipe with no added yeast. I made a sponge the night before with 2 cups of medium Rye flour, 1 cup of water and 1 1/3 cups of sourdough starter, and allowed it to sit covered at room temp. overnight. The next morning I combined 2 cups of KAF All Purpose flour and 2 cups of KAF Bread flour in another bowl and transferred the sponge to my KitchenAid mixer bowl and added the salt, oil, honey, molasses, 2 medium eggs, and caraway seeds and then added the combined flour a cup at a time until it formed a smooth ball that cleaned the sides of the mixer bowl. I then kneaded the ball into a smooth round loaf and put it in my 4 1/2 quart clay pot to rise for 2 hours in our 76 degree home. I slashed the dough and baked it covered for 55 minutes at 350 degrees and then uncovered for an additional 5 minutes. The loaf rose to completely fill the pot and is tall enough to use as sandwich bread, nicely textured, and yummy enough to eat the whole loaf at one sitting. I can't wait to make Reuben sandwiches with this bread!
Amazing, delicious and beautiful! However, I made a couple of minor tweaks. My starter does not use milk as listed in this recipe. I did make a robust rye starter from my regular white KAF starter a couple days before trying this recipe. I used the rye starter but it has no dairy, as this recipe has. I also do not have a bread machine and used my oven. Mixed and kneaded in Kitchen Aid stand mixer, let rise for about two hours, covered. Then transferred to a round banneton (my first time using one!) and let it rest/rise there for another hour. Turned out onto parchment on a baking sheet and baked at 350 for forty minutes. Absolute perfection. I really recommend this recipe. Husband is in heaven. Thanks, KAF!
You will love this recipe!
I made this today and just loved it! I love rye and sourdough so combining the two was the best of both worlds. I mixed up the dough in my bread machine and then baked the loaf in my long clay baker. I baked it at 350 for 35 minutes with the lid on and almost 15 minutes with the lid off. What a lovely loaf of bread. Great rye taste, moist interior with a light somewhat crisp crust. Dinner was a ham and cheese on rye and I was in taste bud heaven lol!