A customized print-friendly version of this recipe is available by clicking the "Print Recipe" button on this page.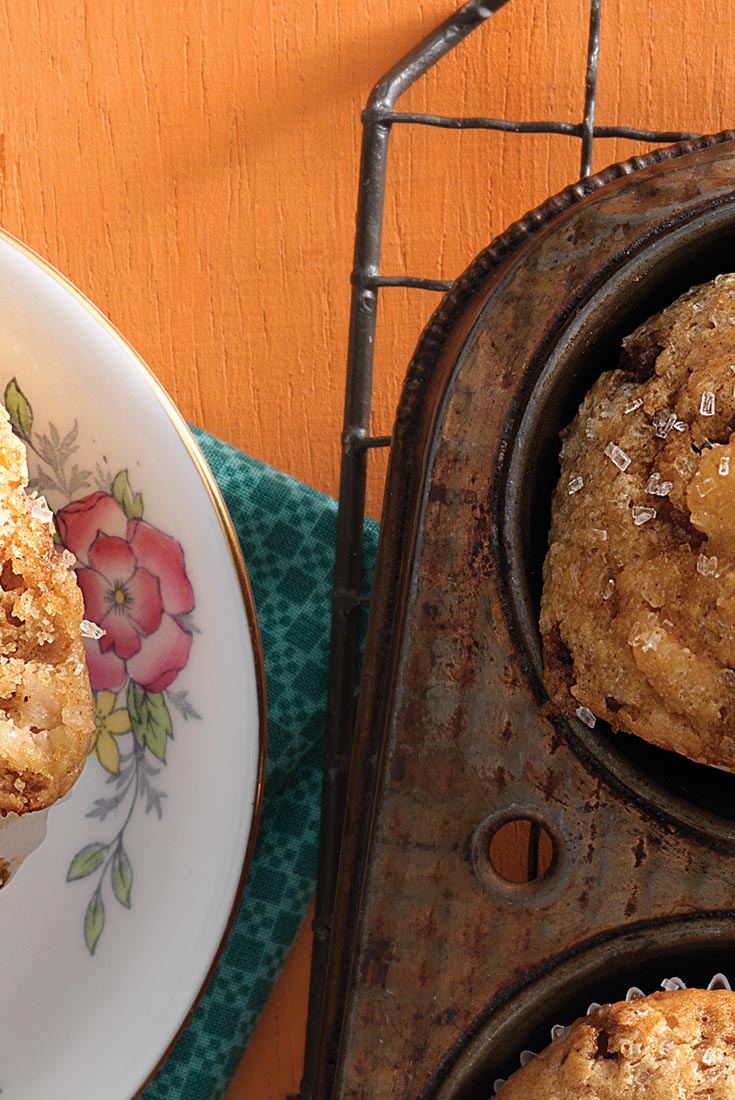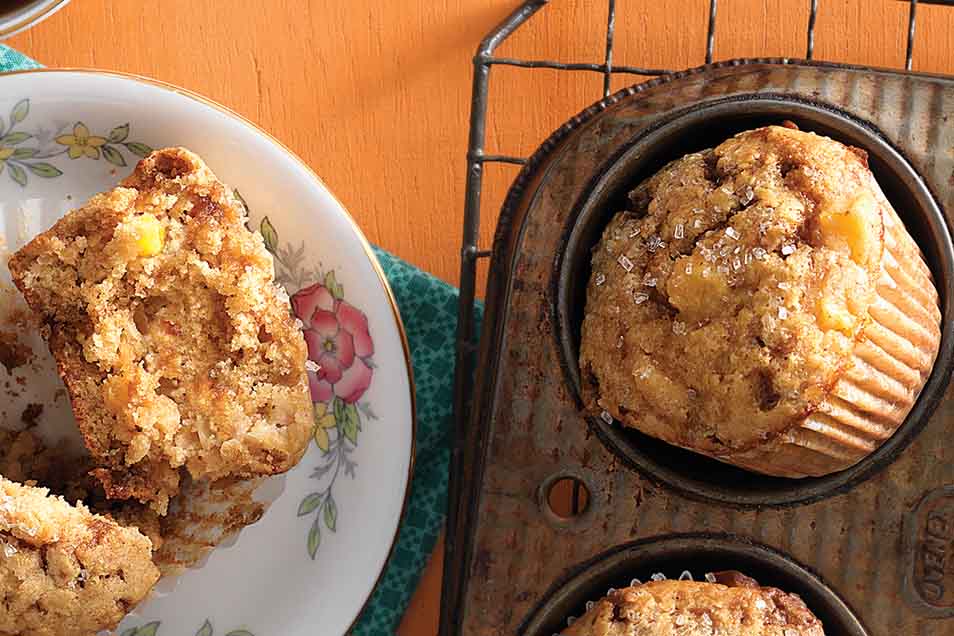 These muffins are big, high-crowned affairs that seem to explode right out of the muffin cup. We make them here with peaches, but they're also delightful made with blueberries, blackberries, or raspberries.
Ingredients
4 1/2 cups King Arthur Unbleached All-Purpose Flour
1 teaspoon salt
4 1/2 teaspoons baking powder
2 cups dark brown sugar
1/2 teaspoon ground allspice
1/2 teaspoon ground nutmeg
1 teaspoon ground cinnamon
2 large eggs
3/4 cup vegetable oil
1 1/4 cups milk
4 peaches, diced (not peeled) or 3 cups small whole berries or other fruit, diced*
1/4 cup granulated sugar, for topping
*Substitute Peach Jammy Bits for some of the fresh peaches, if desired.
Instructions
Preheat the oven to 375°F. Lightly grease two standard muffin pans; or line with muffin cups, greasing the cups.

Combine the flour, salt, baking powder, brown sugar, allspice, nutmeg, and cinnamon in a large bowl.

Whisk together eggs, vegetable oil, and milk. Stir into the dry ingredients.

Gently fold in the fruit.

Heap the batter into the muffin pan; the cups will be very full. Sprinkle sugar on top of each muffin.

Bake the muffins for 24 to 26 minutes, or until they're golden, risen high, and spring back when touched in the center. Note: Muffins baked without liners will bake and brown more quickly than those baked with liners.

Remove the muffins from the oven, and cool them on a rack. Store, well-wrapped, on the counter for 3 days; or freeze for up to 3 months.
Tips from our bakers
A combination of diced peaches and blueberries makes especially tasty muffins.
Reviews
I like this recipe because it's really easy and quick, but once I got to the finished product, the flavor just wasn't there for me. My partner likes them though!
A perfect way to preserve the harvest! I've made this recipe twice now, exactly how written the first time and the second, I replaced half the peaches with whole cranberries. I am freezing these so we have a taste of summer come cold months. Perfect recipe. The spices go so well with the peaches and they are incredibly moist yet sturdy!
These muffins are delicious, but I did have one comment that I'm not sure others experienced--the texture of my muffins were a little tough, which was odd because 1) I definitely did not over-stir them because I'm always afraid of muffins getting tough from over-mixing, and 2) I used whole milk, which normally makes a more tender muffin, and 3) I didn't overtake them (they're not over cooked, just a little tougher than expected) Anyone have any ideas about why this could be?

It sounds like you're thinking about the right things, Parisa. Perhaps you simply got more flour than intended in the batter? This can be easy to do when measuring by volume, as the amount of flour that makes it into the measuring cup can vary significantly depending on the method used. For best results, we recommend weighing your flour or fluffing it up in its container, sprinkling it into the measuring cup, and leveling it off. This should help ensure that you get the relatively light cup of flour our recipes intend (4.25 oz or 120 grams) and consequently a lighter, more tender final product. Hope this helps to make for a happier next bake! Mollie@KAF
Another KAF home run! It was a cool, fall-like day yesterday and I had some peaches that I needed to use up. I could not have been more pleased with this recipe!!!!! It smelled like fall in my house to match the temperature outside and the flavor...so delicious. I used light brown sugar (I just moved & was out of dark) but otherwise followed the recipe. These were heavenly. My son & I both devoured our muffins (he had two). I can't wait to make them again with mixtures of fruit. I always try to follow the recipe the first time making something so I can honestly review it. I wouldn't change a thing in this recipe!
I wish you had noted the change in baking temp and time. I do not always read reviews when there are almost 5 stars so now I have one pan of burned bottom muffins and am not happy about that. One pan not so bad but still over done. Big recipe to have burned muffins..way to expensive. I would recommend you remove a recipe if you are reworking it!

Rhonda, our goal is to make happy, successful bakers so we've taken your words to heart. We've updated this recipe with the new baking time and temperature, and we've also shared your concerns with our Recipe Team. We understand your point about temporarily removing recipes undergoing retesting, and we appreciate you making this suggestion. We hope that you give this Spiced Peach Muffin recipe another try and have great results. Kye@KAF
These are delicious, but 25-30 minutes is way too long of a bake time. Mine were done in about 18 mins. I think I'd halve the nutmeg next time, too, and I had to add a bit more milk bc the batter was initially too dry. Otherwise, this recipe is a keeper and an excellent use of my peach surplus!

Hi Sara, thanks for sharing your feedback regarding the bake time in this recipe. Other bakers seem to be having the same trouble with the muffins over-baking, so we're taking this recipe back to the test kitchen to take another look at the baking temperature and time. We'll be sure to update the recipe with any changes if we find it's necessary. Kindly, Kye@KAF
As previously stated, this makes a huge recipe. So, i did a variation on the theme. Made the batter, using half white sugar and brown and half white whole wheat and all purpose flour. Also, i used white and yellow peaches. These still were sweet muffins. I then cut the batter and made just peach, peach/blueberry, peach/raspberry and peach/apricot (using the Jammies). I made big muffins, mini bundt and mini loaves all with one recipe. All (24 of them) came out nice. Tasty and into the freezer they go. Thanks KAF!
I used blueberry/peach combo, these are wonderful, moist muffins! So far every recipe I've tried from this site is spot on!!!!
I tried these as written, and also by adding 1 teaspoon of almond extract as suggested by reviewers. They were good, with my husband preferring the variation with almond extract and myself preferring the original, but we didn't care for them enough to make them again. If I didn't already have so many wonderful muffin recipes (I baked my way through the King Arthur Flour Whole Grain Baking Cookbook), I'd next try doubling the spices or adding ginger and/or cardamom like other reviewers suggested. I think that it just comes down to which flavors you personally like, and this could be a great recipe addition to your repertoire, though for many people the spices will need a little tweaking to get it to perfection.
Love these muffins! I half the recipe and it always turns out great. Thnanks KAF for amazing trusted recipes that my whole family enjoy!