A customized print-friendly version of this recipe is available by clicking the "Print Recipe" button on this page.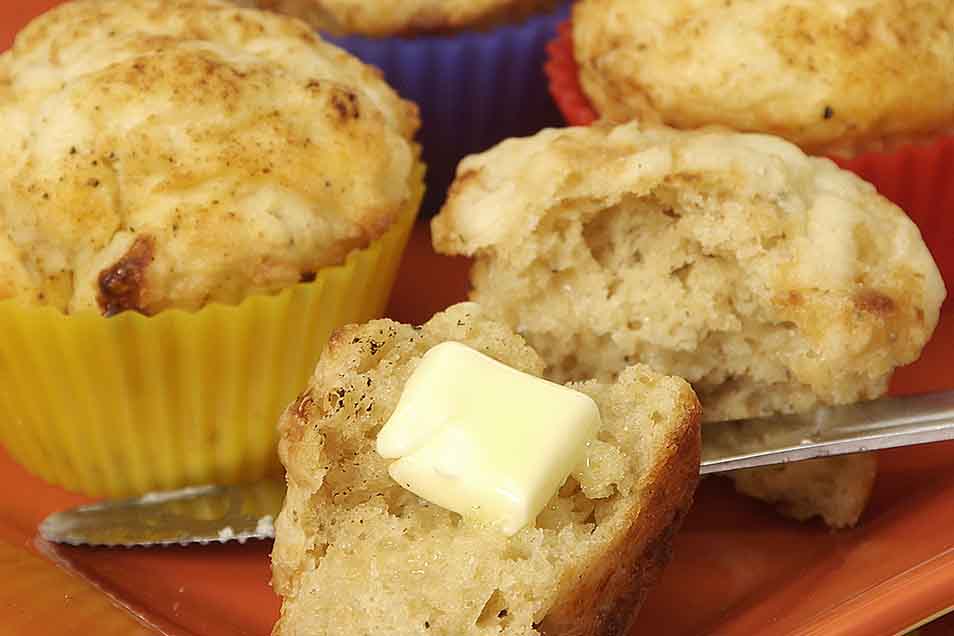 These muffins are cheesy in the best sense of the word! With their slight kick of pepper, they pair beautifully with your breakfast eggs, with a salad or soup, or even as a substitute for garlic bread with pasta. They're a snap to put together, and can go from inspiration to ready-to-enjoy in less than 30 minutes.

Be sure to use an assertive sharp cheddar. The flavor of mild cheddar doesn't shine through like extra-sharp does.
Ingredients
2 cups King Arthur Unbleached All-Purpose Flour (See "tips", below.)
1 tablespoon baking powder
1/2 teaspoon salt
1/4 teaspoon cayenne pepper
1/2 teaspoon ground black pepper
1 1/2 cups extra-sharp grated cheddar cheese, divided
1/4 cup (4 tablespoons) butter
1 cup milk
1 large egg
paprika, for sprinkling
Instructions
Preheat the oven to 425°F. Lightly grease the wells of a 12-cup muffin pan, or grease muffin papers and place them in the wells.

In a medium-sized bowl, whisk together the flour, baking powder, salt, peppers, and 1 cup of the grated cheese.

In a microwave-safe bowl, heat together the butter and milk, stirring until the butter melts.

Cool to comfortably warm (e.g., it doesn't burn your finger when you test it), whisk in the egg, and pour the wet ingredients into the dry ingredients. Stir just until everything is thoroughly moistened.

Spoon the batter into the muffin cups, filling them nearly full. Sprinkle with the reserved cheese, then very lightly with paprika, if desired, for added color.

Bake the muffins for 16 to 18 minutes, until a cake tester inserted into the center of one comes out clean.

Remove them from the oven, cool them in the pan for 5 minutes, then serve and enjoy warm; or transfer from the pan to a rack to cool completely.

Store muffins wrapped, at room temperature. They're best enjoyed warm, so when you're ready to serve, reheat briefly in the microwave (15 seconds or less), or in a preheated 350°F oven, lightly wrapped in foil, for about 10 minutes. Freeze for up to a month.
Tips from our bakers
Substitute 1 cup (4 1/4 ounces) King Arthur Unbleached All-Purpose Flour + 1 cup (4 ounces) King Arthur White Whole Wheat Flour for the 2 cups all-purpose flour.
Reviews
Felt like these were missing something. Maybe its because I am from the south and we eat allot of cornbread muffins. I will add some cornmeal, maybe some jalapenos and try them again.
Based on some comments, and the ingredients, I greased my muffin tin very well with bacon grease to prevent the cheese from sticking. I baked in a 12 cup, unlined, granite-ware muffin tin. I filled the cups almost to their top - the muffins domed slightly over the top. They baked up very light I added 8oz of crumbled bacon to the batter for extra flavor. The rest of the recipe was as written. They taste amazing while hot but the amount of bacon I used overpowered the cheese. The bacon also softened the bite of the pepper. I didn't notice that the paprika (Spanish smoked) added anything but color. Next time I'll reduce the overall bacon to 6oz, mix some bacon into the cheese reserved for topping, and omit the paprika. This one is staying in my repertoire.
Odd combination of light but super cheesy. The cheese on top didn't really form a crust, but more of glaze. Here are some slight modifications due to what I had in my pantry. I used reconstituted dried milk. Instead of Cayenne pepper - mustard powder and a few dashes of hot pepper sauce. These would go really well with creamy tomato soup. Definitely better fresh from the oven than microwave reheated but the latter were still pretty good.
This a great recipe. I ended up using the half WW version with medium sharp cheddar (It needs Extra sharp). I will also use a teaspoon of Old Bay Seasoning for these next time. There is no way I will ever put them into a muffin tin again, or use muffin cups! I will be scrubbing my tin for an hour...next they get made as drop biscuits :)
These are wonderful! I just made them for a party. I made a tray of mini muffins, then made the rest on a KAF cookie sheet -- those ones are cute little balls, and have a great crispy outside! They baked for about 5 min on the sheet.
Baked the all-AP version for a party, and they turned out quite well. Had trouble with the muffins sticking to the paper cups -- will go cup-free in the future.
Wonderful! The only change I made was to add poppy seed, since I had some on hand. Will definitely make these often-I like the cheese and paprika on top.
I used all of the cheese in the batter rather than dividing it and made them as drop biscuits. They were fabulous and disappeared immediately at the dinner party I took them to the first time I made them, without butter! I have made them several times since with the same reaction.
These were okay, but a little bland...They need more flavour. I added some grated onions to mine, which were great, but they still lacked something. (some chopped bacon might be nice!) I would add a bit more salt and pepper as well.
I made a half of a batch of these for just two people. I used 1/2 AP and 1/2 whole wheat (both KAF) and they turned out terrible. We each only ate about 1/2 of a muffin and decided that this recipe wasn't going to be a keeper.