A customized print-friendly version of this recipe is available by clicking the "Print Recipe" button on this page.
Spicy Honey Caramelized Onion Pizza with Prosciutto, Feta, and Arugula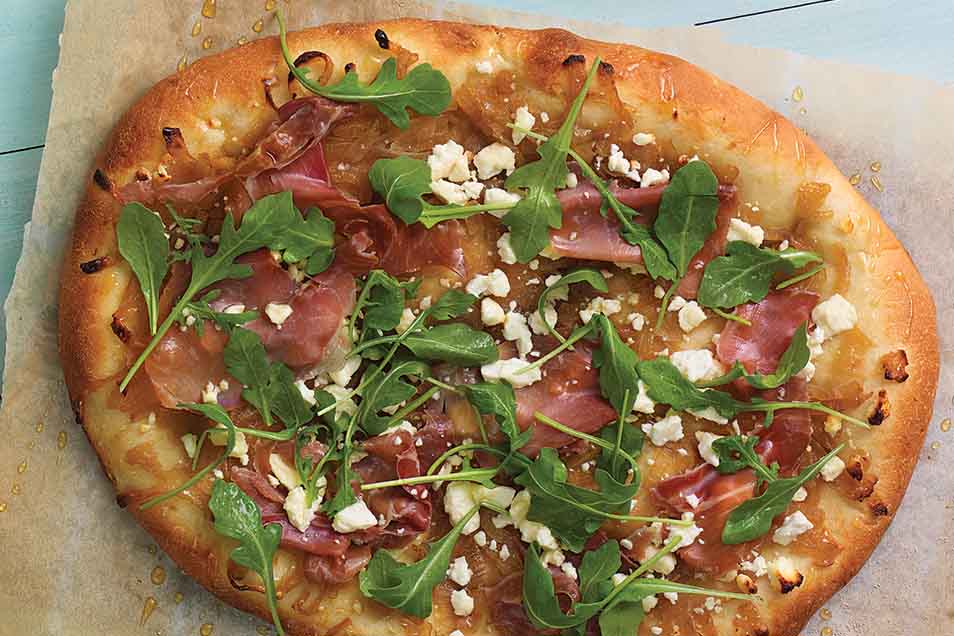 With our Perfect Pizza Blend and Pizza Dough Flavor in your pantry, and our recipe for a flavorful, crisp, and chewy parlor-like crust, your pizza possibilities are endless. This variation brings together spicy/sweet caramelized onions with briny feta, salty prosciutto, and peppery arugula for pure palate pleasure.
Ingredients
Crust
3 cups Perfect Pizza Blend*
1 tablespoon + 1 teaspoon Pizza Dough Flavor, optional; for enhanced flavor
1 teaspoon instant yeast
1 1/4 teaspoons salt
2 tablespoons olive oil
1 cup + 2 tablespoons to 1 1/4 cups lukewarm water
*For a substitute, see "tips," below.
Topping
1 tablespoon butter
3 to 4 large yellow onions, peeled and thinly sliced (about 7 to 8 cups)
1 tablespoon cider vinegar
1 tablespoon Bees Knees Spicy Honey, plus extra for drizzling
1/4 teaspoon salt
1 cup crumbled feta cheese
4 to 6 ounces prosciutto, thinly sliced
arugula
Instructions
To make the dough: Combine all of the dough ingredients, and mix and knead to make a soft, smooth dough.

Allow the dough to rise, covered, for 45 minutes; then refrigerate it for 4 hours (or up to 36 hours) to develop the crust's flavor. It'll continue to rise in the fridge, so make sure it's in a big enough bowl.

To make the caramelized onions: In a large skillet, heat the butter, then add the onions and cook, stirring often, until they're translucent and browning on the edges. Add the vinegar, honey, and salt, and cook until evenly browned and all the liquid is evaporated. Set aside to cool.

To make the pizza: Divide the dough in half. Working with one piece of dough at a time, pick it up and let gravity gently stretch it into an oval, then move your hands around the perimeter of the dough until it's 12" in diameter, lengthwise.

Cover the dough, and let it rest for 30 minutes while you heat the oven and a pizza steel or stone to 450°F; you'll want one rack at the top of the oven and the steel or stone on the middle rack. Not using a stone? See "tips," below.

Use a pizza peel to transfer the pizzas and parchment to the hot steel or stone.

Bake pizza crusts, one at a time, for 8 minutes, then remove from the oven.

Top the pizzas with caramelized onions, feta, and prosciutto, and return them to the upper rack of the oven (not to the steel or stone), and bake again, one at a time, for an additional 4 to 6 minutes, or until the crust is golden brown and the cheese has started to melt.

Remove the pizzas from the oven, top with the arugula, drizzle with spicy honey, and cut into slices.
Tips from our bakers
If desired, substitute 1 3/4 cups King Arthur Unbleached All-Purpose Flour and 1 1/4 cups semolina flour for the Perfect Pizza Blend.
To bake the pizza without a baking steel or stone, transfer the shaped dough on parchment to a baking sheet, and bake on the middle rack of the oven for the same amount of time.
If you don't have access to spicy honey, you can use regular honey, adding 1/8 to 1/4 teaspoon chili powder to the onions when you add the honey.
Reviews
Excellent combination. Really love the Bee's Knees Spicy Honey.
I had a devil of a time with the dough. It was very sticky and difficult to handle. Finally, I stretched it on a piece of parchment paper for the 30 minute rest. I covered it with wax paper thinking it would release from the dough. WRONG! It stuck to the wax paper like glue and I was using a scraper to try to scrape the dough off the wax paper. What a mess! I finally gave up and threw the dough in the garbage and used a packaged dough I had on hand. The toppings are great just maybe not quite enough. I loved the chili honey and arugula on top the pizza. The stars are for the flavors and the crust would get zero stars.

We're so sorry the dough caused you such a struggle! While it should be a soft dough and maybe a little tacky, it shouldn't be so sticky and hard to handle. If your weather is anything like ours right now, it's possible the added humidity made your dough a little wetter than intended. Either way, we'd be happy to talk it over with you if you'd like to give it another shot - just give our Baker's Hotline a call at 855-371-BAKE. Mollie@KAF
I started a tradition of homemade pizza on Friday in January of this year. I have tried to do a different pizza each week, so when I saw this on the cover of the May catalogue I knew I had to try it. I made it this past Friday. This is in the top two so far, along with the pulled pork with bacon and pineapple on a honey wheat crust. I used the dough from Our Favorite Pizzas here on King Arthur. It is my go to pizza crust. I didn't have the honey so I brushed my crust with chili oil before topping it and used a very good quality honey. My family loved it and asked that I make it again. This pizza was very easy to make and didn't take long to put together. I like to make my dough on Wednesday and put it in the refrigerator until Friday so that it develops more flavor.
I hate to be a party pooper, but someone has to do it. From the crust on down, this recipe was a disappointment for me. Admittedly, I didn't use the special KAF Pizza Blend, but instead used their TIP substitution. Following the directions for VOLUME made me regret not using the OUNCE instructions instead as the dough was too sticky to handle and required more flour than I was comfortable with. If I were to make the recipe again, I would start with only half of the amount of water called for in this recipe. As for the Pizza Dough Flavor, I would say that it does add to the flavor of the crust, but not significant enough for me to overcome the hardness of the edges of the crust. When looking at the cover of the May 2016 catalogue, the crust looks risen and and airy. In regards to the taste of the pizza, their is an imbalance of flavor as the feta and proscuitto are salty and the drizzle of honey on the arugula just isn't enough to balance the flavors. I'm sure it's just me and not you, KAF.
We appreciate your frank review and an opportunity to problem solve your pizza experience. If you're mixing the dough with a stand mixer, use a low speed and the dough hook. Add enough flour so the dough creates a soft and supple ball of dough that is tacky like tape - not sticky if you poke it and pull away your finger. We welcome a call to our baker's hotline at 855-371-2253 if you'd like to chat before trying the crust recipe again. Working together we'll get you back to happy pizza baking! Irene@KAF
This was a WOW! The combination of flavors is so fresh and different than anything I've tasted before. My husband said it's the best pizza he's ever had. Because I follow a gluten-free diet, I didn't use the recipe for the dough, substituting a high quality GF dough. I also used the suggested substution with the honey and chili powder. In our oven, the feta and crust didn't get brown enough during the final baking, so I put it under the broiler for a couple of minutes and it worked beautifully. Will definately make again!
Simply said my husband declared this the best pizza he has ever eaten !! Love every bite. Never would have guessed he would love it so much. He said, please do not misplace the recipe !! Our new favorite. Plan on using it as an appetizer when we have a group over. Love it.
All I have to say is WOW!!!! I made this last night for friends and it was the most unbelievable layers of flavors I have ever tasted! Though I did make a few changes. I am an avid sourdough baker, so I made this on a sourdough crust which added to the depth of flavor. I really, really, really, wanted to have the hot honey, so I figured out a way to make it myself and believe me, you do not want to skip this step! That is the star of the show! I will make this every time I make pizza it is that good!!! Thank you King Arthur for another rockin' recipe!!!