A customized print-friendly version of this recipe is available by clicking the "Print Recipe" button on this page.
Spicy Honey Caramelized Onion Pizza with Prosciutto, Feta, and Arugula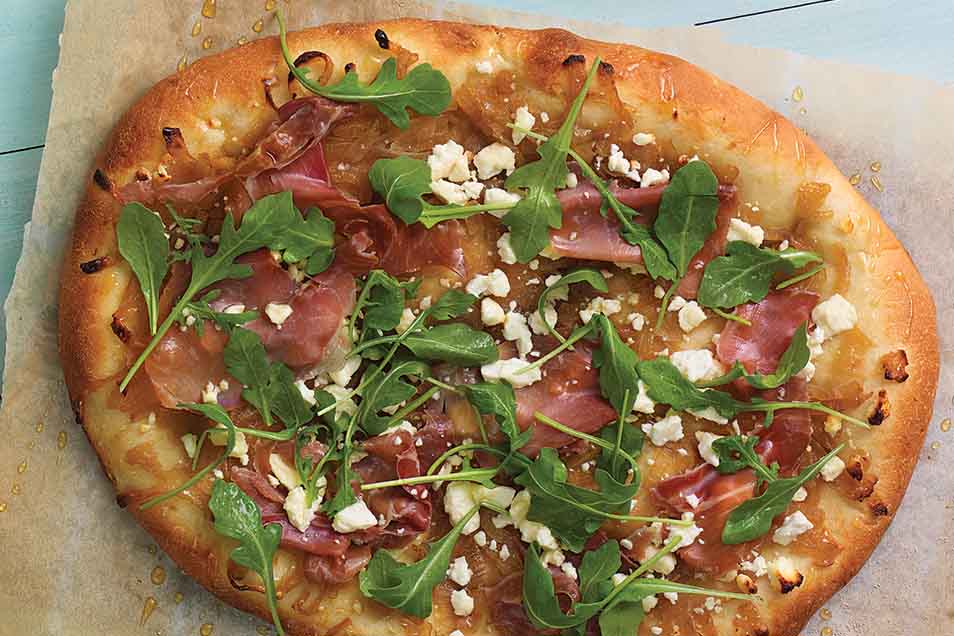 With our Perfect Pizza Blend and Pizza Dough Flavor in your pantry, and our recipe for a flavorful, crisp, and chewy parlor-like crust, your pizza possibilities are endless. This variation brings together spicy/sweet caramelized onions with briny feta, salty prosciutto, and peppery arugula for pure palate pleasure.
Ingredients
Crust
3 cups Perfect Pizza Blend*
1 tablespoon + 1 teaspoon Pizza Dough Flavor, optional; for enhanced flavor
1 teaspoon instant yeast
1 1/4 teaspoons salt
2 tablespoons olive oil
1 cup + 2 tablespoons to 1 1/4 cups lukewarm water
*For a substitute, see "tips," below.
Topping
1 tablespoon butter
3 to 4 large yellow onions, peeled and thinly sliced (about 7 to 8 cups)
1 tablespoon cider vinegar
1 tablespoon Bees Knees Spicy Honey, plus extra for drizzling
1/4 teaspoon salt
1 cup crumbled feta cheese
4 to 6 ounces prosciutto, thinly sliced
arugula
Instructions
To make the dough: Combine all of the dough ingredients, and mix and knead to make a soft, smooth dough.

Allow the dough to rise, covered, for 45 minutes; then refrigerate it for 4 hours (or up to 36 hours) to develop the crust's flavor. It'll continue to rise in the fridge, so make sure it's in a big enough bowl.

To make the caramelized onions: In a large skillet, heat the butter, then add the onions and cook, stirring often, until they're translucent and browning on the edges. Add the vinegar, honey, and salt, and cook until evenly browned and all the liquid is evaporated. Set aside to cool.

To make the pizza: Divide the dough in half. Working with one piece of dough at a time, pick it up and let gravity gently stretch it into an oval, then move your hands around the perimeter of the dough until it's 12" in diameter, lengthwise.

Cover the dough, and let it rest for 30 minutes while you heat the oven and a pizza steel or stone to 450°F; you'll want one rack at the top of the oven and the steel or stone on the middle rack. Not using a stone? See "tips," below.

Use a pizza peel to transfer the pizzas and parchment to the hot steel or stone.

Bake pizza crusts, one at a time, for 8 minutes, then remove from the oven.

Top the pizzas with caramelized onions, feta, and prosciutto, and return them to the upper rack of the oven (not to the steel or stone), and bake again, one at a time, for an additional 4 to 6 minutes, or until the crust is golden brown and the cheese has started to melt.

Remove the pizzas from the oven, top with the arugula, drizzle with spicy honey, and cut into slices.
Tips from our bakers
If desired, substitute 1 3/4 cups King Arthur Unbleached All-Purpose Flour and 1 1/4 cups semolina flour for the Perfect Pizza Blend.
To bake the pizza without a baking steel or stone, transfer the shaped dough on parchment to a baking sheet, and bake on the middle rack of the oven for the same amount of time.
If you don't have access to spicy honey, you can use regular honey, adding 1/8 to 1/4 teaspoon chili powder to the onions when you add the honey.