A customized print-friendly version of this recipe is available by clicking the "Print Recipe" button on this page.
Spicy Jalapeño-Cheddar Mini Muffins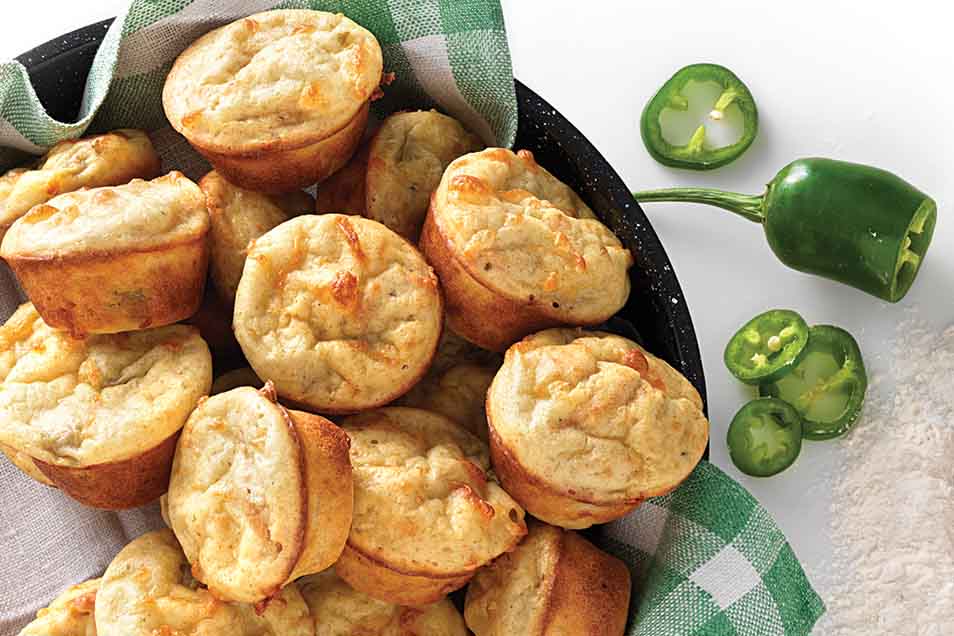 These savory mini muffins make a quick and easy appetizer. They're also a good accompaniment to a bowl of soup or a salad for lunch. Or think Super Bowl Sunday, with a big pot of chili; the possibilities are nearly endless.
Ingredients
1/2 cup sour cream or Greek-style yogurt*
3/4 cup shredded sharp cheddar cheese*
1/2 cup grated Parmesan cheese
1/4 to 1/2 cup sliced pickled jalapeño peppers, finely diced; to taste, optional
2 teaspoons ground cumin
1/2 cup milk
2 large eggs
1/2 cup canned french-fried onions, or fried diced onions
*We highly recommend Cabot-brand Greek-style yogurt, and Cabot extra-sharp cheddar cheese.
Instructions
Preheat your oven to 400°F. Lightly grease each muffin cup of a mini-muffin pan; or use free-standing mini-muffin foil cups.

In a medium-sized mixing bowl, whisk together all of the ingredients until they're thoroughly combined.

Scoop the batter into the muffin cups, filling them nearly full; a tablespoon cookie scoop, filled to just short of level, works well here.

Bake the muffins for 20 to 25 minutes, or until they're golden brown.

Remove the muffins from the oven, and let them cool for 5 minutes to firm before removing them from the pan. Serve hot or warm.

Store, well-wrapped, for two days on the counter, or freeze for up to two weeks.
Tips from our bakers
The greater amount of jalapeño peppers will make a muffin that's quite hot/spicy; use the lesser amount if you prefer a muffin that's only mildly spicy; or leave the peppers out entirely, if desired.
Don't have any self-rising flour on hand? Make your own self-rising flour substitute.
Reviews
I think these muffins could be great, but I somehow messed up. I feel that I'm a generally good baker, that I know my oven, etc., so I'm not sure where I went wrong. I baked the recipe as-is, used self-rising flour, used mini-muffin cups and tins, and pulled them out at 20 minutes when they had just started getting brown on top. I allowed them to set, but was heartbroken when I went to taste one: The bottoms were like hockey pucks and the middles were like slightly glutenous quiche. I couldn't peel the muffin cups off past the midsection of the muffin. I've never had this experience before with my oven...maybe the temp/time ratio needs to be tweaked? I just know that these little things could be magnificent, but have no idea where things went south.

We're glad you reached out, LB! It sounds like you may have been baking with either a thick or dark muffin tin. Next time, try lowering your oven temperature by 25 degrees. They may take a bit longer to bake, but they'll bake much more evenly. Our friendly Baker's Hotline staff is also here to troubleshoot if you'd like to give them a call at 855-371-BAKE (2253). Kindly, Annabelle@KAF
I doubled the recipe and with a few adjustments baked 24 large fluffy, airy, light and really delicious muffins. The first dozen were finished before the second batch came out of the oven. After making the batter it sat 1.5 hours before I had time to bake it and I also hardly mixed it, just made sure the flour stuck together. Perhaps that's what made their consistency so perfect. I also exchanged chopped chives for the onions and instead of hot peppers I used nutmeg, ground ginger and cloves. I grated fresh sharp, aged goats cheese instead of cheddar and goat's yogurt. I also added 3 tablespoons butter. Thanks for the recipe.
tasty little treats. Their texture made me think of choux pastry inside....maybe because of the 2 eggs? Most of my recipes call just for 1 egg. Will definitely make them again. A big hit today at my arts club AGM.
very good, but a little rubbery texture wise. I'll take the blame for that, because I probably over mixed it and I used homemade yogurt which is a lot thinner than store bought. I'll make probably them again and use either store yogurt and less of mine and definitely more diced pickled jalapeno and let you know how they turn out.
Good, not great. I didn't create for the texture. Kind of rubbery of a texture. Definitely no crumble at all. The flavor was good and I would probably make them again.
Thanks for your frank review - a couple things might contribute to the poor texture - over-stirring the batter or just too much cheese for your taste. We hope you find a savory mini muffin recipe that's just right for you. Happy Baking - Irene@KAF
So yummy! I made 12 regular muffins & omitted the onions & the peppers but added some hot sauce for spice. A beautiful, buttery tasting cheesy muffin. I served them with the Italian Wedding Soup recipe from this site.
This recipe is great! I omitted the onions, baked in a regular muffin tin and used all-purpose flour following KAF's directions for baking powder and salt. The flavor is even better the second day - the cheese and jalapenos really stand out. This recipe is definitely a keeper.
So glad you enjoyed this recipe! Happy Baking! ~Mel
I didn't have the french fried onions but I decided to go ahead and make these muffins for lunch. They were so easy to make and used ingredients that I already had on hand. They smelled heavenly when they were baking. When they came out of the oven it was hard to let them cool before digging in because they smelled so good. They taste as good as they smell. They are delicious and will pair well with a meal as well as be great to have around to snack on. I'm also thinking of adding some sausage for a quick breakfast muffin, let you know how those turn out. Thanks King Arthur for another great recipe!!