A customized print-friendly version of this recipe is available by clicking the "Print Recipe" button on this page.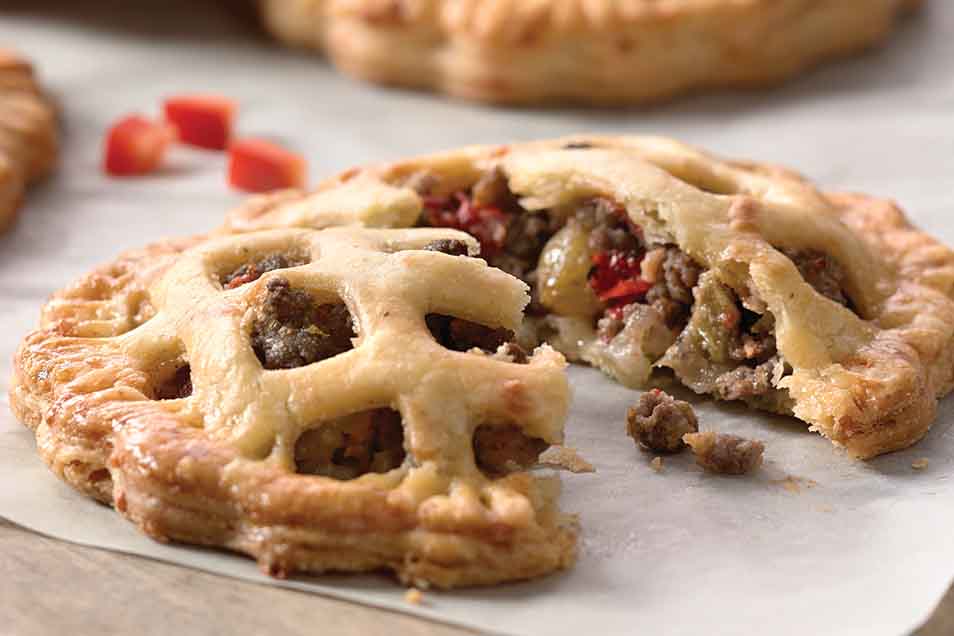 These individual savory pies make a perfect on-the-go meal, or can be frozen ahead of time and baked when ready to serve. They're the perfect last-minute party treat, sure to be a hit with any game-day crowd.
Ingredients
Crust
¾ cup Hi-maize whole grain cornmeal or regular cornmeal
¼ teaspoon salt
1 ½ tablespoons Vermont cheese powder; optional, for added flavor
1 ½ cups (24 tablespoons) unsalted butter, chilled
3/4 cup grated sharp cheddar cheese
¼ to ½ cup ice water
Filling
2 tablespoons olive oil
1 large onion, about 8 ounces
½ teaspoon garlic salt
½ teaspoon ground cumin
pinch of cayenne pepper, optional and variable depending on your taste
½ teaspoon dried cilantro (coriander)
¼ teaspoon ground cinnamon
pinch of ground cloves
1 pound ground beef
¼ cup roasted red peppers, chopped
2 tablespoons jalapeño peppers, chopped
½ cup pimiento-stuffed green olives, chopped
1/3 cup golden raisins
salt and pepper
1 large potato (about 8 ounces), cooked, peeled, and mashed
Instructions
To make the dough: Combine the flour, cornmeal, salt, and cheese powder either in a large bowl or in a food processor.

Work the chilled butter into the dry ingredients, using a pastry blender or food processor, until pea-sized clumps begin to form.

Mix in the cheese, followed by the lesser amount of water, adding more if necessary to bring the dough together.

Shape the dough into three equal disks, wrap them in plastic, and refrigerate for at least 1 hour.

To make the filling: Heat the olive oil in a large pan set over medium heat. Add the onion, garlic salt, cumin, cayenne pepper, cilantro, cinnamon, and cloves, and cook until the onion is softened.

Turn the heat up to medium-high and add the ground beef. Cook the mixture, stirring and breaking up any lumps, until the meat is no longer pink.

Add the roasted red peppers, jalapeños, olives, raisins, and salt and pepper to taste.

Add the mashed potato and stir to incorporate.

Transfer the mixture to a bowl, and allow to cool as you roll and cut the dough. Note: the filling may be made 1 day in advance and kept covered and chilled.

Roll out one disk of dough 1/8" to ¼" thick. Using a lattice pie mold, or a 4" to 5" plate and a sharp knife, cut out 10 circles: 5 solid bottom layers and 5 top layers with a lattice pattern (or vents or holes cut out). Repeat this process with the second and third discs, re-rolling the dough and returning it to the refrigerator if it becomes too soft.

Using two tablespoons of filling per pie, follow the directions on how to form the pies from the lattice pocket pie mold (or any other pie mold). Or, place two tablespoons of filling on each of the bottom/solid pieces of dough, then top with the patterned/vented piece and seal the edges using the pie mold, or by pressing the tines of a fork along the edges of the pies.

Place the pies on a parchment-lined baking sheet, and freeze for 30 minutes or longer before baking. While the pies are chilling, preheat the oven to 400°F.

Bake the pies for 20 to 25 minutes, until they're golden brown. Transfer them to a rack, and allow to cool for 10 minutes before serving.

Yield: 15 pocket pies.