A customized print-friendly version of this recipe is available by clicking the "Print Recipe" button on this page.
Spinach-Filled Lebanese Flatbreads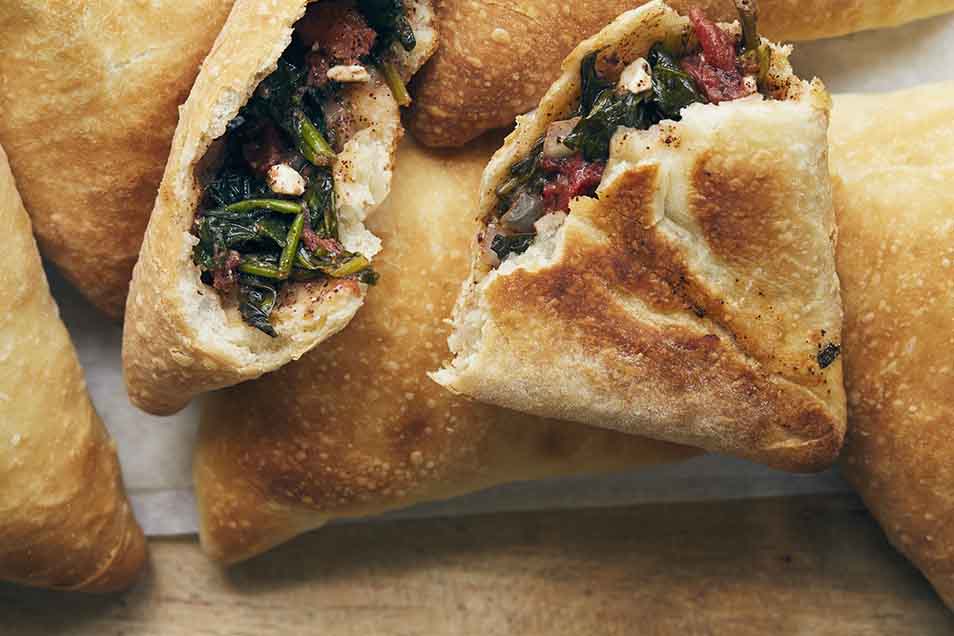 A variation of a recipe from the excellent book "Man'oushé," by Barbars Abdeni Massaad, these breads from Master Baker Jeffrey Hamelman, are rolled into rounds, filled, and folded into triangle shapes before baking.
Ingredients
Filling
2 1/2 teaspoons salt
12 ounces spinach leaves
3/4 cup finely diced onion
1 1/4 cups chopped, seeded tomatoes
1/2 ounce ground sumac
1 tablespoon lemon juice
1/4 cup olive oil, plus more for brushing
2 ounces feta cheese
Instructions
To make the dough: In a large mixing bowl, mix and knead all of the dough ingredients until smooth. Cover the mixing bowl and let the dough rise for 1 hour.

Divide the dough into 14 pieces (2 1/2 ounces each) and shape each into a firm round. Cover and refrigerate overnight.

To make the filling: Add the salt to the spinach leaves and rub together thoroughly. Drain in a colander for 1 hour. Rinse well under cold water, then squeeze out as much liquid as you can. Chop the leaves coarsely, then mix with the remaining filling ingredients.

To shape and assemble: Place a rack in the upper third of the oven and place a pizza stone on it, if you have one; if you don't have a stone, no worries. Preheat the oven to 500°F before you begin to assemble the breads – the stone needs at least an hour to be fully heated and ready to bake.

Roll each ball of dough on a lightly floured surface into a 5"-diameter circle. Place 1/4 cup of filling in the center of each flatbread, leaving a 1/2" rim of dough clear all around. Lightly brush or spritz water onto the rim. Take a third of the circle and pull it up and over the filling. Take the next third of the circle and bring it up to meet the first, then fold up the remaining third of the dough to enclose the filling. You will have made a triangle-shaped packet.

Pinch all of the seams together, then place, seam side down, on a parchment-lined baking sheet. Brush each piece lightly with olive oil.

Place the baking sheet onto the stone, or onto the oven rack. Bake the flatbreads for about 8 minutes, until they're medium brown; the bread should still be soft after baking. Remove from the oven and serve warm.

Store any leftovers in the refrigerator, well wrapped, for several days.
Nutrition Information
Serving Size

1 flatbread, 129g

Servings Per Batch

14 servings
Amount Per Serving:
Calories

216

Calories from Fat

45

Total Fat

5g

Saturated Fat

1g

Trans Fat

0g

Cholesterol

4mg
Sodium

268mg

Total Carbohydrate

36g

Dietary Fiber

2g

Sugars

2g

Protein

6g
* The nutrition information provided for this recipe is determined by the ESHA Genesis R&D software program. Substituting any ingredients may change the posted nutrition information.
Reviews
Delicious, tasted just like I remember the ones at my favorite Lebanese bakery in Toledo. I used reconstituted sun dried tomatoes beca6i didn't have any fresh on hand and it worked out great.
I do love this recipe! The first time I tried it out I didnt flatten the dough enough around the filling and it was too breadish. The second time I made this it turned out much better, tho I still find myself wanting to stuff more filling into it lol. I added some peppercorns, garlic and crushed bay leaves into my dough for more flavor and vary the filling ingredients lightly. Yum!
Fantastic, and fairly straight-forward, even for this novice baker. I forgot to cover the dough as it rested in the fridge, so I had some crustiness to roll out, but all was well in the end. The filling is spectacularly good. I accidentally bought "Juicing greens"--a mix of spinach and kale---but they were terrific. Will be making these on a regular rotation!
I would like to have these assembled and in the freezer, ready to defrost and bake a few at a time. Would I need to let the dough rise again after thawing, before I bake them? What process would you recommend?

Gina, after you flatbreads are shaped you can store them in the freezer in a zip-lock bag for up to 1-2 months. When you're ready to bake, you can let thaw in the fridge overnight and bake the next day as directed. Baking them directly from frozen is also an option, but the dough might not be quite as tender with this method. You'll need to add 3-5 minutes to the baking time to account for the frozen dough if you use this approach. Happy baking! Kye@KAF
I found some of the directions confusing, but a quick video search cleared up what I was missing. One thing that I thought was weird is the yeast doesn't bloom and because of that there were yeast specks in the finished product. Maybe it is supposed to be that way. I also found that there needs to be more guidance on how to put them in the fridge overnight. I put them in a plastic box and they exploded out of that in no time. Yeah, I'm not an all star baker! Thanks for the recipe. Love trying new things.

Hi D, it's a common misconception that yeast needs to be proofed in liquid in order to become active. Due to modern drying techniques, this step is no longer necessary. Instant (and even active dry) yeast can be added right to the dry ingredients in a recipe, and it will make the dough rise once the liquid is added. It's surprising to hear that your yeast didn't dissolve - be sure you're using fresh instant yeast for best results. It also doesn't hurt to add the yeast to some of the liquid in the recipe before adding the rest of the ingredients; it's just typically not necessary.

As for storing the dough overnight, it's true that the dough rise, so it's best to choose a container that will allow for this expansion. We've asked our Recipe Team to include a note about this in the instructions for those who might not be familiar with yeast baking. Kye@KAF
This recipe would be much easier to follow if there were a photograph of what the packets looked like just before they go into the oven. I am not really sure I understand how they are folded.

Thanks for sharing this feedback with us, Jake. We're currently putting together an article on our blog that will demonstrate how to make a handful of different shapes of dumplings, one of which is actually this triangle shape that's described in this recipe. We'll be sure to link it in the Baker's Tips once it is published, and in the meantime, try searching for images of triangle dumplings. While this shape is what's ideal, any shape that encases the filling will work here. Happy baking! Kye@KAF
These are SO GOOD. I made the dreaded error of not reading every last detail ahead of time and missed the part about letting the dough rest in the fridge overnight, but they were still soft and delish with only a 5 hour rest. I sprinkled the tops with sesame seeds but otherwise followed the recipe. I will make these again and try some different fillings.
These were delicious! A great bake-I had them for dinner last night and they kept well in the fridge for lunch today. I may up the feta next time or serve with some sort of dip-tahini or yogurt based, maybe eggplant. I made the dough one evening, made the filling the next morning, then shaped and filled the evening I wanted to eat them. So some planning required but it is definitely worth it!
I seldom write reviews about recipes I follow at KA. I'm not sure why because I make a great many, and I find the reviews invaluable. The KA Team also seems to find value in our experiences, as is evident by changes made to some recipes/formulas as a result of feedback from the field. So I want first to thank the dedicated professionals at KA, and everyone who participates in this review forum. You've helped me in many ways and on many days that were troubling for reasons having nothing to do with baking. In other words, not matter what else life is dishing up, I never feel alone in my kitchen endeavor to make of the day into something a bit sweeter. That said, for many, many years, Master Baker Hamelman has been my teacher. He's taught me the science and techniques that have helped me become the bread baker I am today; for block parties, my neighbors ask not for a dish to pass but a basket of various breads to share. In our home, we haven't eaten store-bought bread of any kind, not even English muffins or hotdog rolls, since I retired ten years ago. And while age shows on my face, it's my copy of Mr. Hamelman's book "Bread: A Baker's Book of Techniques and Recipes" that really shows the use of age. So when I saw he had developed this Spinach-Filled Lebanese Flatbread recipe, I had to give it a go. Unlike many here who are lucky enough to have encountered these savory little pockets before, this was my first encounter with the dish. Staying true to the directions without any changess, I can honestly say Mr. Hamelman continues to be a Master of all things flour and yeast and water. These little pillows of perfection are as delightful in the mouth as they were on the on the board; the dough is extremely user friendly, mixing, shaping, filling, and sealing easily. The bake time is spot on, and the aroma was so inviting my husband was drawn from his sleep to see what was going on in the kitchen this morning. I'm certain anyone, from the brand new novice to the most senior baker will enjoy Mr. Hamelman's straight forward formula, the ease of working with the dough, the quick bake time, and the delightful, delicious results.
I made the Pirozhki last week and they ended up looking like little mummies so I was slightly apprehensive about making these. My local Lebanese bakery leaves the seams on top so that is what I did too. They came out fantastic. Very easy and the directions were perfect. I was serving them later so after they came out of the oven I brushed them again lightly with oil so they would stay soft, and they did! I don't care for fresh tomato in mine so I substituted some chopped sun dried tomato and added a little extra feta. I also used almost twice the spinach called for because I knew it would really decrease in volume after squishing all the juice out. Next time I am going to make meat pies with spiced ground lamb and toasted pine nuts. Thanks KAF!