A customized print-friendly version of this recipe is available by clicking the "Print Recipe" button on this page.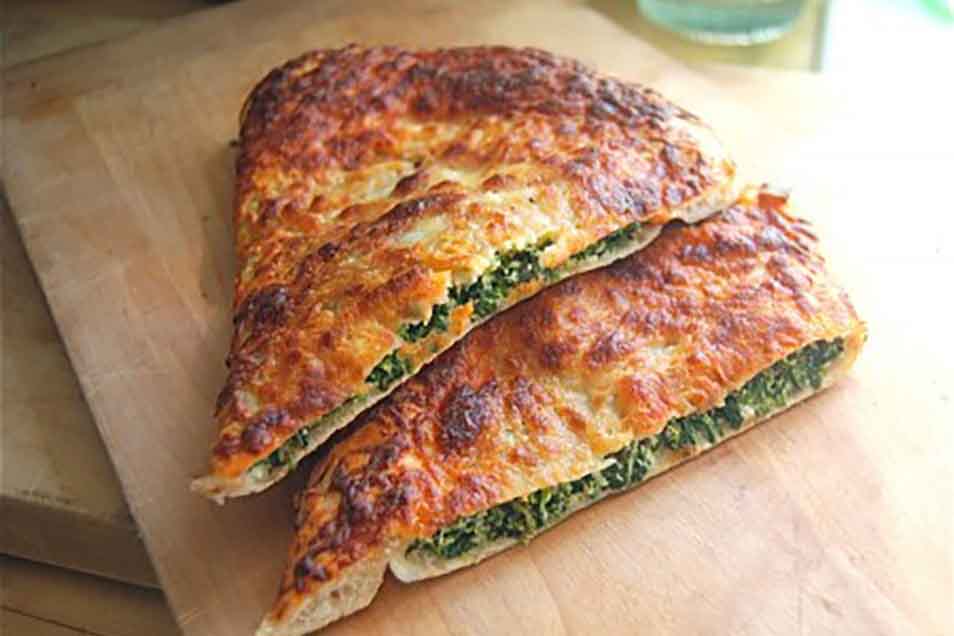 What's a calzone? Simply put, it's pizza crust wrapped around its topping, rather than supporting it from beneath. You know how, when eating a slice of thin-crust pizza, you fold it in half so it doesn't droop and the cheese and tomato sauce stay put? A calzone is thin-crust pizza folded before you bake it — rather than after!
Ingredients
Crust
1 1/4 teaspoons instant yeast
3/4 teaspoon salt
1 tablespoon olive oil
1/2 cup to 3/4 cup lukewarm water*
*Use the lesser amount in the summer, the greater amount in the winter, and somewhere in between in the spring and fall. Your goal is a soft dough.
Filling
10-ounce package frozen spinach or 16 ounces fresh spinach, cooked, drained and squeezed completely dry
1 cup ricotta cheese, whole-milk or part-skim
1/2 cup freshly grated Parmesan cheese
1/4 teaspoon grated nutmeg
1/2 teaspoon salt
Topping (optional)
tomato or pizza sauce
shredded mozzarella cheese, or the pizza cheese of your choice
Instructions
To make the crust: Combine all of the ingredients in a bowl, and mix and knead — using your hands, a mixer, or a bread machine set on the dough setting — to make a soft, smooth dough.

Place the dough in a lightly greased bowl or other rising container (an 8-cup measure works well), cover it, and let it rise until it's just about doubled in bulk, about 2 to 2 1/2 hours.

Gently deflate the dough, and turn it out onto a clean work surface. Divide it in half.

Working with one half at a time, place the dough on a piece of parchment, or onto a lightly greased baking sheet. Pat it into a 10" to 11" circle.

To make the filling: Combine all of the filling ingredients, stirring until well combined. You'll have about 2 cups of filling.

Spread half of each disk of dough with half the filling. Fold the unfilled half over the filling, crimping and pressing the edges together to seal. If you've shaped the dough on parchment, lift the parchment onto a baking sheet. Or, if you have a pizza stone in your oven, place the parchment on a peel, for easiest transport.

Cut 3 or 4 slits in the top of each calzone, to allow steam to escape. Brush with olive oil; or brush with a thin layer of pizza sauce, and top with shredded cheese.

Let the calzone rest, uncovered, for 30 minutes, while you preheat your oven to 450°F.

Bake the calzone for 18 to 22 minutes, until they're golden brown.

Remove the calzone from the oven, and slice into pieces to serve.

Yield: two 12" calzone, 4 o 6 servings.
Tips from our bakers
Feel free to use your own favorite filling. Be sure not to overdo the quantity, though; a calzone should be thin. About 1 generous cup of filling is sufficient.
Can you make this with whole wheat flour? Try substituting 1/2 cup of whole wheat for 1/2 cup of the all-purpose flour, to start; if you like the result, increase the amount of whole wheat flour next time.
Reviews
Delicious! A great basic calzone. I added a hearty smear of sundried tomato pesto, mozzarella, and pepperoni. The perfect carry-along to go to work!
Used 1/2 cup white whole wheat, 1 1/2 cups AP flour, with 3/4 cup water for dough since whole wheat flour absorbs more water. Used spinach ricotta filling, but added chopped roasted red pepper, basil and chili flakes. Brushed calzone with marinara, sprinkled Parmesan and dribbled a little EVOO on top. Baked for 18 mins in convection oven. Served with heated marinara for dipping. Tasty (husband enthusiastic) but filling was still a little bland. Will make again but jazz up filling.
This dough was fantastic! Loved it thanks. May I ask why I see an almost identical recipe elsewhere that says chill the dough for at least 12 hours, and my Italian husband didn't see the point in letting the calzones rise for 30 minutes after forming. I said King Arthur knows what they are doing, but he says restaurants aren't going to do that extra step. Just curious because I am a terrible cook.

We're happy to hear you so enjoyed it, Colleen! It's true that there are a number of paths to a tasty calzone. Allowing dough to rise in a cool environment like the fridge slows down the process of fermentation, allowing for more flavor development. Cooler temperatures on their own also help to develop different beneficial bacteria that contribute to overall flavor. If you've had success with this technique in the past or are simply curious, feel free to swap the 2-2.5 hr room temp rise for a longer, cooler rise in the fridge. Allowing the shaped and filled calzone to rest for an additional 30 minutes before baking helps to relax the gluten and lighten the dough around the filling. It could also be skipped if need be or you really prefer. Perhaps a little experimenting of your own is in order with your next batch? Mollie@KAF
Great! A little extra cheese makes it better, along with some pepperoni.
Delicious! I used the Now or Later pizza crust recipe and made 3 mid-sized calzones.
simply delicious and delightfully simple. makes a fabulous pizza crust too!
very easy - came out great the 1st time. I don't use olive oil so I used coconut oil - did not taste like it baked. I added some fried italian sausage we will make again soon
I added some marinated artichokes and a few roasted red peppers. It was delish! Put a little more mozzarella on top after they came out of the oven, it melted over and really added to the flavor. Want to try the eggplant one as well , love eggplant.
Excellent by most people's standards, but not quite "excellent" for KAF foodies. Although I added mozzarella, it still could have used a bit more flavor. Maybe some onion or mushrooms. Although the dough was sticky, I could have added some flour since the amount of flour in a recipe with yeast is never an exact amount. What I should have used was KAF pizza dough flavor, but, of course, I didn't think of it until the calzones were in the oven.(argh!). By the way, if you're going to add mozzarella, put it underneath your filling, because if you put it on top, it will ooze out of the slits on top during baking. Yeah! I did that too! All in all, this is a pretty good recipe and worth doing again.
Very,very easy, and soooo delicious! I did sauté about 1/2 a diced onion along with the spinach.