A customized print-friendly version of this recipe is available by clicking the "Print Recipe" button on this page.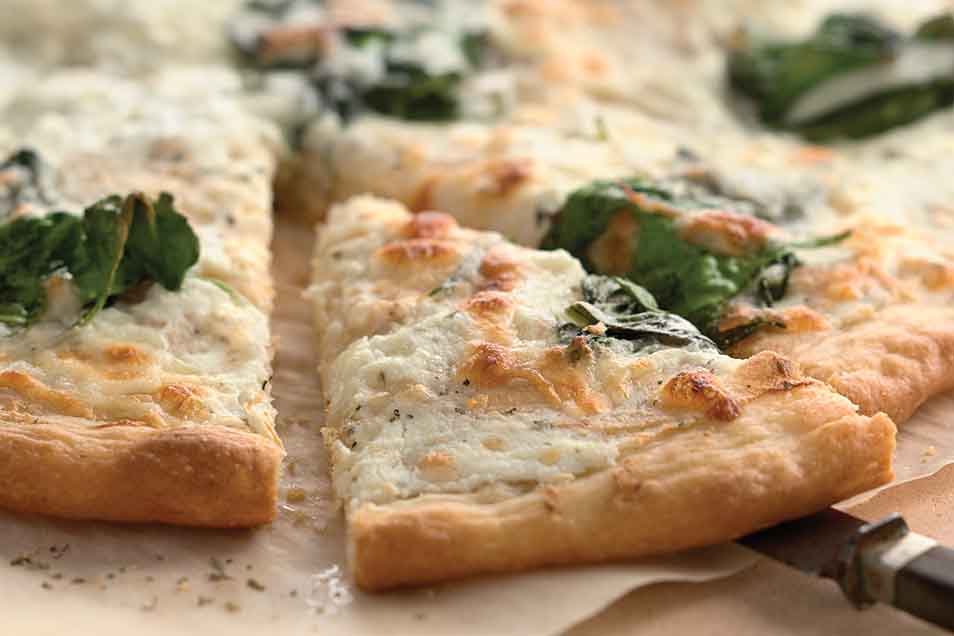 A crisp crust topped with an easy, creamy blend of cheese and herbs, and garnished with green spinach, makes a delicious and pretty pizza.

If you've read this recipe in our Baker's Catalogue, you may notice a very slight difference between the printed version, and the one you read here. Don't panic; either recipe will make great pizza.
Ingredients
Topping
1 1/2 cups ricotta cheese (whole milk ricotta gives the creamiest result)
1 1/2 cups shredded mozzarella cheese or pizza cheese blend
2 to 4 teaspoons Pizza Seasoning (use the smaller amount if you use the optional feta)
2 tablespoons olive oil or garlic oil, plus additional for brushing in pans and atop pizzas
One 10-ounce bag baby spinach; or use frozen spinach (see tip below)
pinch of salt
1 cup crumbled feta cheese, optional
Instructions
To make the crust: Mix all of the ingredients — by hand, mixer, or bread machine — to make a soft, supple dough. Knead for 5 minutes, put the dough in a lightly greased bowl, and cover with plastic. Allow the dough to rest for 15 minutes (or longer, depending on your schedule).

Preheat the oven to 425°F. Grease two 12" or 14" pizza pans with olive oil. Or grease two large baking sheets.

Divide the dough in half, and pat each piece into each of the pans. If you're using baking sheets, pat each piece into a thin oval on each of the sheets.

Let the dough rise, covered, while you prepare the topping.

To make the topping: Mix the ricotta, shredded cheese, and Pizza Seasoning until well combined. Set it aside.

Heat 2 tablespoons of the garlic oil in a large skillet set over high heat. Add the spinach and sprinkle on the salt. Using tongs, turn the spinach as it wilts. When the spinach is barely wilted, transfer it from the pan to a strainer, to drain.

Bake the crusts for 10 minutes, then remove them from the oven. Brush them lightly with olive oil or garlic oil. Spread the ricotta topping evenly over the crusts, about 1/4" thick.

Sprinkle on the feta, then divide the spinach evenly between the two pizzas.

Return the pizzas to the oven, and bake them until the the crust is crisp and the feta is a bit browned, about 10 to 12 minutes. Serve warm.

Yield: 2 pizzas, about 16 slices.
Tips from our bakers
Want to substitute a different crust recipe? We recommend our Guaranteed Pizza Crust Recipe. It makes two 14" thin-crust pizzas. Or use your own favorite recipe, one that uses about 3 cups of flour.
To make an onion and feta cheese topping, sauté 3 cups sliced onions in 1 to 2 tablespoons olive oil until golden brown. Mix with 1/3 cup ricotta cheese and 1 1/2 cups crumbled feta. Continue as directed in the recipe, omitting the extra feta on top. Wilted spinach is optional.
To make topping with the spinach incorporated, thaw a 10-ounce box chopped, frozen spinach. Wrap in a clean dishtowel and wring out the liquid. Mix with 2 cups ricotta, 2 cups shredded mozzarella or pizza blend cheese, and 5 to 6 teaspoons of Pizza Seasoning. Use the mixture as the topping, eliminating the wilted spinach. Bake the pizza for 10 minutes; add the feta, then continue as directed in the recipe.
Reviews
This was delicious - very tasty! I used my favorite KAF pizza dough recipe - The Easiest Pizza You'll Ever Make which makes two pizzas. I made one Spinach White Pizza and the other a traditional pizza. For the Spinach White Pizza (which reminded me of an "open face calzone") I drained the ricotta for a few hours by lining a metal strainer with two coffee filters to get rid of the excess water. Then I added it to the well drained spinach, mozz cheese and pizza seasoning. Also, I cooked the crust for about 5 minutes, took it out and added a rosemary and garlic olive oil to the crust - then I added the ricotta cheese and spinach mixture and tossed a good handful of parm cheese over the top for good measure. Before I put it back into the oven I "blessed it" with some of the rosemary and garlic olive oil. When it came out, I did a light sprinkling of kosher salt before serving it which gave it a nice little crunch. Holy smokes!! This recipe is definitely a keeper - my family loves pizza and this recipe gives me another option. Thanks again KAF!
Okay, maybe it's just me. I thought I followed the instructions precisely, but the crust was hard and overdone, the ricotta/mozzarella combination had a grainy texture. My family was surprised, because usually your recipes are excellent. I am reluctant to try it again because the ingredients are not inexpensive; I'm just calling it a "do not repeat" recipe, though I'll continue to try your recipes.
I apologize for your disappointment with this recipe. The crust may have been over-baked. The only thing I can imagine would lead to a grainy texture in the topping would be if you used fresh spinach and it had not been washed properly. ~Amy
I didn't like this enough to make it again. It was not the topping. I didn't have spinach but had plenty of basil and mixed that throughout, it was tasty; yet although the dough was silken and easy to work with, the end result was like eating pizza on a thin Matzoh cracker. I need more substance and chew in my slice. Perhaps I need to use another of KA's pizza blends?
I'm sorry this recipe did not appeal to you. Perhaps this one would be more to your liking: http://bit.ly/T0AkQ ~Amy
Made this exactly as it is written. Came out delicious. Also love the KA pizza dough recipe...without a doubt...always comes out great and is easy to work with.
Made this recipe last night. It was fantastic. I sprinkled a little pre-cooked bacon on the pie to add a little extra taste sensation.
Outstanding! my wife loved it and I did too, even though I'm a red sauce and pepperoni guy. The only change I made was using Sir Lancelot high gluten flour and Bakers special dry milk. I love using the High Gluten flour and dry milk, it just makes a great crust!