A customized print-friendly version of this recipe is available by clicking the "Print Recipe" button on this page.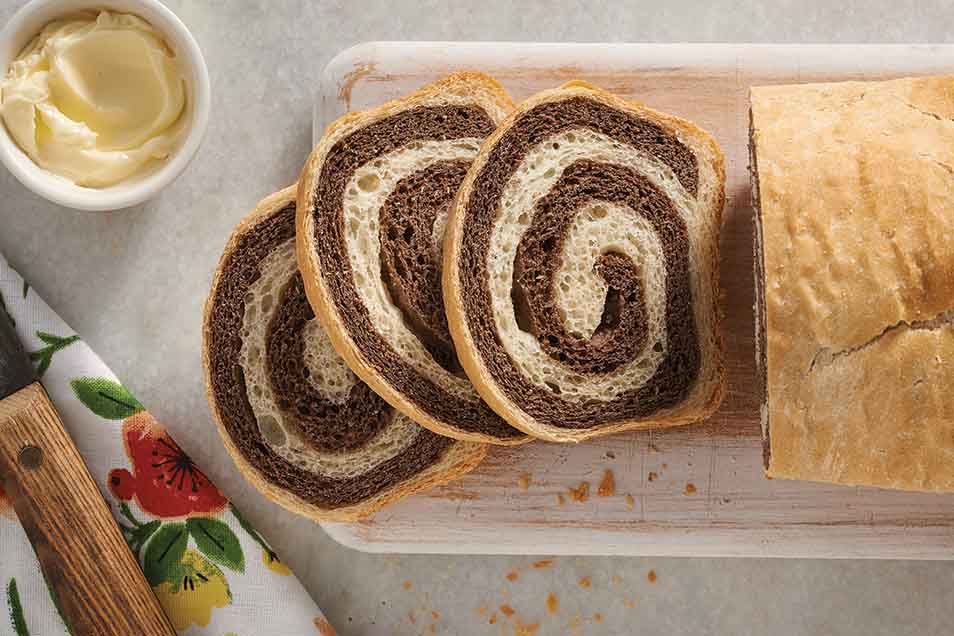 This striking visual combination of white and whole wheat bread is as tasty as it is attractive.
Ingredients
Egg wash
1 large egg, beaten, for sealing the layers of dough
Instructions
Prepare the white and wheat doughs separately, mixing and then kneading until smooth. Allow them to rise for 1 hour.

Roll each piece of dough into a 12" x 12" square.

Brush the white dough with part of the beaten egg, center the wheat dough atop it, and brush the wheat dough with beaten egg.

Roll up like a log, pinching the seam and ends closed.

Place the dough in a covered baker, which you've sprinkled generously with cornmeal, or in a lightly greased 12" sandwich pan, and cover the pan with a lightly greased piece of plastic.

Allow the bread to rise for about 45 minutes, or until it's filled the pan and crowned about 1" over the rim.

Remove the plastic, and place the cover on the baker (or leave the sandwich pan uncovered), and put it in a cold oven.

Set the heat to 425°F, and bake for 15 minutes.

Reduce the heat to 350°F, and bake for an additional 15 minutes.

Remove the cover from the baker, and bake for a final 15 minutes, or until the interior of the loaf measures 190°F on an instant-read thermometer.

Remove the loaf from the pan, and allow it to cool completely before slicing.

The loaf may be stored, well-wrapped, at room temperature for 5 days or frozen for 3 months.