A customized print-friendly version of this recipe is available by clicking the "Print Recipe" button on this page.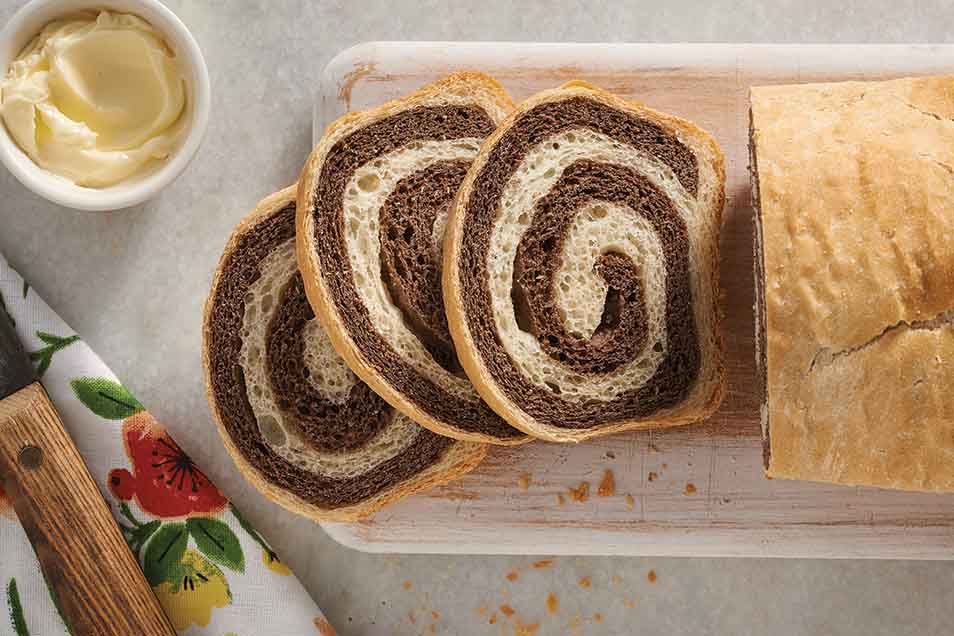 This striking visual combination of white and whole wheat bread is as tasty as it is attractive.
Ingredients
Egg wash
1 large egg, beaten, for sealing the layers of dough
Instructions
Prepare the white and wheat doughs separately, mixing and then kneading until smooth. Allow them to rise for 1 hour.

Roll each piece of dough into a 12" x 12" square.

Brush the white dough with part of the beaten egg, center the wheat dough atop it, and brush the wheat dough with beaten egg.

Roll up like a log, pinching the seam and ends closed.

Place the dough in a covered baker, which you've sprinkled generously with cornmeal, or in a lightly greased 12" sandwich pan, and cover the pan with a lightly greased piece of plastic.

Allow the bread to rise for about 45 minutes, or until it's filled the pan and crowned about 1" over the rim.

Remove the plastic, and place the cover on the baker (or leave the sandwich pan uncovered), and put it in a cold oven.

Set the heat to 425°F, and bake for 15 minutes.

Reduce the heat to 350°F, and bake for an additional 15 minutes.

Remove the cover from the baker, and bake for a final 15 minutes, or until the interior of the loaf measures 190°F on an instant-read thermometer.

Remove the loaf from the pan, and allow it to cool completely before slicing.

The loaf may be stored, well-wrapped, at room temperature for 5 days or frozen for 3 months.
Reviews
this is great! i am a lousy baker and can't believe i accomplished this, very tasty and impressive looking. i used a pullman pan and it worked fine.
This dough was easy to work with and rolled out nicely. The covered baker gives it a lovely crust. (I use a "classic" Romertopf unglazed clay baker that I got at a yard sale.) My only problem was that the layers didn't stick together well and I ended up with big gaps in the loaf. I think part of the problem was that I followed the directions and rolled the dough to 12 inches wide, but my pan isn't 12 inches long. I had to squish it up a little to shorten it after I rolled and shaped the loaf. I'd also like a little more flavor; maybe next time I will let it rise overnight.
Delicious recipe. It is simple to make and well behaved. I wish that I had rolled the dough tighter to create a better spiral, but that will be a lesson for next time.
I add deli rye flavor to white whole wheat dough for delicious pumpernickel/rye like flavor. Everyone loves this bread!
I had made a similar recipe from a common yeast manufacturers website and it had flax in the wheat portion. Amanda at KAF gave me some advice about how much flax and water. I decided against experimenting. Glad I did. I was hesitant about the instructions, but I thought what the heck. Everything was nice and satiny and I started the wheat first. The whole thing came together beautifully. When cool enough to cut, it was absolutely gorgeous. The flavor of this loaf was better than the yeast maker's. The egg wash really helped hold it together, a step not provided by the other website. It made a big difference. This is a keeper, think the experimenting will be doubling the loaf. Amanda, thanks so much for the advice, you were most helpful.
I've been using this recipe for a couple of years. It seems to really impress people, but it is quite easy. I use a blue bowl for the wheat bread, white bowl for the white bread and then just do all the ingredients at once. I knead the wheat first. Actually, personally, this in not one of my favorite breads - it is a rather ordinary tasting bread - not that it is bad at all, I just like bread that is more complex. Still, it is always a big hit when I make it for others and other than the slightly more time in two batches - it is extremely easy.
Beautiful loaf, nice moist crumb! My husband loved the look and taste, and he is not really a wheat bread fan. I made mine with regular whole wheat, and the color contrast was very nice. I baked it in a 13" Pain de Mie pan. The loaf rose very quickly, even at this low altitude, and had great oven spring. Next time, I think I will bake it one shelf lower, and maybe try WWW and WW. Thanks for another winning recipe! I thought the instructions for baking in the pan were a bit ambiguous, as at one point the instructions are to cover the pan, and in the next paragraph, the instructions are to bake uncovered. I took this to mean to cover the loaf with plastic, let rise, and bake uncovered.
If you are using the covered stone ware pan, bake it covered for the first half hour, then remove the cover for the loaf to brown. If you are baking it in a loaf pan , don't cover during baking. You were correct to cover with plastic fro the rise. Mary@KAF