A customized print-friendly version of this recipe is available by clicking the "Print Recipe" button on this page.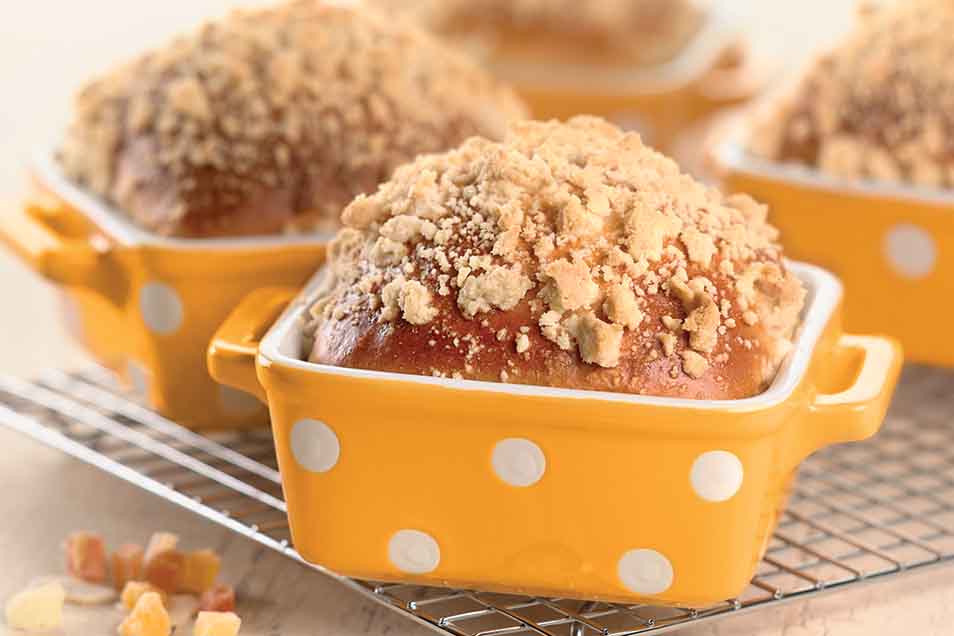 Here's a tropical twist for your Easter or springtime bread basket.
Ingredients
Dough
4 tablespoons butter
1 cup milk
2 teaspoons instant yeast
1/3 cup sugar
1 teaspoon salt
2 large eggs plus 1 yolk (save the white for glaze)
1 1/2 teaspoons Buttery Sweet Dough Flavor or 1/8 teaspoon coconut flavor or 1/4 teaspoon orange oil or Fiori di Sicilia
1 cup (5 ounces) King Arthur Flour Tropical Fruit Blend, or a mixture of your favorite dried fruits
Topping
1/4 cup sugar
2 tablespoons butter
Instructions
Melt the butter with the milk and let the mixture cool to lukewarm.

Combine the milk mixture with the remaining dough ingredients, except the fruit, and mix and knead to make a soft dough.

Knead in the fruit.

Allow the dough to rise, covered, for 1 1/2 hours, or until it becomes puffy and nearly doubles in size.

Deflate the dough. Divide it into six pieces, shaping each into a ball; or divide dough in half, shaping each half into an 8" log.

Place in six lightly greased 1 3/4-cup rectangular bakers, or two 8 1/2" x 4 1/2" loaf pans.

Let rise, covered, for about 1 1/2 hours, till crowned about 1" over the rims of the pans. Just before the end of the rising time, preheat the oven to 350°F.

Beat the reserved egg white, and brush over the tops of the loaves.

Mix the topping ingredients until crumbly, and sprinkle on top.

Bake the bread for 25 to 30 minutes, until lightly browned.

Remove from the oven, turn out of the pans, and cool completely on a rack.

For prettiest presentation, return small loaves to their pans just before serving.

Yield: 6 small loaves or two full-size loaves.
Reviews
I needed to make a braided bread but failed to get my starter going, so I decided to try this recipe. I followed the recipe exactly with the exception of adding the dried fruit to the dough. I measured everything by volume and needed to add quite a bit of extra flour - a tablespoon at a time until it came together. After the first raise the dough was a dream to roll, stuff with apples and make into a braid. The loaves are beautiful! Thank you for a great recipe!
So delicious! I made this recently using the ingredients called for which I miraculously had on hand. The changes I made were adding dried blueberries in place of the called for dried berries, I would definitely used them again. The taste of the blueberries combined with the Buttery Sweet Dough Flavor was a perfect flavor combination. Next time I may try the Fiori di Sicilia with the blueberries. I also made this in 2 regular sized bread pans. The topping was outstanding, be sure to brush the loaves well with the egg white so all that deliciousness stays where you want it when you turn them out onto the rack. Highly recommend this recipe!
Correction on my last review. We loved this bread and I wrote my first review seen below while it was just out of the oven. I am looking forward to making this bread again as directed not as one big loaf there was a small area that was under cooked because I didn't follow tbe directions. We plan on making this bread again, delicious!
I just baked this bread in my bread machine on 1.5 light crust option. I put the topping on during the last rise time. It came out great, one big loaf! This bread has such a great weight to it. Making with the special fruit and extract options made it seem like a celebration! Loved it!
I think I heard angels singing when this bread came out of the oven!! The texture is beautiful and soft - close to brioche or challah but better. The taste is something close to heaven. My husband declared it a huge success and was happy to see that there are two loaves "Oh good, one for you and one for me" I made it using the ingredients called for in the recipe - I was worried when I ordered the Tropical Fruit Blend because I don't usually like dried pineapple and I wasn't sure how the papaya and mango would be but it is delicious - shame on me for not trusting that KAF would provide a superior product. As to the Buttery Sweet Dough Flavor - nirvana - I can't say enough good stuff about this. At the start I did have an issue with my dough because it seemed to be between batter and dough (it reminded me of pate a choux) but a quick call to the baking hotline solved that and I added more flour 1 tablespoon at a time until it became a soft dough. Not sure if I measured incorrectly but since I'll be making this recipe again and again I'll find out. Looking forward to trying it toasted and as french toast but right now I'm going to slice another piece for myself to enjoy!