A customized print-friendly version of this recipe is available by clicking the "Print Recipe" button on this page.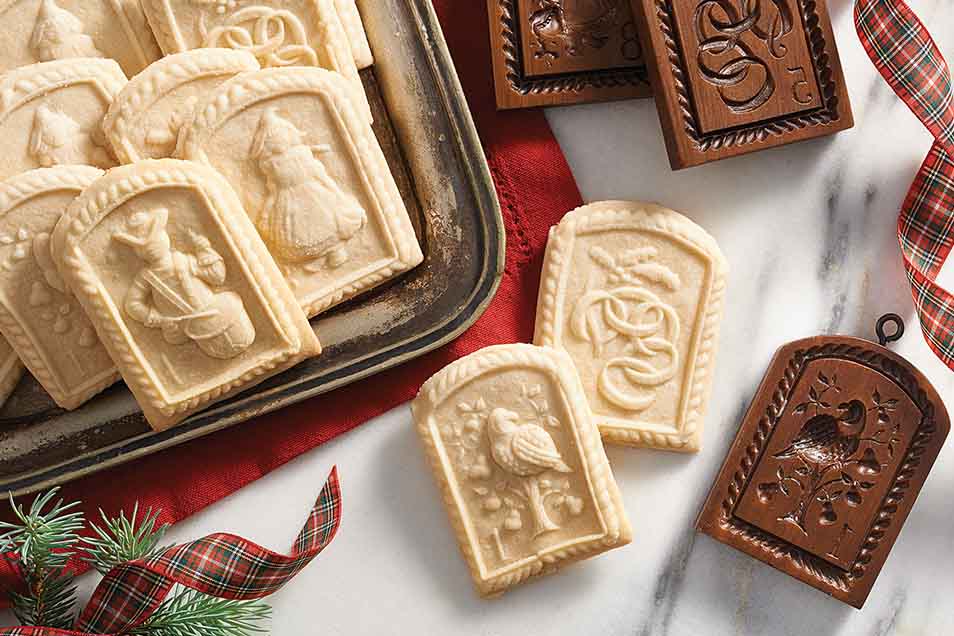 If you're used to springerle cookies that are as challenging to roll out as lifting your own body weight, this recipe is your answer to sore arms! Thanks to Frank Tegethoff, one of our talented test bakers, for coming up with this easier springerle recipe.
Ingredients
1 cup (16 tablespoons) butter
1/2 cup light brown sugar
2 teaspoons granulated sugar
1/2 teaspoon salt
1 large egg
1 teaspoon vanilla extract
Instructions
Beat together the butter, sugars, and salt until light and creamy. Beat in the egg and vanilla, and fold in the flour.

Divide the dough in half, shape both halves into disks, wrap in plastic, and refrigerate for at least 1 hour.

Preheat the oven to 400°F. Grease (or line with parchment) two baking sheets.

Working with one disk at a time, flour your work surface and roll the dough 1/4" thick.

To shape cookies using a springerle pin: Brush a very light coating of flour onto the dough and your springerle pin. Slowly roll the springerle pin over the dough, pressing down hard enough to leave a good impression. Cut the cookies apart on the lines.

To shape cookies using a springerle mold: Brush a very light coating of flour onto the dough and your springerle mold. Press the mold firmly into the dough, then remove and cut around the design with a knife or a fluted pastry wheel.

Transfer the cut cookies to the prepared baking sheets. Bake the cookies for 10 to 12 minutes, until lightly golden around the edges. Remove them from the oven, and cool right on the pan.
Nutrition Information
Serving Size

21g

Servings Per Batch

36
Amount Per Serving:
Calories

100

Calories from Fat

45

Total Fat

5g

Saturated Fat

3g

Trans Fat

0g

Cholesterol

20mg
Sodium

35mg

Total Carbohydrate

11g

Dietary Fiber

0g

Sugars

3g

Protein

1g
* The nutrition information provided for this recipe is determined by the ESHA Genesis R&D software program. Substituting any ingredients may change the posted nutrition information.
Tips from our bakers
For more traditionally flavored springerle, add 1/8 to 1/4 teaspoon anise oil, to taste.
To make a gingerbread-spiced version of this springerle, substitute 1 tablespoon of molasses for the 2 teaspoons of granulated sugar, and add 2 tablespoons gingerbread spice (or 2 1/2 teaspoons ginger, 2 teaspoons cinnamon, 1/2 teaspoon nutmeg, 1/2 teaspoon cloves, 1/2 teaspoon allspice) to the flour before folding it into the dough.
Reviews
This recipe as is is far to dry & bland. First batch I added 2 tbsp water and dipped baked cookies in chocolate to make them palatable. I made a second batch with the water and used a half cup of white sugar and they came out very nice. They have no flavor at all otherwise. Hi, Jill. We're sorry to hear that this well-loved recipe didn't do the trick for you. If we can help troubleshoot or pick out a recipe that better fits your tastes, such as one of our spiced springerle cookie recipes, please give our Baker's Hotline a call at 855-371-BAKE (2253). Kindly, Morgan@KAF
I wanted to make the kind of cookies that you could cut out for Christmas, but I generally don't care for sugar cookies. I made the spiced version of this recipe, and I have no regrets. I used a regular cookie cutter instead of a springerle press and it worked well. Thanks for all the great recipes!
I made the spice version of these and when my husband and I tried them that night, we were relatively underwhelmed - they seemed bland. But the next day after they'd sat overnight, they were superb. I took them to a party that next night and they were demolished very quickly - everyone loved them. I would highly recommend!
I used a cookie press and molds which came out great. For some reason I have never had any luck with my sprengerle pin. I brush flour on it but it still sticks to the dough. Any tricks for that? I feel like my pin is a dud. I've had it for many many years without use because when I got it, I had bad luck with it. Tried it again with the dough and it was a mess, had to dig the dough out of the pin again.

Kari, making distinct designs with a springerle pin is all about the right recipe and the right dough consistency. The dough should feel firm but pliable; sometimes it helps to chill it in the fridge for about 30 minutes before trying to make the design. Dust both the shortbread/cookie dough as well as your pin with a light dusting of flour. To ensure the prints stay distinct, you can let the cookies rest at room temperature or "dry" for about an hour or so to see if that gives you the results you're looking for. We hope this helps, and happy baking! Kye@KAF
A good anise-flavored shortbread cookie but not the Spingerle cookie I grew up with. The cookies did not split into the traditional 2 layers.

Chris, this recipe is intended to be a quicker, easier cross between springerle and shortbread rather than traditional springerle. For that classic two layer look, you'll want to seek out a recipe that calls for drying out overnight, like ours for Fiori di Sicilia Springerle. There's a tip from our bakers there too for flavoring more traditionally. Mollie@KAF
I used the gingerbread variation, with half butter and half shortening as suggested to another reviewer. This dough worked beautifully in my Springerle mold! This was my first try making Springerle cookies. Baked for exactly 10 minutes and the impression stayed perfect! Thank you so much for this recipe - I think this is going to be my new favorite Christmas cookie recipe!
This recipe did not work for me at all. Followed it exactly and the dough was way too dry and crumbly. I could not roll the dough out, it just crumbled, couldn't even get a cookie shape to try and bake.

Hmm it sounds like something may have gone a bit haywire during the measuring process. If you don't weigh your flour, we recommend fluffing it with a whisk or fork, sprinkling it into your measuring cup, and sweeping the excess off the top. We find this gives the most accurate measurement by volume. Another thing that can help would be to add a bit of water. Giving the dough a teaspoon or so of water while mixing as needed, or spritzing it with a spray bottle before wrapping and chilling it in the fridge can help allow any remaining flour pockets to absorb moisture and give you a cohesive dough. Hope this helps! Annabelle@KAF
My imprints didn't come out very raised. Did I do something wrong? The first time I rolled them out the pattern was flat. Then I re-rolled the same disk of dough to continue printing them out, and those came out better, but not great (the dough was softer). I chilled the dough for exactly one hour. Any advice would help! Glad I made this "trial run" before Christmas! Thank you.

There's a combination of things you can try to get a more defined pattern in your springerle cookies. First, you can try using half butter and half shortening. Baked goods made with shortening tend to hold their shape quite nicely during baking. Also, let the dough rest at room temperature as long as it takes to become a bit pliable. You should be able to poke the with your finger and leave an indent. Press down firmly with the pin to get distinct designs, and then let them rest in the fridge for about 30 minutes before baking. We hope these adjustments help make your prettiest springerle yet! Kye@KAF
Easy recipe. Great taste. Has anyone tried dipping them in chocolate? I hate to lose the design but I'm thinking they might taste good with a bit of chocolate.

We haven't, MaryAnn, for just the reason you describe, but there's no reason you couldn't experiment with a cookie or two during your next bake. Let us know how it comes out if you do! Mollie@KAF
I wish this space would let me show you my cookie after adding gold pearl dust ....it makes the cookie pop and shows the details even more. Love this recipe for how it turns out and how it tastes.