A customized print-friendly version of this recipe is available by clicking the "Print Recipe" button on this page.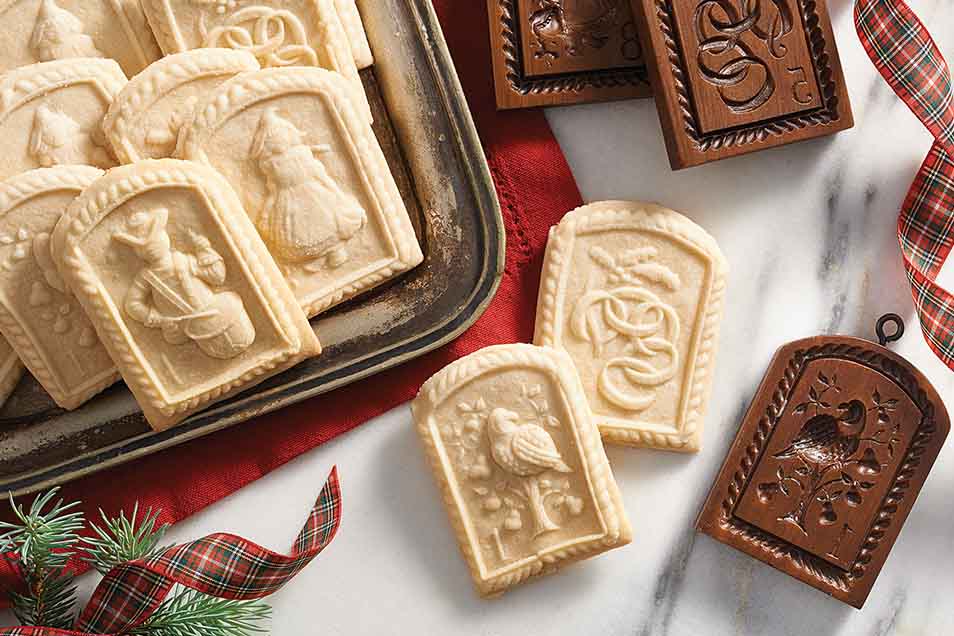 If you're used to springerle cookies that are as challenging to roll out as lifting your own body weight, this recipe is your answer to sore arms! Thanks to Frank Tegethoff, one of our talented test bakers, for coming up with this easier springerle recipe.
Ingredients
1 cup (16 tablespoons) butter
1/2 cup light brown sugar
2 teaspoons granulated sugar
1/2 teaspoon salt
1 large egg
1 teaspoon vanilla extract
Instructions
Beat together the butter, sugars, and salt until light and creamy. Beat in the egg and vanilla, and fold in the flour.

Divide the dough in half, shape both halves into disks, wrap in plastic, and refrigerate for at least 1 hour.

Preheat the oven to 400°F. Grease (or line with parchment) two baking sheets.

Working with one disk at a time, flour your work surface and roll the dough 1/4" thick.

To shape cookies using a springerle pin: Brush a very light coating of flour onto the dough and your springerle pin. Slowly roll the springerle pin over the dough, pressing down hard enough to leave a good impression. Cut the cookies apart on the lines.

To shape cookies using a springerle mold: Brush a very light coating of flour onto the dough and your springerle mold. Press the mold firmly into the dough, then remove and cut around the design with a knife or a fluted pastry wheel.

Transfer the cut cookies to the prepared baking sheets. Bake the cookies for 10 to 12 minutes, until lightly golden around the edges. Remove them from the oven, and cool right on the pan.
Nutrition Information
Serving Size

21g

Servings Per Batch

36
Amount Per Serving:
Calories

100

Calories from Fat

45

Total Fat

5g

Saturated Fat

3g

Trans Fat

0g

Cholesterol

20mg
Sodium

35mg

Total Carbohydrate

11g

Dietary Fiber

0g

Sugars

3g

Protein

1g
* The nutrition information provided for this recipe is determined by the ESHA Genesis R&D software program. Substituting any ingredients may change the posted nutrition information.
Tips from our bakers
For more traditionally flavored springerle, add 1/8 to 1/4 teaspoon anise oil, to taste.
To make a gingerbread-spiced version of this springerle, substitute 1 tablespoon of molasses for the 2 teaspoons of granulated sugar, and add 2 tablespoons gingerbread spice (or 2 1/2 teaspoons ginger, 2 teaspoons cinnamon, 1/2 teaspoon nutmeg, 1/2 teaspoon cloves, 1/2 teaspoon allspice) to the flour before folding it into the dough.
Reviews
I love & trust King Arthur. Cookbooks packed away currently, I needed a trustworthy recipe. I've been making Springerle for 45 years. This makes an OK Shortbread & a very poor Springerle. If anything this recipe should be called Shortbread a la Springerle.

Hi there, Ric. We're sorry to hear that this recipe didn't do the trick for you. If we can help pick out a different recipe that better fits your tastes, please feel free to reach out to our friendly Baker's Hotline folks at 855-371-BAKE (2253). Kindly, Morgan@KAF
I liked the flavor of these cookies but they burnt around the edges even though I only baked them for 8 minutes. Next time I might try baking them at 375. I dipped the back in chocolate and loved the flavor of the shortbread with the chocolate.
I made this recipe using my brand new KAF springerle molds. I'm now on my 3rd batch and will be trying the spiced version next. Impressed that this relatively simple shortbread recipe yields such showstoppers!
Came out perfectly! I have a mold that I didn't know what to use for until I found a recipe for molded shortbread--the classic "four-ingredient shortbread." Unfortunately, the shapes came out unrecognizable, and the cookies didn't taste good either. Then I found this recipe--what a difference! I made half the basic recipe, and added a few tablespoons of cocoa powder to the other half. Both were amazing and kept their shape beautifully. Definitely a keeper!
I did not have luck with this recipe. Dough came out dry and crumbly, so I had to add more water and butter (or toss it). After getting the dough to form a ball the end result was a tasteless cookie even thought I opted to add the spices. I found that they were not sweet enough also. I did try to roll them with an embossed pin, but the cookie did not hold the design. I think my dogs will eat them and enjoy them as dog biscuits as they are not fit for human consumption!

We're sorry to hear that this recipe gave you some trouble, Holly. It sounds like there was a bit too much flour in the initial dough which would make the dough crumbly and dilute the flavor. With the addition of more liquid, that would dilute the flavor even more, unfortunately.

To ensure you're using the right amount of flour, we recommend checking out the "Recipe Success Guide," link next to the ingredients header above. You'll see that either measuring your flour by weight using a scale, or fluffing and sprinkling the flour into your measuring cup are the most accurate ways to measure flour.

We hope this helps you in any future King Arthur Flour recipe baking, and we're always available at 855-371-BAKE (2253) if you have any questions along the way. Annabelle@KAF
I made the spice version of this recipe with my new Santa embossed rolling pin. I used half shortening and half butter. Refrigerated for 1/2 hour. On my first try rolling out the dough with the embossed rolling pin, I got great prints. I was very pleased with the finished cookies. This recipe makes detailed cookies that hold their design beautifully when baked. This will now be a cookie I make every Christmas! I am going to get a couple other embossed rolling pin designs and use this recipe throughout the year too!
This recipe as is is far to dry & bland. First batch I added 2 tbsp water and dipped baked cookies in chocolate to make them palatable. I made a second batch with the water and used a half cup of white sugar and they came out very nice. They have no flavor at all otherwise. Hi, Jill. We're sorry to hear that this well-loved recipe didn't do the trick for you. If we can help troubleshoot or pick out a recipe that better fits your tastes, such as one of our spiced springerle cookie recipes, please give our Baker's Hotline a call at 855-371-BAKE (2253). Kindly, Morgan@KAF
I wanted to make the kind of cookies that you could cut out for Christmas, but I generally don't care for sugar cookies. I made the spiced version of this recipe, and I have no regrets. I used a regular cookie cutter instead of a springerle press and it worked well. Thanks for all the great recipes!
I made the spice version of these and when my husband and I tried them that night, we were relatively underwhelmed - they seemed bland. But the next day after they'd sat overnight, they were superb. I took them to a party that next night and they were demolished very quickly - everyone loved them. I would highly recommend!
I used a cookie press and molds which came out great. For some reason I have never had any luck with my sprengerle pin. I brush flour on it but it still sticks to the dough. Any tricks for that? I feel like my pin is a dud. I've had it for many many years without use because when I got it, I had bad luck with it. Tried it again with the dough and it was a mess, had to dig the dough out of the pin again.

Kari, making distinct designs with a springerle pin is all about the right recipe and the right dough consistency. The dough should feel firm but pliable; sometimes it helps to chill it in the fridge for about 30 minutes before trying to make the design. Dust both the shortbread/cookie dough as well as your pin with a light dusting of flour. To ensure the prints stay distinct, you can let the cookies rest at room temperature or "dry" for about an hour or so to see if that gives you the results you're looking for. We hope this helps, and happy baking! Kye@KAF